Blur-fast linebackers actually tie Indy Combine 40 record at 4.39 seconds—here's why
By Frank Cooney, NFLDraftScout.com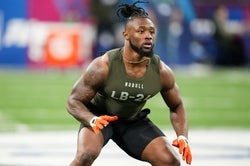 Mar 2, 2023; Indianapolis, IN, USA; Auburn linebacker Owen Pappoe (LB24) participates in drills during the NFL Combine at Lucas Oil Stadium. Mandatory Credit: Kirby Lee-USA TODAY Sports
INDIANAPOLIS — Former Auburn football linebacker Owen Pappoe showed everybody at the combine here Thursday why his nickname is "The Freak." He and Georgia linebacker Nolan Smith stopped the watches at 4.39 seconds in 40 yards, which was said to be tied for the second best time ever for linebackers at the Indy Combine. Not true.
They actually tied for the very best because a so-called "record" 4.38 is not valid in reality, but still listed. More on that later. And before going forward, let's not quibble whether Pappoe is and inside or outside linebacker, or if Smith is a defensive lineman or linebacker. They both have and can serve as outside linebackers, so let's simplify this.
Pappoe, a four-year starter for the Tigers who declared for the 2023 NFL Draft in December, was the first linebacker this year to run a 4.39—pretty good for a 6-0, 225-pounder trying to increase his value. He also led linebackers at the combine with a 10-yard split in 1.52 seconds. He ranked No. 5 in the vertical leap with a 35.5-inch mark and No. 4 in the broad jump, as the Georgia native leaped 10 feet, 6 inches.
Now for Smith. If Pappoe is The Freak, then Smith may be The Super Freak. He entered the 2022 college football season as a potential first-rounder before tearing his right pectoral muscle in late October and missing the rest of the season. Now, barely five months later, Smith put on an incredible show here.
At 6-2 (plus) 238 pounds, Smith soared 41.5 inches in the vertical jump, added a 10-foot-8 broad jump. And then there was his 4.39-second run in the 40-yard dash. According to ESPN Stats & Information research, he is the second-heaviest player to run a sub-4.4 40 and have a 40-plus-inch vertical at the combine since 2006, behind only 254-pound tight end Vernon Davis.
And those 4.39 times are really tied for the best legit clockings by a linebacker in Indy Combine history. The so-called record is nominally given to former UCF linebacker Shaquem Griffin for a 4.38 time in 2018. It was a great story because Griffin has a mal-formed left hand and was a great player, but his real 40 time was in the 4.5 area, easy to see in his other run. NFLDraftScout.com got the exclusive story at the time that the clock actually started a tick late.
But after all the commotion on NFL Network over such a great time, it just wasn't corrected. Griffin went on to have a decent NFL career.
Meantime, two other linebackers ran 40 yards in 4.39 seconds at this combine: Clemson's Isaiah Simmons (2020) and Penn State's Micah Parsons (2021). So, truth be told, those two, plus Pappoe and Smith, are co-holders of the record 40-yard time for linebackers at the Indy Combine.
FWIW in a world where we are tracking data to the hundredth of a second.
—Frank Cooney has covered the draft since 1967 and NFLDraftScout.com has kept exclusive records on the combine since 1990 and provided all draft information for NFL.com, CBS, FOX and most large media.
Other Recent Stories
Latest Player Notes