Indy Combine Wrap: QB Anthony Richardson creates biggest buzz
By Frank Cooney, NFLDraftScout.com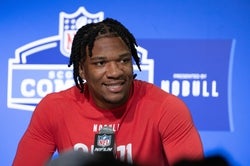 Mar 3, 2023; Indianapolis, IN, USA; Florida quarterback Anthony Richardson (QB11) speaks to the press at the NFL Combine at Lucas Oil Stadium. Mandatory Credit: Trevor Ruszkowski-USA TODAY Sports
INDIANAPOLIS (March 5, 2023) -- There were plenty of memorable moments at this year's dramatic Indianapolis Combine, which wraps up on-field activity today.
Among them, starting with the always-popular quarterbacks:
* Florida quarterback Anthony Richardson created the biggest buzz of the week, checking in at 6-4, 244 and setting Combine position records with a 40.5-inch vertical jump, a 10-foot, 5-inch broad jump; blazing 40 yards in 4.43 seconds and launching 65-yard passes with ease.
Richardson told former NFL coach Steve Mariucci that he is the best quarterback in the draft, although going into the combine he was generally rated as the No. 4 quarterback.
* Alabama's Bryce Young, rated 1 or 2 on most QB lists, measured only 5-10 1/8, down from his suspicious roster size of 6-0, and 204 pounds, up from 194. He saved his workout for a March 23 pro day. "Yeah, I've been this size, respectfully, my whole life," said the 2021 Heisman Trophy winner. "I know who I am, I know what I can do." Sources report Young was "very astute and advanced" in team interviews.
* Ohio State quarterback C. J. Stroud (6-3, 214) didn't run and jump, but he did throw. He overcame an initial bad deep ball and passed with great precision and touch after that. Stroud, when asked to describe his style: "Free flowing but still disciplined. Able to take the completion when it's there, but at the same time making plays. … I like to do is extend plays and take the routine plays when they're routine. I don't try to press the envelope, and I think that's very important."
* Kentucky quarterback Will Levis (6-4, 229) showed a tight release, was laser sharp on medium passes and, once he found range, tossed exceptional deep passes and lived up to his own hype. Said Levis when asked why he took part only in passing drills: "Because I got a cannon. I got to show it off. …I think I've got one of the stronger arms to come out of any draft class in recent memory."
* Texas running back Bijan Robinson (5-11, 215) is a versatile throwback to days when halfbacks were picked in the top three, and some rate him in top five. Dashed 40 yards in 4.46 seconds, soared 37 inches in vertical jump but looked dangerously efficient on bag drills, change of direction and as a natural receiver. Robinson's self-description: "I can do all three for your offense, whether it's a unique player at receiver or in the slot and, obviously, at running back. Just creating mismatches for defenders all over the field."
* Alabama running back Jahmyr Gibbs (5-9, 199) secured his spot as the No. 2 RB in this draft with a 40-yard time of 4.36 seconds and, except for one deep pass, caught everything thrown his way. Gibbs:"I'm one of the most versatile people out there, I can slot up anywhere. Slot receiver, running back, I can do a lot. I see myself as a playmaker more than anything."
* Georgia tight end Darnell Washington (6-7,264) claimed he is "the most unique tight end in the draft," then set out to prove it with a remarkable workout that included 40 yards in 4.63 seconds with a 10-yard split of 1.57 seconds and a short shuttle time of 4.08. He did bobble a couple of passes with his huge (11-inch) mitts, but also made a final catch with just one hand.
* Old Dominion tight end Zack Kuntz (6-7, 251), rated as a late draft pick going into Combine, grabbed attention with a 40-yard time of 4.55 seconds (with a 10-yard split of 1.57), a vertical jump of 40 inches and a broad jump of 10 feet, eight inches. Can you say "red zone target?"
* Getting an Edge: Auburn linebacker Owen Pappoe (6-0, 225) and Georgia pass rusher Nolan Smith (6-2, 238) each stopped the clock in only 4.39 seconds for 40 yards. That was said to be tied for the second best time ever for linebackers at the Indy Combine. However, that counts Shaquem Griffin's 2018 time of 4.38 as No. 1, despite a report we verified at the time that the clock misfired and his actual time was closer to 4.5.
Meantime, two other linebackers ran 40 yards in 4.39 seconds at an Indy combine – Clemson's Isaiah Simmons (2020) and Penn State's Mica Parsons (2021). So now, in reality, there are four co-holders of the record.
* Northwestern defensive end Adetomiwa Adebawore (pronounced add-E-TOMMY-wah add-E-BAR-eh) was a standout at the Senior Bowl then checked into Combine at 6-2, 282. He dashed 40 yards in 4.49 seconds and went 37.5 inches in the vertical jump, which adds data to the explosiveness he shows in game tapes.
* Pittsburgh defensive tackle Calijah Kancey (6-1, 281) added fuel to comparisons with All-Pro Aaron Donald thanks to a blazing 40-yard time of 4.67 seconds, fastest DT Combine time since 2003. Donald was 6-1, 280 when he was a first round pick out of Pitt in 2014. His 40 time was 4.68. Coming off shoulder injury, Kancey was still the most fluid defensive tackle in positional drills. We will be moving him up.
*Illinois running back Chase Brown (5-9 1/2, 209) showed why he was a former Florida prep state champion in track (4X100) with a 40-yard time of 4.43 seconds, a vertical jump of 40 inches, a broad jump of 10 feet, 7 inches and 23 reps with 225 pounds. More clout for this second-team AP All-American after rushing for 1,643 yards, fourth in the FBS
* Georgia guard Broderick Jones (6-5, 3/8, 311) measured taller than his roster size (6-4) and ran the fastest 40-yard time among offensive linemen at 4.97 seconds. His arm measured 34 3/4 inches and wingspan 82 3/4 inches. He was already our No. 2 OT with a shot at getting selected in the top 10.
* Maryland cornerback Deonte Banks (6-0, 197) literally leaped into the consciousness of onlookers at the combine with a 42-inch vertical, 11-foot-4-inch broad and 40-yard run in 4.35 seconds.
* Michigan cornerback DJ Turner II (5-11, 178) had the fastest 40-yard time of this year's Combine at 4.26 seconds, tied for fourth best in Combine history with Tariq Woolen (2022) and Dri Archer (2014) and behind only Chris Johnson (4.24, 2008), Kalon Barnes (4.23, 2022) and record holder John Ross (4.22, 2017).
* Ohio State wide receiver Jaxon Smith-Njigba (6-1,196) played in only three games last season because of a pesky pulled hamstring. Still, we managed to keep him atop the WR list, albeit with reservations. After not running the 40 at the Combine, JS-N finally showed off in position drills where he appeared to be the smoothest receiver on the field and flashed the quickness and hands that validated his ranking as No. 1 WR.
It wasn't a great week for everybody.
Georgia star defensive tackle Jalen Carter returned here to the Combine Thursday after his departure Wednesday following his arrest on reckless driving and racing connected to a fatal vehicle crash in January. The incident resulted in the deaths of a Bulldog teammate and a recruiting staff member.
Georgia quarterback Stetson Bennett had to replay his previous arrest in the Dallas-Fort Worth area when he was supposed to be working out with Apex Sports. Details of the arrest -- based basically on being drunk in public -- were announced during the second day of the Combine.
USC wide receiver Jordan Addison, the 2021 Biletnikoff Award winner while at Pitt, was less than dazzling with a 40-yard run of 4.49 seconds and a vertical leap of 34 inches. He didn't complete his events and said to watch him at the Trojans' March 21 Pro Day.
Last season's Biletnikoff Award winner, Tennessee's Jalin Hyatt did well in some events, with a 40-yard time of 4.40 seconds, a 40-inch vertical jump and an 11-foot, three-inc broad jump. But he bailed on the position drills because of a tight hamstring and noted his Pro Day is March 30.
Other Recent Stories
Latest Player Notes