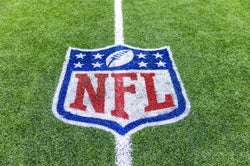 Jan 8, 2023; New Orleans, Louisiana, USA; Detailed view of the NFL shield logo on the field after the game between the New Orleans Saints and the Carolina Panthers at Caesars Superdome. Mandatory Credit: Stephen Lew-USA TODAY Sports
Special Delivery. This mock draft just showed up at NFLDraftScout.com's cyberoffice. It's from "The Mailman," not to be confused with Georgia quarterback Stetson Bennett, who gained that nickname by wearing a USPS cap to interviews.
While NFLDraftScout appreciates this contribution and all the thought that went into it, we maintain the position that although mocks are wildly popular, they are for entertainment only, so don't use this as intel for bets at Vegas.
Mailman's NFL Mock Draft 1.0, two rounds with trades to make it realistic. The mock draft did not take into account the uncertainty of Lamar Jackson's and Aaron Rodgers' situations, so teams drafted with current needs instead of anticipated needs. Enjoy!
Bryce Young in a Carolina Panthers jersey. Credit: r/panthers
Round 1:
1. Panthers — Bryce Young, QB, Alabama
Bryce Young is the most talented quarterback in this year's class, and the Panthers organization made the right selection. Young is undersized, which does not align with Riech's preference for having a quarterback over 6'2". But given the production and experience of Young, it should be easy for Reich to hand Young the reins.
2. Texans — C.J. Stroud, QB, Ohio State
At the moment, it does not seem that the Texans will select a quarterback, but sticking with Davis Mills would not be a great start to the new DeMeco Ryans era. The Texans reportedly assured Ryans that the plan is to select a quarterback, and it would be hard to pass on a prospect as talented as Stroud. He may have had a couple of underwhelming outings against Michigan during his time at Ohio State, but he has shown the ability to be a great passer, which is what the Texans need for their rebuild.
3. Raiders via Cardinals — Anthony Richardson, QB, Florida
We got our first trade of the draft! The Raiders will give up the 7th pick, a future second-round pick, and a future third-round pick for the 3rd overall pick. It's hard to tell whether the Raiders will be good or bad, especially with recently added Jimmy Garoppollo, so the future second-round pick might become valuable. The Raiders have visited with Richardson a ton, and his tremendous upside is something Al Davis would have loved. The Raiders' power-run scheme could have Richardson better prepared when given his opportunity and would make the AFC West a true gauntlet of upside for the next four years.
4. Colts — Will Levis, QB, Kentucky
This pick smells of desperation—the right selection would be Will Anderson Jr., but Anderson Jr. does not exactly fit Indy's defensive scheme, and new head coach Shane Steichen is offensive minded, so figure he'll select his future quarterback at this spot. Levis is a polarizing prospect to say the least (mayo in coffee his wild), but if developed, he could be a building piece for the franchise and give Colts fans a jersey that will last more than two years.
5. Seahawks — Jalen Carter, IDL(DT/NT), Georgia
Where do I begin? Jalen Carter would be a Texan, a Cardinal, or a Colt if he had not had such off-field baggage. Carter has Warren Sapp-type ability, which was demonstrated all over his film at Georgia. The Seahawks will be licking their beaks as they land a game-changing run-defender—a necessary upgrade if the team has designs on matching up with the run-dominant 49ers in the NFC West. Carter would be a homerun pick if he manages to focuse on football and not outside distractions.
6. Lions — Will Anderson Jr., EDGE (DE), Alabama
The Lions do not have any prospects who fill their immediate needs at this point of the draft, so they select the best player available. Will Anderson Jr. does not exactly fit the Lions' scheme, but a talent of his kind does not appear often. With Hutchinson and Anderson Jr., the Lions will roll out two young and daunting edge rushers sure to make any team reconsider their gameplans.
7. Cardinals — Devon Witherspoon, CB, Illinois
(From the Raiders) The Cardinals, with their new future draft capital acquired from Vegas, could go in a ton of different directions, but the secondary has always been an issue during the Kliff Kingsbury era. Witherspoon is a player in whom the Cardinals have shown interest and who would fill the perimeter cornerback position that has been a weak link since Patrick Peterson left.
8. Falcons — Peter Skoronski, OG, Northwestern
The Falcons are reportedly very high on Skoronski, who has the versatility to play all three OL positions at the next level. Guard would be his best spot, since he has shorter arms than what you'd want in an NFL tackle. The Falcons suddenly have a top-tier offensive line behind which any quarterback could thrive.
9. Bears — Paris Johnson Jr., OT, Ohio State
Not Tyree Wilson! Let me explain. The Bears have expressed their desire to have Fields as their cornerstone, and moving down from No. 1 to get him some protection verifies this commitment. Johnson Jr., should make an immediate impact.
10. Eagles — Lukas Van Ness, EDGE (DE), Iowa
Lukas Van Ness fits the Eagles scheme better than Tyree Wilson. Though a bit raw, Van Ness shapes up to be a perfect 5-tech in Philly's 4-3 scheme.
11. Titans — Broderick Jones, OT, Georgia
The Titans were not able to find an adequate trading partner, so they sit and take Broderick Jones, who is a great fit for the Titans and can start Day 1. Jones is also younger, giving Tennessee the potential long-term starter that they had hoped to get in Isaiah Wilson.
12. Texans — Tyree Wilson, EDGE (DE), Texas Tech
The scenario where the Texans select a QB first and then select Tyree Wilson is Demeco's dream. In Wilson, the Texans get a promising rusher off the edge who offers flexibility as an inside threat.
13. Steelers via Jets — Joey Porter Jr., CB, Penn State
The Steelers give up their first-round pick and their third-round pick for the 13th selection. Pittsburgh could look at a tackle at this spot, but the value is not there. Joey Porter Jr. is a good press corner, and the Steelers run a lot of man, so the fit is great. And his father is a Steelers legend.
14. Patriots — Christian Gonazalez, CB, Oregon
Gonzalez is a top-10 talent, and with Devin McCourty's retirement further depleting an already shaky secondary, this selection is a no-brainer.
15. Packers — Nolan Smith, Edge (OLB), Georgia
With all the rumors about NFL teams not having first-round grades for this wide receiver class, I feel the Packers, who typically love WR prostpects, will go in a different direction. Green Bay missed the presence of Za'Darius Smith last year, and Nolan Smith — though not the most gifted edge rusher — is an insane athlete who could replicate some of Za'Darius' production. Expect this pick to change later on should the Aaron Rodgers trade situation resolve before the draft.
16. Commanders — Darnell Wright, OT, Tennessee
The Commanders' have made apparent their desire to fill the void at cornerback, but the value of a cornerback is just a little too high. Washington has taken players earlier than their value (Jahan Dotson and Jamin Davis), but if the franchise is going to roll with QB Sam Howell, then the selection should be Darnell Wright, the best available tackle.
17. Jets — Calijah Kancey, IDL (DT), Pittsburgh
Robert Saleh gets his defensive tackle in Kancey. His ability to penetrate opposing backfields will help on passing downs, which the Jets defense has not excelled at since Saleh arrived. Kancey is getting comparisons to Aaron Donald, which is wild, but if he is slightly worse than Donald, the Jets have a defensive tackle who will wreak havoc. As with the Packers selection, the circumstances surrounding the Aaron Rodgers trade could make this pick change.
18. Chiefs via Lions — Quentin Johnston, WR, TCU
The Chiefs trade the 31st pick and the 63rd pick and move up to 18. They act quickly and select a wide receiver who gives Mahomes a true big target with WR1 potential. Johnston can thrive in the Kansas City spread, which right now has only smaller receivers, so his impact should be big and immediate.
19. Buccaneers — Anton Harrison, OT, Oklahoma
The Buccaneers take maybe not the highest-rated tackle available. However, in Harrison, they get one who over time will best fit OC Dave Canales' zone-run scheme.
20. Seahawks — John Michael Schmitz, C, Minnesota
It seems every team needing a center really loves John Michael Schmitz. The Seahawks are no different. Schmitz doesn't fill a primary need for the Seahawks, but the chance to select a highly ranked center to counter the tough D-lines in the NFC West makes him too attractive to pass up.
21. Chargers — Jordan Addison, WR, USC
The Chargers have two weapons on the outside but lack a good slot receiver. Jordan Addison fills this need and is capable of handling a higher volume should either Keenan Allen or Mike Willams go down with an injury.
22. Ravens — Myles Murphy, EDGE (DE), Clemson
Myles Murphy represents the typical Ravens strategy of selecting the best player available. He would satisfy a subordinate need for them, but the addition of Odell Beckham Jr. makes the wide receiver need less urgent. Murphy would give the Ravens a developmental edge rusher.
23. Vikings — Brian Branch, S/NB, Alabama
The reign of Pro Bowl FS Harrison Smith is coming to an end, and his replacement has not yet been annointed. Branch would be a great replacement, as he could initially play nickelback and then transition to one of the safety positions later on for Brian Flores' defense. Hendon Hooker could be a possible selection but would not fill an immediate team need.
24. Jaguars — Keion White, EDGE (DE), Georgia Tech
The Jaguars are looking for measurables and athletic ability, and Keion White has those in spades. He may not be a perfect fit, since he projects as a 5-tech, but his size would allow for a seamless transition to a 3-tech in the 3-4 defense.
25. Giants — Jaxson Smith-Njigba, WR, Ohio State
Celebrate, Giants fans! You have selected an amazing route-runner whom you can develop. Smith-Njigba is arguably the best receiver in this year's class, and if not for injuries in 2022, he would have easily been a top-10 selection. Expect him to play slot receiver and be a CeeDee Lamb-type of playmaker, helping Daniel Jones immensely.
26. Cowboys — Bryan Bresee, IDL (DT), Clemson
A surefire top-10 selection 10 months ago, Bresee began to drop as the draft process unfolded. Nonetheless, he will be a solid addition to any NFL defense. The Cowboys need a 1-tech, which Bresee does not play—he would probably start out as a 3-technique—but, given a season or two, expect him to be able to make the transition.
27. Bills — Bijan Robinson, RB, Texas
Robinson is one of the best players in the class, but unfortunately, he plays a position that experiences high turnover and has been less emphasized in recent years. Robinson could go from pick 8 to 31, but in this mock, Bills take him—and would sprint to the podium to do so. Adding Robinson would make the Buffalo offense even more dynamic and lessen the burden on Josh Allen, who has been a primary source of the team's ground game. Not good for a quarterback.
28. Bengals — Michael Mayer, TE, Notre Dame
Mayer is a great solution for the tight end dilemma the Bengals have dealt with during the last two years. He's a complete tight end who can be both a factor in Cincy's passing attack and a strong blocker for Joe Mixon in the running game. Joe Burrow will be ecstatic to have a tight end for the long term.
29. Rams via Saints — Will McDonald IV, EDGE (OLB), Iowa State
The Rams trade up with the Saints giving up the 36th pick and a future fourth-round pick for the 29th overall pick. McDonald IV fits nicely into the Rams 3-4 defense and would fill an immediate need for a standup OLB rusher. The Rams could go offensive line with this pick, but McDonald's presence on the edge could allow Aaron Donald to extend his career.
30. Bills via Eagles — Luke Wypler, C, Ohio State
The Bills trade up with the Eagles, who relinquish their second-round pick and a future second-round pick. Trading up is a very aggressive move, but Mitch Morse is getting older, and the Bills see Wypler as a future starting center who can help Josh Allen stay healthy over the long haul.
31. Lions — O'Cyrus Torrence, OG, Florida
The Lions make another value selection with O'Cyrus Torrence, who fills a need at guard. This choice should allow the Lions to enjoy even more success on the ground, as Torrence is a mauler. He'll make a good offensive line even better.
32. Steelers — Dawand Jones, OT, Ohio State
The Steelers have expressed lots of interest in Jones, and the behemoth is a perfect fit for their offense.
33. Texans — Trenton Simpson, LB, Clemson
Houston gets a linebacker who fits the modern-day defense and can play in the nickel, giving DeMeco Ryans an opportunity to develop him into a Fred Warner-like player.
34. Cardinals — Emmanuel Forbes, CB, Mississippi State
Forbes is a true ballhawk and has been receiving lots of interest of late. The Cardinals decide to draft another cornerback to solidify their secondary.
35. Colts — Zay Flowers, WR, Boston College
The Colts get great value for Flowers, who can make an immediate impact in the slot.
36. Saints — Jahmyr Gibbs, RB, Alabama
The uncertainty surrounding Alvin Kamara pushes the Saints to draft Gibbs, who can flash in all phases of an offense.
37. Seahawks — Adetomiwa Adebawore, EDGE (DE), Northwestern
Adebawore produced an exceptional combine performance, which moved him up the boards. The Seahawks need an outside pass rusher who has the versatility to rush from the interior.
38. Raiders — Mazi Smith, NT, Michigan
The Raiders need a nose tackle, and Smith is one of the best in the draft. Don't be surprised if he makes a jolt right away.
39. Panthers — B.J. Ojulari, EDGE (OLB), LSU
The Panthers need to nail the majority of their picks after trading up to 1st overall. Ojulari is a great fit for a 3-4 OLB.
40. Saints — Darnell Washington, TE, Georgia
Washington is one of the most imposing tight ends the draft has seen in a while. The Saints have been attempting to find a replacement for Jimmy Graham, and Washington can definitely play that role.
41. Titans — Cody Mauch, OG, North Dakota State
The Titans need to revamp their entire offensive line, and Broderick Jones and Cody Mauch are great building blocks.
42. Buccaneers via Jets — Felix Anudike-Uzomah, EDGE (OLB), Kansas State
The Buccaneers trade their second-round pick and a future fourth-round selection for the 42nd pick. Some see Anudike-Uzomah as a developmental pick, but the Bucs hope he fills an immediate need at OLB.
43. Jets — Daiyan Henley, LB, Washington State
Henley may not be the best linebacker available, but he takes over for Kwon Alexander, whom the Jets have decided to release.
44. Falcons — Cam Smith, CB, South Carolina
The Falcons solidify their cornerback position by adding more talent to an already-loaded cornerback room.
45. Packers — Dalton Kincaid, TE, Utah
Kincaid finally goes off the board at 45 and can be expected to make an immediate impact on offense, whether Jordan Love or Rodgers is at the helm.
46. Giants via Patriots — Deonte Banks, CB, Maryland
The Giants trade their second-round pick and a future third-round pick to move up for Banks. The former Maryland DB could go in the first round, but his drop to the Giants means their great draft continues.
47. Commanders — Steve Avila, OG, TCU
The Commanders continue to address the offensive line. Don't be surprised if Avila starts at the outset.
48. Lions — Drew Sanders, LB, Arkansas
The Lions need a linebacker, and with the 48th selection, they fill that need with Sanders, who is athletic enough to fit the modern NFL defense.
49. Steelers — Antonio Johnson, NB/SS, Texas A&M
Antonio Johnson is versatile enough to play safety or slot corner, and with lower-level starting talent currently manning the team's corner positions and strong safety spots, Johnson could step into the Steelers' secondary right away.
50. Jets — Joe Tippman, C, Wisconsin
The Jets find a starter with their second-round selection of Joe Tippman, who strengthens the interior of the offensive line.
51. Dolphins — Sam LaPorta, TE, Iowa
The Dolphins first selection is a talented receiving tight end who will help round out an exceptional offense for Tua and Mike McDaniel.
52. Seahawks — Jack Campell, LB, Iowa
He may not be the second coming of Bobby Wagner, but in Campbell the Seahawks get a player whose instincts and leadership should make him a favorite with the 12th Man.
53. Bears — Isaiah Foskey, EDGE (DE), Notre Dame
The Bears addressed their offensive tackle needs earlier and now begin to revamp their defense with Foskey, who should be a striking presence on that side of the ball.
54. Chargers — Nick Herbig, EDGE (OLB), Wisconsin
The Chargers have an excellent edge-rusher tandem in Joey Bosa and Khalil Mack, so Nate Herbig is someone who will sit for a year or two and then start. For now, he will be a package rusher.
55. Patriots via Lions — Jalin Hyatt, WR, Tennessee
The Patriots trade their second-round selection and their sixth-round pick to move into the 55th spot. Hyatt has tons of upside if he is used properly.
56. Jaguars — Matthew Bergeron, OT, Syracuse
Trevor Lawrence was sacked only 31 times last year, so the offensive line is solid. But Bergeron can absolutely compete for Walter Little's job at the right tackle and has the versatility to line up at guard.
57. Lions — Keeanu Benton, IDL (DT/NT), Wisconsin
The Lions need a 3-tech and 1-tech. Benton represents yet another good-value selection for Detroit.
58. Cowboys — Josh Downs, WR, North Carolina
The addition of Brandin Cooks adds punch to the wide receiver corps, but Michael Gallup's lack of progress and inability to play the slot makes room for Downs to get a significant number of snaps.
59. Eagles — Zach Charbonnet, RB, UCLA
The loss of Miles Sanders is big, and relying on the oft-injured Rashaad Penny is less than ideal. Charbonnet runs well inside and can catch, so this pick makes sense.
60. Bengals — Kelee Ringo, CB, Georgia
Ringo finally goes off the board. The Bengals have hopes that he'll develop into a lockdown cornerback who makes it tough on NFL receivers.
61. Bears — Gervin Dexter Jr, IDL(DT), Florida
The Bears continue addressing the defensive line by selecting Dexter Jr., who is a raw prospect with a high upside. The team's current issues up front means he learns on the job.
62. Eagles — Julius Brents, CB, Kansas State
As he showed at the combine, Brents is a physically imposing athlete at nearly 6'3" and 198 lbs, with 34-inch arms. He'll need time to develop, but the Eagles can't resist.
63. Lions — Luke Musgrave, TE, Oregon State
Musgrave could easily go early in the second round. Once again the Lions meet a need while getting good value on a prospect who falls a little farther than anticipated.