Mockery of 2023 Mock Draft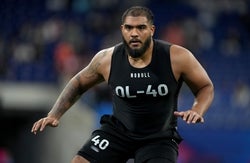 Mar 5, 2023; Indianapolis, IN, USA; Penn State offensive lineman Juice Scruggs (OL40) during the NFL Scouting Combine at Lucas Oil Stadium. Mandatory Credit: Kirby Lee-USA TODAY Sports
We at NFLDraftScout.com don't care much for mock drafts. Sure, they're popular. Sure, certain sports networks and other draft sites lean heavily into making such dress rehearsals seem so indispensable to the NFL Draft experience. But, for the most part, we think they're pretty silly and—while NFLDraftScout did put out its own mock draft—we think it's worth our time and effort to double-down on the silliness.
As you'll soon see in this first-round projection, we will not be outdone when it comes to the silliness of NFL mock drafts:
1. San Francisco 49ers (from Carolina Panthers), Bryce Young, QB, Alabama: 49ers head coach Kyle Shanahan FINALLY lands the rugged mobile QB he needs to attack the middle of NFL defenses on designed runs. As part of the draft-day blockbuster deal, the Panthers get San Francisco's 2021 top pick Trey Lance, whom Carolina HC Frank Reich sees as a rawer, less-experienced, but higher-ceiling Anthony Richardson. The Niners throw in the recently signed Robbie Gould to make amends for poaching former Panthers PK Zane Gonzalez.
2. Houston Texans, Jalen Carter, DT, Georgia: The Texans cross up everyone at NFLDraftScout.com and pick the supremely talented (but recently troubled) Carter, a tackle prospect who possesses a generational blend of size, power, and quickness, and who seems eager to take his place in the storied tradition of top DL picks abandoning the Houston franchise after a few seasons.
3. Arizona Cardinals, Will Anderson, OLB, Alabama: With the only QB as short as Kyler Murray off the board, the Cardinals claim the explosive Anderson to bolster their pass rush. Informed shortly after the draft that J.J. Watt will break his promise to un-retire and take on blocks in front of him, Anderson announces his return to Alabama for his senior season.
4. Indianapolis Colts, C.J. Stroud, QB, Ohio State: Unable to find any doddering millennials in this year's QB draft class, the Colts reluctantly go Young…er, young. Expect Stroud to nail the S2 and start Day 1. Expect Stroud to pine for his Ohio State receiving corps Day 2.
5. Seattle Seahawks, Tyree Wilson, DE, Texas Tech: Yes, selecting the Red Raiders DE prospect ahead of needs at other positions (QB, DB, OL) raises concerns but…have you seen this guy with his shirt off?
6. Detroit Lions: Quentin Johnston, WR, TCU: Departing from recent first-round protocol, commish Goodell honors Detroit's request to allow former GM Matt Millen to reveal the pick. Though instructed by the Lions to announce Clemson DE Myles Murphy as the team's selection, Millen won't be able to help himself. Old habits, ya know.
7. Las Vegas Raiders, Devon Witherspoon, CB, Illinois: This pick makes sense in the pass-heavy AFC West. The ultra-physical Witherspoon might be the most ferocious hitting DB in the draft and closes harder than a Glengarry salesman on a rainy night. Choosing 'Spoon ends a weeks-long battle between GM Dave Ziegler and owner Mark Davis, who pushed for drafting Usain Bolt, both for the Vegas sizzle and to honor his dad's hankering for speedy WRs with little college football production.
8. Atlanta Falcons, Darnell Washington, TE, Georgia: A reach? Sure—almost as much what the 6-7 Washington brings to the middle of a football field. But it's the first step in Atlanta's curious and unprecedented "homegrown" draft strategy of selecting only members of the Georgia Bulldogs national champion squad. Expect Atlanta's 2024 first-round pick Brock Bowers to round out a young and imposing TE crew.
9. Chicago Bears, Will Levis, QB, Kentucky: Yes, yes…we get the Bears think highly of Justin Fields and there are needs elsewhere, but Levis' swaggering personality will undoubtedly invite comparisons to Jim McMahon, a Bears marketing department's dream. And don't sell short what a little steel-sharpening-steel competition could do for Fields: McMahon's camp battles with Bob Avellini and Vince Evans were the stuff of legend.
10. Philadelphia Eagles, Lukas Van Ness, DL, Iowa: Van Ness' versatility and non-stop energy will be welcomed by an Eagles D-line diminished by the offseason loss of Javon Hargrave. And Van Ness will welcome getting out from under the pressures of Iowa City and playing now before a more forgiving media and fanbase.
11. Tennessee Titans, Broderick Jones, OT, Georgia: The Titans clearly have other needs, but their impulse to field plodding, barely watchable offenses is as predictable as big hair, rhinestones and jilted heartache at the Opry. This pick is in keeping with the tradition that Jeff Fisher and Eddie George hath wrought.
12. Houston Texans, Anthony Richardson, QB, Florida: At last, Houston lands the QB to take over for the irreplaceable Davis Mills. New HC DeMeco Ryans embraces the challenge of developing an athletically gifted but unpolished project at the sport's most important position, having seen first hand how well it worked for the 49ers.
13. New York Jets, Juice Scruggs, OG, Penn State: Scruggs is waaaaayyy down the drafts boards of the other 31 teams. But the chance to slather opponents in Juice and Sauce is too savory for Robert Saleh and the front office to pass up.
14. New England Patriots, Jack Brady, QB, TBD: Behind the scenes, Belichick is reportedly still reeling from the separation anxiety caused by the departure of him whose name shall not be mentioned. With Mac Jones' future greatness very much in doubt, why not give Coach B something to look forward to? Hey, New England fans, Red and the Celts once waited for Larry Bird. Just be patient.
15. Green Bay Packers, Nolan Smith, DE-OLB, Georgia: We at NFLDraftScout.com say Aaron Rodgers stays put—or not—and the Packers sweeten his return by passing on a WR for the Georgia defensive standout. Or as GM Ted Thompson says: "It's not like we're going to trade him [Rodgers] to the Jets or anything."
16. Washington Commanders, FORFEIT PICK: As a departing gift/gesture, Wash GM Martin Mayhew gives Dan Snyder the reins in what will be the beleagured owner's last NFL draft. But what reigns is chaos as Snyder blows through the allotted 10 minutes trying to sign free-agent DEs Jadeveon Clowney and Frank Clark to obscenely lucrative long-term deals. Additionally, his numerous references to the R—— while working the phones draws censure and fines from the league office.
17. (Trade from Pittsburgh) Cincinnati Bengals, Joey Porter Jr., CB, Penn State. In one of the more heartless draft-day moves in recent history, the Steelers throw cold water on the tale of a son united with his father's old team, and do so by drafting—then trading—Porter Jr. to a division rival. Cincy rejoices at upgrading its secondary. The Hallmark Channel reacts to the trade by cancelling its planned holiday release of A Very Rooney Christmas.
18. Detroit Lions, Calijah Kancey, DT, Pittsburgh: Working next to last year's top rookie Aiden Hutchinson, Kancey will make Lions fans forget Ndamahk—...something or other. And, from a marketing perspective, could a name and place be a better match? I mean, who wouldn't want to drive off the lot in a new Ford Calijah or a Chrysler Kancey?
19. Tampa Bay Bucs, Adetomiwa Adebawore, Northwestern, DE: With Brady gone, Disney about to be, and bay water lapping at the base of Raymond James Stadium, the Bucs—the entire state of Florida, really—need a big name for fans to hitch their hopes to. Mr. Eye Chart delivers that and then some.
20. (From Seattle) New England Patriots, Mike Mayer, TE, Notre Dame: Smarting from fan and media ridicule over the Jack Brady jaw-dropper, Belichick trades up for the draft's most complete tight end. But even this move draws fire from a Patriot fanbase intent on keeping out the Catholics.
21. Los Angeles Chargers, Jaxon Smith-Njigba, WR Ohio State: Few things ruin a mockery of a mock draft more than a sensible pick at a sensible spot. But a talent like JSN needs to get off the board and soon. Besides, late-night TV in Hollywood is still looking for the next Arsenio, and Jaxon sounds like a show worth staying up for.
22. Baltimore Ravens, Chad Ryland, PK, Maryland: Ravens faithful have long wondered how many games Justin Tucker was going to cost their team before it finally gave up on the shaky placekicker. More than just having the draft's strongest leg, Ryland also holds the distinction of being the only player in draft history whose last name makes up the last seven letters of the school where he played. Find another mock draft that gives you that kind of insight.
23. Minnesota Vikings, Paris Johnson Jr., OT, Ohio State: The Vikings pretty much announce their commitment to Kirk Cousins with the Johnson selection. Rumor has it that Minnesota went all in on Johnson during their combine interview, when the massive tackle dazzled the front office and coaches with his uncanny recall of dialogue from the movie Fargo. A reenactment of the foot-in-the-woodchipper scene could not be confirmed.
24. (From Jacksonville) Cleveland Browns, Hendon Hooker, QB, Tennessee: His sterling leadership and off-field reputation notwithstanding, Deshaun Watson just doesn't inspire confidence as a long-term solution at QB, despite the team's financial commitment to him last year. Though Hooker comes in as a 25-year-old rookie, we predict him to be so lethal at the NFL level that he'll eventually earn the nickname "Unfair Hooker." (Ask your grandpa, Cleveland fans. He'll get the reference.)
25. New York Giants, Myles Murphy, Clemson, DE: Murphy raised some serious 'brow with his comment at the draft that he'll be "better than LT," before rescuing himself on the spot with a save worthy of postseason Mariano Rivera: "Lawrence Tynes couldn't bull rush a tackle if his life depended on it."
26. Dallas Cowboys, Stetson Bennett, Georgia, QB: With the negotations to sign Brett Favre collapsing under the long-retired QB's demands that Jerry Jones build him a multibillion-dollar volleyball court, the Dallas brass goes for broke with the Georgia standout, hoping that a rotating tandem of Dak and Bennett will rekindle memories of the Morton-Staubach partnership of the early '70s.
27. Buffalo Bills, Christian Gonzalez, CB, Oregon: A mockery of this mockery of a mock draft certainly would have Gonzalez going higher than 26th. But the Bills are the beneficiaries of this particular version of the nonsense.
28. (From Cincinnati) Pittsburgh Steelers, Joe Greene III, TBD, University of Phoenix: Having seriously mishandled the Porter Jr. situation, Pittsburgh makes amends by going for a scion of one of the franchise's all-time greats. Though having never played competitive football, and weighing a mere 157 lbs., Lean Joe Greene has nonetheless been a head-slapping menace in his online accounting program, threatening to complete the two-year degree in 18 months. Expectations are for him to be the Steelers capologist by the 2025 campaign.
29. New Orleans Saints, Bijan Robinson, RB, Texas. Like Christian Gonzalez, the electrifying Robinson goes much later than expected. Like Kancey, the name fits the locale. When New Orleans children chant "Bayou, Bijan, Hokie Hokie Gajan" an apparition of Jumpy Geathers deposits gifts at the foot of their beds. Really. You can't make this stuff up.
30. Philadelphia Eagles, Bumper Pool, ILB, Arkansas: Though his measurables and film suggest anything but Round-1 talent, there's no way our love of a good name allows Pool to escape the first round. Think of the cult-hero potential here. When Philly kids are doing the Bumper Pool at school dances and on street corners, you'll then be giving us our props.
31. Kansas City Chiefs, Victor Wembanyama, Special Teams, France: This is what you get the team that has everything. The ultimate gadget pick, the 7-5 Wembanyama will be a holy terror blocking FG attempts at the line or standing under the goal posts, using his cartoonish wingspan. Expect Andy Reid to use the 18-year-old basketball phenom in Hail Mary situations, both on offense and defense. The rich keep getting richer.