Rethinking top quarterbacks: Stroud, Young, Richardson, Levis with Hooker rising fast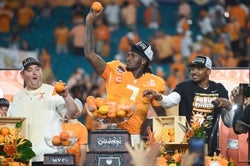 Tennessee head football coach Josh Heupel, Tennessee quarterback Joe Milton III (7), and Tennessee quarterback Hendon Hooker (5) throw oranges to teammates after winning the Orange Bowl game between the Tennessee Vols and Clemson Tigers at Hard Rock Stadium in Miami Gardens, Fla. on Friday, Dec. 30, 2022. Orangebowl1230 3289 1
April 7, 2023 — As we get closer to the draft it seems obvious that quarterbacks are causing a frenzy among the NFL teams who need them. As usual, the demand is greater than the supply. And that begins to shed a different light on evaluations, whether teams admit it or not.
NFLDraftScout.com's latest ratings show four quarterbacks among the top five and five quarterbacks in the first round. The order of quarterbacks, for now, is 1. C. J. Stroud (Ohio State), 2. Bryce Young (Alabama). No. 3 Anthony Richardson (Florida), No. 4 Will Levis (Kentucky) and No. 5 Hendon Hooker (Tennessee).
Hooker made a major jump to get into the first round, at No. 31 overall, and we are considering moving him up even more. Yes he injured his ACL in November and will be 25 years old this season. But the more we watch his games, the less important that seems. He was on his way to a Heisman Trophy and lit up Alabama's defense with five touchdown passes and 56 yards running. He is more advanced than Levis and Richardson, who are considered projects.
Unlesss Hooker's injury and age are really issues, why eye those guys ahead of him? Give us a little more time to drill in and he damn well may leapfrog them on the NFLDraftScout.com list
However, Richardson and Levis have obviously impressed a lot of coaches, including Carolina Panthers head coach Frank Reich.
When asked about Richardson, Reich's response showed he has thought a lot about the Florida quarterback: "He's an exciting player. Even before the combine, watching his tape, there are plays and throws all over the tape that scream top pick — top of the draft pick. And that's a credit to him. I think he has upper-body mechanics that are really solid.
"Obviously, his completion percentage is lower than you'd want at this level, but I don't get too discouraged at things like that. I see a lot of upside. Talking to him a little bit at the combine, you could tell how smart of a guy he is. And a guy like that — without getting totally into it — the experience he gets, he's a guy that you feel like is going to get better fast."
Makes you wonder, right? Shows that we aren't the only ones questioning the order in which the quarterbacks are rated.
Below are the latest ratings by NFLDraftScout.com
Height is displayed in four digits: the first for feet, the second two for inches and the last for eighths of an inch. So "6042" is six feet, four and two-eighths of an inch, or 6-4 1/4. Most teams round up past a half inch and down under a half inch.
*=Underclassman
Overall (Pos Rnk) Player College, Pos, HT, Wt, Class, Round
1. (1) *C.J. Stroud, Ohio State, QB, 6030, 214, rSo, 1
2. (2) *Bryce Young, Alabama, QB, 5101, 204, Jr, 1
3. (1) *Will Anderson Jr., Alabama, DE, 6034, 253, Jr, 1
4. (1) *Bijan Robinson, Texas, RB, 5110, 215, Jr, 1
5. (2) Tyree Wilson, Texas Tech, DE, 6055, 271, rSr, 1
6. (3) *Anthony Richardson, Florida, QB, 6042, 244, rSo, 1
7. (4) Will Levis, Kentucky, QB, 6037, 229, rSr, 1
8. (1) *Broderick Jones, Georgia, OT, 6053, 313, rSo, 1
9. (1) *Peter Skoronski, Northwestern, OG, 6040, 313, Jr, 1
10. (1) *Jaxon Smith-Njigba, Ohio State, WR, 6005, 196, Jr, 1
11. (1) *Jalen Carter, Georgia, DT, 6030, 323, Jr, 1
12. (1) Devon Witherspoon, Illinois, CB, 5114, 181, Sr, 1
13. (2) *Christian Gonzalez, Oregon, CB, 6013, 197, rSo, 1
14. (2) *Paris Johnson Jr., Ohio State, OT, 6063, 313, rJr, 1
15. (1) Nolan Smith, Georgia, OLB, 6022, 238, Sr, 1
16. (2) *Bryan Bresee, Clemson, DT, 6054, 302, rSo, 1
17. (3) *Joey Porter Jr., Penn State, CB, 6024, 198, Jr, 1
18. (3) *Myles Murphy, Clemson, DE, 6046, 268, Jr, 1
19. (1) *Michael Mayer, Notre Dame, TE, 6044, 249, Jr, 1
20. (4) *Lukas Van Ness, Iowa, DE, 6050, 272, rSo, 1
21. (1) *Brian Branch, Alabama, FS, 5115, 190, Jr, 1
22. (4) *Kelee Ringo, Georgia, CB, 6016, 207, rSo, 1
23. (2) Luke Musgrave, Oregon State, TE, 6057, 251, rJr, 1
24. (2) *Trenton Simpson, Clemson, OLB, 6023, 235, rJr, 1
25. (3) *Darnell Washington, Georgia, TE, 6065, 272, Jr, 1
26. (2) *Quentin Johnston, Texas Christian, WR, 6026, 208, Jr, 1
27. (5) *DJ Turner, Michigan, CB, 5112, 178, rJr, 1
28. (3) *Calijah Kancey, Pittsburgh, DT, 6010, 281, Jr, 1
29. (1) John Michael Schmitz, Minnesota, C, 6034, 301, rSr, 1
30. (3) *Drew Sanders, Arkansas, OLB, 6043, 235, Jr, 1
31. (5) Hendon Hooker, Tennessee, QB, 6032, 217, rSr, 1-2
32. (3) *Jordan Addison, Southern California, WR, 5111, 173, Jr, 1-2
32. (6) *Deonte Banks, Maryland, CB, 6001, 197, Jr, 1-2
33. (4) Keion White, Georgia Tech, DT, 6047, 281, rSr, 1-2
35. (2) OCyrus Torrence, Florida, OG, 6053, 330, Sr, 1-2
36. (3) Cody Mauch, North Dakota State, OG, 6050, 302, rSr, 1-2
37. (4) *Jalin Hyatt, Tennessee, WR, 6001, 184, Jr, 1-2
38. (4) Dalton Kincaid, Utah, TE, 6035, 246, rSr, 1-2
39. (5) *Isaiah Foskey, Notre Dame, DE, 6051, 264, rJr, 1-2
40. (5) *Josh Downs, North Carolina, WR, 5086, 171, Jr, 1-2
41. (6) Will McDonald IV, Iowa State, DE, 6035, 239, rSr, 1-2
42. (2) *Jahmyr Gibbs, Alabama, RB, 5091, 199, Jr, 2
43. (1) Jack Campbell, Iowa, ILB, 6045, 249, rJr, 2
44. (7) *Emmanuel Forbes, Mississippi State, CB, 6006, 166, Jr, 2
45. (6) Cedric Tillman, Tennessee, WR, 6033, 213, rSr, 2
46. (3) Matthew Bergeron, Syracuse, OT, 6052, 318, rJr, 2
47. (4) *BJ Ojulari, LSU, OLB, 6023, 248, Jr, 2
48. (2) *Antonio Johnson, Texas AM, FS, 6017, 198, Jr, 2
49. (7) Zay Flowers, Boston College, WR, 5092, 182, Sr, 2
50. (5) *Mazi Smith, Michigan, DT, 6030, 323, Jr, 2
51. (4) Darnell Wright, Tennessee, OT, 6053, 333, Sr, 2
52. (1) JL Skinner, Boise State, SS, 6036, 209, rSr, 2
53. (4) Braeden Daniels, Utah, OG, 6035, 307, rJr, 2
54. (8) *Cam Smith, South Carolina, CB, 6006, 180, Jr, 2
55. (6) *Gervon Dexter, Florida, DT, 6055, 310, Jr, 2
56. (5) Derick Hall, Auburn, OLB, 6026, 254, Sr, 2
57. (7) Adetomiwa Adebawore, Northwestern, DE, 6015, 282, Sr, 2
58. (5) Dawand Jones, Ohio State, OT, 6082, 374, Sr, 2
59. (7) Siaki Ika, Baylor, DT, 6027, 347, rJr, 2
60. (2) Jordan Battle, Alabama, SS, 6010, 209, Sr, 2
61. (5) *Anton Harrison, Oklahoma, OG, 6043, 315, Jr, 2
62. (3) Zach Charbonnet, UCLA, RB, 6003, 222, Sr, 2
63. (9) *Clark Phillips III, Utah, CB, 5090, 184, rSo, 2
64. (8) *Felix Anudike-Uzomah, Kansas State, DE, 6031, 255, Jr, 2
65. (3) Jartavius Martin, Illinois, FS, 5110, 194, rSr, 2
66. (2) *Joe Tippmann, Wisconsin, C, 6060, 313, Jr, 2-3
67. (6) *Anthony Bradford, LSU, OG, 6040, 332, Jr, 2-3
68. (4) *Zach Evans, Mississippi, RB, 5111, 202, Jr, 2-3
69. (5) *Tucker Kraft, South Dakota State, TE, 6046, 254, Jr, 2-3
70. (8) *Tyler Scott, Cincinnati, WR, 5097, 177, Jr, 2-3
71. (9) *Tuli Tuipulotu, Southern California, DE, 6030, 266, Jr, 2-3
72. (6) Dorian Williams, Tulane, OLB, 6010, 228, Sr, 2-3
73. (10) Julius Brents, Kansas State, CB, 6026, 198, rSr, 2-3
74. (5) *Devon Achane, Texas AM, RB, 5084, 188, Jr, 2-3
75. (9) Rashee Rice, Southern Methodist, WR, 6005, 204, Sr, 2-3
76. (8) Keeanu Benton, Wisconsin, DT, 6036, 309, Sr, 2-3
77. (2) *Noah Sewell, Oregon, ILB, 6014, 246, rSo, 2-3
78. (10) Zach Harrison, Ohio State, DE, 6054, 269, Sr, 2-3
79. (10) A.T. Perry, Wake Forest, WR, 6034, 198, rJr, 2-3
80. (6) Sam LaPorta, Iowa, TE, 6032, 245, Sr, 2-3
81. (6) *Tyjae Spears, Tulane, RB, 5095, 201, rJr, 2-3
82. (11) *Marvin Mims Jr., Oklahoma, WR, 5107, 183, Jr, 2-3
83. (7) Yasir Abdullah, Louisville, OLB, 6005, 237, rSr, 2-3
84. (4) Christopher Smith, Georgia, FS, 5105, 192, rSr, 2-3
85. (3) Daiyan Henley, Washington State, ILB, 6007, 225, rSr, 2-3
86. (3) *Luke Wypler, Ohio State, C, 6025, 303, rSo, 3
87. (11) Tyrique Stevenson, Miami, CB, 6003, 198, rJr, 3
88. (11) *Mike Morris, Michigan, DE, 6051, 275, Jr, 3
89. (6) Blake Freeland, Brigham Young, OT, 6077, 302, rJr, 3
90. (12) Charlie Jones, Purdue, WR, 5113, 176, rSr, 3
91. (4) Henry Too Too, Alabama, ILB, 6010, 227, Sr, 3
92. (7) Luke Schoonmaker, Michigan, TE, 6052, 251, rSr, 3
93. (7) *DeWayne McBride, Alabama-Birmingham, RB, 5103, 215, Jr, 3
94. (8) Chase Brown, Illinois, RB, 5094, 209, Sr, 3
95. (8) DeMarvion Overshown, Texas, OLB, 6025, 229, rSr, 3
96. (12) DJ Johnson, Oregon, DE, 6040, 260, rSr, 3
97. (9) Zacch Pickens, South Carolina, DT, 6037, 298, Sr, 3
98. (3) Sydney Brown, Illinois, SS, 5096, 211, rSr, 3
99. (9) Byron Young, Tennessee, OLB, 6023, 250, rSr, 3
100. (5) *Ronnie Hickman, Ohio State, FS, 6004, 209, rJr, 3
101. (12) Kyu Blu Kelly, Stanford, CB, 6002, 191, Sr, 3
102. (7) Nick Saldiveri, Old Dominion, OT, 6062, 318, rJr, 3
103. (9) *Israel Abanikanda, Pittsburgh, RB, 5101, 216, Jr, 3
104. (5) Owen Pappoe, Auburn, ILB, 6002, 225, Sr, 3
105. (13) Trey Palmer, Nebraska, WR, 6002, 192, rJr, 3
106. (14) *Kayshon Boutte, LSU, WR, 5112, 195, Jr, 3-4
107. (7) Andrew Vorhees, Southern California, OG, 6060, 310, rSr, 3-4
108. (10) Byron Young, Alabama, DT, 6033, 294, Sr, 3-4
109. (10) *Nick Herbig, Wisconsin, OLB, 6021, 240, Jr, 3-4
110. (8) Steve Avila, Texas Christian, OG, 6034, 332, rSr, 3-4
111. (8) Jaelyn Duncan, Maryland, OT, 6055, 306, rSr, 3-4
112. (13) Andre Carter II, Army, DE, 6064, 256, Sr, 3-4
113. (15) Nathaniel Dell, Houston, WR, 5083, 165, rJr, 3-4
114. (13) Darius Rush, South Carolina, CB, 6017, 198, rSr, 3-4
115. (4) Ricky Stromberg, Arkansas, C, 6032, 306, Sr, 3-4
116. (4) Kaevon Merriweather, Iowa, SS, 6000, 205, rSr, 3-4
117. (6) Jammie Robinson, Florida State, FS, 5105, 200, rJr, 3-4
118. (14) *Colby Wooden, Auburn, DE, 6040, 278, Jr, 3-4
119. (14) KeiTrel Clark, Louisville, CB, 5102, 181, rJr, 3-4
120. (6) Stetson Bennett, Georgia, QB, 5113, 192, rSr, 3-4
121. (16) Xavier Hutchinson, Iowa State, WR, 6017, 203, rSr, 3-4
122. (10) Kenny McIntosh, Georgia, RB, 6002, 216, Sr, 3-4
123. (8) Josh Whyle, Cincinnati, TE, 6064, 248, rSr, 3-4
124. (15) *Eli Ricks, Alabama, CB, 6020, 190, Jr, 3-4
125. (9) Wanya Morris, Oklahoma, OT, 6053, 307, Sr, 3-4
126. (9) *Warren McClendon, Georgia, OG, 6041, 306, rJr, 4
127. (16) Cory Trice, Purdue, CB, 6033, 205, rSr, 4
128. (17) Terell Smith, Minnesota, CB, 6004, 204, rSr, 4
129. (15) Isaiah McGuire, Missouri, DE, 6043, 268, Sr, 4
130. (11) *Jaquelin Roy, LSU, DT, 6033, 305, Jr, 4
131. (11) Nick Hampton, Appalachian State, OLB, 6022, 236, rSr, 4
132. (10) Jaxson Kirkland, Washington, OT, 6067, 321, rSr, 4
133. (6) Dee Winters, Texas Christian, ILB, 5110, 227, Sr, 4
134. (11) *Tank Bigsby, Auburn, RB, 5115, 215, Jr, 4
135. (18) *Garrett Williams, Syracuse, CB, 5103, 192, rSo, 4
136. (17) Andrei Iosivas, Princeton, WR, 6031, 205, Sr, 4
137. (10) Nick Broeker, Mississippi, OG, 6043, 305, Sr, 4
138. (16) Dylan Horton, Texas Christian, DE, 6040, 257, rSr, 4
139. (11) Ryan Hayes, Michigan, OT, 6063, 305, rSr, 4
140. (17) YaYa Diaby, Louisville, DE, 6033, 263, rSr, 4
141. (18) Jonathan Mingo, Mississippi, WR, 6016, 220, Sr, 4
142. (19) *Parker Washington, Penn State, WR, 5096, 204, rSo, 4
143. (18) Jose Ramirez, Eastern Michigan, DE, 6017, 252, Sr, 4
144. (12) Jeremy Banks, Tennessee, OLB, 6006, 232, rSr, 4-5
145. (5) JiAyir Brown, Penn State, SS, 5113, 203, rSr, 4-5
146. (7) Aidan OConnell, Purdue, QB, 6033, 210, rSr, 4-5
147. (6) *Brandon Hill, Pittsburgh, SS, 5103, 193, Jr, 4-5
148. (12) Eric Gray, Oklahoma, RB, 5094, 207, Sr, 4-5
149. (19) Art Green, Houston, CB, 6012, 198, rSr, 4-5
150. (12) Cameron Young, Mississippi State, DT, 6033, 304, rSr, 4-5
151. (11) Jordan McFadden, Clemson, OG, 6022, 303, rSr, 4-5
152. (20) Elijah Higgins, Stanford, WR, 6030, 239, Sr, 4-5
153. (13) Keondre Coburn, Texas, DT, 6016, 336, rSr, 4-5
154. (9) Will Mallory, Miami, TE, 6044, 239, rSr, 4-5
155. (20) Rejzohn Wright, Oregon State, CB, 6015, 193, rSr, 4-5
156. (5) Olusegun Oluwatimi, Michigan, C, 6024, 309, rSr, 4-5
157. (12) Emil Ekiyor Jr., Alabama, OG, 6024, 314, rSr, 4-5
158. (1) Hunter Luepke, North Dakota State, FB, 6012, 230, rSr, 4-5
159. (21) Cameron Brown, Ohio State, CB, 6000, 199, rSr, 4-5
160. (12) Tyler Steen, Alabama, OT, 6060, 321, rSr, 4-5
161. (13) *Kendre Miller, Texas Christian, RB, 5111, 215, Jr, 4-5
162. (21) *Rakim Jarrett, Maryland, WR, 5117, 192, Jr, 4-5
163. (7) Ventrell Miller, Florida, ILB, 5117, 232, rSr, 4-5
164. (7) *Brandon Joseph, Notre Dame, FS, 6003, 202, rJr, 4-5
165. (14) Mohamed Ibrahim, Minnesota, RB, 5076, 203, rSr, 5
166. (1) Jake Moody, Michigan, K, 6005, 209, rSr, 5
167. (19) Tavius Robinson, Mississippi, DE, 6061, 257, rSr, 5
168. (15) *Deuce Vaughn, Kansas State, RB, 5050, 179, Jr, 5
169. (13) McClendon Curtis, Chattanooga, OT, 6057, 324, rSr, 5
170. (14) DJ Dale, Alabama, DT, 6007, 302, Sr, 5
171. (13) Asim Richards, North Carolina, OG, 6042, 309, Sr, 5
172. (13) Cam Jones, Indiana, OLB, 6012, 227, rSr, 5
173. (14) Jon Gaines II, UCLA, OG, 6040, 303, rSr, 5
174. (22) Riley Moss, Iowa, CB, 6005, 193, Sr, 5
175. (22) Dontayvion Wicks, Virginia, WR, 6013, 206, rJr, 5
176. (16) *Keaton Mitchell, East Carolina, RB, 5077, 179, rSo, 5
177. (7) Jason Taylor II, Oklahoma State, SS, 5115, 204, rSr, 5
178. (23) TreVius Hodges-Tomlinson, Texas Christian, CB, 5075, 178, Sr, 5
179. (20) Ali Gaye, LSU, DE, 6060, 263, rSr, 5
180. (23) Jayden Reed, Michigan State, WR, 5107, 191, rSr, 5-6
181. (14) Carter Warren, Pittsburgh, OT, 6054, 311, rSr, 5-6
182. (15) Karl Brooks, Bowling Green, DT, 6033, 296, rSr, 5-6
183. (10) Cameron Latu, Alabama, TE, 6043, 242, rSr, 5-6
184. (24) Michael Jefferson, Louisiana, WR, 6036, 199, rSr, 5-6
185. (25) C.J. Johnson, East Carolina, WR, 6014, 224, rJr, 5-6
186. (15) Sidy Sow, Eastern Michigan, OG, 6046, 323, rSr, 5-6
187. (8) Ivan Pace Jr., Cincinnati, ILB, 5104, 222, Sr, 5-6
188. (17) Roschon Johnson, Texas, RB, 6003, 225, Sr, 5-6
189. (26) Michael Wilson, Stanford, WR, 6017, 213, rSr, 5-6
190. (8) Daniel Scott, California, SS, 6007, 208, rSr, 5-6
191. (14) Robert Beal Jr., Georgia, OLB, 6036, 247, rSr, 5-6
192. (24) Jakorian Bennett, Maryland, CB, 5105, 188, rSr, 5-6
193. (21) Caleb Murphy, Ferris State, DE, 6032, 263, Sr, 5-6
194. (15) Earl Bostick Jr., Kansas, OT, 6056, 309, rSr, 5-6
195. (1) Bryce Baringer, Michigan State, P, 6016, 216, rSr, 5-6
196. (18) *Evan Hull, Northwestern, RB, 5101, 209, rJr, 5-6
197. (27) Jalen Wayne, South Alabama, WR, 6016, 216, rSr, 5-6
198. (8) *Tanner McKee, Stanford, QB, 6062, 231, Jr, 5-6
199. (9) Anfernee Orji, Vanderbilt, ILB, 6010, 230, Sr, 5-6
200. (25) Ameer Speed, Michigan State, CB, 6033, 209, rSr, 5-6