Frank discussion on top QB prospects with Panthers head coach: Is it revealing?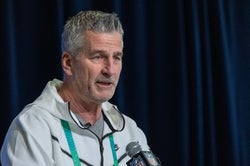 Mar 1, 2023; Indianapolis, IN, USA; Carolina Panthers coach Frank Reich speaks to the press at the NFL Combine at Lucas Oil Stadium. Mandatory Credit: Trevor Ruszkowski-USA TODAY Sports
With all eyes on the NFL Draft that begins April 27, Carolina Panthers head coach Frank Reich is On The Clock with the first pick in the 2023 player lottery.
The Panthers are one of least nine NFL teams seeking a franchise quarterback, but when they traded up from No. 9, it put Reich and general manager Scott Fitterer on the hot seat with the pick of the litter.
This is where careers are made ... or not.
Odds-on favorites are Ohio State's C. J. Stroud and Alabama's Bryce Young, but at the NFL Meetings in Phoenix, Reich delicately sidestepped revealing a favorite and made sure to add Kentucky's Will Levis and Florida's Anthony Richardson to the conversation.
At the end of the college season, Young was generally touted as the best with Stroud at No. 2. At the combine, Young measured 5-10 1/8, shorter than expected. Richardson, meanwhile, checked in at 6-4, 224, and set combine position records with a 40.5-inch vertical and 10-foot, five-inch broad jumps. His 40-yard time of 4.43 seconds was also impressive at that size.
Reich had an interesting, rather complex, take on Young's diminutive size and concerns about durability. The depth of his observations may indicate his measure of concern. Same might be said of his elaborate observations on Richardson.
"'The best ability is availability' is the old adage," Reich said, referring to Young. "The height thing, there's indicators you can look for to see how much of a factor that is ... how much is being 5-10 an issue to him? How good can he see? … But what you can measure also is what is a guy's durability? And that's a big issue. And how do you project that into the NFL where every week it's playing the best of the best.
"I played with (or coached) guys that were smaller for their position that had a great ability to stay healthy. Marvin Harrison as a receiver just had this incredible ability to never take big hits. I played with Barry Sanders. He had this knack of not taking the big hits … I think he's good at being instinctive in the pocket and minimizing – if you're a quarterback, can you minimize the number of hits you're taking and the intensity of those hits? Because you're gonna get hit, we all know that."
Coaches and scouts rave about Young's focus, character, football IQ and leadership. Reich says these are critical factors for a franchise quarterback.
"Character is a huge deal," he said. "We kind of talk about two types of character. We talk about just general character: integrity, humility — just things we would talk about for any job, right? For the media — any job. So, just general character qualities.
"Then we also talk about football character … it is a combination of those two things ... So that's just going to be part of our formula — high-character players. And we're going to want guys that have high football intelligence. And because of our experiences, they figure it out. You've got to be a problem solver — you're going to come up against things that are harder than you thought. And we've got to figure this out together."
Now back to concerns about size.
"How many guys at that size have (become) superstars as undersized quarterbacks?" he said. "There are some, like Drew Brees and so on and so forth, and it all goes back to that recipe.
"How important is that to us as an organization? ... Is that a consideration? Absolutely, that's a consideration. It's also a consideration (with) his play-making ability, his accuracy, his leadership, his instincts — it's the same thing with C.J. (Stroud), (Will) Levis, (Anthony) Richardson — all of those guys. You look at every single one of those things, and it's a sliding scale on how you evaluate them."
When asked specifically about Richardson, Reich was not at a loss for words.
"He's an exciting player," the coach said. "Even before the combine — watching his tape — there are plays and throws all over the tape that scream top pick — top of the draft pick. And that's a credit to him. I think he has upper-body mechanics that are really solid.
"Obviously, his completion percentage is lower than you'd want at this level, but I don't get too discouraged at things like that. I see a lot of upside. Talking to him a little bit at the combine, you could tell how smart of a guy he is. And a guy like that — without getting totally into it — the experience he gets, he's a guy that you feel like is going to get better fast."
So, who are the Panthers going top take? Draw your own conclusions.