Pro Daze: NFL's annual traveling circus is less than advertised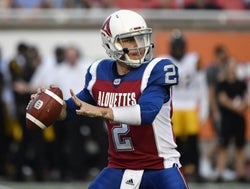 Aug 3, 2018; Montreal, Quebec, CAN; Montreal Alouettes quarterback Johnny Manziel prepares to throw against the Hamilton Tiger-Cats during the first quarter at Percival Molson Memorial Stadium. Mandatory Credit: Eric Bolte-USA TODAY Sports
Updated March 30, 2023
Etiquette probably dictates that some subjects should be introduced by first saying, with all due respect.
So, there it is.
Now. . . we are have completed the NFL's 2023 Draft Pro Day circuit, that traveling circus attended by coaches, scouts, media, even team owners to see draft prospects perform. Reports and reactions from these choreographed campus events are laughable, especially at the sanctified position of quarterback. It's the same joke every year but few seem to comprehend the punchline.
After being under the microscope and on videotape for several years in actual football games — from as early as high school — players dress in their most comfortable underwear to show off at their college campus Pro Day. And these shows are hyped as definitive examples of player worthiness in the upcoming NFL Draft April 27.
Some players didn't perform at the elaborate Indianapolis Combine and opted to display their ability at a Pro Day. And an obliging media, spearheaded by the NFL's "exclu$ive" coverage on premium "plus" channels, pretends that these Pro Days are uber significant and even dares compare timed results to those at the combine.
First, the difference between the combine and Pro Days is akin to, say, apples vs. roast duck. Second, the scripted performances, especially by quarterbacks, should guarantee Oscar-level reviews unless somebody pees down his leg.
There are a few semi-legit results at Pro Days, like somebody finally getting timed in 40 yards. This year, Ohio State's nifty wide receiver, Jaxon Smith-Njigba, didn't run at the combine after an injury-plagued 2022 season. But he did so at his Pro Day in Columbus, dashing 40 yards in 4.48 seconds. That validated what we already knew — he is fast.
But in a blind zeal to add context, reports attempt to compare Pro Day times with combine times, with one article stating "the fastest 40 run at the NFL Scouting Combine in Indianapolis last month was Michigan cornerback DJ Turner's 4.26. Smith-Njigba's 4.48 would have ranked 20th among receivers at the combine."
Not really. Making adjustments to appropriately compare hand-held and electronic methods, JS-N's Pro Day time could have been more like 4.54 at Indy, 27th among combine receivers.
The so-called official 40 times at the combine are usually (but not always) electronic (ET), with a hand-held start and laser finish, using Zybek equipment. Although more than 50 colleges have that same Zybek equipment, none use it for Pro Day events. And that is no coincidence. They go with the old hand-held (HH) method, with a stopwatch started and stopped by a human finger. Hand-held times are almost always faster than the ET method.
According to Mike Weinstein, founder of Zybek sports, the disparity between HH and ET methods can be from .17 to .25 seconds, depending on how adept the person is on the stopwatch. Even at the combine, there is some inconsistent, fuzzy logic involved in exactly who determines that "official" time and how it is done.
After fastidiously tracking all verifiable 40 times since the early '90s, NFLDraftScout.com, which provided to NFL.com information and data for years, has numerous examples of such inconsistencies. In 2004, NFL Network first televised the combine and realized it needed to report results, especially of the popular 40-yard run.
That only exacerbated the confusion and credibility issues as the TV show fumbled around with variations of "unofficial" and "official" 40 times with no transparency as to how this data is determined. That continued this year, with NFL.com posting 40 times deemed "official." A data-needy media seems to accept it.
And this on a key event that is allegedly timed to the hundredth of a second. But we won't continue this old rant, which will be revisited another time. Far more entertaining are the center-stage shows by the quarterbacks.
They are worthy of Academy Award recognition and easily could be titled the same as this year's biggest Oscar winner — "Everything Everywhere All at Once."
These staged shows have been basically the same forever. And, truth be told, this year's productions are a yawn compared to the most notable Pro Day performances of the past.
There was Texas A&M's Johnny Manziel, clad in military fatigues, with a rock concert attended by a former president; Cal's Kyle Boller got on his knees and threw 60-plus yards through the uprights; and LSU's JaMarcus Russell and Washington State's Ryan Leaf — debatably the two biggest busts in draft history — each received rave notices for having the "best quarterback Pro Day performance in history." We will replay details of some of those events later.
It is against that background that we watch Pro Days of top quarterback prospects for the 2023 draft, including Alabama's Bryce Young, Ohio State's C. J. Stroud, Kentucky's Will Levis and Florida's Anthony Richardson.
Their approach to these Pro Days is pretty much the same as always.
With help from coaches, trainers and the best receivers available, these quarterbacks script a series of 50 to 80 passes that display their best traits. It inevitably crescendos to a couple of final tosses that are the best-looking deep passes they can muster. That is greeted with a rousing cheer from the home-school onlookers.
Yay.
To be sure, there is genuine interest in these Pro Day shows by the Carolina Panthers, who traded up to the No. 1 spot, ostensibly to grab their next franchise quarterback. Vegas odds, and anybody else paying attention, point to either Young or Stroud. Not coincidentally, each of those quarterbacks dined with the Panthers' staff on the eve before their Pro Day show.
Still, there are murmurs that Richardson's shocking athleticism or Levis' rocket-launching arm might entice some team to draft them early. And there are suspicions that teams in the quarterback-needy NFL might will trade into the top five to be able to snatch up to four of these quarterbacks. After Carolina, among teams with a conspicuous need for a quarterback in this draft, Houston is at No. 2 and No. 12, Indianapolis No. 4, Atlanta No. 8 and Washington is No. 16.
Assuming there are four viable first-round quarterback prospects, that list of needy teams screams the possibility of trade movement in the draft. So include the aforementioned teams among those with heightened interest, and although it was reported the Colts did not attend Levis' Pro Day, the team announced he is an official invitee to the team facility.
We will document this year's Pro Days, such as they are, elsewhere on NFLDraftScout.com.
But for historic perspective on this annual folly, here are some notable Pro Days from the past:
April 3, 1998, Washington State's Ryan Leaf, 6-6, 268
Leaf and Tennessee's Peyton Manning were the top two prospects for the 1998 draft. One poll of GMs had Leaf as the favorite. Yeah, you had to be there. Manning was the perfect robot who was acutely focused on the game. Leaf was this tremendous physical specimen whose passing abilities were compared to Brett Favre. Leaf led the Cougars to their first ever Rose Bowl and partied hardy right up to the Combine, where he was overweight, woozy and confused. He missed his meeting with the Indianapolis Colts, who had the No. 1 pick. That pissed off general manager Bill Polian, although Leaf insists he was told to undergo medical tests and that conflicted with the interview. Leaf sobered up, literally, for his Pro Day, working with a trainer and nutritionist, and lost 16 pounds. He put on a passing show that draft analyst Todd McShay called "probably the best Pro Day ever by a quarterback." Leaf told the Colts not to draft him and later explained he preferred "the beach and the babes in San Diego." The Colts drafted Manning and the Chargers, who traded up to get which ever quarterback was left, took Leaf. He won his first two games before his immaturity dragged him into one of the worst spirals in sports history, with addiction leading to prison time. He is using his own mistakes as the backstory in his job as a football analyst.
March, 2003, Cal's Kyle Boller, 6-3, 220
After playing far under his physical potential for a couple of years, Boller benefited from Cal's hiring of head coach Jeff Tedford, who changed to a pro-style offense and tinkered with Boller's mechanics. Boller began the season rated as a post-draft free-agent prospect and then completed 28 TDs to only 10 interceptions. At the combine he reflected the great athleticism inherited from his dad (a track and field star), running 40 yards in 4.6 seconds.
At his Pro Day, Boller put on a pretty good show, then, as a finale, Tedford instructed the quarterback to get down on one knee at the 50-yard line and throw the ball through the uprights, 60 yards away (including end zone). He became the buzz of pre-draft discussions. Previously considered a low-to-free-agent prospect, Boller was taken No. 19 overall by the Baltimore Ravens. He played eight years with three teams, starting 47 games (20-27) and the full 16 in only one season. However, his Pro Day trick was copied by a few players.
March 14, 2007, LSU's JaMarcus Russell, 6-6, 260
I vividly remember JaMarcus Russell at the 2007 Indy Combine, when it was difficult to understand what he quietly mumbled into the microphone during a big interview. I asked him if anyone thought he should be more assertive, and he said his coach told him to be more assertive. He didn't work out at the combine, but lost 16 pounds for his Pro Day, ran 40 yards in a respectable 4.84 seconds. He hit 71 of 75 passes, some of them while rolling left or right, and then launched one more than 70 yards in the air. His arm looked as strong on the 75th pass as it did on the first. Long-time NFL team executive and personnel analyst Bruce Kebric called it "One of the greatest quarterback Pro Day workouts of all time." Raiders owner Al Davis ignored concerns of immaturity by his staff and took Russell with the first overall pick. Russell lasted only three years as his career disappeared in a Purple Haze, the street name of an infamous cough medicine that did him in.
March 27, 2014, Texas A&M quarterback Johnny Manziel.
This is probably the most memorable quarterback Pro Day in history. Former President George H. W. Bush and wife, Barbara, watched from a golf cart alongside Texas Governor Rick Perry. Music from Drake filled Texas A&M's indoor facility as Manziel wore military-fatigue garb, complete with shoulder pads and a helmet and camo shorts. He opened by taking the microphone and introducing his teammates. His footwork and delivery were impressive as he danced and darted while completing 61 of 64 passes (one drop). The show concluded with a 55-yard, deep post to Mike Evans after which the quarterback and receiver celebrated as a resounding "boom" was played over the speakers.
It was pure Johnny Football.
Manziel: "My main thing is, I'm not scared of anything. I don't play that way on the field, why come out here in a scripted workout and be scared of anything? It's a game we all love — throw the pigskin around and have some fun. It's a football player's dream. So for us, let's make it as challenging as we possibly could — let's get throws on the run, let's get stuff in the pocket to reset, and let's go out and have fun more than anything."
Manziel was drafted No. 22 overall by the Cleveland Browns, paid a $12,000 fine for flipping off some fans in August and lasted only two years in the NFL. Manziel partied his way through four teams in three leagues over eight years. In 2020 he signed with the Zappers of the fan-controlled, indoor American Football League. Last year he served as a player-coach for the Zappers.
But Pro Days haven't been as much fun since.