Shhh...listen: Hear the NFL's quarterback frenzy getting even crazier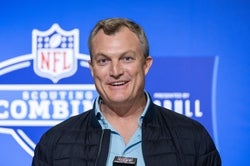 Feb 28, 2023; Indianapolis, IN, USA; San Francisco 49ers general manager John Lynch speaks to the press at the NFL Combine at Lucas Oil Stadium. Mandatory Credit: Trevor Ruszkowski-USA TODAY Sports
The NFL's hyperactive quarterback scene was turbocharged at the NFL Annual Owners Meeting in Phoenix and elsewhere, not only by what was said, but by what was cleverly unsaid.
By listening carefully, and reading between the lines, there seems to be more available prospects to consider by quarterback-hungry teams. And there may be more teams that have that hunger.
We are expecting dramatic and unexpected action within the next month involving surprise quarterbacks and teams more concerned than they let on.
In the buildup to the draft, the teams mentioned most with a quarterback need are Carolina, which traded to No. 1 to find a franchise prospect, followed by Houston (No. 2 and No. 12), Indianapolis (No. 4), Atlanta (No. 8) and Washington (No. 16).
After recent comments and actions, you might add to that list the Seattle Seahawks (No. 5 and No. 20), Las Vegas Raiders (No. 7) and unless or until new developments, don't eliminate the New York Jets (No. 13) or Baltimore Ravens (No. 22).
The Raiders did sign former 49ers quarterback Jimmy Garoppolo, but his history of injuries is a concern and the Raiders are doing their due diligence in a manner that hints they could use their first round pick on a quarterback.
"If we feel like the guy is worth it, we would do it," Raiders coach Josh McDaniels said Monday. "He's a really good player at the most important position in football and so . . . is making your quarterback room stronger or a strength of your team a bad thing? In our opinion, it's not."
So that's easily five, possibly seven and maybe nine teams that might be seeking a quarterback from what is only a fairly good 2023 quarterback draft class.
NFLDraftScout.com, in a bit of a stretch, rates four quarterbacks possibly worthy of a first round pick -- Ohio State's C. J. Stroud (No. 1 QB), Alabama's Bryce Young (No. 2), Florida's Anthony Richardson (No. 3) and Kentucky's Will Levis (No.4). After that we have Tennessee Hooker (No. 5), and a few others that some coaches seem to believe may have NFL potential.
With so many NFL teams in desperation mode, don't be surprised if four quarterbacks are snatched within the first five-to-seven selections, and five in the first round.
Simple math reveals the problems here. Up to nine teams seeking a quarterback from, optimistically, a pool of about five worthy prospects.
But wait, there's more.
Why do you think San Francisco 49ers' general manager John Lynch announced Monday that Brock Purdy is the "leader in the clubhouse" for the starting job at quarterback?
We think he was alerting teams at the meeting that Trey Lance, his costly No. 1 pick from 2021 draft (49ers traded three first round picks as part of move up to No. 3 overall) may be available in a trade. We predicted that draft transaction could become the worst in franchise history and it is close (with debates including swaps for O. J. and Jim Plunkett).
The 49ers signed former first round pick Sam Darnold and it is reasonable to believe if Purdy ran the offense well as a raw rookie, Darnold can do the same until Purdy is fully recovered from elbow surgery.
So add Trey Lance to the list of potentially available quarterbacks. He may not bring much in return but it may be time for the 49ers to cut their losses. Lance is in the third season of a four-year contract worth a total of $34,105,275, totally guaranteed. The team can extend that contract by picking up an option, which hardly seems logical at this point. So maybe there is another team that shared the 49ers' expectations of Lance.
And consider the dubious status of Green Bay's Aaron Rodgers, whose move to the New York Jets is taking forever. And why not? The Packers don't have to do anything until the season starts and with most viable free agent quarterbacks already signed, the price for Rodgers isn't going down.
From a practical perspective, why should the Packers do anything before they see heir apparent Jordan Love get through training camp healthy?
Baltimore's Lamar Jackson used social media to amplify his desire to be traded because the Ravens aren't meeting his financial demands. He is granted the ability to get an offer elsewhere, but the Ravens need only to match another team's offer in order to keep him.
The Jets and Ravens are acting casual about their QB situations as if everything will certainly be all right. But strange things happen, especially when some teams are desperate to get a quarterback.
And there is this: For teams who are able to restrain themselves, the batch of potential NFL quarterbacks appears to be even better next year. Yes, we know that's a long ways off and stuff happens, but NFL draft fans can be certifiably whacked on such things. Hell, the day after the 2023 draft, expect the media to feed that crazy need with a mock draft for the 2024 draft.
We will fight that urge, but we can list with a high degree of confidence the quarterbacks who probably will be available in 2024.
Straight from our database of more than 12,000 college players, here are the quarterbacks who seem best for the 2024 draft, in order (for now) *=underclassman:
Caleb Williams*, QB, USC, 6-1, 218.
Quinn Ewers, QB, Texas, 6-2, 206.
Jayden Daniels*, QB, LSU, 6-3, 185.
K.J. Jefferson, QB, Arkansas, 6-3, 236.
Spencer Rattler*, QB, South Carolina, 6-1, 205.
Tyler Van Dyke*, QB, Miami, 6-4, 224..
Bo Nix, QB, Oregon, 6-3, 214.
Michael Penix Jr., QB, Washington, 6-2, 214.
Yes, that's getting ahead of things. But the better franchises should have a big-picture perspective before they focus too tightly on the here and now.