AP Poll Movement: Texas No. 4, Colorado 18, Bama drops to 10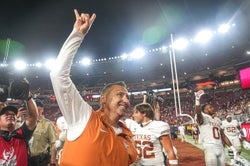 Sep. 9, 2023; Tuscaloosa, Alabama; Texas Longhorns head coach Steve Sarkisian celebrates the 34-24 win over Alabama at Bryant-Denny Stadium on Saturday, Sep. 9, 2023 in Tuscaloosa, Alabama. Mandatory Credit: Aaron E. Martinez-USA TODAY NETWORK
Two-time reigning national champion Georgia still sits atop the Associated Press Top 25 poll, but no team in college football had a bigger win than the Texas Longhorns on Saturday. They went into Alabama and left with a convincing 34-24 victory over Nick Saban's annual powerhouse team.
It was the type of statement that will resonate into the College Football Playoff discussions later in the season.
It also moved Texas up to No. 4 and Alabama down to 10 in the newly released AP Poll.
Take a look:
1. Georgia
2. Michigan
3. Florida State
4. Texas
5. USC
6. Ohio State
7. Penn State
8. Washington
9. Notre Dame
10. Alabama
11. Tennessee
12. Utah
13. Oregon
14. LSU
15. Kansas State
16. Oregon State
17. Ole Miss
18. Colorado
19. Oklahoma
20. North Carolina
21. Duke
22. Miami
23. Washington State
24. UCLA
25. Iowa
Texas lost by a single point in dramatic fashion in last year's matchup against the Crimson Tide, so it was surely thinking about the chance at revenge throughout the offseason.
Quinn Ewers threw for 349 yards, three touchdowns and zero interceptions, while the Longhorns defense intercepted Jalen Milroe twice. Milroe struggled at times to live up to the sky-high expectations in place as Bryce Young's successor, which is a credit to the defense he faced.
Alabama's loss was part of another tough day for the SEC against Power Five competition.
After Florida lost to Utah, LSU lost to Florida State and South Carolina lost to North Carolina in Week 1 of the season, Texas A&M lost to Miami and the Crimson Tide fell in two of Saturday's marquee games. Vanderbilt also lost to Wake Forest.
Tennessee looked pedestrian against Austin Peay, Mississippi State needed overtime to defeat Arizona, Missouri beat Middle Tennessee by four points and Kentucky struggled against Eastern Kentucky.
Ole Miss, which won at Tulane, was the only SEC team with a truly impressive performance against quality competition, although Auburn did escape a road game against California with a 14-10 victory.
It leaves one wondering if anyone will be able to challenge Georgia in the league, as the Bulldogs cruised past Ball State and likely won't be challenged until November games against Ole Miss and Tennessee.
Elsewhere, Notre Dame handled NC State on the road in a 21-point win, Oregon barely got past Texas Tech on the road and Washington State knocked the Wisconsin Badgers from the Top 25 with a win.
The Deion Sanders show also continued to roll, as Colorado overcame a slow offensive start and defeated Nebraska with ease.
But the Buffaloes and everyone else are still looking up at the champions.