Top 25 Movement: Dare we look forward to USC-Colorado Sept. 30?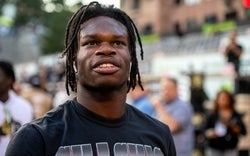 CU footballs sophomore athlete Travis Hunter was knocked out for up to three weeks by a dirty hit in game against Colorado State. Shown here Sept. 16, 2023 at Folsom Field in Boulder, Colo.
The USC Trojans were off last weekend with an early-season bye and kept their No. 5 ranking in both the Coaches and AP poll. The Pac-12 continues its run as the best conference in college football this season, with eight teams ranked in both polls.
USC's future schedule continues to register as one of the toughest in all of college football. The Trojans will play six teams ranked in both polls over the next nine weeks. Four of those opponents are among the top 11 teams in the country this week.
Colorado rose two spots in the Coaches poll but dropped a spot in the AP poll following a double overtime win against Colorado State. The Buffs are No. 19 in both polls this week. UCLA the No. 6 and final future USC opponent in the polls this week. The Bruins beat North Carolina Central 59-7 in a game that was never going to be remotely competitive.
The Pac-12 will begin beating up on itself this coming weekend as at least three ranked conference teams will suffer their first defeats of the season.
Colorado goes to Oregon for a 12:30 pm kick on ABC. UCLA travels to Utah for a 12:30 game on FOX. And Oregon State is at Washington State in a 4:00 kick on FOX.
Washington remained at No. 8 in both polls following a 41-7 win at Michigan State. Notre Dame is No. 9 in both polls after a 41-17 win against Central Michigan. Utah and Oregon are Nos. 10 and 11 in both polls. Oregon is No. 10 in the AP poll and No. 11 in the Coaches. Utah is reversed. The Utes put up a 31-7 win against Weber State and are still playing without quarterback Cameron Rising. The Ducks beat Hawaii 55-10.
In this week's poll, the AP top 4 shifted with Texas and Florida State flipping at Nos. 3 and 4. The Longhorns waited a while to pull away from Wyoming and win 31-10, but the Seminoles dropped a spot after barely hanging on to win at Boston College, 31-29.
USC-Colorado Early KO Sept. 30
USC fans will an early start to the Sept. 30 college football slate. The Trojans' kickoff in Boulder against the Colorado Buffaloes has been set for 9 am PT/10 am local time. The game will air on FOX.
It will be the first 9 am PT kickoff for USC since the Trojans' 2020 game against Arizona State in the Coliseum, played without fans in attendance. It's also quite a departure from the run the Trojans will have been on, with back-to-back 7:30 pm kickoffs against Stanford and Arizona State leading up to that early-morning kick. The Cotton Bowl against Tulane kicked off at 10 am PT. And USC's last visit to Boulder, in 2021, kicked at 11 am PT.
The No. 19 Colorado Buffaloes are off to a tremendous start to their 2023 season. Head coach Deion Sanders has flipped that program around one year after winning just one game. The Buffs opened the 2023 season with a win at No. 17 TCU, then beat rival Nebraska at home. Colorado was pushed to overtime against Colorado State but escaped with a win.
But the real tests start this week for the Buffaloes. Colorado travels to No. 10 Oregon this weekend and then will host USC. And the Buffs will play both games without two-way standout Travis Hunter. He took a hard late-hit in the win against Colorado State. Sanders said today he will be out three weeks, which includes the games against the Ducks and Trojans. Hunter is Colorado's best wide receiver and cornerback. The Buffs still have some skill players to threaten their opponents, but the defense takes a huge hit without Hunter.
Before USC can get to Boulder, the Trojans will travel this weekend to Arizona State for their first road game of the season. The Sun Devils are coming off a shutout loss to Fresno State in which they played without starting quarterback Jaden Rashada and a number of key offensive linemen.
Week 3 AP Poll
1. Georgia
2. Michigan
3. Texas (+1)
4. Florida State (-1)
5. USC
6. Ohio State
7. Penn State
8. Washington
9. Notre Dame
10. Oregon (+3)
11. Utah (+1)
12. LSU (+2)
13. Alabama (-3)
14. Oregon State (+2)
15. Ole Miss (+2)
16. Oklahoma (+3)
17. North Carolina (+3)
18. Duke (+3)
19. Colorado (-1)
20. Miami (+2)
21. Washington State(+2)
22. UCLA (+2)
23. Tennessee (-12)
24. Iowa (+3)
25. Florida (NR)
Week 3 Coaches Poll
1. Georgia
2. Michigan
3. Florida State
4. Ohio State
5. USC
6. Texas
7. Penn State
8. Washington
9. Notre Dame (+2)
10. Utah (+2)
11. Oregon (+2)
12. Alabama (-2)
13. LSU (+1)
14. Oklahoma (+2)
15. Oregon State (+2)
16. Ole Miss (+3)
17. North Carolina (+1)
18. Duke (+2)
19. Colorado (+2)
20. Tennessee (-11)
21. Miami (+2)
22. Iowa (+2)
23. Clemson (-1)
24. Washington State (+2)
25. UCLA