Big moves in NFL Draft Scout Player Rankings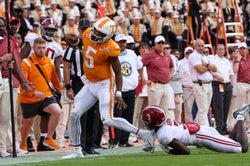 Oct 15, 2022; Knoxville, Tennessee, USA; Tennessee Volunteers quarterback Hendon Hooker (5) is forced out of bounds by Alabama Crimson Tide defensive back Terrion Arnold (3) Credit: Randy Sartin-USA TODAY Sports
After a wild, whacky Week 7 that saw eight Top 25 teams lose and several wannabes assert themselves, it is not surprising that NFL Draft Scout's player ratings underwent more changes than usual.
Again, to be clear, Alabama's menacing outside linebacker Will Anderson remains solidly situated as the best prospect in the draft at any position.
As for the others. . .
We suspected some players were better or worse than earlier ratings, but after more than half the season, and especially a hot Week 7, we have a better feel. So there were dramatic ascents as well as drops.
In a slight move, but an important one, Alabama quarterback Bryce Young went up one spot into the top 3 (from No. 4), despite The Tide's almost historic loss to Tennessee. For somebody who was questionable with a shoulder injury, he played damned near well enough to win.
But the opposing quarterback in that game made the biggest upward jump of the year among players in the top 100. Tennessee quarterback Hendon Hooker validated his season-long prolific play by throwing five touchdowns in that spectacular, 52-19, win against Alabama. Scouts who previously hinted and whispered that he may be a top tier quarterback are now saying it aloud.
NFL Draft Scout moved him from No. 63 overall into the first round at No. 27. And if he continues to perform well, he could get into discussions comparing his potential to our No. 2 player, quarterback C. J. Stroud of Ohio State, and Young at No. 3.
Four players jumped into the Top 100 from almost nowhere, which means we had them below the Top 350, which we call unrated although they were down there in the alphabet soup section.
Moving from that so-called unrated category into the Top 100 are Michigan defensive end Mike Morris (No. 50), Penn State wide receiver Jiyir Brown (No. 60), Michigan guard Zak Zinter (No. 72) and, one of our favorite players to watch, Purdue quarterback Aidan O'Connell (No. 90). Not coincidentally, O'Connell's favorite target, Charlie Jones, went from No. 90 to No. 85.
OK, we are sure some of you will say you knew all along how good these guys are. Congrats. When we are juggling more than 3,000 draft-eligible prospects some do get overlooked, for a while anyway. As the draft draws near, and especially after the Indy Combine, expect a lot more player movement.
But wait, there's more right now.
Four more players emerged from the so-called unranked into the Top 200. They are Illinois offensive tackle Julian Pearl (No. 128), surprising Princeton pass-catcher Andrei Iosivas (No. 79), Western Kentucky's stats-heavy quarterback Austin Reed (No. 185) and Shepherd University quarterback Tyson Bagent (No. 199)
Reed was hard to ignore after last week's 73-0 win over Florida International as he completed 30 of 35 passes for 385 yards, five touchdowns and no interceptions. That bloated his 2022 totals to 224 of 318 for 2,442 yards with 21 touchdowns and five picks.
In seven games, Bagent completed 181 of 266 passes for 2,267 yards, 20 touchdowns and four interceptions. OK, the competition isn't SEC caliber, but those are impressive numbers throwing against air. Go ahead, try it.
As is the case each year, quarterbacks in general are on the ascent as teams seek to steal a gem that will become a franchise hero. It's the Tom Brady syndrome, which began shortly after he was a lowly 199th pick. Hello Bagent? Well, you get the idea.
Only nine quarterbacks were selected in the 2022 draft. For 2023 there are at least four quarterbacks rated as first round prospects and 11 to 16 who may be on some draft lists.
We are including our Top 200 this week only so you can get a bigger peek behind the curtain as ratings evolve:
Rank. (Prev. rank) Player, Year, Position, School, Height, Weight, Projected Rd.
1. (1) Will Anderson Jr., Jr, OLB, Alabama, 6-4, 243, 1
2. (2) C.J. Stroud, rSo, QB, Ohio State, 6-3, 218, 1
3. (4) Bryce Young, Jr, QB, Alabama, 6-0, 194, 1
+4. (3) Jalen Carter, Jr, DT, Georgia, injury, 6-3, 300, 1
5. (5) Joey Porter Jr., rJr, CB, Penn State, 6-2, 198, 1
6. (6) Jordan Addison, Jr, WR, Southern California, 5-11, 175, 1
7. (7) Paris Johnson Jr., Jr, OT, Ohio State, 6-6, 310, 1
8. (8) Michael Mayer, Jr, TE, Notre Dame, 6-5, 265, 1
9. (9) Kelee Ringo, rSo, CB, Georgia, 6-2, 210, 1
+10. (10) Jaxon Smith-Njigba, Jr, WR, Ohio State, injury, 6-1, 200, 1
11. (11) Jaelyn Duncan, rSr, OT, Maryland, 6-5, 320, 1
12. (12) Jordan Battle, Sr, SS, Alabama, 6-1, 206, 1
+13. (13) Bryan Bresee, rSo, DT, Clemson, injury, 6-5, 305, 1
14. (14) Broderick Jones, rSo, OG, Georgia, 6-4, 310, 1
15. (15) Noah Sewell, rSo, ILB, Oregon, 6-2, 253, 1
16. (16) Emmanuel Forbes, Jr, CB, Mississippi State, 6-0, 180, 1
17. (17) Tuli Tuipulotu, Jr, DT, Southern California, 6-4, 290, 1
18. (18) Will Levis, rSr, QB, Kentucky, 6-2, 232, 1
19. (19) Nolan Smith, Sr, OLB, Georgia, 6-3, 235, 1
20. (20) Peter Skoronski, Jr, OG, Northwestern, 6-4, 315, 1
21. (21) Myles Murphy, Jr, DE, Clemson, 6-5, 275, 1
22. (22) Bijan Robinson, Jr, RB, Texas, 6-0, 222, 1
23. (23) Johnny Wilson, rSo, WR, Florida State, 6-6, 235, 1
24. (24) Trenton Simpson, Jr, OLB, Clemson, 6-3, 240, 1
25. (26) Ryan Hayes, rSr, OT, Michigan, 6-6, 305, 1
26. (25) Jermaine Burton, Jr, WR, Alabama, 6-0, 200, 1
27. (63) Hendon Hooker, rSr, QB, Tennessee, 6-3, 218, 1
28. (27) Josh Downs, Jr, WR, North Carolina, 5-10, 175, 1
29. (28) Christopher Smith, rSr, FS, Georgia, 5-10, 195, 1
30. (31) Tyree Wilson, rSr, DE, Texas Tech, 6-5, 275, 1
31. (29) Jack Campbell, rJr, ILB, Iowa, 6-4, 246, 1
32. (30) Will McDonald IV, rSr, DE, Iowa State, 6-3, 236, 1
33. (33) Zach Charbonnet, Sr, RB, UCLA, 6-1, 220, 1-2
34. (32) Clark Phillips III, rSo, CB, Utah, 5-09, 183, 1-2
35. (34) Siaki Ika, rJr, DT, Baylor, 6-3, 358, 1-2
36. (35) Quentin Johnston, Jr, WR, Texas Christian, 6-3, 215, 1-2
37. (37) Keeanu Benton, Sr, DT, Wisconsin, 6-3, 315, 1-2
38. (38) A.T. Perry, rJr, WR, Wake Forest, 6-5, 205, 1-2
39. (39) Derick Hall, Sr, OLB, Auburn, 6-2, 256, 1-2
40. (41) OCyrus Torrence, Sr, OG, Florida, 6-5, 347, 1-2
+41. (40) Cedric Tillman, rSr, WR, Tennessee, injury, 6-3, 215, 2
42. (42) Keondre Coburn, rSr, DT, Texas, 6-2, 344, 2
43. (43) Olusegun Oluwatimi, rSr, C, Michigan, 6-3, 307, 2
44. (36) JL Skinner, rSr, SS, Boise State, 6-4, 220, 2
45. (55) Jahmyr Gibbs, Jr, RB, Alabama, 5-10, 200, 2
46. (45) Dontayvion Wicks, rJr, WR, Virginia, 6-2, 208, 2
47. (49) BJ Ojulari, Jr, OLB, LSU, 6-2, 250, 2
48. (51) Darnell Washington, Jr, TE, Georgia, 6-6, 270, 2
49. (48) Cam Smith, rJr, CB, South Carolina, 6-0, 188, 2
50. (UR) Mike Morris, rJr, DE, Michigan, 6-5, 292, 2
51. (50) Xavier Hutchinson, rSr, WR, Iowa State, 6-3, 205, 2
52. (46) Tyrique Stevenson, rJr, CB, Miami, 6-0, 214, 2
53. (57) Matthew Bergeron, rJr, OT, Syracuse, 6-5, 322, 2
54. (59) Steve Avila, rSr, OG, Texas Christian, 6-3, 330, 2
55. (92) Dalton Kincaid, rSr, TE, Utah, 6-4, 240, 2
56. (44) Cameron Brown, rSr, CB, Ohio State, 6-0, 192, 2
57. (53) Kenny McIntosh, Sr, RB, Georgia, 6-0, 210, 2
58. (56) Andre Carter II, Sr, DE, Army, 6-6, 260, 2
59. (83) Dawand Jones, Sr, OT, Ohio State, 6-8, 359, 2
60. (UR) JiAyir Brown, rSr, FS, Penn State, 5-11, 208, 2
61. (61) Gervon Dexter, Jr, DT, Florida, 6-5, 312, 2
62. (58) Warren McClendon, rJr, OG, Georgia, 6-4, 300, 2
63. (62) Kayshon Boutte, Jr, WR, LSU, 6-0, 205, 2
64. (64) Dontay Demus Jr., rSr, WR, Maryland, 6-3, 215, 2
65. (47) Isaiah Foskey, rJr, DE, Notre Dame, 6-5, 265, 2-3
66. (68) Blake Corum, Jr, RB, Michigan, 5-07, 210, 2-3
67. (66) Jaxson Kirkland, rSr, OT, Washington, 6-6, 340, 2-3
68. (67) Zay Flowers, Sr, WR, Boston College, 5-10, 172, 2-3
+69. (69) Gervarrius Owens, rSr, FS, Houston, injury, 6-0, 200, 2-3
70. (177) Devon Witherspoon, Sr, CB, Illinois, 6-0, 180, 2-3
71. (70) Ricky Stromberg, Sr, C, Arkansas, 6-3, 313, 2-3
72. (UR) Zak Zinter, Jr, OG, Michigan, 6-5, 315, 2-3
73. (71) Cam Hart, rJr, CB, Notre Dame, 6-2, 198, 2-3
74. (72) Jordan McFadden, rSr, OG, Clemson, 6-2, 305, 2-3
75. (75) Zach Evans, Jr, RB, Mississippi, 5-11, 215, 2-3
76. (77) Felix Anudike-Uzomah, Jr, DE, Kansas State, 6-3, 255, 2-3
77. (78) Cody Mauch, rSr, OT, North Dakota State, 6-5, 303, 2-3
78. (79) Sam LaPorta, Sr, TE, Iowa, 6-4, 249, 2-3
79. (74) Ali Gaye, rSr, DE, LSU, 6-6, 265, 2-3
80. () Rakim Jarrett, Jr, WR, Maryland, 6-0, 190, 2-3
81. (78) Brenton Cox Jr., rSr, OLB, Florida, 6-3, 252, 2-3
82. (133) Chase Brown, Sr, RB, Illinois, 5-10, 205, 2-3
83. (80) Henry Too Too, Sr, ILB, Alabama, 6-1, 228, 2-3
84. (81) Nick Broeker, Sr, OG, Mississippi, 6-4, 315, 2-3
85. (90) Charlie Jones, rSr, WR, Purdue, 6-0, 188, 3
86. (54) Carter Warren, rSr, OT, Pittsburgh, 6-5, 325, 3
87. (179) DeCorian Clark, Sr, WR, Texas-San Antonio, 6-2, 210, 3
88. (86) Ronnie Hickman, rJr, FS, Ohio State, 6-1, 207, 3
+89. (82) Myles Jones, rSr, CB, Texas AM, injury, 6-3, 190, 3
90. (UR) Aidan OConnell, rSr, QB, Purdue, 6-3, 210, 3
91. (94) Owen Pappoe, Sr, ILB, Auburn, 6-1, 225, 3
92. (85) Zach Harrison, Sr, DE, Ohio State, 6-5, 272, 3
93. (88) Jarrett Kingston, rSr, OT, Washington State, 6-5, 302, 3
94. (89) Habakkuk Baldonado, rSr, DE, Pittsburgh, 6-4, 260, 3
95. (84) Arquon Bush, rSr, CB, Cincinnati, 5-11, 198, 3
96. (65) Colby Wooden, rJr, DE, Auburn, 6-4, 284, 3
97. (96) DeMarvion Overshown, rSr, OLB, Texas, 6-3, 220, 3
98. (117) Jonathan Mingo, Sr, WR, Mississippi, 6-2, 225, 3
99. (97) Tyler Davis, Sr, DT, Clemson, 6-2, 300, 3
100. (98) Nick Hampton, rSr, OLB, Appalachian State, 6-2, 235, 3
101. (95) Connor Galvin, rSr, OT, Baylor, 6-6, 302, 3
102. (101) Josh Proctor, rSr, SS, Ohio State, 6-1, 205, 3
103. (100) John Ojukwu, rSr, OT, Boise State, 6-6, 315, 3
104. (103) KeiTrel Clark, rJr, CB, Louisville, 5-10, 177, 3
105. (102) Kaevon Merriweather, rSr, SS, Iowa, 6-0, 212, 3
106. (107) Jammie Robinson, rJr, FS, Florida State, 5-11, 203, 3-4
+107. (104) Erick All, Sr, TE, Michigan, injury, 6-4, 255, 3-4
108. (110) Dee Winters, Sr, ILB, Texas Christian, 6-1, 230, 3-4
109. (105) Joseph Ngata, Sr, WR, Clemson, 6-3, 215, 3-4
110. (108) Joe Tippmann, rJr, C, Wisconsin, 6-5, 317, 3-4
111. (99) Travis Dye, rSr, RB, Southern California, 5-09, 200, 3-4
112. (91) Kyu Blu Kelly, Sr, CB, Stanford, 6-1, 188, 3-4
113. (111) Sean Tucker, rSo, RB, Syracuse, 5-09, 210, 3-4
114. (150) Dorian Thompson-Robinson, rSr, QB, UCLA, 6-1, 205, 3-4
115. (109) Rejzohn Wright, rSr, CB, Oregon State, 6-2, 200, 3-4
116. (196) John Michael Schmitz, rSr, C, Minnesota, 6-3, 320, 3-4
117. (114) Julius Welschof, rSr, DE, Michigan, 6-6, 266, 3-4
118. (115) Ruke Orhorhoro, rJr, DT, Clemson, 6-4, 295, 3-4
119. (116) Trajan Jeffcoat, rSr, DE, Missouri, 6-3, 269, 3-4
120. (152) Rashee Rice, Sr, WR, Southern Methodist, 6-1, 203, 3-4
121. (118) Tyler Lacy, rSr, DT, Oklahoma State, 6-4, 285, 3-4
+122. (119) Luke Musgrave, rJr, TE, Oregon State, injury, 6-5, 250, 3-4
123. (113) Darrell Luter Jr., rSr, CB, South Alabama, 5-11, 190, 3-4
124. (121) Mikel Jones, rJr, ILB, Syracuse, 6-0, 224, 3-4
125. (106) Mohamed Ibrahim, rSr, RB, Minnesota, 5-09, 210, 3-4
126. (120) Anthony Johnson, rSr, CB, Virginia, 6-1, 205, 3-4
127. (141) Emil Ekiyor Jr., rSr, OG, Alabama, 6-2, 307, 4
128. (UR) Julian Pearl, rJr, OT, Illinois, 6-6, 315, 4
129. (122) Keidron Smith, rSr, CB, Kentucky, 6-1, 204, 4
130. (128) Robert Beal Jr., rSr, OLB, Georgia, 6-4, 250, 4
131. (127) Viliami Fehoko, rSr, DE, San Jose State, 6-3, 263, 4
132. (129) Zacch Pickens, Sr, DT, South Carolina, 6-4, 305, 4
133. (139) DJ Dale, Sr, DT, Alabama, 6-2, 300, 4
134. (132) Key Lawrence, Jr, SS, Oklahoma, 6-0, 210, 4
135. (123) Roschon Johnson, Sr, RB, Texas, 6-1, 222, 4
136. (131) Cameron Latu, rSr, TE, Alabama, 6-4, 244, 4
137. (135) Jayden Reed, rSr, WR, Michigan State, 5-11, 190, 4
138. (134) Josh Whyle, rSr, TE, Cincinnati, 6-6, 250, 4
139. () Brock Martin, rSr, DE, Oklahoma State, 6-2, 245, 4
+140. (137) Brant Kuithe, rSr, FB, Utah, injury, 6-1, 219, 4
141. (138) Isaac Moore, rSr, OT, Temple, 6-6, 300, 4
142. (139) Patrick McMorris, Sr, SS, San Diego State, 6-0, 210, 4
143. (140) Camerun Peoples, rSr, RB, Appalachian State, 6-1, 225, 4
144. (126) Deantre Prince, rSr, CB, Mississippi, 6-0, 185, 4-5
145. (143) Parker Washington, rSo, WR, Penn State, 5-10, 215, 4-5
146. (144) Drake Thomas, rJr, OLB, North Carolina State, 6-0, 230, 4-5
147. (124) Trevor Downing, rSr, C, Iowa State, 6-4, 304, 4-5
148. (147) Trey Dean III, Sr, FS, Florida, 6-2, 207, 4-5
149. (148) Jaylon Jones, Jr, CB, Texas AM, 6-1, 205, 4-5
150. (149) Andrew Vorhees, rSr, OG, Southern California, 6-5, 325, 4-5
151. (184) Max Duggan, Sr, QB, Texas Christian, 6-2, 210, 4-5
152. (159) Tayvion Robinson, Sr, WR, Kentucky, 5-10, 187, 4-5
153. (145) Jake Moody, rSr, K, Michigan, 6-0, 210, 4-5
154. (142) Jarrick Bernard-Converse, Sr, CB, LSU, 6-1, 205, 4-5
155. (154) K.J. Henry, rSr, DE, Clemson, 6-4, 255, 4-5
156. (155) Chris Rodriguez Jr., rSr, RB, Kentucky, 5-11, 224, 4-5
157. (156) Jack Plumb, rSr, OT, Iowa, 6-6, 297, 4-5
158. (162) Luke Schoonmaker, rSr, TE, Michigan, 6-5, 250, 4-5
159. (158) Kenny Logan Jr., Sr, SS, Kansas, 6-0, 210, 4-5
160. (171) Kearis Jackson, rSr, WR, Georgia, 5-11, 200, 4-5
+161. (160) Derek Parish, rSr, OLB, Houston, injury, 6-1, 245, 5
162. (161) Shane Lee, Sr, ILB, Southern California, 6-0, 245, 5
163. (213) Davis Allen, Sr, TE, Clemson, 6-6, 250, 5
164. (163) PJ Mustipher, rSr, DT, Penn State, 6-4, 321, 5
+165. (164) Hyrin White, rSr, OT, Missouri, injury, 6-6, 333, 5
166. (165) Nick Herbig, Jr, OLB, Wisconsin, 6-2, 228, 5
167. (166) Cameron Young, rSr, DT, Mississippi State, 6-2, 315, 5
168. (167) Byron Young, rSr, OLB, Tennessee, 6-2, 245, 5
169. (168) Eric Gray, Sr, RB, Oklahoma, 5-10, 210, 5
170. (169) Caleb Chandler, rSr, OG, Louisville, 6-4, 297, 5
171. (170) Alex Jensen, rSr, OT, South Dakota, 6-7, 293, 5
172. (175) Elijah Higgins, Sr, WR, Stanford, 6-2, 234, 5
173. (172) Hunter Luepke, rSr, FB, North Dakota State, 6-1, 236, 5
174. (173) Nick Jackson, Sr, ILB, Virginia, 6-0, 234, 5
175. (174) McClendon Curtis, rSr, OG, Chattanooga, 6-6, 328, 5
176. (188) Jake Bobo, rSr, WR, UCLA, 6-4, 215, 5
177. (176) Tyler Nubin, Sr, SS, Minnesota, 6-2, 210, 5
178. (153) Josh DeBerry, Sr, CB, Boston College, 5-11, 177, 5
179. (UR) Andrei Iosivas, Sr, WR, Princeton, 6-2, 200, 5
180. (178) Kam Butler, rSr, DE, Virginia, 6-3, 265, 5-6
181. (180) Keion White, rSr, DE, Georgia Tech, 6-4, 286, 5-6
182. (181) Darius Muasau, Sr, ILB, UCLA, 6-1, 230, 5-6
183. (182) Zeke Vandenburgh, rSr, OLB, Illinois State, 6-3, 235, 5-6
184. (183) Walter Rouse, Sr, OT, Stanford, 6-5, 318, 5-6
185. (UR) Austin Reed, rSr, QB, Western Kentucky, 6-1, 230, 5-6
186. (185) Cory Durden, rSr, DT, North Carolina State, 6-4, 305, 5-6
187. (186) DJ Scaife Jr., rSr, OG, Miami, 6-3, 314, 5-6
188. (187) Chamarri Conner, rSr, FS, Virginia Tech, 6-0, 208, 5-6
189 (202) Jaray Jenkins, rSr, WR, LSU, 6-2, 200, 6
190. (189) Bryce Baringer, rSr, P, Michigan State, 6-2, 215, 5-6
191. (190) Miles Battle, rSr, CB, Mississippi, 6-3, 205, 5-6
192. (191) Taylor Upshaw, rSr, DE, Michigan, 6-3, 255, 5-6
193. (192) Scott Matlock, rSr, DT, Boise State, 6-4, 300, 5-6
194. (194) Austin McNamara, Sr, P, Texas Tech, 6-3, 195, 5-6
195. (195) Kavosiey Smoke, rSr, RB, Kentucky, 5-09, 209, 5-6
196. (146) Juice Scruggs, rSr, C, Penn State, 6-3, 310, 5-6
197. (197) Rashad Torrence II, Jr, SS, Florida, 6-0, 202, 5-6
198. (198) DShawn Jamison, rSr, CB, Texas, 5-09, 187, 5-6
199. (UR) Tyson Bagent, rSr, QB, Shepherd, 6-2, 215, 6
200. (200) Byron Young, Sr, DE, Alabama, 6-3, 292, 6