Brugler's familiar echo: Next year's quarterback class will be better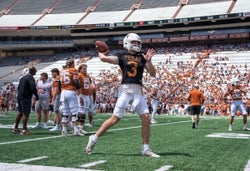 Texas quarterback Quinn Ewers (3) warms up ahead of the Longhorns Orange and White spring football game in Darrell K Royal-Texas Memorial Stadium, Saturday, April 15, 2023. Ewers
Next year's quarterback class will be better."
I'm tired of saying it — and I know you're tired of hearing it. It was true two years ago when looking at the lowly 2022 quarterback draft class. And even with Bryce Young and C.J. Stroud leading the 2023 class, it was true last year when 2024 prospects Caleb Williams and Drake Maye separated themselves as two of the most exciting players in the sport.
The good news is I don't think we'll need that line of thinking for the upcoming draft cycle, especially because the Williams-Maye debate at No. 1 might get bloody. For me, those prospects are more 1a and 1b than either sitting as the clear top choice. Both are (currently) worthy of the No. 1 pick next April. Based on scheme and what each NFL team prioritizes at the position, I expect front offices to be split on them as well.
After Williams and Maye, there is a clear drop-off at the position, although the second tier of this high-profile QB class contains a good mix of talented up and comers and experienced passers.
An early look at the prospects to know …
(Note: Asterisk represents draft-eligible underclassmen. Heights and weights are what NFL teams have on file — a "v" represents a verified measurement; all others are estimates.)
1. *Caleb Williams, USC (6-1, 215, 4.70) What he does best: Poised playmaking Lincoln Riley's diverse scheme makes the USC offense tough to defend, but Williams' poised playmaking is what makes it one of the best attacks in the country. For many of the same reasons why Young went No. 1 in April, Williams is the early favorite to be the top pick in 2024. The rising junior quarterback has rare awareness and vision to negotiate the pocket or deliver strikes off-platform, while always maintaining a strong throwing base. Williams might not have ideal height, but he has a bigger frame than Young and a more powerful arm.
On the six 2022 game tapes of Williams that I studied, I flagged numerous plays that had me laughing out loud because of their pure absurdity. Williams had flashier moments last season, but I wanted to highlight this remarkable fourth-quarter pass against Utah from the Pac-12 Championship Game. Williams was running for his life most of this game, including on this play (even with a six-man protection). The delayed stunts open clear rush lanes to the pocket, but Williams skillfully sidesteps the initial pass rusher while keeping his eyes downfield. With a second rusher bearing down on him, he finds the deep over route, keeps his weight on his back foot and uses a three-quarter motion to toss a 25-yard fastball around the body in front of him. Williams' poise and accuracy to make this throw with a defender in his face is special (and I don't throw around the "S" word lightly).
Must improve: Progression timing Williams has the scrambling ability that drives defensive coordinators mad. However, he can be guilty of relying too much on his legs at times and not enough on the efficiency of his progression reads. Some of that is by design — Riley's scheme requires the quarterback to wait for the initial read to come open. But some of the controlled chaos is self-induced, because Williams' timing tends to be inconsistent from read to read, which invites pressure in the pocket (just two FBS quarterbacks saw more defensive pressures than Williams in 2022). Though his creativity gets Williams out of trouble time and time again, NFL evaluators will be looking for continued maturation in his field/coverage efficiency, which also would mean fewer hits on his body.
Caleb Williams, Drake Maye, Michael Penix Jr. lead college football's QB tiers 2023 season/2024 NFL Draft outlook
As a sophomore, Williams deservedly took home the Heisman Trophy after setting school marks for passing yards (4,537) and total touchdowns (52). USC ranked top three nationally in total offense and passing offense, and the Trojans would have been a shoo-in for a playoff spot last season if they'd had any type of defense — USC averaged 37.0 points per game in its three losses. For the upcoming season, Williams loses a first-round wide receiver (Jordan Addison), but the Trojans' depth chart at that position remains deep and the offense as a whole should be potent again. Williams is a special player whose natural instincts can make the difficult appear easy. He has the arm strength and accuracy to deliver from the pocket but doesn't sacrifice velocity or placement when throwing off-platform or changing arm angles. Although he doesn't have prototypical size, Williams' toughness and play strength make him a dangerous dual threat — his 36 missed tackles forced last season were only three behind Anthony Richardson. The intangibles part of his scouting report is still a work in progress, but Williams' combination of football awareness and on-field talent makes him the projected No. 1 pick at this point in the process.
2. *Drake Maye, North Carolina (6-4, 225, 4.65) What he does best: High-level passing traits Maye is incredibly impressive as a passer, both physically and mentally. He is well-built with a strong arm to fire the ball into tight windows. And he consistently stays poised and in rhythm, especially from the pocket, which allows him to change his ball speeds and throw with accuracy.
I was pleasantly surprised by Maye's efficient vision (both horizontally and vertically) and coverage reads (both pre- and post-snap). Despite having only one season as a college football starter, Maye has an advanced ability to process and execute. This play from North Carolina's bowl game against Oregon is a great example of Maye's ability to read and deliver as a passer. On third-and-goal from the 6-yard line, the Tar Heels use a bunch formation with plenty of space to the wide side. With the Ducks' coverage tight to the formation, Maye knows he can "high-low" the outside cornerback because the inside safety loses leverage. If the cornerback sits back and protects the deeper route, Maye can hit the flat. But the corner works down and tries to maintain a relationship between both routes — once Maye reads that, he fires a strike between both defenders for the touchdown. The timing and execution (from the far hash) are NFL-quality.
Must improve: Lower-body mechanics When Maye's throws are off-target, his unbalanced footwork is usually to blame. He moves with quiet feet in the pocket and has the athletic movements to work outside of structure and make strong throws on the move. However, he tends to rely more on his upper half than on resetting his base and using his feet/hips to square and drive his throws. Nonetheless, his accuracy is more of a strength than weakness and should continue to improve as he pays more attention to his footwork.
QB evaluations in the RPO era: How do Drake Maye and other 2024 prospects stack up? 2023 season/2024 NFL Draft outlook In his first season as a starter, Maye impressed with a 66.2 percent completion rate, 4,321 passing yards and a 38-to-7 touchdowns-to-interceptions ratio last year. (He also had seven rushing touchdowns.) The North Carolina offense will look different in 2023 as Maye loses his top two receivers, most notably Josh Downs and his 116 targets.
The other major change for Maye in 2023 is that he'll have a new play-caller after former OC Phil Longo left Chapel Hill for the same position at Wisconsin. While Longo has a history of productive offenses, NFL scouts are eager to see Maye in a more refined, balanced scheme. Evaluators don't need to squint to see the parallels between Maye and Los Angeles Chargers star Justin Herbert as NFL prospects. Both have similar play styles and physical profiles with their size, arm and athletic body control.
Scouts may even have some of the same concerns with Maye that they did with Herbert coming out of college, like bouncy feet and overconfident throws — although (as with Herbert) Maye's mental make-up and package of traits are worthy of a very high draft pick. For me, the gap is razor-thin between Williams and Maye in terms of who should be ranked as QB1 and stand as the favorite to be No. 1 overall in the 2024 NFL Draft.
3. J.J. McCarthy, Michigan (6-3, 209, 4.55) What he does best: Intriguing toolbox McCarthy is far from a polished product, but his tools have scouts excited for his future. A fleet-of-foot athlete, he uses his quick acceleration to outpace pursuit when on the move. His arm strength is above-average and allows him to rip throws down the seam or into the void up the sideline. McCarthy is a tad lean, but the frame is there for him to continue filling out and adding functional bulk. Aside from the physical traits, his coaches also rave about his smarts and competitiveness — two non-negotiable qualities for the next level. All three of McCarthy's passing touchdowns on last year's Purdue tape were impressive, for different reasons. On this third down in the red zone, the defense rushes six, but McCarthy sees the pressure and shows off his speed to easily gain leverage on the outside rusher. While on the move, he resets his eyes and fires a seed to the tight end.
Must improve: Precise ball placement McCarthy has the arm to make every throw on the football field, and though he is generally accurate with his passes, his placement is not consistently precise. He misses too many layup attempts underneath that force his targets to work for the grab and restrict them from running after the catch. Down the field, McCarthy needs to continue developing his touch to make it easier for his receivers — and tougher for defensive backs to obstruct the catch window. By college football standards, McCarthy is an accurate quarterback. To be a first-round pick, though, he must show improvement in this area.
2023 season/2024 NFL Draft outlook Ranked as a top-five quarterback recruit out of high school, McCarthy overtook Cade McNamara last season as a sophomore to become the Wolverines' starter. Blake Corum, Donovan Edwards and the Michigan run game paced the offense, but McCarthy made plays when needed and helped his team reach the College Football Playoff. Several of his miscues in the playoff game (including a pair of pick sixes) contributed to the Wolverines' loss to TCU, but McCarthy's body of work as a first-year starter stood out to NFL scouts. With his physical profile and intangibles, McCarthy — who won't turn 21 until January — checks a lot of boxes needed to play the position at a high level.
Corum and Edwards return for the 2023 season, and the run-first mentality still will be apparent in Ann Arbor, but Jim Harbaugh knows he has a revving Ferrari at quarterback. Michigan might not have many contests this season in which it needs to rely on McCarthy's arm to win, but that doesn't mean the Wolverines should hesitate to turn him loose. There is no question McCarthy has the talent. Time will tell whether he translates his tools into more consistent production in 2023, but he could be one of the first three quarterbacks drafted if that happens. The 2024 NFL Draft's top transfer prospects: Who is this year's Christian Gonzalez?
4. Riley Leonard, Duke (6-3 5/8v, 211v, 4.52) What he does best: Delivers a catchable ball Given Leonard's size, mobility and field vision, there are numerous reasons to feel optimistic about his projection to the NFL. For me, Leonard's ability to throw accurate balls with placement and touch, especially downfield, is what stands out most. Leonard benefits from a scheme that helps create voids in the defense, but the junior quarterback does an outstanding job reading coverage, buying time and then accurately putting the ball on the right receiver. Despite Duke's comeback against North Carolina falling short, Leonard had several gems in the fourth quarter. On this touchdown, the field receiver does a nice job drawing the cornerback with an inside stem before flipping his hips and creating outside leverage toward the corner pylon. Leonard uses a pump motion to help sell the slant, then lofts a perfect toss over the cornerback to where his receiver can get his feet down for six points.
Must improve: Youthful mistakes As with most young quarterbacks, Leonard is still guilty of correctable mistakes like leading his receivers into contact or not manipulating defenders with his eyes. There are examples on tape of him making anticipatory throws, but other times he waits for the receiver to come open and is late pulling the trigger. Leonard doesn't have an elite arm in terms of velocity, which makes his timing even more paramount. But with his field reading and confidence, I expect him to become more consistent in this area as he adds experience. 2023 season/2024 NFL Draft outlook Duke managed just three wins in 2021 (zero in ACC play) and similar results were expected last season in Year 1 of the Mike Elko era.
However, Leonard won the starting job as a sophomore and quickly established himself as one of the most productive quarterbacks in the conference, leading the Blue Devils to a nine-win season. He averaged 282.0 yards of total offense (third best in the ACC) and combined for 33 touchdowns (20 passing, 13 rushing). Leonard might not have the same name recognition as the other quarterbacks on this list, but the tape says he belongs. I first noticed him when studying ACC defensive prospects last year, and I was even more impressed after studying the quarterback's own film this summer. Though he might not have truly elite physical traits, he is a good-sized athlete who can be effective on the ground and has a strong-enough arm to win through the air. Most importantly, he is an accurate, efficient passer and plays with an instinctive feel for the position. NFL scouts will be eager to see if he can build off his promising 2022 performance — and it will start in Duke's season opener against a talented Clemson defense. 2024 NFL Draft: Frank Gore Jr. and the top prospects from non-Power 5 teams
Quinn Ewers, Texas (6-2, 205, 4.75) What he does best: Arm confidence Although Ewers' execution was erratic in his first season as a starter, his tape clearly shows that he has the arm talent and confidence to make the full inventory of throws. The ball jumps off his hand differently than it does for most quarterbacks, and he can attack every inch of the field because of his arm strength and touch. Ewers looked like a future high-round draft pick in the first half against Alabama last season. On this deep out, the wide receiver sells the go route before sinking and breaking toward the sideline. As the receiver is in his collapsing phase, Ewers sees the cornerback with his back to the play, anticipates the window and drills a throw to the sideline before the break. The timing and trajectory on this throw need to be impeccable and Ewers delivers for a 22-yard gain.
Must improve: Staying on schedule The above clip is a great example of what Ewers is capable of when he does stay on schedule. But too many other times, especially on deep throws, his passes sail or his placement is slightly off-target — common issues for a redshirt freshman. The key for Ewers moving forward will be getting his footwork, low release point and eyes on the same page, which should improve his overall decision-making. 2023 season/2024 NFL Draft outlook Between his perfect five-star high school rating and more than $1 million in NIL endorsements, Ewers entered college football with extreme levels of hype. After a year on the bench at Ohio State, he transferred to Texas, where he became the starter last season and showed just how young he is — but also displayed the raw talent that has the NFL interested.
If the draft were to happen tomorrow, I don't think Ewers would be a first-round lock. He's just not there yet. But the Longhorns' QB, who recently turned 20, is on a promising trajectory and it will be interesting to see the jump he makes in 2023. Despite losing RBs Bijan Robinson and Roschon Johnson to the NFL, the Longhorns return their top three pass catchers (all of whom are future NFL draft picks) and one of the most promising offensive lines in the country. With an early September visit to Tuscaloosa looming (and QB Arch Manning waiting in the wings), NFL teams will be watching Ewers closely, because the potential is there for him to become a top-10 pick. 2024 NFL Mock Draft: Caleb Williams, Marvin Harrison Jr. lead next year's class
6. Bo Nix, Oregon (6-1 7/8v, 225v, 4.80) What he does best: Accuracy between the hashes Short, intermediate or deep, Nix does an outstanding job working the middle of the field with accuracy. He is comfortable using play fakes and then sliding/climbing in the pocket with the quick release to get the ball out before middle-field defenders can react. Nix completed 82.1 percent of his throws between the hashes in 2022, including 51.1 percent on throws of 20-plus yards (first in the FBS last season among quarterbacks with at least 40 deep attempts). Of his 29 passing touchdowns last season, 24 came on throws in the middle of the field — including all five of 20-plus yards. Nix is an outstanding post-route thrower, especially off play-action, and this 42-yard touchdown pass on third down against Washington is a great example. Despite impending contact, he maintains his balance and weight transfer to perfectly lead the receiver down the spine of the field.
Must improve: Eliminating YOLO plays To be clear, Nix made major strides last season at Oregon compared to his years in the SEC. His ability to decipher and distribute the ball in a timely manner is much improved, but he is still guilty of more "YOLO" plays than you want to see. Though I love his urgency and command, some of his improper decisions stem from a tendency to breeze through progressions instead of patiently allowing routes to develop. 2023 season/2024 NFL Draft outlook The narrative surrounding Nix as an NFL prospect is drastically different now than it was last summer. He arrived at Auburn as a highly recruited legacy quarterback, but his production over three seasons on The Plains was wildly inconsistent. Nix transferred to Oregon before the 2022 season and reinvented himself under offensive coordinator Kenny Dillingham.
He finished last season with career bests in passing yards (3,593), passing touchdowns (29) and total touchdowns (43). Despite Dillingham leaving to become the head coach at Arizona State, Nix returns to Eugene in 2023 to build off last season and cement himself as a projected NFL starter. A natural thrower, he is accurate from different platforms and has no trouble driving the football. Nix is a terrific athlete for the position and consistently creates second-reaction plays by eluding pressure in small spaces and throwing on the move. Even if his production takes a minor dip from last season, Nix can put himself in the top-50 draft discussion with another strong season.
Preseason top 20 senior QBs (Note: Heights and weights are verified for senior QBs listed below and estimates for underclassmen, unless otherwise noted.) 1. Nix 2. Jordan Travis, Florida State (6-0 7/8, 202) 3. Michael Penix Jr., Washington (6-2 1/2, 221) 4. Jayden Daniels, LSU (6-3 3/8, 205) 5. Joe Milton III, Tennessee (6-5, 236) 6. Austin Reed, Western Kentucky (6-1 1/4, 222) 7. Michael Pratt, Tulane (6-2 1/2, 219) 8. Spencer Rattler, South Carolina (6-0 1/8, 216) 9. Devin Leary, Kentucky (6-1, 217) 10. KJ Jefferson, Arkansas (6-3 1/8, 252) 11. Sam Hartman, Notre Dame (6-1, 210) 12. Kedon Slovis, BYU (6-2 3/8, 217) 13. Gavin Hardison, UTEP (6-1 1/2, 214) 14. Cameron Ward, Washington State (6-1 3/8, 216) 15. Cameron Rising, Utah (6-1 1/2, 216) 16. Grayson McCall, Coastal Carolina (6-2 1/8, 207) 17. Carter Bradley, South Alabama (6-3, 217) 18. Collin Schlee, UCLA (6-3 1/2, 217) 19. Phil Jurkovec, Pittsburgh (6-5 1/8, 219) 20. Will Rogers, Mississippi State (6-1 1/2, 208) 21. DJ Uiagalelei, Oregon State (6-4 1/4, 240) 22. Kurtis Rourke, Ohio (6-4 1/4, 230) 23. Will Howard, Kansas State (6-4, 244) 24. Brennan Armstrong, NC State (6-1, 210) 25. Jalon Daniels, Kansas (5-11 3/4, 211)
Preseason top 10 draft-eligible underclassman QBs 1. Williams 2. Maye 3. McCarthy 4. Leonard 5. Ewers 6. Shedeur Sanders, Colorado (6-2, 215) 7. Carson Beck, Georgia (6-4, 215) 8. Tyler Van Dyke, Miami (Fla.) (6-3 1/2v, 224v) 9. Jaxson Dart, Ole Miss (6-2, 220) 10. Kyle McCord, Ohio State (6-3, 215)