CFB Week 1: Accentuating the Many Positives; Believe!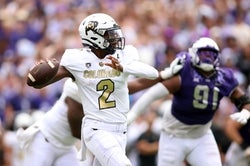 Sep 2, 2023; Fort Worth, Texas, USA; Colorado Buffaloes quarterback Shedeur Sanders (2) throws a pass in the second quarter against the TCU Horned Frogs at Amon G. Carter Stadium. Mandatory Credit: Tim Heitman-USA TODAY Sports
After enjoying rambunctious competition and extraordinary performances Thursday through Sunday of this season's Week 1, let's accentuate the positives and sidestep the negatives which dominate too much of the news anyway.
This is a Prime Time to answer Colorado Coach Deion Sanders' poignant question of the week: "Do you believe now?"
Yes, Deion, we do. Now. Let's embrace the positives. We have a long season to report the problems.
Colorado's 45-42 win against No. 16/17 TCU is one of the most shocking season-opening results in memory, maybe in history all things considered.
Criticized, ridiculed and mocked when he jettisoned almost the entire Buffalo team from last year's dismal 1-11 season, Sanders may have created a new blue print for rebuilding a team when he lured 68 new, mostly incredibly athletic, players.
Week 1 Winners
Deion Sanders
Colorado proved it on the field against the defending runner-up to the last year's national championn, and Sanders deserves tremendous credit for the way he flipped the roster and, most importantly, for getting a team full of transfers on the same page heading into the season opener. One of those transfers, his son Shedeur, threw for a school-record 510 passing yards. Another, sophomore phenom Travis Hunter, became the first FBS player in more than two decades to have 100 receiving yards and an interception in the same game. And the win was Colorado's first on the road against an opponent ranked in the top 20 since beating UCLA in 2002.
How's this for a debut? Sanders and the Buffaloes are already off and running.
Caleb Williams
Against the tough upstart San Jose State Spartans in Week 1, the USC quarterback, at the very least, maintained his chances to be a repeat Heisman Trophy winner. Williams already played two games in 2023 and has simply picked up where he left off before suffering a hamstring injury in last year's Pac-12 title game against Utah.
After throwing for 278 yards and four TDs in a Week 0 win over San Jose State, Williams had more touchdown passes (five) than incompletions (four) in the first half of USC's 66-14 win over Nevada. He also produced some ridiculous highlights.
Williams finished the game 18-of-24 passing for 319 yards and those five scores, and looks poised to be the first player since Archie Griffin in 1974 and 1975 to win back-to-back Heismans. Through two games, the defending Heisman Trophy winner Passed for 597 yards and nine touchdowns while completing 73.5% of his attempts. Yeah, there's a long way to go this season, but if Williams continues to make plays like that, how can anyone else win the award? Well, keep reading.
Travis Hunter
Hunter was on full display in CU's 45-42 win. Hunter, the No. 1 recruit in the class of 2022, committed to play for Sanders at Jackson State and then followed him to Colorado. He played both ways in his Colorado debut — 129 snaps in all. As a receiver, Hunter caught 11 passes for 119 yards, including a remarkable 43-yard reception on a critical 3rd-and-16 play in the fourth quarter. And then, as a cornerback, Hunter had three tackles and played lockdown coverage. His diving interception in the third quarter kept TCU out of the end zone, showing off his incredible talent in the process.
Shedeur Sanders
Coach Prime's son, whose ability was questioned when he displayed it at Jackson State, was extraordinary, and extraordinarily poised, against TCU. Best observations, once again, were by former NFLDraftScout.com analyst, now with the Athletic, Dane Brugler:
In his Colorado debut, Sanders — the son of Buffaloes coach and NFL Hall of Famer Deion Sanders — threw for a school-record 510 yards (on 10.9 yards per completion) and four touchdowns in a stunning 45-42 upset of No. 17 TCU, last season's College Football Playoff runner-up. Sanders' totals could have been even more eye-popping, were it not for a couple of early drops by his receivers that cost him another 75-plus yards passing.
"Shedeur Sanders is one of the best quarterbacks I've ever seen wear that uniform," Fox analyst and former Colorado QB Joel Klatt said as the final seconds ticked off the clock. "Or, this certainly was one of the best games I've ever seen out of that uniform — and I've seen almost all of 'em."
Michael Penix
No. 11 Washington's senior quarterback started his Heisman campaign with a bang: Penix had 450 yards and five touchdowns, four coming in the second quarter, as the Huskies overcame a sluggish start to romp past Boise State 56-19. An under-the-radar superstar in 2022, his first year after transferring from Indiana, Penix is one of the most prolific passers in the FBS and a prime contender for national hardware should Washington rise to the top of the Pac-12.
Joe Milton
The Tennessee quarterback entered the 2023 season one of the most interesting signal-callers in college football. After Vols QB Hendon Hooker lit up the sport in 2022 and missed the final two games of the season with a knee injury, Milton looked more than capable of running Tennessee's high-octane offense in 2023.
Milton was 21-of-30 for 201 yards and two TDs in Tennessee's blowout win over Virginia in Nashville. And while those stats look pedestrian, they had the potential to be so much more. Milton launched a pinpoint pass in the first half that traveled over 60 yards in the air, but it was dropped. And he made another phenomenal throw to the end zone that wasn't a TD by inches. If Tennessee is a top 10 team again in 2023, it's because Milton is as good or better than Hooker was a season ago. And that's very possible.
J.J. McCarthy
The outspoken Michigan quarterback — with head coach Jim Harbaugh suspended — completed 26-of-30 pass attempts for 280 yards and three touchdowns in a 30-3 season-opening win over East Carolina. McCarthy was seen entering the stadium wearing a homemade "Free Harbaugh" shirt.
Jalen Milroe
The Alabama quarterback competition was a major storyline entering the season, and Jalen Milroe emerged as the starter. In his 2023 debut, he played great as Alabama started the season with a 56-7 win over Middle Tennessee. Milroe completed 13-of-18 passes for 194 yards and three touchdowns. He also rushed for 48 yards and two scores. He looked in total control of the Alabama offense, which is now coordinated by Tommy Rees. It should serve as a major confidence boost — for Milroe and his coaches — with Texas visiting Tuscaloosa next weekend.
Hugh Freeze
The Freeze era at Auburn kicked off with a 59-14 win against Massachusetts, which was fresh off a Week 0 upset of New Mexico State. While three Auburn quarterbacks combined for a pedestrian 203 yards on 14-of-25 passing, most from starter Payton Thorne, six players ran for at least 30 yards as the Tigers racked up 289 rushing yards and six scores.
Unbeaten Pac-12
For a conference considered DOA entering the 2023 season, the Pac-12 — aka the Pac-2 — is pretty damned lively. After its Week 1 games the Pac-Whatever has a perfect 13-0 record. No. 18 Oregon State, one of two remaining members of the conference ahead of 2024, made sure the Pac-12 closed out the weekend without a loss as it routed San Jose State, 42-17, on the road. Quarterback DJ Uiagalelei was outstanding n his Oregon State debut. The Clemson transfer accounted for five touchdowns — three passing and two rushing — while completing 20-of-25 passes for 239 yards. The Beavers also featured a 145-yard effort from running back Damien Martinez, the reigning Pac-12 Offensive Freshman of the Year. Before Oregon State took care of business in San Jose, there were 12 other victories by Pac-12 teams — including two from USC. USC also beat San Jose State, but did so in Week 0, and then blew out Nevada, 66-14, Saturday night.
Georgia
Don't make too much out of Georgia's sleepy start against Tennessee-Martin, which saw the Bulldogs lead by only 7-0 midway through the second quarter and 17-0 at halftime. The big takeaway from the 48-7 win was the play of new starting quarterback Carson Beck, winner of the offseason competition to replace Stetson Bennett. Beck went 21-of-31 for 294 yards and two scores, one on the ground.
Penn State
Entering the season, the biggest questions surrounding Penn State and its ceiling were new starting quarterback Drew Allar and his group of receivers. In the Nittany Lions' opener at Beaver Stadium versus West Virginia, both looked pretty good. In a 38-15 win, Allar threw for 325 yards and three touchdowns, including a 72-yarder to Keandre Lambert-Smith on his second pass attempt of the night. Lambert-Smith led the way with four catches for 123 yards and two touchdowns, but Harrison Wallace and Malik McClain also impressed. Wallace led PSU with seven catches for 72 yards while McClain, a Florida State transfer, had four catches for 58 yards and a touchdown. That's a good start for the Nittany Lions.
Louisville
The Jeff Brohm era at Louisville began with a come-from-behind win. The Cardinals fell behind Georgia Tech, 28-13, on Friday night in Atlanta, but stormed all the way back to win, 39-34. The Cardinals scored 26 unanswered points in the second half, flipping that 15-point deficit into a 39-28 advantage. Jamari Thrash caught two second-half touchdowns for Louisville, including the go-ahead score that put UL up 29-28 with 8:08 to play. Georgia Tech drove into Louisville territory on the next drive, but Louisville's Dezmond Tell got a pivotal strip-sack to keep the Yellow Jackets off the scoreboard. On the very next play, Jawhar Jordan broke off a 74-yard touchdown run to put the game out of reach.
Fresno State
Fresno State won the Mountain West last year but lost a ton of its top players from that team. That included star quarterback Jake Haener, RB Jordan Mims and four of the Bulldogs' top five receivers. So what did the Bulldogs do to open the 2023 season? They went on the road and upset Purdue, 39-35. In the win, transfer QB Mikey Keene threw for 366 yards and four touchdowns. Erik Brooks, one of the lone holdovers from last year, led the way with nine catches for 170 yards and two touchdowns. Jeff Tedford sure knows how to coach an offense.
North Carolina
The No. 21 Tar Heels pulled away from South Carolina in the second half in a 31-17 win. QB Drake Maye threw two interceptions but also threw two touchdowns as South Carolina couldn't capitalize on golden opportunities in the second half. Maye gave an almost pedestrian performance, despite a stat line that showed him completing 24-of-32 for 269 yards with those two TDs and two interceptions. Trailing 17-14 at halftime, South Carolina opened the second half with a successful onside kick. But the Gamecocks turned the ball over on downs less than a minute later, and North Carolina scored in six plays to take a 10-point lead. After UNC went up by 17, Maye threw an interception with 2:14 to go in the third quarter. But South Carolina could only muster a field goal and went scoreless the rest of the way.
Houston
The Cougars' Big 12 tenure started with a win, a 17-14 victory over UTSA. Former Texas Tech QB Donovan Smith threw two touchdown passes and his six-yard toss to Matthew Golden in the third quarter proved to be the game-winner in a surprisingly low-scoring game. UTSA was a 2.5-point favorite at kickoff and the over-under was 59.5 points.
The Roadrunners scored with just under six minutes to go to cut Houston's lead to three but the Cougars expertly ran out the clock with an 11-play drive that covered just 33 yards but included a clutch third-down conversion with 1:45 to go.
Stanford
Stanford is expected to have a tough year as it transitions to head coach Troy Taylor's tenure following the resignation of longtime coach David Shaw. Taylor's debut went quite well. The Cardinal went on the road Friday and posted an impressive 37-24 win over Hawaii, a team that went to the wire with Vanderbilt in Week 0. Quarterback Ashton Daniels was impressive in his first start, throwing for 248 yards and two touchdowns and adding 42 rushing yards. Benjamin Yurosek was his top target. The tight end caught nine passes for 138 yards and a score. It'll get much more difficult next week when the Cardinal face USC on the road, but Friday night's win was a promising debut for Taylor.
— Includes input from The Athletic, Yahoo! Sports and USA Today