CFB Week 2: "Alright" (x3) for Texas and "We Coming/We here" for Colorado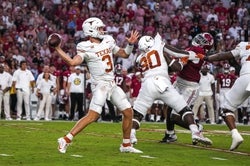 Texas Longhorns quarterback Quinn Ewers (3) throws a pass during the game against Alabama at Bryant-Denny Stadium on Saturday, Sep. 9, 2023 in Tuscaloosa, Alabama.
This is already one of the most entertaining college football seasons in recent memory because the inner suspicions about upstart teams have become headline facts. Texas and Colorado put an exclamation point on that Saturday.
We could hear the most well-known Texas fan, Matthew McConaughey, screaming his famous "alright, alright, alright" chant as the No. 11 Longhorns handled No. 3 Alabama, 34-24 in Tuscaloosa Saturday.
And in Boulder, No. 25 Colorado surely moves up the polls (update, now No. 18) after a convincing, 26-15 win over Nebraska as Buffs coach Deion Sanders repeated "I told you we coming." Hell, they are here.
Texas didn't simply beat Alabama 34-24 in Tuscaloosa. The Longhorns bombed them, following each Tide touchdown with one of their own, most memorably quarterback Quinn Ewers' Moon Shots, the kind Russell Wilson used to launch back in the day.
This wasn't a fluke. Texas is more talented. with the far better quarterback.
Ewers threw for 349 yards and three touchdowns, torching the Alabama secondary -- and completely diluting All-American defensive back Kool-Aid McKinstry.
Alabama obviously has concerns about an offense without no identity, the kind quarterback Bryce Young provided before leaving for the NFL, and a defense that has plenty of beef by the pound (Three linemen weigh more than 350), but the Longhorns made hamburger of them.
Colorado demolished Nebraska as Travis Hunter again made an impact on both sides of the ball with three catches for 73 yards, four tackles and a pass break up.
Xavier Weaver continued to play like a superstar with 10 catches for 170 yards, and Prime's son, quarterback Shedeur Sanders followed up his 510-yard passing performance against TCU with another 393 yards and three touchdowns.
While Week 1's win over the Horned Frogs hardly showcased an elite defense, the Buffaloes held Nebraska to just 11 completions and took four takeaways.
The game was never actually all that close.
There are still issues to address with the Buffaloes. In their two otherwise impressive wins, they allowed 12 sacks and rushed for just 1.7 yards per carry. And it is possible Colorado has yet to see a truly challenging opponent.
But they already have twice as many wins as they did all last season (1-11)
The problems at Nebraska are so much bigger -- bigger, perhaps, than they were even a year ago, amid embarrassing losses to Northwestern and Georgia Southern and, well, Huskers fans don't need reminders.
See scores of all top teams at bottom of story
Pac-12: Lively Walking Dead Conference
The Pac-12's undefeated start to the season came to a halt in Week 2, when Arizona fell to Mississippi State 31-24 in overtime.
Still, Week 2 was another reminder that, in what seems like its last season of existence, the Pac-12 is going out with a bang.
Oregon overcame a 27-18 deficit and picked off its former QB Tyler Shough three times, including a 45-yard pick six with 45 seconds left to seal a 38-30 win over Texas Tech.
Washington State knocked off No. 19 Wisconsin.
UCLA dominated San Diego State.
Utah escaped Baylor, Colorado was exceptional again, and the Washington Huskies are tossing touchdown passes like Oprah giving away cars.
USC? Scary stuff. Better than an EA video game. Stanford had no chance to win that one.
Washington's Michael Penix Jr. has now thrown for 400 or more yards in four of his past six games.
Dante Moore looks like an emerging star at UCLA, throwing for 290 yards and three touchdowns against San Diego State on Saturday.
Even with Saturday's losses, the Pac-12 figures to have six teams ranked in the top 20, which gives the league a good case as the nation's best.
Cal fought well in its loss to Auburn while Stanford looked awful.
Hey, that's the ACC's problem.
Update: Week 2 AP Poll validates Pac-12 greatness
Just as 10 members of its conference have decided to go elsewhere beginning next season, the Pac-12 made history Sunday when eight teams found spots in the AP Top-25 football rankings.
The Pac-12 never had more than six teams ranked in the same poll, something it accomplished most recently last week. But Washington State and UCLA, at Nos. 23 and 24, respectively, joined the party this week to give the Top-25 a decidedly Pac-12 flavor.
According to the Associated Press, only the Southeastern Conference has put as many as eight teams in the Top-25, achieving that 21 times. The SEC placed a record 10 teams in the poll in September 20-15.
Cal made its most recent appearance in the AP Top-25 in 2019, when the Bears reached as high as No. 15.
Here's how Pac-12 teams rank this week:
5. USC (3-0)
8. Washington (2-0)
12. Utah (2-0)
13. Oregon (2-0)
16. Oregon State (2-0)
18. Colorado (2-0)
23. Washington State (2-0)
24. UCLA (2-0)
Only Oregon State and Washington State among the eight ranked Pac-12 schools may still be part of the conference a year from now. They are the league's only two schools who haven't defected to a new conference address.
USC, UCLA, Washington and Oregon are bound for the Big Ten, while Utah and Colorado will move to the Big 12. Cal and Stanford recently accepted invitations to join the Atlantic Coast Conference.
The Pac-12 has been impressive so far, compiling a non-conference record of 20-3. Only Cal, Arizona and Arizona State have suffered non-conference losses while Stanford lost 56-10 to USC in a Pac-12 matchup.
Five Pac-12 schools were in the preseason Top-25 with Colorado jumping in a week ago after its surprising win at TCU and WSU and UCLA joining this week.
The Trojans climbed one spot to No. 5, giving each Power 5 conference a team in the top-five for the first time in six years.
Georgia remains a decisive No. 1 with Michigan at No. 2 and Florida State climbing one spot to No. 3. Texas soared seven spots to No. 4 after its 34-24 win at Alabama, earning its highest ranking since 2010.
HEISMAN WATCH
1. USC QB Caleb Williams
Yawn. If disappointment is the difference between expectations and results (one of our favorite truths), Williams has created his own problem. Keeping the Heisman will be more difficult than winning it last year. Not only are expectations sky high, new stars are nipping as his heels. Williams threw for 300 yards and three touchdowns against Stanford. OK, that was in the first half. Will we select a part-time player to win the Heisman? If he keeps doing this to teams he will ruin his Heisman chances. Remember, that is probably why Trevor Lawrence didn't get more votes when he sat by the third quarter in most games at Clemson.
2. Colorado versa-star Travis Hunter
Hunter made three catches for 73 yards on offense, four tackles and broke up a pass on defense and, per ESPN's astute ticker, "swayed the international markets to send corn futures plummeting." He was a key in humiliating Nebraska.
3. Florida State QB Jordan Travis
Travis had just two touchdowns against Southern Miss, but only one of them was to Keon Coleman, so the degree of difficulty was higher. Regardless, Florida State rolled 66-13.
4. Colorado QB Shedeur Sanders
Sanders has 903 passing yards and six passing TDs through two games. Last year, Colorado as a team had 2,075 passing yards and 10 passing TDs. That puts Sanders on pace to top the Buffs' season totals from 2022 before the end of this month.
5. Notre Dame QB Sam Hartman
Hartman after three games at Notre Dame: Three wins, 10 touchdowns, no picks, one rib necklace. Hello, Caleb? Maybe you should play the second half.
Week 2 Top 25 Scores (Ratings from Week 1)
No. 1 Georgia 45, Ball State 3
No. 2 Michigan 35, UNLV 7
No. 4 Florida State 66, Southern Miss 13
No. 5 Ohio State 35, Youngstown State 7
No. 6 USC 56, Stanford 10
No. 7 Penn State 63, Delaware 7
No. 8 Washington 43, Tulsa 10
No. 9 Tennessee 30, Austin Peay 13
No. 10 Notre Dame 45, NC State 24
No. 11 Texas 34, No. 3 Alabama 24
No. 12 Utah 20, Baylor 13
No. 13 Oregon 38, Texas Tech 30
No. 14 LSU 72, Grambling 10
No. 15 Kansas State 42, Troy 13
No. 16 Oregon State 55, UC Davis 7
No. 17 North Carolina 40, Appalachian State 34 (2OT)
No. 18 Oklahoma 28, SMU 11
No. 20 Ole Miss 37, No. 24 Tulane 20
No. 21 Duke 42, Lafayette 7
No. 22 Colorado 36, Nebraska 14
Miami (Fla.) 48, No. 23 Texas A&M 33
No. 25 Clemson 66, Charleston Southern 17