CFB Week 3: Tame schedule may yield wild results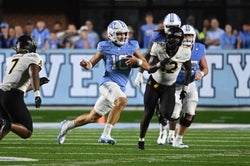 Sep 9, 2023; Chapel Hill, North Carolina, USA; North Carolina Tar Heels quarterback Drake Maye (10) with the ball as Appalachian State Mountaineers linebacker Andrew Parker Jr. (7) and defensive end Shawn Collins (12) defend in the fourth quarter at Kenan Memorial Stadium. Mandatory Credit: Bob Donnan-USA TODAY Sports
After three weeks of college football -- including Week Zero -- that included dazzling performances and shocking results, it might be easy to be lulled into a snore by the Week 3 schedule, which often means we will be surprised somewhere.
Most obvious in the setup is that the schedule doesn't have a game that matches ranked teams and nine teams in the Top ten are ranked by ~4 -- four -- touchdowns.
But that may be deceiving in that seven teams in the Top 15 are on the road.
So we expect a lot of great football.
Here is the schedule in chronological order starting Friday night and going through Saturday waaaaay after dark. Time and broadcast information is provided so tune in.
We include remarks from ESPN's diligent staff writer, Bill Connelly.
Friday evening
Army at UTSA (7 p.m., ESPN).
For all the talk about Army moving away from the option, the Black Knights remain among the most run-heavy teams in the country, and they roped UTSA into a 41-38 track meet last season. The UTSA offense (34 points in two games) would love to find enough traction for a track meet.
Current line: UTSA -8.5
Utah State at Air Force (8 p.m., CBSSN).
What's better than one service academy playing Friday night? Two of them! Air Force is well on its way to a potential fourth season of double-digit wins in five years, but Utah State has beaten SP+ projections by more than 20 points twice in a row.
Current line: Air Force -10
SATURDAY
No. 14 LSU at Mississippi State (noon, ESPN)
In the lifetime of current college football recruits, LSU has lost only once in Starkville. In 2017, Nick Fitzgerald threw for 180 yards and two scores and rushed for 88 yards and two more as Dan Mullen's last MSU team walloped Ed Orgeron's first (full-time) LSU team, 37-7. That's it. LSU has otherwise faced plenty of tests there -- winning 28-25 in 2021, 21-19 in 2015, 30-26 in 2009 -- but survived them. Is it more of the same Saturday?
It's certainly not the same Mississippi State. Defensive coordinator Zach Arnett took the reins following Mike Leach's tragic death last December, and to his credit, he's not trying to win with imitation. He's crafting the program in his own image, and through two games -- a 48-7 romp over Southeastern Louisiana and an overtime defeat of Arizona -- here's what we know about the new MSU:
• The Bulldogs run a lot under new coordinator Kevin Barbay. They aren't efficient -- 78th in rushing success rate, which measures the consistency of gaining a percentage of necessary yards on a given down -- but they're persistent. Jo'Quavious Marks has carried 43 times for 250 yards and three touchdowns. At this rate, he'll match last year's 113 total carries by midseason.
• They are still passing efficiently. They just don't do it as much. Quarterback Will Rogers is completing 72% of his passes at 11.8 yards per completion. He's got a nice rapport with Lideatrick Griffin (nine catches, 116 yards), but he's not afraid to check down to Marks (eight catches, 91 yards) too.
• The defense is dealing with both turnover and inefficiency. MSU ranks just 85th in success rate allowed thus far, but its rebuilt secondary is super active. They've picked off 5% of opponents' passes (14th in FBS) and linebacker Jett Johnson already has a pair of INTs.
Unfortunately for MSU, LSU quarterback Jayden Daniels is one of the least INT-prone quarterbacks in the country. The Tigers have one of the most efficient offenses, too. They faltered comprehensively in the second half against Florida State, but they still never go three-and-out, and they rank seventh in points per drive.
This doesn't seem like an amazing matchup for the MSU defense, but the good news is that nothing's a particularly good matchup for the LSU defense yet. The Tigers have allowed 25.3 more points through two games than SP+ projected. They rank 97th in success rate allowed and 117th in yards allowed per dropback, and despite having Harold Perkins Jr. on their roster, they have one sack in two games. Grambling gained at least 69 yards on each of the first three drives of last week's game before LSU adapted. If the Tigers still have hopes of making an SEC title or College Football Playoff run, they probably can't afford a slow start like that in Starkville.
Current line: LSU -9.5
No. 15 Kansas State at Missouri (noon, SEC Network)
Chris Klieman and his defending Big 12 champions are probably content with Texas grabbing loads of headlines at the moment. For one thing, it keeps the disrespect-hungry Kansas State fan base well-fed. For another, it allows his Wildcats to fly under the radar and handle their business without any of the pressures that come with being the defending champs.
K-State is certainly handling its business. While so many ambitious teams have struggled at least once early this season, the Wildcats exceeded SP+ projections by a combined 26.6 points -- 10.3 on offense, 16.3 on defense -- against SE Missouri State and defending Sun Belt champ Troy. They're sixth in success rate allowed, first against the run. They're leveraging teams into steady third-and-longs, and while a sold-out crowd awaits their first trip to Columbia since 2010, nothing snuffs out a crowd's energy like steady third-and-8s.
Mizzou's 23-19 win over Middle Tennessee last week wasn't particularly inspiring. The Tigers controlled matters from an efficiency standpoint, but they were completely unable to create big plays and easy points -- two weeks in, they rank 31st in success rate, but they made only five plays of 20-plus yards against the two weakest opponents on the schedule, South Dakota and MTSU. Confidence lacks, and it's bled into decision-making: Eliah Drinkwitz's Tigers are also one of just four teams not to have attempted a fourth down conversion.
They're 2-0, though, and they could give themselves a huge confidence boost while derailing a former rival's trajectory. The defense has thus far looked like a top-25 unit again, and KSU's offense is still figuring itself out, going three-and-out nearly one-third of the time with a couple of picks thrown by Will Howard. The Wildcats battled a midgame funk against Troy -- one touchdown, three punts and an interception over five possessions -- before pulling away, and a similar funk could make Saturday's game awkward. Of course, that will still require something from Mizzou's offense. Last year in Manhattan, K-State scored just six points over a seven-drive span, but Mizzou managed just two field goals, six punts and, at one point, four straight interceptions before finally scoring a TD as time expired in a 40-12 loss. The Mizzou attack bears major burden of proof if we're looking at this as a possible upset.
Current line: K-State -3.5
No. 7 Penn State at Illinois (noon, Fox)
The last time Penn State and Illinois played, in 2021, they set offense back a few decades. The teams were tied at 10-10 at the end of regulation, managed only field goals in each of two overtime possessions and combined to fail on 10 straight two-point conversion attempts as overtime advanced. Illinois finally made two in a row, Penn State could only match once and the Illini prevailed 20-18. We were all worse off for having witnessed this.
Odds are good that we'll see more than 38 points in Champaign on Saturday. Granted, the PSU defense is excellent -- fourth in defensive SP+ with only 22 total points allowed through two games -- and while Illinois is struggling, they did still rank third in defensive SP+ in 2022. Some of that DNA might remain despite the loss of defensive coordinator Ryan Walters and most of a dynamite secondary.
Strangely, if there's hope for an upset, it might come more from the Illinois offense. The Illini rank 22nd in success rate, 16th in rushing. Quarterback Luke Altmyer is averaging 6.3 yards per (non-sack) carry and completing 69% of his mostly short passes to Isaiah Williams and company. Big plays are nonexistent, though: Illinois has enjoyed only two gains of 30-plus yards, and that was against what SP+ says are two of the three worst defenses it'll face. Penn State's defensive aggression sometimes opens the door for a big breakdown, and you can sketch out a decent "run the ball, control the clock and field position and win with timely defense against a young QB" upset script, but that will only work if last year's Illinois defense shows up for a few drives.
Drew Allar will make his first road start Saturday, and the next mistake he makes will be just about his first. The sophomore blue-chipper has completed 78% of his passes with four touchdowns and no INTs, and he's been sacked just once. Granted, he's played against maybe the two worst defenses he'll see this year, but he treated them like bad defenses. The run game has provided efficiency, and KeAndre Lambert-Smith is averaging 19.7 yards per catch. Everything has worked beautifully for James Franklin's Nittany Lions, but until a young QB thrives on the road, we don't necessarily know that he will.
Current line: PSU -14.5
No. 3 Florida State at Boston College (noon, ABC)
Florida State has won its last two games in Chestnut Hill by only 10 points and lost 35-3 there in 2017. Of course, FSU also hasn't been a very good team in recent visits. The last time the Seminoles were favored by anywhere close to the current line (-28.5) was in 2013, when they spotted BC an early lead but put away a comfortable win with a 35-3 run.
BC was decent that year, too. This year, not so much. The Eagles lost to Northern Illinois in Week 1 (NIU then turned around and lost to Southern Illinois), and then BC barely beat Holy Cross in Week 2. I could wax poetic about how impressive Bob Chesney's Crusaders are -- and how Chesney should be a serious candidate the next time the BC job opens -- but that's still not the best table-setter for playing the No. 3 team in the country. The Eagles have a decent run game that could challenge FSU for a bit, and if winds are as high as they are forecasted, teams' run games might be more important than usual, but they make no big plays and allow quite a few.
Current line: FSU -26
Georgia Southern at Wisconsin (noon, BTN)
In a way, Georgia Southern was Wisconsin's role model last season, eschewing a run-dominant offense for a dynamic passing game and doubling its win total (from three to six). The Eagles are passing like crazy this year, too, and Wisconsin's move to a pass-first, occasional tempo attack has predictably struggled. Can the Eagles show the Badgers how it's done in Madison?
Current line: Badgers -19.5
Louisville vs. Indiana (noon, BTN)
I was tempted to make "Louisville -10 in Indianapolis" a best bet, but the Cardinals' first-half performance against Georgia Tech -- they trailed 28-13 at half before charging back to win -- gave me pause. Indiana's defense might have a little bit of juice, too, though I'm not sure yet.
Current line: Louisville -10
FCS: No. 5 Holy Cross at Yale (1 p.m., ESPN+)
Fresh off of a gut-wrenching near-upset of Boston College -- which would have barely been an upset, to be honest -- Holy Cross heads to the Yale Bowl to face a Bulldogs team making its season debut. SP+ tends to like Ivy League teams more than pollsters and ranks Yale 24th. A fun test here. SP+ projection: Holy Cross by 4.8.
D3: No. 22 Susquehanna at No. 10 SUNY Cortland (1 p.m., local streaming)
It might be for real, it might be an oddity, and it might just be because defending champion North Central hasn't played a D3 opponent yet. But after dominant wins over Delaware Valley and Lycoming by a combined 104-20, SUNY Cortland, which made the playoffs each of the last two years, has zoomed to No. 1 in D3.
No. 10 Alabama at USF (3:30 p.m., ABC)
Alabama has never enjoyed an easy game in Tampa, either, losing two of three games all-time. Okay, no, it's never played USF there.
Its three games were a 35-31 loss to Clemson in 2016's national title game and a bowl split against Michigan -- a 28-24 loss in the 1988 Hall of Fame Bowl and a 17-14 win in the 1997 Outback Bowl. Its history against actual Tampa-based schools is more favorable: It beat USF 40-17 in 2003 and Tampa 34-6 in 1960.
Here is why this is a game to love: Every power conference team should play a road game against a Group of 5 team every couple of years. But even on an unfamiliar field, this should offer the Tide a solid opportunity to put the pieces back together after last week's demoralizing loss to Texas.
Nick Saban said this week that "the future is now," but that was already somewhat the case: Of the eight players who have recorded at least 125 snaps for the Tide, two are true freshmen (safety Caleb Downs, left tackle Kadyn Proctor) and three are sophomores (guard Tyler Booker, linebacker Deontae Lawson, corner Terrion Arnold). And even if Saban was pondering a change at quarterback, he's choosing between two sophomores (Jalen Milroe, Tyler Buchner) and a redshirt freshman (Ty Simpson). This is a young team no matter what, and it looked like one Saturday.
USF quarterback Byrum Brown is a tantalizing runner, but he probably isn't going to punish Bama's secondary downfield like Quinn Ewers did. The Tide will likely roll.
Current line: Bama -32
FIU (+7) at UConn (3:30 p.m., CBSSN).
UConn might have stumbled into some offensive momentum when quarterback Joe Fagnano left Saturday's loss to Georgia State with a season-ending shoulder injury and Ta'Quan Roberson led a couple of late scoring drives. But it has still only scored 28 points in two games. FIU's defense has been selectively stingy, and quarterback Keyone Jenkins and the Panther offense were good enough to win a track meet against North Texas.
South Carolina at No. 1 Georgia (3:30 p.m., CBS).
South Carolina hasn't provided much evidence of upset potential in 2023, but we know Shane Beamer's Gamecocks will take some big swings. This is the team that beat Tennessee and Clemson back-to-back last year, after all. At the very least, they should be the first team this year to actually make Georgia shift into third or fourth gear.
Current line: UGA -27.5
Minnesota at No. 20 North Carolina (3:30 p.m., ESPN)
Drake Maye and the UNC offense taking on an ultra-stingy Gophers defense will be must-watch television. And hey, there are plenty of other games to flip to when Minnesota's inept-to-date offense takes on UNC's defense!
Current line: UNC -8
Virginia Tech at Rutgers (3:30 p.m., BTN)
Pay attention here. Rutgers has looked pretty good so far! The Scarlet Knights exceeded projections by two touchdowns in each of their first two games, and now they are favored to move to 3-0. Can Virginia Tech, which let one slip through its grasp against Purdue last week, score a win and build some traction?
Current line: Rutgers -7
Western Kentucky at No. 6 Ohio State (4 p.m., Fox)
Will WKU keep it close for four quarters? Probably not. Are the Hilltoppers and their relentless passing game perfectly designed to test Ohio State's seemingly improved pass defense and maybe make this interesting for a little while (especially if the Buckeyes offense remains in second gear)? Absolutely!
Current line: Buckeyes -29
No. 8 Washington at Michigan State (5 p.m., Peacock)
Considering all that's happened in East Lansing over the last week, and considering the big line (Washington -16), it's fair to assume this game might have minimal drama potential. But in terms of matchups, Michigan State has both the pass rush and the big-play receiving corps to make this game interesting.
The MSU defense allowed a total of 412 yards to Central Michigan and Richmond. Washington's offense is worlds beyond those two, but I'm awfully curious about the fact that MSU ranks first nationally in sacks per dropback (14.9%) and second in pressure rate (55.1%) through two games. It has 10 sacks, and it's attacking from lots of angles -- nine players have at least 0.5 sacks, and linebacker Aaron Brule leads the way with two.
Michael Penix Jr. has been incredibly accurate this season. AP Photo/Lindsey Wasson
Pressuring Michael Penix Jr. is the entire game if you're playing Washington. He gets the ball out of his hands quickly, and thus far his remodeled offensive line has looked solid. UW hasn't played against many stout pass rushes since Penix and head coach Kalen DeBoer moved to Seattle last year, but as with virtually every QB in the country, when Penix is under pressure, he's a different player.
Penix yards per dropback 2018-21
(Indiana): 4.9 when pressured, 7.9 when not pressured 2022-23
(Washington): 5.6 when pressured, 9.2 when not pressured
Penix is completing 73% of his passes, and the incredible WR trio of Jalen McMillan, Rome Odunze and Ja'Lynn Polk has caught 48 balls for 636 yards already. They will find a favorable matchup if Penix has the time.
New Spartans quarterback Noah Kim has been pressured quite a bit, but currently ranks fifth in the country in yards per dropback (10.4). Veteran receivers Tre Mosley and Christian Fitzpatrick have combined for 13 catches and 226 yards, while freshmen Jaron Glover and Antonio Gates Jr. (yes, Antonio Gates Jr.) have combined for six catches and 180 yards. The Spartans' run game has been awful, but for as many advantages as UW's passing game tends to create, MSU might find a few too. And if Penix is struggling with pressure, this one suddenly has upset potential.
Current line: UW -16
No. 11 Tennessee at Florida (7 p.m., ESPN)
It felt like every piece I wrote this past offseason finished with "And that's why Joe Milton III is the most important player of the college football season." He came up a lot. It's not hard to see why. His arm is the stuff of legend, and he's got the rare third chance to make it big after failed starting stints at Michigan in 2020 and Tennessee in 2021.
Through two games, Milton has been ... fine. Neither spectacular nor awful. He's completed a solid 42 of 63 passes (67%) with four touchdowns, no interceptions and, perhaps most importantly due to his sack-prone past, only two sacks.
The droughts have been alarming, though. In Tennessee's opening win over Virginia, the Vols scored a TD on their first possession but went scoreless on their next four drives (three punts and a turnover on downs). Against Austin Peay, they began the game with two punts, a field goal, a turnover on downs and another field goal. They led just 13-6 at halftime of a lackluster 30-13 win. Milton might have the greatest hand cannon the world has ever seen, but he's completed just two passes of more than 20 yards.
Alarm bells aren't sounding yet, but they will if Tennessee doesn't pick up steam in Gainesville. Florida isn't exactly lighting the world afire -- the Gators lost a meek 24-11 decision against Utah, then beat McNeese State 49-7 last week -- but they've played efficient ball and could make things awfully tense. Montrell Johnson Jr. and Trevor Etienne found a lovely rhythm against McNeese, rushing 26 times for 203 yards, and the Gators' defense has allowed just 382 total yards in two games, 70 of which came on the first play of the season.
Like many in the SEC, Florida's problem right now is a total lack of big plays. Quarterback Graham Mertz averaged just 10.7 yards per completion against Utah, with five sacks and an interception. Tennessee's defense probably isn't as good as Utah's, but the Vols allowed only 3.9 yards per play against Virginia and Austin Peay. They can probably keep the Gators' point total tamped down, but if they're also not generating chunk plays, things could get weird in The Swamp.
Current line: Vols -6.5
Miami (Ohio) at Cincinnati (-14) (7 p.m., ESPN+). This one alarmed me when it moved from Cincy -17 to Cincy -14. Is quarterback Emory Jones hurt or something? No? Then I'm in big on the Bearcats. They've beaten the spread twice by an average of 22 points, and they were dominating Pitt last week before the Panthers made a late charge. (They also destroyed an EKU team that stayed within 11 of Kentucky.) Jones and running back Corey Kiner are rolling. This line should be -21.
South Alabama at Oklahoma State (-7) (7 p.m., ESPN+).
As with the Cincinnati line, this one has moved in the direction of the road underdog, and it's confusing me. Yes, OSU's passing game is a mess -- Garret Rangel, Gunnar Gundy and Alan Bowman have produced a 46.4 Total QBR that would rank 93rd overall if it came from one person. But South Alabama ranks 130th in passing success rate allowed, and OSU's defense is looking 2021-level stingy, at least against the pass.
James Madison at Troy (7 p.m., NFL Network)
The Group of Five game of the week. If JMU were eligible, this would be a massive Sun Belt title eliminator of sorts, with Troy favored by just half a point, . As it stands, this is merely a potentially tight and awesome game between two of the G5's better teams.
Current line: Troy -3
Pitt at West Virginia (7:30 p.m., ABC)
The Backyard Brawl is a must-see no matter how good the teams are.
Current line: WVU -1.5
Syracuse at Purdue (7:30 p.m., NBC)
Syracuse began the season with Colgate and Western Michigan and was projected to win those games by a combined 63.6 points. It might mean something that the Orange instead won by a combined 106. Is Purdue the next punching bag or the reality check?
Current line: Syracuse -2.5
Georgia Tech at No. 17 Ole Miss (7:30 p.m., SEC Network)
Transfers like quarterback Haynes King and running back Trey Cooley have helped to ignite the Tech offense a bit. But Ole Miss is ridiculously explosive and, if Saturday's late charge against Tulane was any indication, patient too.
Current line: Rebels -18
TCU at Houston (8 p.m., Fox)
TCU's shaky defense might be just what Houston needs to snap out of a weird offensive funk -- the Cougars scored just 21 points in their first seven quarters this season before surging to force overtime against Rice (and then losing anyway). But even if this game is prolific, it probably won't be as wild as the one 33 years ago.
Current line: TCU -7.5.
Wyoming at No. 4 Texas (8 p.m., LHN-Longhorn Network)
Wyoming beat Texas Tech two weeks ago and could make things annoying if Texas is unfocused after last week's big Bama win. But the Longhorns' line of scrimmage play should assure that they pull away eventually.
Current line: Horns -30
No. 1 (D2) Ferris State at No. 11 (FCS) Montana (8 p.m., ESPN+)
The two-time defending Division II national champ takes on one of FCS' stalwart powers. It's like if Penn State hosted South Dakota State or something. The bigger school is probably going to win -- SP+ would probably project something in the "Montana by 10-12" range -- but Ferris State is stout in the trenches, and the Bulldogs' offense is super fun and unique.
Colorado State at No. 18 Colorado (10 p.m., ESPN)
Back-to-back enormous games loom on the horizon for Deion Sanders' Buffaloes -- at Oregon in Week 4, then at home against USC in Week 5 -- but first, a visit from both "College GameDay" and a CSU team desperate for any sort of traction -- it is just 14-39 since the start of 2018.
Current line: CU -23.5
Kansas at Nevada (10:30 p.m., CBSSN)
Nevada is bad. Really bad. "Lose to Idaho by 27" bad. You might not have to watch much of this one, but any excuse to watch KU quarterback Jalon Daniels in action is a good one. He remains a thrill.
Current line: KU -28