CFB Week Zero Produced Some Heroes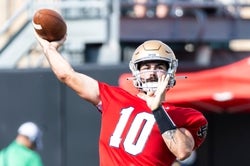 Notre Dame's Sam Hartman during Notre Dame Fall Camp in July
Week Zero may literally sound like nothing. But it was, well, something after the lack of college football games since January.
The first Saturday of college football provided some hints of what to expect for the months ahead, although only two ranked teams were in action and there were no marquee matchups.
But their were some heroes in Week Zero, especially for No. 6 USC and No.13 Notre Dame.
Notre Dame began the day with a 42-3 rout over Navy in Dublin, Ireland. In his first game as a member of the Fighting Irish, quarterback Sam Hartman completed 19 of 23 passes for 251 yards and four touchdowns. The Wake Forest transfer surpassed 13,000 career passing yards in the contest and looked in command of a new offensive scheme.
Reigning Heisman Trophy winner Caleb Williams started his season with an impressive four-touchdown performance in the Trojans' 56–28 win over San Jose State. While the junior was excellent as usual, it was freshman receiver Zachariah Branch who stole the show with a pair of touchdowns, one as a receiver and on as a kick returner.
The only other game involving a Power Five team was delayed by lightning as Vanderbilt outlasted the weather and a resilient Hawaii, 35-28, in Nashville.
Week Zero CFB Scores
No. 13 Notre Dame 42, Navy 3 (Dublin, Ireland)
Jacksonville State 17, UTEP 14
San Diego State 20, Ohio 13
UMass 41, New Mexico State 30
Vanderbilt 35, Hawaii 28
No. 6 USC 56, San Jose State 28
Louisiana Tech 22, FIU 17
Drilling Deeper
No. 13 Notre Dame 42, Navy 3
The Fighting Irish cruised to a 42-3 win over Navy to start the 2023 season, scoring touchdowns on their first five possessions. The game marked an impressive debut for quarterback Sam Hartman.
Looking to rebound from an inconsistent 2022 in Year 2 under coach Marcus Freeman, the team got a major boost in the offseason from the hyped transfer of Hartman from Wake Forest. He lived up to the billing by completing 19 of 23 passes for 266 yards and tying a school record with four touchdown passes in a debut.
In all, eight different Irish players caught passes from the first-year signal-caller. Jayden Thomas led the way with four catches for 78 yards and a touchdown, while freshman receiver Jaden Greathouse caught two touchdown passes.
The Irish gathered plenty from their rushing attack as well. Audric Estime dominated early in the game but didn't get as many carries in the second half. He finished with 95 yards rushing and a touchdown as the Irish rushed for 191 yards as a team, averaging 6.0 yards per carry. It appeared ND could run for as many yards as it wanted. The Irish's size up front was too much for the Midshipmen to handle. Led by preseason All-American tackle Joe Alt, Notre Dame's offensive line blew Navy's defensive front off the ball, opening enormous holes for the running backs all day.
The O-line also kept the pocket clean. Navy finished with only two tackles for loss and did not record a sack. OK, pushing Navy around isn't the same as bullying Ohio State, Clemson and USC—all three of those teams are on Notre Dame's schedule.
Jacksonville State 17, UTEP 14
Malik Jackson rushed for 76 yards and a key touchdown, Jeremiah Harris preserved the win with a huge interception, and Jacksonville State celebrated its FBS debut with a 17-14 victory over UTEP.
The season and conference opener in the revised Conference USA came down to the final drive. UTEP's scoring threat ended on a lunging interception by Harris, a seventh-year Gamecock safety. The INT followed a 3rd-and-1 pass by UTEP quarterback t to Kelly Akharaiyi that Jacksonville State's Derek Carter broke up in the end zone.
Jax State led 10-7 at halftime and the Gamecocks stretched their lead to 17-7 midway through the third quarter when a roughing-the-passer penalty and a 44-yard run by Jackson set up his own 7-yard touchdown run. UTEP closed to 17-14 on a 32-yard pass from Hardison to Akharaiyi early in the fourth quarter. Gamecocks quarterback Zion Webb, another seventh-year player, completed 10 of 20 passes for 63 yards and rushed for another 55.
UTEP's Hardison completed 17 of 29 passes for 208 yards with a touchdown and two interceptions.
San Diego State 20, Ohio 13
Jalen Mayden threw two touchdown passes to Mark Redman and San Diego State opened the season with a 20-13 win over visiting Ohio. The game turned in the final minute of the first half when Cedarious Barfield intercepted Ohio quarterback CJ Harris inside the Aztecs 30-yard line. Mayden then drove the Aztecs 71 yards in 44 seconds, hitting Redman for a 13-yard score as time ran out. That made it 10-6 at halftime.
The Bobcats then missed a 31-yard field goal to cap the opening drive of the second half, a drive that chewed up more than half of the third quarter.
After a three-and-out, San Diego State put together two long drives: a 10-play, 77-yard drive for Jack Browning's 21-yard field goal, and an 11-play, 79-yard march capped by a four-yard Redman touchdown.
Ohio threw three straight incompletions from the SDSU 6-yard line with under three minutes to play, and on fourth down, Marcus Ratcliffe had a 100-yard interception return nullified by a roughing-the-passer penalty. The Bobcats then cashed in with a three-yard touchdown pass from Harris to Miles Cross with 2:04 to go. The onside kick went out of bounds, but the Aztecs only picked up eight yards on four runs and Ohio got the ball back on its 35 with 55 seconds to play.
Ohio picked up a pair of first downs before New Zealand Williams had an interception at the 20-yard line, returning it 40 yards before stepping out of bounds with a second to play.
Mayden finished 17 of 27 for 164 yards. Two Ohio quarterbacks combined to go 26 of 52 for 278 yards, with wideout Sam Wiglusz catching 10 passes for 103 yards.
UMass 41, New Mexico State 30
Taisun Phommachanh passed for 192 yards and ran for a touchdown, Kay'Ron Lynch-Adams scored two fourth-quarter touchdowns, and UMass defeated New Mexico State 41-30 in a season opener on Saturday night.
Phommachanh ran 26 yards on a fourth-and-seven play midway through the fourth quarter to set up a 10-yard touchdown run by Lynch-Adams that gave the Minutemen a 10-point lead. On New Mexico State's ensuing possession, Isaiah Rutherford intercepted a pass and returned it 55 yards for a score to give UMass a 34-17 lead with 6:40 remaining.
The back-to-back touchdowns came after New Mexico State drew within 20-17 on a 42-yard deep ball from quarterback Diego Pavia to Trent Hudson, who made a leaping grab in front of a teammate for the touchdown. Pavia connected on another deep route, throwing 40 yards to Jordin Parker to make it 34-24 with 4:35 left.
UMass added a 21-yard touchdown run by Lynch-Adams, two plays after the Minutemen defensive lineman Billy Wooden recovered a Pavia fumble at the NMSU 24.
New Mexico State added a 1-yard scoring pass from Pavia to Hudson on the final play.
Phommachanh, a transfer who previously played at Georgia Tech and Clemson, completed 10 of 17 passes and added 92 yards on the ground.
Pavia went 16-for-27 passing for 248 yards with three touchdowns and two interceptions.
New Mexico State's Monte Watkins, a sprinter on the MSU track team, scampered 80 yards for a touchdown that tied the score 7-7 in the second quarter. Watkins finished with 95 yards rushing on two carries.
Massachusetts has a revamped roster that includes 15 transfers after going 1-11 last season. New Mexico State is coming off a promising 7-6 season in 2022 that included a 24-19 victory over Bowling Green in the Quick Lane Bowl.
Vanderbilt 35, Hawaii 28
The Vanderbilt Commodores know they can be better. Coach Clark Lea also understands that Hawaii is a much-improved team playing for an entire state right now. AJ Swann threw for 258 yards and three touchdowns as Vanderbilt held off Hawaii 35-28 Saturday night, following a long lightning delay before the season opener for both teams.
"It was a sloppy game, and we were fortunate to come away with a win," Lea, the Vanderbilt coach, said. "The first credit goes to (Hawaii coach) Timmy Chang, who's done a really nice job advancing that program. It's a prideful team that was fighting for the state of Hawaii."
Receiver Jayden McGowden returned a kickoff untouched 96 yards to put Vanderbilt ahead to stay at 14-7 midway through the first, and Swann threw a pair of TD passes to Will Sheppard. Swann found London Humphreys for a 32-yard TD and a 35-14 lead to start the fourth quarter. McGowden also had a team high six catches for 72 yards on offense.
Vanderbilt won a second straight opener in Lea's third season at his alma mater, though Hawaii scored twice in the fourth to produce a thrilling finish. The second TD came with 4:49 left, after the Rainbow Warriors forced a turnover on downs, on a 1-yard keeper by reserve quarterback Dalen Morris that narrowed the gap to 35-28. Hawaii nearly recovered the ensuing onside kick, but Jalen Smith's right elbow was out of bounds as he recovered the ball.
Vandy didn't seal the win until De'Rickey Wright picked off his second pass of the game with 1:43 left.
The Rainbow Warriors have yet to win on the road against a Southeastern Conference team. They dropped to 0-5 in such games and 3-11-1 all-time against current SEC teams.
Lightning within eight miles of the stadium delayed the kickoff, originally scheduled for 7:30 p.m. ET, for over 90 minutes, with rain starting during the delay and continuing through much of the first half. It was just the third weather delay at home for Vanderbilt since 2006 and first since the 2014 season opener against Temple.
The Rainbow Warriors, routed 63-10 at home by Vanderbilt a year ago, took a 7-6 lead when Brayden Schager hit Steven McBride on a 9-yard TD pass in the first quarter.
Vanderbilt immediately answered with McGowan's kickoff return to put the Commodores ahead to stay.
Schager hit McBride again on a 45-yard TD pass on fourth-and-4, and Hawaii thought it scored on a fumble recovered in the end zone. The score was overturned on review, with the ball ruled down at the 1. Tight end Grayson Murphy then was flagged for a false start. De'Rickey Wright picked off Schager's next pass in the end zone, getting a foot down for the interception.
"They had a chip on their shoulder, especially like how we (beat) them last year and they fully believed that they could beat us," Wright said.
No. 6 USC 56, San Jose State 28
No. 6 USC struggled on both sides of the ball early, but used an explosive second half to pull away from San Jose State for a 56-28 win in Week 0. The Trojans scored 35 points in the final 30 minutes, highlighted by individual efforts from quarterback Caleb Williams and freshman receiver Zachariah Branch, and coasted to victory after a tense first half that saw Lincoln Riley's team up just seven points over the Spartans at the break.
But Williams, the reigning Heisman Trophy winner, was not to be denied. The junior finished 18 of 25 passing, completing nine of his final 10 attempts, for 278 yards and four touchdowns. Branch had four catches for 58 yards and a score plus a 96-yard kickoff return for a touchdown in a breakout performance. Tahj Washington, Dorian Singer and Brenden Rice each caught a touchdown pass from Williams as well. On the ground, USC running back Austin Jones scored a pair of touchdowns, and former South Carolina back MarShawn Lloyd finished with 42 yards rushing in his first action as a Trojan.
San Jose State quarterback Chevan Cordeiro finished the night with three touchdown passes, all of which were hauled in by receiver Nick Nash, who also finished with six catches for 89 yards.
The Trojans, playing their final season as a member of the Pac-12 before a move to the Big Ten in 2024, are now 6-0 all-time vs. the Spartans and have their sights set on the College Football Playoff after just missing the field last season.
Louisiana Tech 22, FIU 17
Freshman Jacob Fields, fifth on the depth chart but pressed into duty by injuries in the backfield, turned his only touch into a 30-yard touchdown run with a minute to play to lift Louisiana Tech to a 22-17 season-opening win over Florida International.
The Bulldogs pulled it out after being dominated in the first quarter before the defense shutdown the Panthers.
After Fields scored, Tech's Cecil Singleton sealed the win with an interception. Tech limited FIU to a program-low four passing yards and just 75 yards rushing after the first quarter. Before the pick the Panthers had six three-and-outs on seven drives.
Hank Bachmeier, a Boise State transfer who threw 41 touchdown passes in four years, was 34 of 44 for 333 yards. He threw an early interception that led to a Panther touchdown, but on the last two drives he was clutch.
First, he guided the Bulldogs into field goal range, but Jacob Barnes missed his second field goal. However, the Tech defense, which only allowed one first down after the Bulldogs fell behind 17-3, forced a three-and-out and Bachmeier cashed in with a 69-yard drive in 61 seconds.
The Panthers had 103 rushing yards in the first quarter, including Shomari Lawrence's 67-yard TD burst up the middle and Antonio Patterson's 6-yard scoring run. Barnes converted from 40 and 32 yards in the second quarter but missed from 37. Combined with Smoke Harris turning a short grab into a 64-yard touchdown, FIU led 17-13 at the half. Barnes also had a 46-yard make before missing his last attempt from 43.
Lawrence had 15 carries for 139 yards, but FIU quarterback Grayson James was just 5 of 14. Harris had 11 catches for 155 yards for La Tech.
The season opener served as the Conference USA opener for the two teams, both of which had losing records last season when FIU won beat Louisiana Tech 42-34 in double overtime.