Draft Deadline Drama: Stroud, Addison, Johnston officially declare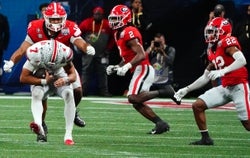 Dec 31, 2022; Atlanta, Georgia, USA; Ohio State Buckeyes quarterback C.J. Stroud (7) gets sacked by Georgia Bulldogs linebacker Jamon Dumas-Johnson (10) during the fourth quarter of the 2022 Peach Bowl at Mercedes-Benz Stadium. Mandatory Credit: John David Mercer-USA TODAY Sports
(Updated 1-16-2023, noon ET)
Stifling a crescendo of speculation to the contrary, Ohio State redshirt sophomore quarterback C.J. Stroud announced on social media Monday morning he will forgo his final three years of eligibility and declare for the 2023 NFL Draft. He is projected to be a top-10 pick, rated No. 2 overall by NFL Draft Scout behind only Alabama quarterback Bryce Young.
Drama built to a boiling point in advance of the Monday deadline as theories and conjecture discussed prospects of NIL money and a larger college legacy might get him to return. A former four-star prospect from Rancho Cucamonga, Calif., Stroud finishes his career as the only two-time Heisman Trophy finalist in school history after throwing for 8,123 yards and 85 touchdowns in 25 games as a starter
Stroud's Twitter statement: "First and foremost, I want to thank my Lord and Savior Jesus Christ for blessing me with health, favor and opportunity. To my family, thank you for laying the foundation on which I stand. Through all the uncertainties one thing was always certain, our love for on another. Thank you for always believing and supporting me. To my teammates, coaches, strength staff, nutritionists, academic advisors, support team, and everyone that works at the WHAC, thak you for building that young 18 year old redshirt into the man I am today. To Buckeye Nation, it's been a hell of a ride. To the students, alumni, and all of THE Ohio State fans, thank you for welcoming a kid from Cali into the Buckeye family. This Process has been difficult, and the decision, one of the hardest I've ever had to make. As a kid I dreamed of playing football at the highest level and after much prayer, I'd made the decision that it's time to turn those dreams into a reality. With that said, I am declaring for the 2023 NFL Draft. This ain't goodbye. . . Buckeye For Life!" --
Also on Monday, USC wide receiver Jordan Addison and TCU wide receiver Quenton Jonhnston made it official that they are going to the NFL Johnston is the top rated wide receiver for NFL Draft Scout, No. 7 overall and Addison, among the top dozen before he was sidelined by injuries, is No. 29 overall.
Also, UCLA running back Zach Charbonnet announced Monday that he will be in the 2023 draft. He is a senior, but could have used a COVID year to stay with the Bruins. The former-five star recruit ran up the stat sheet at both Michigan and UCLA. First, he amassed 850 rushing yards and 12 touchdowns on 168 carries in Ann Arbor, and then accumulated 2,496 yards and 27 touchdowns on 398 carries over two fantastic seasons in Los Angeles
Interest was heating up on the undeclared prospects. On Saturday, the Cleveland Plain Dealer's headline asked "Why hasn't Ohio State football's C.J. Stroud declared for the 2023 NFL Draft yet?"
That question was been asked by our NFL Draft Scout staff, especially Brian "Hitman" Hitterman, who is always suspicious of something. And with the advent of the NIL -- Name, Image Likeness money to college players -- Hitterman has a good point. But there may be more to it than money guiding Stroud's decision.
By Sunday, most of Ohio State football's eligible players announced their intentions for April's NFL Draft, except Stroud.
We don't do Mock Drafts at NFL Draft Scout until at least next week, but , 29 of the 32 players listed in the first round of a new CBS mock draft Friday already declared their entry -- absent Stroud, Addison and Johnston.
If Stroud goes in the top four he would earn a four-year contract in the $30 million neighborhood on his first NFL contract (see details below). Nice neighborhood.
His presence as one of the top three quarterbacks in this draft — along with Kentucky's Will Levis and Alabama's Bryce Young — is shaping the conversation around several NFL franchises this winter.
There is some history on eschewing the NFL and playing out the college string. Peyton Manning did it at Tennessee a generation ago, which worked out well. Andrew Luck was expected to go No. 1 overall in 2011, stayed at Stanford, and went No. 1 the next year. Oregon's Justin Herbert might have been the top quarterback in a so-so 2019 class, but became sixth overall in 2020.
Stroud's decision was impacted by something none of those stars had to consider. He can stay in college while making good money. No, not close to NFL high draft money, but plenty. His NIL take was already in seven digits, with the decimal on the right, and he is driving around in a free Mercedes
There are suspicions that the decision was about more than money. Stroud wanted to become that great NFL quarterback that OSU has never produced. But he also wanted to leave a strong legacy at OSU, like with a national championship and a victory over Michigan.
As the Cleveland Plain Dealer points out: "Manning, Luck and Herbert all chose to stay in college despite knowing they were forfeiting a year's worth of income. The difference-making income Stroud would need to stay in Columbus would not trickle in through donations to the collectives associated with OSU. It would come from a global brand of some kind, but those sorts of deals are within OSU's reach."
Per the Plain Dealer "According to Spotrac — which tracks NFL salary cap structure, contacts and other such details — projected four-year contracts for players selected in the first five picks range from $34-41 million. The signing bonus would range from $22-27 million. (Teams also carry an option for a fifth year on first-round contracts.)"
But that would still be there if Stroud waited for the 2024 draft, which will have another list of standout quarterback prospects, including USC's Caleb Williams and Texas' Quinn Ewers -- who had a cup of coffee and about a mill in NIL at OSU -- who would yield his Longhorns job to Arch Manning.
Beyond money and competitive desires, there is always another, important consideration -- injury. Three offensive linemen who protected Stroud last season — tackles Paris Johnson Jr. and Dawand Jones and center Luke Wypler — already announced plans to enter the draft. So, there is that.
How big was the lure of a national championship, a Heisman Trophy, a win over Michigan, a few OSU passing records? Apparently not enough.