Defenders will tackle attention amidst QB-crazed 2023 NFL Draft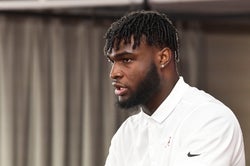 Jan 02, 2023; Tuscaloosa, AL, USA; Will Anderson Jr. announces his intention to enter the NFL draft during a press conference for University of Alabama juniors to announce their intentions. Ncaa Football Ua Juniors Announce For Nfl
There will be some irony in the fact the 2023 NFL Draft – featuring another great quarterback debate – will play out live amid several thousand fans in Kansas City starting Thursday evening.

After all, Kansas City is home to the reigning Super Bowl champions, due in no small part to the most dynamic quarterback in the game, Patrick Mahomes. Other teams sit in the envious position of wanting their version of a great franchise quarterback.

Although quarterbacks are the biggest focus of attention, as usual, this draft is laden with players who can wreck a passing attack.

So, while this draft will begin with a frenzy as nine quarterback-needy teams aim at the top five potential passers, the highest concentration of talent resides at positions intent on spoiling the passing game: cornerbacks and edge rushers.

We'll visit the QB quandary later. First, let's take a look at positions and players that represent the real strength of this annual lottery.

At cornerback, there are five or six prospects who could be snatched in the first round: Devon Witherspoon (Illinois), Christian Gonzalez (Oregon), Joey Porter Jr. (Penn State), Deonte Banks (Maryland) and DJ Turner (Michigan). Up to 11 corners are worthy of being taken in the first two rounds and 15 in three.

At defensive end and outside linebacker, from seven to nine players could be off the board by the end of the first round. Perhaps as many as 17 could go in the first two rounds.

Tops among these edge rushers is Will Anderson (Alabama), who could be the first non-quarterback drafted, regardless of whether you call him a defensive end or linebacker. Defensive ends who will follow him are Tyree Wilson (Texas Tech), Myles Murphy (Clemson) and Lukas Van Ness (Iowa). Isaiah Foskey (Notre Dame) and Will McDonald IV (Iowa State) also will get a look in the first couple of rounds.

And we won't mention Northwestern's Adetomiwa Adebawore aloud because, honestly, we haven't learned pronounce his name – yet.

Long line of linebackers
Then there are those uber-athletic outside linebackers — Nolan Smith (Georgia) and Trenton Simpson (Clemson) — who barely left footprints when they flew through the 40-yard dash at the Indy Combine in 4.39 seconds. Add Arkansas linebacker Drew Sanders, and we have as many as 17 college sack-masters who could be drafted before Round 3.

Checking our official NFL abacus, that's up to 27 pass-defense demons good enough to be rated among the top 64 players. So good luck to those guys scrambling to be among the top quarterbacks. And we do mean scrambling.

Oh, right, the quarterbacks. Our ratings at NFLDraftScout.com have evolved in the past two months. C.J. Stroud (Ohio State) displaced Bryce Young (Alabama) as the No. 1 prospect. And we probably set a 2023 draft media record by writing more than 400 words before mentioning their names.

We were mesmerized by Young, who displayed wizardry with the ball for the Tide. But when he measured 5-foot-10 1/8th tall (or short) at the combine, we admit to stepping back a bit. His 204 pounds is also suspect, up from 194 during the season. Looked like water weight, and later at his Pro Day he looked well under 200 pounds – and avoided the scales.

Did we say he was smart?

Stroud is our No. 1, not only because there are concerns about Young's diminutive size — and despite constant claims to the contrary, size matters — but also because there are no viable concerns about Stroud.

Oh, there is the little item about him being helped out immensely by Ohio State's depth of first-round talent at wide receiver, including Jaxon Smith-Njigba, rated No. 10 overall in this year's draft, and Marvin Harrison Jr., projected as a top-five pick next year.

Many believe it remains a toss-up at the top between Stroud and Young, and regardless of who is taken first, this debate could continue for years until evidence emerges to end it. A decade from now the Stroud-Young discussion might be academic because both possess the tools to succeed. But first they must survive. One consideration might be the physical environs of the team that drafts them. That could be a factor in how well each performs.

The Carolina Panthers traded up from No. 9 to No. 1 to get the pick of the litter, just ahead of the Houston Texans. Stroud might fit better in the Panthers' outdoor stadium, and Young might be helped by the Houston Texans' indoor NRG Arena.

At least two other quarterbacks could be drafted in the top 10. Fan favorites seem to be Florida's ridiculously athletic Anthony Richardson and Kentucky's bulked-up flame-thrower, Will Levis.

Watching game tape, we are more impressed by Tennessee's Hendon Hooker, despite his age (25) and a torn ACL suffered last November. He looks like the real deal. More on him later.

Some skills immeasurable
Richardson was otherworldly at the Combine, with record jumps of 40.5 inches in the vertical and 10-feet-5 in the broad. At 6-4, 244 pounds, he ran 40 yards in 4.43 seconds and flicked the ball 60 yards with ease.

That's the stuff that would have made Richardson a priority for Al Davis, the Vagabond Raiders' late owner. He remained enamored with size, speed and arm strength despite that misadventure with JaMarcus Russell, the No. 1 overall pick in 2007 who retired in 2010 after three unproductive seasons in Oakland.

Davis loved those measurables. Lest we forget, his last pick was Ohio State quarterback Terrelle Pryor – in the 2011 Supplemental Draft, a few months before Mr. Davis left us. With so many analysts comparing Richardson to Cam Newton and Lamar Jackson, it's curious that nobody mentions Pryor.

Once the nation's top prep basketball and football recruit, Pryor was 6-4 1/2, 240 pounds when he ran 40 yards in 4.38 seconds for pro scouts and 4.33 previously at a well-attended workout. His speed was validated with a 93-yard touchdown run against the Pittsburgh Steelers, still an NFL record for quarterbacks.

But Pryor was a better athlete than he was a quarterback and eventually gained 1,000 yards in his first season as a receiver after switching positions later in his career.

Maybe Pryor's path could be a fallback concept for Richardson if the former Gator doesn't learn the intricacies at quarterback. With only 13 college games, Richardson has a long way to go. Like Pryor, he was an outstanding basketball player, a proven background for receivers.

Levis is more advanced than Richardson, but also needs to refine his skills. His mechanics are, well, a bit mechanical. He can throw the ball through a brick wall, but he needs the finesse to loft it over the wall — of defenders — in a way that is catchable for his receivers.

Don't let his self-confident, braggadocios manner fool you. Levis is a solid citizen who has the physical goods to be a franchise player but needs to be less enamored with his brawn, and those tank tops, and more engaged with his brain, and maybe a shirt with sleeves.

Hooker seems to be gaining more attention as the draft draws near. The 6-3, 217-pound quarterback has a howitzer for an arm and threw 58 touchdowns the last two years with only five interceptions. Though helped by a simplified offense, it was still Hooker who ran it. He destroyed Alabama's defense with his arm and legs. His age and ACL are a consideration, but Hooker is the fourth-rated quarterback on our list, ahead of the tantalizing raw talent of Richardson.

With nine teams clamoring for a quarterback, don't expect any of them to last very long, which should lead to some interesting trades early on.

Others to watch
There are other elite prospects who should be mentioned, including running back Bijan Robinson (Texas) and defensive tackle Jalen Carter (Georgia). They have the physical ability to be immediate stars in the NFL.

Robinson is a treat to watch, with size, speed, elusiveness and power as a runner and catching ability that will open up his new team's offense.

Carter is the latest, maybe the greatest, defensive tackle from Georgia, which was so well-stocked that he started only one full season. After that season – and a second consecutive national championship – Carter was involved in a double-fatal vehicle accident, didn't work out at the Combine and looked terrible at his Pro Day. But in a pro football world where talent rules, expect him to be taken in the top 10.

Those are some of the stars who will be featured at the 2023 NFL Draft in Kansas City. Local fans at the show might be a bit smug as they watch the latest quarterback debate play out. After all, they already have theirs and the Lombardi Trophy. The rest of the league is trying to catch up.