FRANKLY: Why C. J. Stroud is our top QB — no matter how 2023 NFL Draft plays out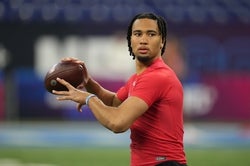 Mar 4, 2023; Indianapolis, IN, USA; Ohio State quarterback C J Stroud (QB12) participates in drills at Lucas Oil Stadium. Mandatory Credit: Kirby Lee-USA TODAY Sports
Rarely, if ever, has there been such a crescendo of clamor over a group of quarterbacks as there has been for the NFL Draft class of 2023.
Despite all the commotion, the arguments wont be settled even after the first round completes on Thursday. It will take at least three years to reveal the reality. This is not an attempt to predict who goes where or to whom.
We are basing these observations on 58 years of closely covering this event and the aftermath following the drafting of such headliners.This is how I see this draft's quarterbacks in terms of making their mark in the NFL, both immediately and down the road, regardless of where they are drafted.
To properly gauge these observations, clip and save. Put it in a time capsule and open in February 2026, long after the din about these guys has subsided and is replaced by the realities of how they performed. Even then there may be a couple who are still up in the air. Think Trey Lance and Jordan Love.
Not even the great quarterback class of 1983 created this much noise. Six quarterbacks were drafted in the first round that year, in this order — John Elway (1), Todd Blackledge (7), Jim Kelly (14), Tony Eason (15), Ken O'Brien (24) and Dan Marino (27). Three are in the Pro Football Hall of Fame: Elway, Kelly and Marino.
That was before social media and the draft itself was only in its fourth year of television broadcast, on ESPN only. Still, there was lot of smoke in the last days before the draft about Marino who slid on draft day to become the sixth of the six drafted in Round 1.
The hubbub surrounding this year's quarterbacks borders on insanity. In the last few days cases were made for every one of the top 5 to be No. 1. And each whisper gained momentum on social media and by some of the thousands of recently minted draftnik experts from their home-office war rooms.
Feeding the frenzy 24/7 are broadcast media on NFL.com and NFL Network with titles of "expert" or "insider" whose credibility is based on the fact that they are, after all, paid by the league itself. So, ignorning the obvious anti-trust implications, they certainly have privileged, inside, spoon-fed information that is not available to the rest of the media, right?
And there are extremely credible media, with years of experience inside the league as players, coaches and team executives, who know how everything works and have great sources. They do their own homework, much as they did while working in the NFL, watching game tapes and meeting with hundreds of the players. The very best among them is former team executive Pat Kirwan and his partner, former quarterback Jim Miller, on Sirius XM's Moving the Chains. Not coincidentally, their take often is at odds with the NFL.com and NFL Network insiders.
We are none of the above, but know most of them and have go-to coaches, scouts, players and former players and executives — many in the Pro Football Hall of Fame — who have served us well for six decades. We watch these players on game tape and talk with them at the Indy Combine or other opportunities. Our conclusions are sometimes different than what is popular, sometimes far different. Looking back, we have been correct far more often than not. But there have been some major whiffs.
Against that background, we have strong feelings about this year's hyped quarterback class.
We expect five quarterbacks to be drafted in the first round, but more the result of an imbalance in supply and demand than the talent of the quarterbacks themselves. Twelve teams urgently need quarterbacks. Five quarterbacks are listed in the first tier, somewhat overrated as a group, which is common at that important position.
We watched a large amount of game tape on all the quarterbacks and listened to analysis from more than a dozen pro coaches, scouts, Hall of Famers and teammates. We made up our mind last month and pretty much turned a deaf ear to the noise during these last couple of weeks. OK, we did hear some things, but dismissed them.
The quarterbacks are C. J. Stroud (Ohio State), Bryce Young (Alabama), Will Levis (Kentucky), Hendon Hooker (Tennessee) and Anthony Richardson (Florida). And that is the order in which we like them, regardless of where they are drafted.
That flies in the face of the extremely popular notion that Young is the best quarterback. He is certainly damned good. But if I were selecting a quarterback right now to be the longtime face of the franchise, I think Stroud is the safest pick. He is outstanding in his own right and ready to prove it on the field, regardless of how he does on a video-based cognition test.
Stroud is a strong-minded, focused athlete who battled his way out of a rough environment as a youth and became one of the top two or three prep quarterbacks in the nation. Stroud continued to show his mettle in college, where he was a backup to Justin Fields (now with Chicago Bears) as a freshman and withstood challenges by Quinn Ewers (now battling Arch Manning at Texas) and Jack Miller III, now at Florida.
Last time I saw Stroud in a football game he completed 23-of-34 passes for 348 yards and four touchdowns while scrambling for another 34 yards on the ground against a Georgia defense that is almost NFL caliber. He had the Buckeyes ahead 21-7 in the first half and 38-24 in the fourth quarter, but the game was decided by a 50-yard field goal with three seconds left. Final score of that semifinal playoff game: Georgia 42, Ohio State 41.
The last two times I saw Stroud throwing a football were at the Indianapolis Combine and at his Pro Day. Both times he looked like the best pure passer of the group, with well-placed, catchable passes short, medium and long.
We heartily agree that Young has astonishing presence and poise as a quarterback, dissects defenses like a surgeon and has remarkable anticipation and accuracy. His grasp of the game, and many things, is remarkable.
Yet we also admit concern that Young's actual size is 5-10 1/8 and, more importantly, somewhere between 190 and 200 pounds. Stroud is 6-3, 214. And that is a difference that makes a difference for us.
Yes, we heard Young's response to these concerns — "I've been this size my whole life." True, but he has not been that size in the NFL, which is a step up even from the vaunted SEC. He was well protected at Alabama, behind an offensive line superior to those of most college teams, but that might not be the case in the NFL, which will send 325-pound linemen at him over and over. And over.
We inhaled extensive accounts of Young's climate-controlled upbringing by a father who is a psychologist and a mother who is a teacher. They moved from California to Alabama to be near their only child and "have Sunday dinners together." The resulting product is a next-level thinker and player who performed magic on a talented college team and is genuinely brilliant in interviews.
Still, the more of this I hear, the more I feel uneasy with it all despite stern admonishments by a couple of the best minds in football who love his ability. One even interrupted when I was about to make an abstract comparison. This source, one of the brightest in football, knew what I was about to say and interrupted, and firmly contended, "No, this is not a Todd Marinovich situation," recalling an infamous case of a player raised from birth to be a pro quarterback. It spiraled badly when Marinovich eventually rebelled, got into drugs, dropped out and became homeless.
We don't see something that dramatic for Young, whose upbringing and result was far different. But in a stretch of imagination, we do wonder what happens when Young emerges from the cocoon in which he has dwelled with his parents and gets unceremoniously smacked around by huge NFL defenders. We are reminded of a saying by Mike Tyson: "Everybody has a plan until they get punched in the mouth."
Our ratings are not to be confused with those stupid mock drafts, despite their incredible popularity. However, we know that the first pick is by the Carolina Panthers, who have an outdoor stadium. The second pick is by the Houston Texans, who have and indoor home field. Just sayin'.
After Stroud and Young there are conspicuous flaws or problems with the next three quarterback prospects on our list, although teams definitely have favorites they believe can be coached up to be great pro passers.
Levis has a cannon for an arm, but his muscled body is so tight that his delivery is robotic and his passes are mostly screaming line drives. He must loosen up his body and mechanics and acquire touch for passes so receivers can catch them without hurting their hands. Forget his bragging ("I have a cannon and I want to show it off"). He is very a centered hard worker, and teammates love him as a great leader. He does have promise to be a big-time player and a much needed fun guy for NFL fans.
Hooker's so-called problems are age (25) and an ACL he blew out in November. Otherwise, he would be in that top-tier discussion with Stroud and Young. In the powerful SEC, it was Hooker, not Bryce Young, who was named First-Team All-SEC quarterback and the powerful conference's Offensive Player of the Year. Some point out that Hooker ran a simplified offense that required he read only half the field at a time. So what? In his career, Hooker threw 80 touchdowns and only 12 interceptions, including 58 touchdowns and only five picks in the last two seasons.
Hooker was an excellent runner before the injury and should make a 100 percent recovery. A team that isn't desperate for an immediate starter — and there are several — should strongly consider Hooker as a future franchise player. He began throwing this week but should chill through the 2023 season and be ready to kick ass in 2024. Looks like a future NFL star.
That leaves Richardson, who appeared ready for the summer Olympics with his OMG performance at the Indianapolis Combine. At 6-4 1/4, 243 pounds he ran 40 yards in 4.43 seconds and set Indy records for a QB, soaring 40.5 inches in the vertical and 10-feet nine inches in the broad. He tossed the ball 60-plus yards with ease. Great Show.
But we also saw most the film of his 13 college games at Florida and, although he managed some remarkable things, including several long runs, he seems to lack lack that certain instinct you see in good quarterbacks. He misfired on far too many easy passes. He seemed to tighten up for no reason at times and make the wrong decision or just throw a bad pass. Maybe he will outgrow it. Maybe some coach will maximize his remarkable athletic ability. But we didn't see a top-tier quarterback there. Not yet, maybe not ever. There is the possibility he could move to another position, ala Terrelle Pryor, who was a similar athlete. But we would be happy to be wrong about him at quarterback because he is a dynamic athlete.
After that group, Fresno's Jake Haener seems to have the basic physical tools and an advanced mental grasp to be a good NFL player. Hey, if Brock Purdy went from Mr. Irrelevant to leading the 49ers to the doorstep of the Super Bowl, then we all should pay attention to quarterbacks who have experience and success in college, even outside the Big 5.
There are others of interest, including Georgia's little winner, Stetson Bennett, and UCLA's athletic Dorian Thompson-Robinson. We will be curious to see how they fare in the NFL.
Regardless of if or where these players are drafted, it could take three years to see if and how they fit in the NFL. That's why we said "clip and save."