Heisman Watch: Williams' part-time role may hurt bid to repeat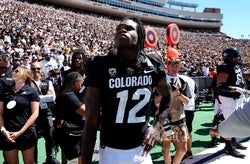 Sep 9, 2023; Boulder, Colorado, USA; Colorado Buffaloes cornerback Travis Hunter (12) following the game against the Nebraska Cornhuskers at Folsom Field. Mandatory Credit: Ron Chenoy-USA TODAY Sports
HEISMAN WATCH
1. USC QB Caleb Williams
Yawn. If disappointment is the difference between expectations and results (on of my favorite truths), Williams has created his own problem. Keeping the Heisman will be more difficult than winning it last year. Not only are expectations sky high, new stars are nipping as his heels. Williams threw for 300 yards and three touchdowns against Stanford. OK, that was in the first half. Will we select a part-time player to win the Heisman? If he keeps doing this to teams he will ruin his Heisman chances. Remember, that is probably why Trevor Lawrence didn't get more votes when he sat by the third quarter in most games at Clemson.
2. Colorado versa-star Travis Hunter
Hunter made three catches for 73 yards on offense, four tackles and broke up a pass on defense and, per ESPN' astute ticker, "swayed the international markets to send corn futures plummeting." He was a key in humiliating Nebraska.
3. Florida State QB Jordan Travis
Travis had just two touchdowns against Southern Miss, but only one of them was to Keon Coleman, so the degree of difficulty was higher. Regardless, Florida State rolled 66-13.
4. Colorado QB Shedeur Sanders
Sanders has 903 passing yards and six passing TDs through two games. Last year, Colorado as a team had 2,075 passing yards and 10 passing TDs. That puts Sanders on pace to top the Buffs' season totals from 2022 before the end of this month.
5. Notre Dame QB Sam Hartman
Hartman after three games at Notre Dame: Three wins, 10 touchdowns, no picks, one rib necklace. Hello, Caleb? Maybe you should play the second half.