King speaks (OK, writes in FMIA): Eagles over Bills in SB 58; Hurts MVP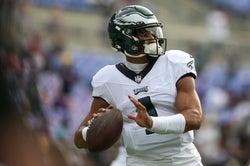 Aug 12, 2023; Baltimore, Maryland, USA; Philadelphia Eagles quarterback Jalen Hurts (1) warms up before the game against the Baltimore Ravens at M&T Bank Stadium. Mandatory Credit: Tommy Gilligan-USA TODAY Sports
(This is part of a series in which Hall of Football presents media forecasts on the 2023 NFL Season. This post is from Mr. Megamedia, Peter King, the respected veteran football analyst whose work is seen on NBCSports.com and features his weekly must-read, Football Morning in America and can be read in its entirety here)
How I see the playoff races:
AFC seeds
1. Jacksonville (13-4). Jags were a respectable 12th in the league in points allowed last year. They can't be any lower than that if they're going to be competitive with the best of the AFC.
2. Kansas City (13-4). The Chris Jones holdout worries me a bit. Still expect it to get solved, but if he misses half the season, or some big chunk, well, there's not a Chris Jones on the practice squad to take his place.
3. New York Jets (11-6). Impossible division to forecast. But the last six games for the J-E-T-S Jets Jets Jets swayed me a bit: Atlanta and Houston home, at Miami, Washington home, at Cleveland, at New England. Surviveable.
4. Cincinnati (11-6). In Burrow I trust. Toughest division to forecast 1 through 4.
5. Buffalo (11-6). Stefon Diggs' psyche is a factor. Big key could be Von Miller being eased back in to face Burrow, Rodgers, Hurts, Mahomes, Prescott and Herbert in second half. (Lord, who invented that seven-game death march?)
6. Baltimore (10-7). The Todd Monken offense, playing faster, should fit Lamar Jackson well—as should first-round receiver Zay Flowers.
7. Pittsburgh (9-8). You know how tough it is to keep Tua Tagovailoa and Justin Herbert out of the playoffs? Kenny Pickett's a top-12 QB by December.
Pittsburgh wins tiebreaker with Miami (9-8) and the L.A. Chargers (9-8) to earn seventh seed.
Wild card: Kansas City over Pittsburgh, N.Y. Jets over Baltimore, Buffalo over Cincinnati.
Divisional: Kansas City over N.Y. Jets, Buffalo over Jacksonville.
AFC Championship at Kansas City: Buffalo 27, Kansas City 25.
NFC seeds
1. San Francisco (13-4). Adversity's Team. This just in: The Niners are still very good at football. (Proviso: They have to sign Nick Bosa in the next few days.)
2. Philadelphia (12-5). Best roster in football, 1 to 53. That matters a lot in a 17-game season.
3. Detroit (10-7). I buy the hype.
4. Atlanta (9-8). Every year, there's a last-to-first division winner. This year, Falcons edge their good friends the Saints in the NFC South.
5. Dallas (11-6). Feels like a huge year for the future of Dak Prescott, and maybe Mike McCarthy.
6. Seattle (10-7). I worry about the run defense (allowed 4.9 yard per rush last year), but not about Geno Smith. He'll have his second straight legit year, and Jaxon Smith-Njigba will be a great add.
7. Green Bay (10-7). Dart-throwing. They edge the 9-8 Giants on the basis of Jordan Love playing B-minus football and an ascending D.
Wild card: Philadelphia over Green Bay, Detroit over Seattle, Dallas over Atlanta.
Divisional: Dallas over San Francisco, Philadelphia over Detroit.
NFC Championship at Philadelphia: Philadelphia 23, Dallas 16.
Super Bowl 58, at Las Vegas, Feb. 11, 2024: Philadelphia 30, Buffalo 26.
The awards
MVP: 1. Jalen Hurts, QB, Philadelphia. 2. Patrick Mahomes, QB, Kansas City. 3. Trevor Lawrence, QB, Jacksonville.
Hurts has ascended to coach-on-the-field mode, in the Mahomes realm. He'll back up his brain with 40 passing/rushing TDs.
Offensive player: 1. Christian McCaffrey, RB, San Francisco. 2. Nick Chubb, RB, Cleveland. 3. Jalen Hurts, QB, Philadelphia.
This is the year McCaffrey puts it all together in an offense designed for all the great things he does.
Defensive player: 1. Micah Parsons, edge, Dallas. 2. Myles Garrett, edge, Cleveland. 3. T.J. Watt, edge, Pittsburgh.
I didn't even use a Bosa here. It's a golden age for edges.
Offensive rookie: Overall pick in parentheses. 1. Jahmyr Gibbs, RB, Detroit (12). 2. Zay Flowers, WR, Baltimore (22). 3. Bryce Young, QB, Carolina (1).
Flowers will be more spectacular. Gibbs will produce more yards.
Defensive rookie: Overall pick in parentheses. 1. Jalen Carter, DT, Philadelphia (9). 2. Tyrique Stevenson, CB, Chicago (56). 3. Will Anderson Jr., DE, Houston (3).
Voters will have to see how disruptive Carter is, because others will have better stats.
Coach: 1. Doug Pederson, Jacksonville. 2. Dan Campbell, Detroit. 3. Matt LaFleur, Green Bay.
Going all-in on the Jags. If they're the 1 seed in the mighty AFC, how would Pederson not win coach of the year?
Comeback player: 1. Damar Hamlin, safety, Buffalo. 2. Russell Wilson, QB, Denver. 3. Jon Metchie, WR, Houston.
Once Hamlin suits up in week one and plays a snap, he wins. Contest over.