Larry Stone: Sad Irony of Pac-12 as Dead Conference Walking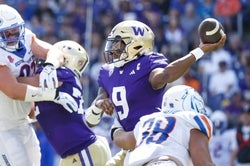 Sep 2, 2023; Seattle, Washington, USA; Washington Huskies quarterback Michael Penix Jr. (9) passes against the Boise State Broncos during the first quarter at Alaska Airlines Field at Husky Stadium. Mandatory Credit: Joe Nicholson-USA TODAY Sports
(We at HallofFootball.com have mentioned the Pac-12 being undefeated thus far in what is the last hurrah for this conference as we know it. Former Hearst teammate, Larry Stone of the Seattle Times, dug deep into the curious situation and came up with some stunning facts and figures in his Wednesday analysis. -- Frank Cooney)
You can call it irony. Or you can call it some sort of perverse karma. I'd call it a heart-rending reminder of how badly the Pac-12 messed up its negotiation and thus put itself in the most ludicrous, and exasperating, position a major conference has ever been.
Simply put: The Pac-12 football outlook has rarely, if ever, been better. It helps to be an AARP member to remember a more dominant stretch of season-opening games. It just completed one of the most robust, eye-opening weekends in conference history.
All of it, of course, comes against the backdrop of a dead conference walking. The Pac-12 as we know it will self-destruct when this season is over, its members going their various ways to leave Washington State and Oregon State to fend for themselves as the last schools standing in a conference that dates to 1915.
And so when you ponder the strength of the Pac-12, with six teams in the latest Associated Press Top 25 poll (and three others earning votes), it absolutely boggles the mind that they were unable to forge a media-rights deal that would have kept it together.
You can blame the lack of foresight by the university presidents, cluelessness of the current and previous commissioners, or the intransigence of the TV networks. You can blame Big Ten-bound USC and UCLA for blind-siding the rest of their partners to send the Pac-12 on a death spiral it couldn't pull out of. But in light of the fact that the Pac-12 entities, piecemeal, proved both enticing and lucrative to the Big Ten, Big 12 and ACC, it's hard to fathom how collectively they didn't warrant a commensurate television deal.
And so now we have the sobering spectacle of a moribund conference that just overflows with riveting story lines, marquee talent and national relevance. The Pac-12's six-year absence from the College Football Playoff could very well end just as 10 of its teams are making their exits. If someone were to do a Power Five power ranking after Week 1, no doubt the SEC would hold down the top spot, but the Pac-12 would be breathing down its neck.
You want some numbers? The Pac-12 is 13-0 on the season, outscoring its opponents 604-244 — a 27-point average margin of victory. The average score of its games is 46-19, which reflects the fact that six of the 13 games have resulted in 50 or more points by a Pac-12 school, topped by Oregon's 81 against Portland State. The five teams that went into the week nationally ranked won by an average score of 53.8 to 13.6.
The Pac, in fact, averaged 52.6 points in Saturday's eight games, the only time in the past 40 years any FBS conference had its teams average 50.0 points or more per game in a day (minimum eight teams in action), according to OptaSTATS.
No other conference is unbeaten. In fact, every other conference has multiple teams with losses. The Pac-12, in any of its iterations, hasn't had every team win its season opener since 1932. And the conference now has the most wins (including two by USC) through Week 1 of any FBS conference since at least 1980.
The most-hyped team in the country, Colorado, with the most intriguing coach, Deion Sanders, resides in the Pac-12, and is ensured of being the most closely scrutinized — and polarizing — team for the foreseeable future. The Buffaloes won the weekend in college football with their stunning road upset of Texas Christian, which played in the national-title game last season.
The Buffaloes added two new Heisman candidates, two-way sensation Travis Hunter and quarterback Shedeur Sanders, to the already-bulging list from the Pac-12. It includes the defending Heisman winner, Caleb Williams of USC, along with other Pac-12 quarterbacks such as Washington's Michael Penix Jr. (5 TD passes in the Huskies' 56-19 win over Boise State), Oregon's Bo Nix (23 for 27 for 287 yards and three touchdowns in limited playing time in the Portland State rout) and Utah's Cam Rising.
All of them (save Rising, who sat out because of an injury) lived up to expectations in Week 1, and other touted QBs such as Washington State's Cam Ward, Oregon State's DJ Uiagalelei and Arizona's Jayden de Laura shined as well.
Maybe as impressive as the top of the conference — which included blowout wins by USC, Oregon, Washington and Oregon State, and a gritty Power Five victory by Utah over Florida despite being without several key players — was the showing of the bottom. Stanford, widely expected to battle with Colorado for the cellar, instead had an impressive 37-24 win over Hawaii in Troy Taylor's coaching debut. And California, behind 188 rushing yards by Jaydn Ott, crushed North Texas 58-21, the Bears' first time to exceed 50 points in coach Justin Wilcox's seven seasons.
Obviously, the quality of the competition will increase over the course of the season (starting this week when Cal hosts Auburn, among other challenging games). And Pac-12 teams will eventually cannibalize each other once they meet head-to-head (starting Saturday with USC versus Stanford).
But it's impossible not to look at the blazing start by the Pac-12 and lament that it's all temporary. This should, by rights, be the start of a golden era, not the end of the line for a once-proud conference that wants to go out with a noisy reminder of what could and should have been.
Larry Stone: lstone@seattletimes.com; on Twitter: @StoneLarry. Larry Stone calls upon more than 30 years as a sportswriter to offer insight, wisdom, opinion, analysis - and hopefully some humor - regarding the wide world of sports. Topics include the thrill of victory, the agony of defeat, and, especially, the people responsible for either outcome, as well as the wide chasm between.