McCord Named Starting Quarterback for Ohio State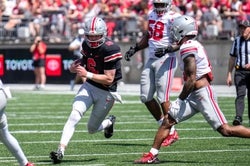 Apr 15, 2023; Columbus, Ohio, United States; Ohio State Buckeyes quarterback Kyle McCord (6) runs the ball through an opening in the Buckeyes defensive line during the third quarter of the Ohio State Buckeyes spring game at Ohio Stadium on Saturday morning. Mandatory Credit: Joseph Scheller-The Columbus Dispatch Football Ceb Osufb Spring Game Ohio State At Ohio State
Ohio State head coach Ryan Day announced Tuesday that junior Kyle McCord will start at quarterback in Saturday's season-opener at Indiana. Sophomore Devin Brown will also see some playing taime.
Last week, Day indicated that the quarterback competition between McCord and Brown was still ongoing.
"There was a point twice in camp where I thought one was pulling away from the other," Day said. "Then two practices went by and the other one really played well and the other one kind of leveled off.
"And I would let them know, too, right then and there. I'd say, 'You were pulling away, and he just kind of took over a little bit.' One thing's for sure is they can't take a down off, they can't take a play off."
McCord is the most experienced quarterback on the Buckeyes roster this season. Ohio State enjoyed strong play at the position over the last few years with Heisman Trophy finalists Justin Fields and C.J. Stroud, who are now starting in the NFL for the Chicago Bears and Houston Texans, respectively.
A 4-star recruit in the class of 2021, McCord appeared in 12 games with one start over his first two seasons. His career numbers include 606 passing yards, three touchdowns and two interceptions while completing 70.7 percent of his passes.
McCord was also the high school quarterback of Buckeyes star receiver Marvin Harrison Jr., a preseason All-American and one of the best offensive players in the nation. Ohio State is hoping the two of them will be able to continue their chemistry and lead the team to a second straight appearance in the College Football Playoff.
Looking at the game
The Ohio State Buckeyes will make the 3 1/2-hour trip to Bloomington, IN, to open the 2023 football season against the Indiana Hoosiers.
Though it is a conference game on the road, this will likely be a de facto tuneup game for the Buckeyes against the Hoosiers, who have only finished two seasons above .500 in Big Ten play since the conference switched to the East-West format in 2014.
Indiana, like the Buckeyes, has a quarterback battle on its hands. However, the Hoosiers' competition didn't open up because their quarterback was selected No. 2 overall in the 2023 NFL Draft like Ohio State's, but rather Jack Tuttle and Connor Bazelak transferred to Michigan and Bowling Green, respectively.
The top two options the Hoosiers have to choose from are class of 2020 3-star dual-threat Dexter Williams II and Tennessee transfer Tayven Jackson, who is the brother of former Hoosiers basketball star Trayce Jackson-Davis.
Last season, Williams played in four games, completing 34.2 percent of his passes for 184 yards with two touchdowns and two interceptions. Against the Buckeyes in 2022, Williams completed 6-of-19 passes for 107 yards and two scores.
On the ground last season, the Macon, GA, native ran for 165 yards on 40 carries, finding the end zone against Michigan State last season.
In garbage time for the loaded Volunteers squad last season, Jackson completed three of his four pass attempts on the season for 37 yards, rushing for 10 yards and a touchdown.
It is never a good thing when your punter, which for Indiana is James Evans, was tied for fifth in the Football Bowl Subdivision with 75 punts and fourth with 3,325 total punt yards.
Even if the Hoosiers find their best option under center since Michael Penix Jr. averaged 274 yards passing per game in 2020, they will need to do a complete 180 on the defensive side of the football.
Last season, Indiana was the only Big Ten team to allow over 400 points last season, surrendering 33.9 points and 449.3 yards per game, which was 120th and 119th in the FBS last season.
The last time the Buckeyes trotted a first-time starter onto a road Big Ten opener was when C.J. Stroud took the field against Minnesota to begin the 2021 season. Stroud went 13-for-22 with 294 yards, four touchdowns and an interception, leading Ohio State to a 45-31 victory against the Golden Gophers.
That likely won't be the case at Memorial Stadium Sept. 2 when the Buckeyes trot out McCord. Ohio State has owned Indiana 78-12-5, winning 27-consecutive games since 1991.
The Hoosiers have only defeated the Buckeyes twice since 1952.
In the first 3:30 p.m. CBS time slot for Ohio State since the Big Ten's new media rights deal, it will enter play as 28-point favorites against Indiana.