Nate Davis' NFL Power Ratings: Steelers, Saints Ascend to Top 10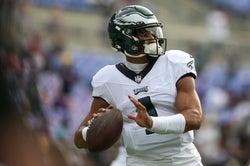 Aug 12, 2023; Baltimore, Maryland, USA; Philadelphia Eagles quarterback Jalen Hurts (1) warms up before the game against the Baltimore Ravens at M&T Bank Stadium. Mandatory Credit: Tommy Gilligan-USA TODAY Sports
(This is part of a series in which Hall of Football presents media forecasts on the 2023 NFL Season. This post is from USA Today veteran football writer Nate Davis. Nate The Great offers up-to-date observations, specific insights and opinions for each selection. Like others, he picks the Chiefs and Eagles 1-2 and the Cardinals No. 32, probably because Georgia, Michigan and Alabama are CFB teams — Frank Cooney)
NFL power rankings entering the 2023 regular season (previous rank in parentheses):
1. Chiefs (1): Thursday night will provide the first glimpse of Kansas City's title defense, one that could be bolstered by its young wide receivers. It will also (likely) provide the first glimpse of Kansas City's Chris Jones-less defense … and that could be a serious repeat hindrance.
2. Eagles (2): Can QB Jalen Hurts win the MVP he almost snagged in 2022? Can Philadelphia get off to another hot start despite two new coordinators? Could the Iggles be the first back-to-back NFC East champs in 19 years? Do they have the roster to take one step further than last season? Yes … on all counts.
3. Bengals (3): A new tandem of safeties probably trumps offensive line as Cincinnati's main concern … even if QB Joe Burrow's calf is an early reason for trepidation.
4. 49ers (5): Even if QB Brock Purdy's elbow is an early reason for trepidation, they should be fine … assuming DE Nick Bosa's deal gets done and he doesn't miss much of a beat whenever he shows up.
5. Bills (4): With LB Von Miller on the PUP list, they could be at a disadvantage defensively and in the Cook Brothers department on Monday night against the Jets.
6. Jets (8): CB D.J. Reed already has his sights set high, saying New York's D "can be a historical defense like the '85-'86 Bears and the LOB (Seattle's Legion of Boom) in 2013." Perhaps hyperconfident, though the Jets roll six-deep at edge rusher, making life much easier for Reed and fellow CB Sauce Gardner. Oh, and the last QB Aaron Rodgers had a top-five defense? Yep, he was also the Super Bowl's MVP.
7. Steelers (14): This ranking might seem lofty for a team that went 9-8 in 2022, but you could argue no unit had a better preseason than Pittsburgh's first-team offense. Considering the upgrades on defense, which include a fully healthy T.J. Watt, this could be a club that sneaks up on some folks.
8. Ravens (7): A bit mystifying that QB Lamar Jackson played zero preseason snaps even as Baltimore installs an entirely different offense under new coordinator Todd Monken? Maybe, but opening at home against Houston should be preseason enough for Jackson and Co.
9. Jaguars (9): Being without LT Cam Robinson (PED suspension) for the first four games is hardly ideal, but Jacksonville shouldn't see any especially scary defenses (Indianapolis, Kansas City, Houston, Atlanta) over that stretch.
10. Saints (17): Being without RB Alvin Kamara (personal conduct policy violation) for the first three games is hardly ideal, but his absence could be more than offset if former All-Pro WR Michael Thomas is truly healthy … to say nothing of the arrival of RB Jamaal Williams, who led the NFL with 17 rushing TDs in 2022. Oh yeah, and QB Derek Carr.
11. Lions (10): They're well positioned to win the NFC North for the very first time – in part because rookies Jahmyr Gibbs, Sam LaPorta and Brian Branch are expected to be significant contributors.
12. Seahawks (12): They suddenly boast one of the NFC's best young rosters … and just imagine how good it might be had Seattle not traded two first-round picks for SS Jamal Adams in 2020.
13. Browns (22): The pressure will be on QB Deshaun Watson and HC Kevin Stefanski this season … though new coordinator Jim Schwartz and his defense have the potential to alleviate it significantly.
14. Chargers (11): With Kellen Moore now calling the plays, QB Justin Herbert and a star-studded offense could be poised to set the league-wide pace on that side of the ball.
15. Dolphins (15): They're already sufficiently beat up – LT Terron Armstead, RB Jeff Wilson and, most notably, CB Jalen Ramsey, who may not return this season – that those injuries could be the difference from returning to the playoffs in what projects as an airtight conference at the top.
16. Cowboys (6): Yes, the defense could be epic – '85 Bears or '13 Seahawks, anyone? But, unless new QB3 Trey Lance is more multi-talented than he's given credit for, the guess is Dallas will miss Moore, RB Ezekiel Elliott and TE Dalton Schultz far more than anticipated.
17. Falcons (25): If they had a more proven option under center than Desmond Ridder, Atlanta would be a legitimate threat for a top-three seed in the NFC playoffs. (But they might just be anyway.)
18. Packers (20): Their first six games are against teams that didn't reach the playoffs in 2022, an early lineup that might ideally allow new QB1 Jordan Love to build confidence four years after he was last regularly taking snaps … for Utah State.
19. Broncos (23): Not a great training camp with new HC Sean Payton finding the bulletin board, WR Tim Patrick finding injured reserve (again), and WR Jerry Jeudy finding himself with a bum hamstring.
20. Titans (26): With a clean start, Tennessee could certainly reassert itself atop the AFC South. If not, you wonder if this team will be recognizable after the trade deadline.
21. Patriots (21): As much fascination as there presently is about who will be the backup quarterback, if starter Mac Jones doesn't take a few steps forward from his rookie performance – after regressing as a sophomore in 2022 – New England will be dead in the water.
22. Giants (18): Sure feels like new TE Darren Waller, who's missed 14 games over the past two seasons, holds an inordinately large key to the success of an offense that ranked 18th last year.
23. Vikings (16): Aside from All-Pro WR Justin Jefferson and, now, newly extended Pro Bowl TE T.J. Hockenson, hard to divine much about where this team is headed beyond this season – one very unlikely to feature as many friendly bounces as the 2022 NFC North champs enjoyed.
24. Commanders (29): QB Sam Howell is one of this season's bigger X-factors league-wide … and will almost certainly determine if Washington contends or simply needs a brand-name passer in 2024 to do so.
25. Bears (24): An offense that ranked 23rd in scoring last year should be putting more points on the board. The question is how many fewer a defense that ranked dead last in 2022 will allow.
26. Rams (13): If WR Cooper Kupp's hamstring doesn't respond, QB Matthew Stafford better hope he can quickly find ways to connect with his younger teammates between the lines.
27. Panthers (19): They've got the first quarterback (Bryce Young) taken in the 2023 draft, but questions remain as to whether they can effectively protect him … or if they'll have Pro Bowl OLB Brian Burns available as he angles for a new contract.
28. Texans (30): They've got the second quarterback (C.J. Stroud) taken in the 2023 draft, but questions remain as to whether he has the requisite downfield weapons … and how long new HC DeMeco Ryans needs to get the AFC's worst defense in 2022 up to speed.
29. Colts (31): They've got the third quarterback (Anthony Richardson) taken in the 2023 draft, but questions remain as to how his general inexperience will manifest against first-string NFL defenders … and how that might be further exacerbated by RB Jonathan Taylor's ongoing absence.
30. Raiders (27): They've got the eighth quarterback (Aidan O'Connell) taken in the 2023 draft, and you wonder how long it might be before he supplants veteran Jimmy Garoppolo … especially if the Silver and Black prove more explosive off the field than on it.
31. Buccaneers (28): Losing C Ryan Jensen for a second straight season is another cruel blow for a team that probably couldn't afford it, especially on a line that needed some stability amid so much other offensive flux post-TB12.
32. Cardinals (32): We know Kyler Murray (knee) won't be their quarterback to start the season. We don't know who their quarterback will be to start the season. Pretty much sums up Arizona's outlook.