New QB debates loom as 2023 CFB season precedes 2024 NFL Draft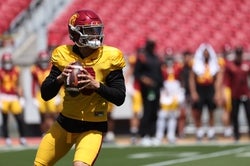 Apr 15, 2023; Los Angeles, CA, USA; USC Trojans quarterback Caleb Williams (13) drops back to pass during the Spring Game at Los Angeles Memorial Coliseum. Mandatory Credit: Kiyoshi Mio-USA TODAY Sports
Just when you thought the quarterback draft debates were done, it's time to discuss new ones as the 2023 college football season, with those 2024 draft prospects, is almost within view.
See it? Right there on the calendar, starting August 26 with seven games, including a brave San Jose State visiting University of Southern California and reigning Heisman Trophy winning quarterback Caleb Williams.
And as the names Bryce Young and C.J. Stroud fade, the quarterback discussions are revived as Williams is, for now, rated ahead of North Carolina's Drake Maye on early lists for the 2024 draft.
And there are plenty of quarterbacks vying for attention.
Not counting freshman — with apologies to Texas' Arch Manning — NFLDraftScout.com is tracking 664 college quarterbacks who, by some stretch of rules or imagination, could become a part of the 2024 draft.
Leveraging the almighty transfer portal, 303 of these quarterbacks sought better playing opportunities by moving to another team. In fact, 42 transferred at least twice. Six, led by Rice's JT Daniels, transferred three times. Six!
Here are CFB's Transfer Triple Crown quarterbacks:
Player, School, Pos, Ht, Wt, Class, 40 Time, Draft Yr, Transferred
—JT Daniels, Rice, QB, 6026, 226, rSr, 4.86, 2024, 3x
—Layne Hatcher, Ball State, QB, 5115, 210, rSr, 4.73, 2024, 3x
—Jason Brown, Jackson State, QB, 6025, 230, rSr, 5.05, 2024, 3x
—Ben Bryant, Cincinnati, QB, 6031, 220, rSr, 4.90, 2024, 3x
—Brady McBride, App. State, QB, 5116, 200, rSr, 4.87, 2024, 3x
Well, that's as of midnight, May 2, 2023. There might be some quarterbacks who were unhappy with their Spring Game and are looking at that portal.
Colorado quarterback Shedeur Sanders isn't one of them. The Buffs put on quite a show for his dad, Coach Prime, as in Pro Football Hall of Famer Deion Sanders, a couple of weeks ago. Despite snow and 32-degree weather, the game drew in excess of 45,000 fans, more than the total of Colorado's four most recent spring games.
Shedeur is ranked No. 3 on our early list of 2024 quarterback draft prospects, just ahead of Texas' Quinn Ewers, who will try to keep his job despite the presence of that aforementioned Manning, an imposing freshman who already earned millions in NIL money. Family tradition.
The list includes Spencer Rattler, a namethat should sound familiar. Rattler was a Heisman Trophy favorite going into the 2021 season at Oklahoma, but lost his job to a guy named Caleb Williams. Yep, the same Caleb Williams who won the Heisman Trophy last season at USC.
Rattler also moved to USC — University of South Carolina — where he had a decent 2022 with an 8-5 record, but it ended with a Gator Bowl loss to Notre Dame, 45-38. Still, that No. 19 AP ranking was South Carolina's best since 2014. Rattler returns for another chance to prove himself, but he will start No. 7 on our list.
Here is a look at 30 quarterbacks who could find their way into the NFL's 2024 Draft. At this point, ratings are pure guesswork based on what we think we know and counting on none of these guys transferring again before the season.
There is only one guarantee: This list will change before the 2024 NFL Draft.
QB Rank, Player, College, Position, Ht, Wt, Class, 40 Time, Draft Year
1. Caleb Williams, Southern California, QB, 6005, 220, Jr, 4.48, 2025
2. Drake Maye, North Carolina, QB, 6043, 220, rSo, 4.58, 2026
3. Shedeur Sanders, Colorado, QB, 6006, 215, Jr, 4.78, 2025
4. Quinn Ewers, Texas, QB, 6021, 207, rSo, 4.76, 2026
5. Jayden Daniels, LSU, QB, 6025, 200, rSr, 4.52, 2024
6. Michael Pratt, Tulane, QB, 6025, 220, Sr, 4.73, 2024
7. Spencer Rattler, South Carolina, QB, 6002, 215, rSr, 4.70, 2024
8. Bo Nix Oregon, QB, 6016, 213, rSr, 4.62, 2024
9. Cameron Ward, Washington State, QB, 6021, 220, rJr, 4.87, 2025
10. Jordan Travis, Florida State, QB, 6005, 212, rSr, 4.52, 2024
11. Kyle McCord, Ohio State, QB, 6026, 222, Jr, 4.73, 2025
12. J.J. McCarthy, Michigan, QB, 6031, 196, Jr, 4.56, 2025
13. Brock Vandagriff, Georgia, QB, 6030, 205, rSo, 4.74, 2026
14. DJ Uiagalelei, Oregon State, QB, 6042, 235, Sr, 4.76, 2024
15. Jaxson Dart, Mississippi, QB, 6021, 220, Jr, 4.72, 2025
16. Tyler Buchner, Alabama, QB, 6006, 215, Jr, 4.59, 2025
17. Michael Penix, Jr. Washington, QB, 6021, 213, rSr, 4.64, 2024
18. Tyler Van Dyke, Miami, QB, 6041, 224, rJr, 4.93, 2025
19. Taulia Tagovailoa, Maryland, QB, 5105, 200, rSr, 4.70, 2024
20. Sam Hartman, Notre Dame, QB, 6005, 210, rSr, 4.76, 2024
21. Ty Thompson, Oregon, QB, 6026, 224, rSo, 4.59, 2026
22. Dillon Gabriel, Oklahoma, QB, 5112, 203, rSr, 4.83, 2024
23. KJ Jefferson, Arkansas, QB, 6025, 242, rSr, 4.76, 2024
24. Cameron Rising Utah, QB, 6012, 218, rSr, 4.64, 2024
25. Jake Garcia, Missouri, QB, 6016, 194, rSo, ND, 2026
26. Miller Moss, Southern California, QB, 6020, 210, rSo, 4.83, 2026
27. Garrett Nussmeier, LSU, QB, 6015, 194, rSo, 4.74, 2026
28. Jalen Milroe, Alabama, QB, 6015, 220, rSo, 4.63, 2026
29. Kyron Drones, Virginia Tech, QB, 6015, 223, rSo, ND, 2026
30. Preston Stone, Southern Methodist, QB, 6010, 209, rSo, 4.82, 2026