NFL Rankings: After two games, beliefs trump results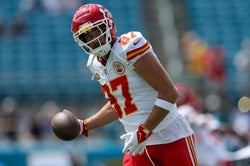 Sep 17, 2023; Jacksonville, Florida, USA; Kansas City Chiefs tight end Travis Kelce (87) warms up before a game against the Jacksonville Jaguars at EverBank Stadium. Mandatory Credit: Nathan Ray Seebeck-USA TODAY Sports
After two weeks some results are still difficult to believe, which may be why, for example, the undefeated Tampa Bay Bucs and Washington Commanders, each 2-0, are rated here Nos. 22 and 23, behind the winless Los Angeles Patriots and Los Angeles Chargers at Nos. 20 and 21 despite each being 0-2.
Belief is a powerful thing, right?
We do believe the San Francisco 49ers at No. 1, but it is debatable if the Dallas Cowboys are No. 3 behind the No. 3 Philadelphia Eagles.
NFL power rankings entering Week 3 of the 2023 season (previous rank in parentheses, sage and insightful comments by USATs NFL expert, Nate Davis):
See more of Nate the Great here
1. 49ers (1): Can't do better than winning your first two games, especially when those victories come on the road. San Francisco is home the next three weekends and very likely to be 4-0 heading into a Week 5 Sunday nighter against Dallas.
2. Eagles (2): Can't do better than winning your first two games, even if it's been a bit bumpy as they break in their new coordinators – though credit OC Brian Johnson for keeping it on the ground Thursday. But a club that started 8-0 on the way to the NFC crown in 2022 could well match that with the Bucs, Commanders (twice), Rams, Jets and Dolphins ahead of a Week 9 visit from Dallas.
3. Cowboys (3): Can't do better than winning your first two games, even if the triumphs came against New York, New York – the overmatched Giants and post-Rodgers Jets. But credit America's Team, just the fifth in the Super Bowl era (since 1966) to score at least 70 points while allowing no more than 10 collectively in its first two outings.
4. Chiefs (4): The reigning champs retain top billing amid AFC teams that have generally sputtered out of the gate. But 1-1 looks pretty good with TE Travis Kelce and DT Chris Jones back and performing well and MVP QB Patrick Mahomes financially secured (again). However continue monitoring the new tackle tandem after RT Jawaan Taylor was flagged five times Sunday and briefly benched.
5. Bills (8): A clean turnover sheet for QB Josh Allen is great. But how encouraging is the offensive balance, RB James Cook setting career highs Sunday with 17 carries and 123 yards?
6. Dolphins (10): QB Tua Tagovailoa wouldn't mind playing New England every week, improving to 5-0 against Bill Belichick. But consider how much better Miami, with two road wins in the bank, can get when it gets players like LT Terron Armstead, OLB Jaelan Phillips and maybe even CB Jalen Ramsey back.
7. Ravens (11): Maybe it was the return of TE Mark Andrews, maybe it was a week of familiarity in new OC Todd Monken's offense, but QB Lamar Jackson looked much better in Week 2. A team off to a hot start is benefitting from a scalding defensive pace, Baltimore's D allowing 23 yards in the first quarter this season.
8. Saints (12): The defense looks to be in midseason form, having held 10 consecutive opponents to 20 points or fewer. The offense does not, but QB Derek Carr is still acclimating and awaiting Alvin Kamara's return – which could be key given New Orleans' depleted running back room.
9. Lions (5): Hopefully Sunday's loss to Seattle won't be as penal as the 2022 defeat that cost Detroit a playoff berth. Obviously didn't hurt that the rest of the NFC North also lost in Week 2.
10. Jaguars (7): They'll get right against Houston in Week 3, right? Well, the "lowly" Texans have beaten Jacksonville five times in a row and eight of the past nine on the road.
11. Falcons (17): Undefeated Atlanta is running more than 56% of the time … and why not with Bijan Robinson and Tyler Allgeier, arguably the league's top RB tandem?
12. Packers (15): They were two points away from the franchise's first ever 2-0 start on the road. And considering the absences of WR Christian Watson, RB Aaron Jones, LT David Bakhtiari and (mostly) G Elgton Jenkins on Sunday, plenty of reasons for optimism – especially if QB Jordan Love can execute a sneak properly moving forward.
13. Steelers (14): Can't bank on two defensive touchdowns every week, but they seem to be back on solid footing given the rest of the AFC North is dealing with injury issues as serious as Pittsburgh's.
14. Rams (18): If you had RB Kyren Williams and WRs Puka Nacua and Tutu Atwell forming one of the league's most productive offensive trios after two games, then you can buy me Powerball tickets.
15. Browns (6): They've already become a M*A*S*H unit – no loss more concerning than what's expected to be a season-ending knee injury suffered Monday by RB Nick Chubb, who's pretty much been Cleveland's offensive identity for the duration of his sterling six-year career.
16. Seahawks (21): Keep an eye on an O-line missing its starting tackles. Seattle did a good job protecting QB Geno Smith in Sunday's overtime win at Detroit but struggled to run the ball (3.3 yards per carry).
17. Bengals (9): Legitimate reasons for concern by Sunday night, Cincinnati's offense ranked last in the league and QB Joe Burrow's calf barking anew.
18. Titans (20): Have you noticed how much RB Derrick Henry has evolved as a receiver? One-third (71 yards) of his total output from scrimmage this season has come via receptions – this after he established career bests with 33 grabs for 398 yards in 2022.
19. Jets (16): Sunday's loss at Dallas got away from them in the second half. Maybe it wouldn't have had RBs Breece Hall and Dalvin Cook gotten more than nine combined touches.
20. Patriots (19): They're 0-2 for the first time in 22 years, though the previous instance wound up with New England winning its first Super Bowl. But this New England squad will have to figure out matters on the road, where it will spend four of the next six weeks after dropping its first two in Foxborough.
21. Chargers (13): HC Brandon Staley claims "the men in that locker room are finishers," yet the Bolts have lost four straight – going back to 2022 – by a total of nine points, including (yes, Coach Staley) last season's wild-card implosion. They are the first team in the Super Bowl era to score at least 50 points while committing zero turnovers yet start 0-2.
22. Buccaneers (22): Good luck finding something more touching in the NFL space than OLB Shaq Barrett dedicating his season to his 2-year-old daughter, who drowned in April. His emotions were evident Sunday when he scored his first professional TD on a pick-six, then looked skyward.
23. Commanders (26): Sam Howell is the first Washington quarterback to win his first three career starts in the Super Bowl era. That's included a pair of fourth-quarter comebacks in this season's 2-0 debut. Still, concerns remain about what's going on before the fourth quarter and the level of opposition those struggles are occurring against.
24. Vikings (23): QB Kirk Cousins' prime-time record may now be 11-19, but don't blame Thursday's loss on him. The Vikes were 11-0 in one-score games during the regular season last year … but are already 0-2 in 2023. Cousins to the Jets – he's a free agent in 2024 – really makes sense if Minnesota remains on this track, which already includes a -6 turnover differential.
25. Giants (28): They're lucky to be 1-1 after salvaging a win in Arizona. They're not so lucky to be headed to San Francisco on a short week, which will likely be the first of several without injured RB Saquon Barkley (ankle).
26. Colts (29): At 21 years and 118 days old, QB Anthony Richardson is the youngest quarterback in the Super Bowl era to score multiple rushing TDs in a game. He also hasn't finished either of his first two career starts, and a concussion could prevent him from playing in Week 3.
27. Raiders (24): No more bizarre and disturbing ongoing storyline in the league than whatever's occurring between Las Vegas and estranged DE Chandler Jones.
28. Broncos (25): They opened 0-2 at home for the first time. Per ESPN, Sean Payton had been 72-0 with an 18-point lead … before Sunday. Another, uh, memorable campaign already brewing in the Rocky Mountains.
29. Panthers (30): For all the shade sent the NFC South's way, Carolina is the only club living down to expectations – winless in a division of otherwise undefeated co-tenants.
30. Cardinals (32): This club is loaded with 0-2-caliber talent but seems to have 2-0-caliber heart and spirit, which is best exemplified by QB Josh Dobbs trucking Giants S Xavier McKinney on the way to the end zone Sunday.
31. Bears (27): A team that led the league in rushing in 2022 suddenly isn't very good on the ground. Chicago's defense (1 sack, no takeaways)? Also putrid. None of that would be as worrisome if QB Justin Fields didn't look so lost.
32. Texans (31): How best to support a rookie quarterback? Play him behind an offensive line stocked with backups and give him a running game averaging 2.5 ypc … which ties back to that blocking.