NFL's special eligibility list: Players with degrees and degrees of intrigue; See in order of NFL Draft Scout rating
By Frank Cooney, NFL Draft Scout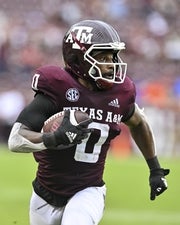 Sep 3, 2022; College Station, Texas, USA; Texas A&M Aggies wide receiver Ainias Smith (0) runs the ball in for a touchdown during the third quarter against the Sam Houston State Bearkats at Kyle Field. Mandatory Credit: Maria Lysaker-USA TODAY Sports
(Below: See players listed in order of NFL Draft Scout rating)
The list of 86 players to whom the NFL granted some sort of eligibility for 2023 draft is as interesting as your curiosity allows it to be.
It is broken into three categories, we'll call them:
-- Underclassmen eligible.
-- Underclassmen with degree
-- Draft eligible players who can opt out by Feb. 3.
Based on current (but always evolving) ratings by NFL Draft Scout, this overall list is full of the best prospects in the draft, with underclassmen making up nine of the top ten, 26 of the top 32; 43 of top 64 and 52 of the top 98 (or 100).
It starts with Nos.1-2 rated quarterbacks, Bryce Young (Alabama) and C. J. Stroud (Ohio State), followed by Nos. 3-4, linebacker Will Anderson Jr. (Alabama) and defensive lineman Jalen Carter (Georgia).
In fact, the only senior in our top 12 is at No. 5, quarterback Will Levis (Kentucky), technically a red-shirt senior.
Each of the 69 players granted so-called special entrance met the league's mandated three-year eligibility rule and renounced his college football eligibility by submitting a written application to the league office on or before the January 16 deadline.
The sub-category of underclassmen eligible because they already earned a degree includes three of the top seven -- No. 1 Young, No. 3 Anderson Jr, and No. 7 offensive tackle Paris Johnson (Ohio State). None majored in the trade will get them rich, football, but the degree is a nice fallback, eh?
Most draft fans know all about players in the first two categories. That final group, those who can opt out of the draft by February 3, has a high percentage of interesting intriguing stories. Only one of the four in this bunch seems to be on solid footing, tight end Luke Musgrave, who played parts of four seasons at Oregon State, although only two games last year. We expect him to stay in the draft and rate him No. 70 overall, a second or third round prospect.
Another, quarterback Hank Bachmeier, transferred from Boise State to Louisiana Tech after seeking draft eligibility and if he wants to show he is draftable he NEEDS another year of college. He had some nice games at Boise State, but faded and thanks to helicopter parenting he is parachuting into La. Tech for 2023 in an attempt to perform in a way that the pros will appreciate. Good luck with that, Hank.
That leaves wide receiver Ainias Smith of Texas A&M and tight end Jahleel Billingsley as the remaining two who can opt out of the draft by Feb. 3.
Both seem to have OMG physical ability but are burdened by unwanted luggage and qualify for another college season thanks to the so-called Covid rule. So they petitioned for the draft and have a decision to make.
Smith is a blink-quick, 5-9, 190 pounder who can break open a game as a wide receiver, running back or returner. He played better at Texas A&M than his three-star prep ratings. He was a very reliable target from the beginning as a freshman and in 2021 emerged as one of the best returners in the country. In 2022 he was compiled great stats -- 15 catches at 19.4 yards a grab -- but was sidelined by an ankle injury and decided to shut it down and prepare for the NFL.
He was fortunate to play at all in 2022 after being arrested in July for a DUI and possession of a gun and marijuana. Just as he was about to be suspended, all charges were dropped and he was allowed to play. If he can make an impression at a Pro Day or in the combine, Smith has talent that could be hard for teams to pass up -- if he opts to stay in the draft. He looks like one of those can't-catch-me bad boys that the Kansas City Chiefs seem to like.
Smith's situation seems pretty straight forward compared to that of Billingsley, a marvelously gifted, 6-4, 220-pound tight end who apparently sabotaged his career with a don't-give-a-damn attitude at Alabama and Texas. As a freshman on Alabama's great 2019 team he had little playing time, but in 2020 began to show outstanding potential in a limited role.
But in 2021 he slid down the depth chart and coach Nick Saban told the media it is important to play hard in practice, especially to hold onto a job on a very talented roster. A defensive player became the starting tight end and in 2022 Billingsley transferred to Texas, which had perhaps the most talented group of skilled players in the country, including redshirt freshman quarterback Quinn Ewert, running back Bijan Robinson, and deep threat wide receiver Xavier Worthy.
But Billingsley brought with him a six-game suspension for something that happened at Alabama and wasn't even available for one of the great matchups of the season when Texas almost -- and should have -- beat his former team.
He played four games in 2022, finished in Steve Sarkasian's dog house and talked about either transferring or going into the draft. He still has that choice, but who will want to take the gamble? He was rated in the middle rounds this year before most NFL teams dropped in far down or off their boards.
Here is the entire list. UC-Elig=granted special underclass eligibility; UC-Deg=Underclassman eligible because earned degree; Elig-Option=Player granted permission to enter draft but can opt out by Feb. 3 and return to college.
| | | | | | |
| --- | --- | --- | --- | --- | --- |
| NDS Rate | Pro. Rd | Status | Player | Pos | School |
| 1 | 1 | UC-Deg | Young, Bryce | QB | Alabama |
| 2 | 1 | UC-Elig | Stroud, C.J. | QB | Ohio State |
| 3 | 1 | UC-Deg | Anderson Jr., Will | LB | Alabama |
| 4 | 1 | UC-Elig | Carter, Jalen | DT | Georgia |
| 6 | 1 | UC-Elig | Murphy, Myles | DE | Clemson |
| 7 | 1 | UC-Deg | Johnson, Paris | T | Ohio State |
| 8 | 1 | UC-Elig | Robinson, Bijan | RB | Texas |
| 9 | 1 | UC-Elig | Ringo, Kelee | DB | Georgia |
| 10 | 1 | UC-Elig | Mayer, Michael | TE | Notre Dame |
| 11 | 1 | UC-Elig | Jones, Broderick | T | Georgia |
| 12 | 1 | UC-Elig | Skoronski, Peter | T | Northwestern |
| 14 | 1 | UC-Elig | Gonzalez, Christian | DB | Oregon |
| 15 | 1 | UC-Elig | Bresee, Bryan | DT | Clemson |
| 16 | 1 | UC-Elig | Smith-Njigba, Jaxon | WR | Ohio State |
| 17 | 1 | UC-Elig | Porter, Joey | DB | Penn State |
| 18 | 1 | UC-Elig | Branch, Brian | DB | Alabama |
| 19 | 1 | UC-Elig | Richardson, Anthony | QB | Florida |
| 22 | 1 | UC-Elig | Johnston, Quentin | WR | TCU |
| 23 | 1 | UC-Deg | Foskey, Isaiah | DE | Notre Dame |
| 24 | 1 | UC-Deg | Simpson, Trenton | LB | Clemson |
| 25 | 1 | UC-Elig | Hyatt, Jalin | WR | Tennessee |
| 26 | 1 | UC-Elig | Washington, Darnell | TE | Georgia |
| 27 | 1 | UC-Elig | Van Ness, Lukas | DE | Iowa |
| 28 | 1 | UC-Elig | Addison, Jordan | WR | Southern California |
| 29 | 1 | UC-Elig | Sanders, Drew | LB | Arkansas |
| 32 | 1 | UC-Elig | Downs, Josh | WR | North Carolina |
| 35 | 1-2 | UC-Elig | Forbes, Emmanuel | DB | Mississippi State |
| 36 | 1-2 | UC-Elig | Phillips, Clark | DB | Utah |
| 37 | 1-2 | UC-Elig | Gibbs, Jahmyr | RB | Alabama |
| 38 | 1-2 | UC-Elig | Smith, Cam | DB | South Carolina |
| 44 | 2 | UC-Elig | Ojulari, B.J. | DE | LSU |
| 48 | 2 | UC-Elig | Banks, Deonte | DB | Maryland |
| 49 | 2 | UC-Deg | Smith, Mazi | DT | Michigan |
| 50 | 2 | UC-Elig | Johnson, Antonio | DB | Texas A&M |
| 52 | 2 | UC-Elig | Tuipulotu, Tuli | DE | Southern California |
| 53 | 2 | UC-Elig | Scott, Tyler | WR | Cincinnati |
| 54 | 2 | UC-Elig | Dexter, Gervon | DT | Florida |
| 55 | 2 | UC-Elig | Boutte, Kayshon | WR | LSU |
| 56 | 2 | UC-Elig | Harrison, Anton | T | Oklahoma |
| 58 | 2 | UC-Deg | Morris, Mike | DE | Michigan |
| 59 | 2 | UC-Elig | Sewell, Noah | LB | Oregon |
| 60 | 2 | UC-Elig | Anudike-Uzomah, Felix | DE | Kansas State |
| 61 | 2 | UC-Elig | Evans, Zach | RB | Mississippi |
| 66 | 2-3 | UC-Elig | Kraft, Tucker | TE | South Dakota State |
| 70 | 2-3 | Elig-Opt | +Musgrave, Luke | TE | Oregon State |
| 73 | 2-3 | UC-Elig | Mims Jr. Marvin | WR | Oklahoma |
| 74 | 2-3 | UC-Elig | Achane, Devon | RB | Texas A&M |
| 80 | 2-3 | UC-Elig | Herbig, Nick | LB | Wisconsin |
| 83 | 2-3 | UC-Elig | McBride, DeWayne | RB | Alabama-Birmingham |
| 87 | 3 | UC-Deg | McClendon, Warren | T | Georgia |
| 95 | 3 | UC-Elig | McKee, Tanner | QB | Stanford |
| 98 | 3 | UC-Deg | Hickman, Ronnie | DB | Ohio State |
| 101 | 3 | UC-Elig | Tippmann, Joseph | C | Wisconsin |
| 103 | 3 | UC-Deg | Turner, D.J. | DB | Michigan |
| 107 | 3-4 | UC-Elig | Wypler, Luke | C | Ohio State |
| 109 | 3-4 | UC-Elig | Wooden, Colby | DE | Auburn |
| 112 | 3-4 | UC-Elig | Ricks, Eli | DB | Alabama |
| 117 | 3-4 | UC-Elig | Jarrett, Rakim | WR | Maryland |
| 118 | 3-4 | UC-Elig | Abanikanda, Israel | RB | Pittsburgh |
| 127 | 4 | UC-Elig | Kancey, Calijah | DT | Pittsburgh |
| 133 | 4 | UC-Elig | Jones, Jaylon | DB | Texas A&M |
| 145 | 4-5 | UC-Elig | Bigsby, Tank | RB | Auburn |
| 149 | 4-5 | UC-Elig | Washington, Parker | WR | Penn State |
| 151 | 4-5 | UC-Elig | Torrence, Rashad | DB | Florida |
| 157 | 4-5 | UC-Elig | Miller, Kendre | RB | TCU |
| 163 | 4-5 | UC-Elig | Joseph, Brandon | DB | Notre Dame |
| 165 | 5 | UC-Deg | Spears, Tyjae | RB | Tulane |
| 170 | 5 | UC-Elig | Roy, Jaquelin | DT | LSU |
| 171 | 5 | UC-Elig | Mitchell, Cameron | DB | Northwestern |
| 173 | 5 | UC-Elig | Vaughn, Deuce | RB | Kansas State |
| 176 | 5 | UC-Elig | Williams, Garrett | DB | Syracuse |
| 192 | 5-6 | UC-Elig | Mitchell, Keaton | RB | East Carolina |
| 215 | 6 | UC-Elig | Austin, Alex | DB | Oregon State |
| 229 | 6-7 | UC-Elig | Tucker, Sean | RB | Syracuse |
| 231 | 6-7 | UC-Elig | Strange, Brenton | TE | Penn State |
| 268 | 7-PFA | UC-Elig | Valentine, Carrington | DB | Kentucky |
| 327 | 7-PFA | UC-Elig | Nichols, Lew | RB | Central Michigan |
| 342 | 7-FA | UC-Elig | Hill, Brandon | DB | Pittsburgh |
| 999 | 999 | UC-Elig | Anderson, M.J. | DE | Iowa State |
| 999 | 999 | UC-Elig | Bradford, Anthony | G | LSU |
| 999 | 999 | UC-Elig | Pelley, J-Min | DT | Calgary (Canada) |
| 999 | 999 | UC-Deg | Douglas, Demario | WR | Liberty |
| 999 | 999 | UC-Deg | Hull, Evan | RB | Northwestern |
| 999 | 999 | Elig-Opt | Billingsley, Jahleel | TE | Texas |
| 999 | 999 | Elig-Opt | +Smith, Ainias | WR | Texas A&M |
| Ret | Trans | Elig-Opt | Bachmeier, Hank | QB | Boise St./ La. Tech |
Other Recent Stories
Latest Player Notes