NFL Week 1: Niners, Cowboys roll; Lions, Browns, Bucs win upsets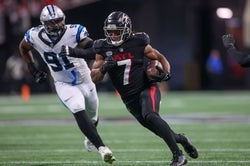 Sep 10, 2023; Atlanta, Georgia, USA; Atlanta Falcons running back Bijan Robinson (7) runs the ball against the Carolina Panthers in the second half at Mercedes-Benz Stadium. Mandatory Credit: Brett Davis-USA TODAY Sports
NFL Week 1: Recaps of every game
Detroit Lions 21, Kansas City Chiefs 20
In a Thursday night shoccker, The Detroit Lions refused to let Kansas City Chiefs quarterback Patrick Mahomes pull the rabbit out of the hat and came away with a 21-20 upset victory. This was more a game of muscle than magic as the Lions defused Mahomes when it mattered most while the Chiefs were 0-for-7 on third downs and literally dropped the ball in their first a season-opening loss since 2014. For those discounting the result — for any reason — consider the Lions have won nine of their last 11 games.
It was a huge win for Detroit's third-year head coach Dan Campbell, often the most unabashed quote machine in the league. So, coach, what did you learn from this big victory?
"I didn't learn anything," he said in response to the post-game query. "I got verification of what I already knew...This is a resilient team. It already was a resilient team, and we added pieces to that resilient team. We're built to handle some stuff, and we did that today against a very good opponent.
Mahomes had his own perspective:
"It's embarrassing for me to lose any time," Mahomes said. "Like I said after the ring ceremony, I've moved on to the next season. Obviously, it's cool for the fans to be able to see the banner and drop in at Arrowhead Stadium. But this is a whole new year, and I think I know that and we are trying to win another Super Bowl and this is obviously not the way we wanted to start. So any time I lose, I'm embarrassed. So I'm going to try to get better so I don't lose more as the season goes on."
Atlanta Falcons 24, Carolina Panthers 10
Falcons rookie RB Bijan Robinson outplayed top overall pick, Carolina QB Bryce Young, in their NFL debut, leading Atlanta past Carolina. Young was intercepted twice by Jessie Bates in a rough start for the former Alabama star who is being counted on to lead a resurgence for the Panthers. Robinson, selected at No. 8 by the Falcons in defiance of those who say running backs shouldn't go that high, showed his versatility by taking a swing pass for an 11-yard touchdown. He also broke off a 21-yard dash that set up Atlanta's go-ahead TD: Tyler Allgeier's 3-yard run in the opening minute of the fourth quarter.
Falcon QB Desmond Ridder was sacked four times and finished 15 of 18 for just 116 yards.
It was an even tougher day for Young, who finished 20 of 38 for 146 yards.
Bryce Young would not make excuses. He did not seek pity. He didn't point fingers,
Except at himself. "It's on me," he said. "It's unacceptable. Definitely a lot of things I wish that I could get back. All I can do now is grow from it, learn from it. It's a tough pill to swallow, but we have to turn the page."
Baltimore Ravens 25, Houston Texans 9
Ravens RB J.K. Dobbins ran for an early touchdown before leaving with a torn Achilles tendon, Justice Hill scored twice in the second half and the Baltimore Ravens pulled away for a 25-9 victory over the Houston Texans in their season opener on Sunday. Ravens coach John Harbaugh announced Dobbins' injury after the game and said he would miss the rest of the season, a significant blow to Baltimore's offense.
QB Lamar Jackson turned the ball over twice, and Baltimore looked out of sync for much of its first game with new offensive coordinator Todd Monken. But the Ravens kept Houston and rookie quarterback C.J. Stroud out of the end zone.
Cleveland Browns 24, Cincinnati Bengals 3
Browns QB Deshaun Watson ran for a touchdown and threw for another, and Cleveland's defense bottled up Cincinnati quarterback Joe Burrow. Watson bolted for a 13-yard TD late in the first half, making the kind of dynamic play the Browns envisioned when they signed him to a $230 million contract in 2022. Watson missed 11 games last season for violating the league's personal conduct policy but is in uniform from the start this season. He added a 3-yard TD pass in the fourth quarter to tight end Harrison Bryant, and Watson converted the 2-point try with a run up the middle.
Burrow had a rough opener, two days after signing a five-year, $275 million extension — giving him the highest average annual salary in league history. The Browns held Burrow to a career-worst 82 yards passing (14 of 31) as Cleveland's rebuilt defensive line pressured him all day. The Bengals pulled Burrow with 5:15 left.
Myles Garrett sacked Burrow on fourth down with 10:27 left to help seal Cleveland's stunningly easy win over the AFC North champions. The Browns forced the Bengals to punt 10 times in 14 possessions.
Washington Commanders 20, Arizona Cardinals 16
Washington QB Sam Howell threw a touchdown pass and ran for another score to make up for two turnovers and Washington rallied to beat Arizona in its first game under new ownership. In front of a sellout crowd and with several prominent alumni back to celebrate the start of a new era, the Commanders were sloppy with a pair of turnovers and several penalties along the offensive line that allowed Howell to be sacked six times. Washington's defense eventually took over and made game-changing plays. Montez Sweat strip-sacked Joshua Dobbs early in the fourth quarter to set up Howell's go-ahead 6-yard TD run, and Abdullah Anderson recovered another fumble by Arizona with under five minutes left.
Howell had a jittery start in his new role as the Commanders' starting quarterback, going 19 of 31 for 202 yards with a 7-yard TD pass to Brian Robinson Jr. and an interception. The second-year pro bounced back from the pick and a fumble late in the second quarter that handed the Cardinals a touchdown, completing four of seven passes after halftime.
Arizona, expected to be among the worst teams in the NFL this season, lost Jonathan Gannon's debut as coach. Dobbs, acquired last month in a trade with Cleveland and starting after Gannon refused to name his No. 1 QB leading into the game, was 21 of 33 for 133 yards.
Jacksonville Jaguars 31, Indianapolis Colts 21
RB Tank Bigsby made up for a big mistake by scoring the go-ahead touchdown and RB Travis Etienne Jr. added a 26-yard scoring run to seal Jacksonville's win over Indianapolis. The AFC South champs snapped a five-game losing streak at Lucas Oil Stadium.
DeForest Buckner stripped the ball from Trevor Lawrence on a sack and then scooped up Bigsby's subsequent fumble before sprinting 26 yards to give Indy a 21-17 lead late in the third quarter. Three series later, Bigsby's 1-yard TD plunge gave Jacksonville a 24-21 lead with 5:14 to play. Lawrence was 24 of 32 for 241 yards and two scores and Calvin Ridley had eight receptions for 101 yards.
Colts rookie QB Anthony Richardson was intercepted on the next series and three plays later, Etienne broke free to put away the victory for the Jaguars. Richardson became the third-youngest quarterback to start an NFL season opener at age 21, going 24 of 37 for 223 yards, one TD and the interception. He also had 10 carries for 40 yards and a touchdown while being sacked four times. He left the game in the final minute after getting shaken up on a run near the goal line.
Tampa Bay Buccaneers 20, Minnesota Vikings 17
Shocking upset: Bucs QB Baker Mayfield recovered from a rough start to throw two touchdown passes without a turnover in his debut for Tampa Bay, which forced three first-half turnovers by Minnesota. Chase McLaughlin matched his career long with a 57-yard field goal for the lead with 5:10 left, and the Buccaneers forced a three-and-out on each of the Vikings' last two possessions.
Mayfield, the first overall pick in the 2018 draft who landed with his fourth team in three years to take over for the retired Tom Brady, completed 21 of 34 passes after a 3-for-11 start. He hit Mike Evans for a score right before halftime and was at his best down the stretch. Chris Godwin made a stretched-out 11-yard catch on third-and-10 right after the 2-minute warning to clinch it.
Kirk Cousins went 33 for 44 for 344 yards and touchdowns to rookie Jordan Addison and running back Alexander Mattison, and Justin Jefferson had nine catches for 150 yards. But after going an NFL-record 11-0 in one-score games during the 2022 regular season, the Vikings ran out of that late-game mojo.
New Orleans Saints 16, Tennessee Titans 15
Long-time Raiders QB Derek Carr passed for 305 yards and a touchdown in a difficult but successful debut for New Orleans, which held on to beat Tennessee. The Saints' defense did not allow a touchdown, intercepted Ryan Tannehill three times, sacked him three times, and stopped Tennessee on 10 of 12 third down plays. Chris Olave caught eight passes for 112 yards for New Orleans, while Rasheed Shaheed had five receptions for 89 yards and the game's lone touchdown. Michael Thomas, who missed the final 14 games last season, returned to catch five passes for 61 yards.
The teams traded field goals for most of the game before New Orleans finally found the end zone with 1:23 left in the third quarter. Carr pump-faked and lofted a pass that Shaheed hauled in for a 19-yard score to make it 16-9.
Tannehill finished 16 of 34 for 198 yards and New Orleans limited star running back Derrick Henry to 63 yards rushing. DeAndre Hopkins caught seven passes for 65 yards in his debut for the Titans.
San Francisco 49ers 30, Pittsburgh Steelers 7
49ers QB Brock Purdy, the 2022 draft's Mr. Irrelevant as the final pick, threw for 220 yards and two touchdowns to Brandon Aiyuk in his return from offseason elbow surgery, and San Francisco beat Pittsburgh. Purdy, who led the 49ers to the NFC championship game as a rookie, completed 19 of 29 passes, including scoring strikes of 8 and 19 yards to Aiyuk. Christian McCaffery ran for 151 yards and caught three passes for 17 more for the 49ers.
Nick Bosa, four days after signing the richest contract ever awarded to a defensive player, had two tackles and a quarterback hit.
Steelers second-year quarterback Kenny Pickett completed 31 of 46 for 232 yards with a touchdown and two interceptions as the optimism that followed his solid preseason faded quickly. Pittsburgh either punted or turned the ball over in each of its first five possessions as the 49ers quickly built a 20-0 lead.T.J. Watt had three sacks for the Steelers to reach 81 for his career, breaking James Harrison's franchise record.
Green Bay Packers 38, Chicago Bears 20
Packers QB Jordan Love looked like he might be ready to follow in the footsteps of Brett Favre and Aaron Rodgers, throwing for three touchdowns to lead Green Bay past Chicago. Aaron Jones ran for a touchdown and caught one, helping the Packers pull away in the second half for their ninth straight win over the Bears. Green Bay was 25-5 against Chicago with Rodgers, including the playoffs. Love completed 15 of 27 passes for 245 yards and posted a 123.2 rating in his second career start. Jones caught two passes for 86 yards, including a 51-yarder off a screen that led to a scoring run for him in the third quarter.
The Bears lost their 11th straight game overall, and their 10th in a row against NFC North opponents. Second-year Chicago QB Justin Fields was 24 of 37 for 216 yards with a touchdown pass and an interception. He also ran for 59 yards.
Las Vegas Raiders 17, Denver Broncos 16
Raiders QB Jimmy Garoppolo threw two touchdown passes to fellow newcomer Jakobi Meyers in their debuts for Las Vegas, which spoiled Sean Payton's first game as Denver's coach. The Raiders stretched their winning streak over their AFC West rivals to seven games despite the absence of star pass rusher Chandler Jones, who's involved in a feud with the front office.
Garoppolo, who came to Las Vegas after six seasons in San Francisco, and Meyers, who joined the Raiders after four seasons in New England, connected 10 times for 81 yards, including touchdowns of 3 and 6 yards. The second came with 6:34 remaining, erasing Denver's 16-10 lead.
Broncos QB Russell Wilson looked much better under Payton than he did last year with Nathaniel Hackett at the helm, completing 27 of 34 passes for 177 yards and two touchdowns without an interception. Payton's special teams were the problem for Denver. There was a costly hold that negated one return, a botched onside kick to open the game and two big misses from kicker Wil Lutz.
Miami Dolphins 36, Los Angeles Chargers 34
Dolphins wide receiver Tyreek Hill boldly claimed in July that he has his eyes set on a 2,000-yard receiving season. Hill torched the Chargers with 11 catches, 215 receiving yards and two touchdowns, including the game-winning score on a fade route with under two minutes remaining in the fourth quarter.
"I always feel like nobody can guard me," Hill said. "As a competitor, if you ask anybody in our room they'll say the same thing,"
Quarterback Tua Tagovailoa completed 28 of 45 passes for 466 yards and three touchdowns in his first game since Dec. 25. Tagovailoa peppered Hill with 15 targets, starting with his first pass attempt of the game -- which Hill took for 16 yards. He finished the first half with 104 receiving yards, but his most notable plays all came in the second half.
Philadelphia Eagles 25, New England Patriots 20
Jalen Hurts threw a touchdown pass and Darius Slay had a 70-yard interception return for a score as Philadelphia built a big early lead, then hung on to beat New England. The Eagles capitalized on two early turnovers by the Patriots, spoiling a day when New England honored former quarterback Tom Brady at halftime.
Hurts was 22-of-33 for 170 yards and the TD but had a costly fumble in fourth quarter that gave the Patriots a chance. Jake Elliott kicked four field goals for Philadelphia, which didn't reach the end zone after the first quarter.
New England's Mac Jones recovered from a rough start to finish 35 of 54 for 316 yards, three touchdowns and an interception. Kendrick Bourne had two TD receptions. Hunter Henry added the other scoring catch for an offense that outgained the NFC champion Eagles 382-251.
Los Angeles Rams 30, Seattle Seahawks 13
Rams QB Matthew Stafford threw for 334 yards even without favorite target Cooper Kupp, Kyren Williams ran for two touchdowns, and Los Angeles stunned Seattle.
Stafford was brilliant picking apart Seattle's secondary for the 58th 300-yard passing game of his career. He did it without Kupp, who will miss at least the first four games with a hamstring injury. Rookie Puka Nacua had 10 catches for 119 yards and was targeted 15 times in the first game of his career. Tutu Atwell had a career-high 119 yards on six catches. And the Rams were at their best on third downs, where they converted 11 of 17 chances. Los Angeles had 27 first downs, 426 total yards and 39:23 time of possession.
Seattle had just 12 yards of offense and only one first down in the second half. Seattle QB Geno Smith's second season as a starter got off to a rocky start as he completed 16 of 26 passes for only 112 yards. He had a 10-yard touchdown toss to DK Metcalf in the first half, but Seattle had only one offensive play of longer than 15 yards.
Dallas Cowboys 40, New York Giants 0
This Sunday night wipeout was the largest shutout between the teams, topping the Cowboys' 35-0 win in 1995, also in a season-opener in the Meadowlands. It was also the Cowboys' biggest shutout victory in any game, topping their 38-0 win over the Baltimore Colts in 1978.
Tthe Giants simply could not get out of their own way, and the Cowboys were happy for that to be the case. Cowboys quarterback Dak Prescott has thrown more touchdowns against the Giants (23) than he has against any other team in the league, and he didn't need to add to that total in the blowout win. Contributions and scoring on special teams and defense, plus a pair of short-yardage touchdowns from running back Tony Pollard (14 rushes, 70 yards), made that possible. Kavontae Turpin also had a rushing touchdown in the fourth quarter to put the finishing touches on the 40-point beatdown.
Prescott was 13-for-24 for 143 yards, 49 of which came on a connection with CeeDee Lamb in the first quarter that set up a field goal.