Players to watch in CFB Openers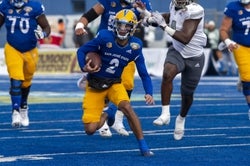 Dec 20, 2022; Boise, Idaho, USA; San Jose State Spartans quarterback Chevan Cordeiro (2) during the first half of the Famous Idaho Potato Bowl against the Eastern Michigan Eagles at Albertsons Stadium. Mandatory Credit: Brian Losness-USA TODAY Sports
SAN JOSE STATE (0-0) at No.6 USC (0-0)
Saturday, August 26, 2023, 8:00 PM, PAC-12
PLAYER SPOTLIGHT: CALEB WILLIAMS, QB, USC
A truly gifted athletic scrambler with a rifle arm who can make any throw look easy with a simple flick of the wrist, Williams has been one of the most hyped quarterback prospects of our generation and for good reason. His uncanny ability to avoid would-be pass rushers en route to big plays and Heisman moments has captured the attention of every football observer in America. The five-star recruit from Washington D.C. has demonstrated the ability to layer his throws between the second and third-level defenders, while applying excellent touch on deep balls and red zone fades.
The ball explodes off of his hand with tremendous RPM spin, as he throws with creative arm angles to speed up his release, or get the ball around defenders. Williams is comfortable and accurate throwing on the run, applying terrific velocity by torquing his body. He often keeps his eyes downfield while scrambling to look for an open receiver before taking off. The junior is a high-character, tough leader who is willing to battle through pain. There are some concerns that he'll invite big hits, negative plays and injuries with his style of play. He consistently holds the ball for over three seconds and freelances frequently. One area of his game that he needs to tighten up is ball security, as Williams owns 17 fumbles over the past two seasons. Overall, his rare combination of athleticism, awareness, creativity, passing velocity and leadership, will likely lead to the honor of being called first to walk across the stage in downtown Detroit come April.
FIVE TO WATCH: SAN JOSE STATE SPARTANS
#22 Tre Jenkins, SS, 6002, 213, 4.54, rSr., PFA: A-three year returning starter. Attacks the ball carrier; showcases great technique against run and above average pass coverage instincts.
#1 Chase Williams, FS, 6010, 200, 4.50, rSr., PFA: Proved to be a reliable starter in first year with the Spartans after transferring from USC, where he appeared in 32 games.
#2 Chevan Cordeiro, QB, 6005, 195, 4.65, rSr., PFA: Transfer from Hawaii; set career-highs with 3,251 passing yards and 23 touchdowns in 2022. Possesses athleticism to extend plays.
#11 Justin Lockhart, WR, 6025, 200, 4.57, rJr., PFA: Top target; athletic deep threat who can stretch the field—averaged 16 yards per catch a season ago. Owns a big catch radius.
#7 Kenyon Reed, CB, 5112, 181, 4.48, rSr., PFA: Showcases excellent fluidity in hips; athletic ability to minimize gains in coverage. Coming off an injury-riddled campaign.
FIVE TO WATCH: USC TROJANS
#13 Caleb Williams, QB, 6010, 220, 4.48, Jr., Rd1: An All-World talent; the highest rated quarterback prospect since Trevor Lawrence; expected to be No.1 overall pick.
#7 Calen Bullock, SS, 6030, 190, 4.49, Jr. Rd2: Imposing, physical ballhawk with great size, instincts and body control to disrupt passes. A projected top 50 overall prospect.
#0 Korey Foreman, DE, 6040, 235, 4.68, Jr., Rd3: Has flashed raw athleticism; pass rush traits. Former 5-star recruit expected to take next step; oozes potential.
#53 Shane Lee, LB, 6000, 245, 4.68, rSr., Rd4: Started 13 games as a true freshman at Alabama; transferred to USC. Started 12 games in 2022, leading the Trojans with 79 tackles.
#18 Eric Gentry, OLB, 6060, 205, 4.59, Jr., Rd5: A physical linebacker that has above average length and can be implemented in array of ways; one to watch.
NAVY (0-0) vs No.13 NOTRE DAME (0-0)
Saturday, August 26, 2023, 2:30 PM, NBC
PLAYER SPOTLIGHT: JOE ALT, OT, NOTRE DAME
One of the cleanest prospects eligible for the 2024 NFL Draft, Alt brings big time pedigree, bloodlines, great length, brute strength and tremendous athleticism. An elite pass-protector, Alt combines his violent hands and quick feet, in order to stay in front of defenders. He possesses a powerful jab that jolts defenders off balance and plays with relatively low pad level considering his gargantuan size. As a result, Alt did not yield a sack in 406 pass block reps last year. In addition, his run blocking made great strides, as he continues to hone his craft.
A sponge according to coaches, Alt originally arrived to South Bend as a tight end. He now enters his third year as the Fighting Irish left tackle. Remarkably, he doesn't turn 20 years old until February, making him one of the youngest players on the NFL radar. The Minnesota native is blazing his own path to the NFL but his trajectory is trending towards being a first round pick, a feat his father accomplished 40 years earlier!
FIVE TO WATCH: NAVY MIDSHIPMEN
#45 Daba Fofana, FB, 5076, 205, 4.54, Jr., PFA: Started seven games in '22. Led team in rushing (769 yards). Undersized, yet tough, gritty and expected to have a larger role.
#87 Jayden Umbarger, WR, 5116, 196, 4.57, Sr., PFA: Returning starter who makes the most of opportunities. Led team in receiving with 265 yards, averaging 16.6 yards per catch in '22.
#71 Joshua Pena, OG, 6015, 286, 4.98, Sr., PFA: A multiple year starter who has struggled with durability. Falls short in the measurable department but plays with a mean streak in the trenches.
#90 Donald Bernaird Jr., DT, 6002, 256, 5.10, Sr. PFA: Has started past 30 games; showing vast improvement each season. Would have to play defensive end in the pros.
#75 Sam Glover, OG, 6030, 270, 4.90, Sr., PFA: A staple on the interior with a lean frame and ability to pull, along with special teams experience.
FIVE TO WATCH: NOTRE DAME FIGHTING IRISH
#76 Joe Alt, OT, 6071, 317, 5.27, Jr., Rd1: All-American stud. Projected top 10 selection due to pedigree, fundamentals, technique, strength, smarts, experience and execution.
#54 Blake Fisher, OT, 6055 327, 5.32, Rd2: Ascending prospect who started all 13 games at right tackle in '22; Joe Moore Honor Roll.
#5 Cam Hart, CB 6025 198, 4.40, Rd5: Possesses tremendous size; active hands in pass game, makes tackles behind the line of scrimmage in run game; expected to rise.
#10 Sam Hartman, QB, 6010, 210, 4.76, Rd6: Graduate transfer from Wake Forest who brings smart decision-making, accuracy, experience and leadership.
#24 Jack Kiser, OLB, 6015, 223, 4.70, Rd7: Solid open field tackler who emerged as starter; key special teams contributor on punt, punt block and kickoff units.
HAWAII (0-0) at VANDERBILT (0-0)
Saturday, August 26, 2023, 7:30 PM, SECN
PLAYER SPOTLIGHT: WILL SHEPPARD, WR, VANDERBILT
A lengthy wideout with size, speed and height, Sheppard presents a tall target. His reach and agility enables him to make the tough catch look easy. In fact, he has made several clutch grabs throughout his career, including a thrilling game-winning touchdown against Kentucky last season. Sheppard has demonstrated improved technique in his route running and has learned how to get off his release at the line of scrimmage much cleaner. His hand combat when fighting press coverage was noticeably better. However, he will endure an occasional mental lapse and drop an easy ball that should be a completion.
The Louisiana native is working under David Raih, who has coached legends such as DeAndre Hopkins, Larry Fitzgerald and Davante Adams, has been a positive influence. Known as a humble hard worker, Sheppard has an extensive basketball background which shows up in his style of play. With 105 catches, 1,383 receiving yards and 13 touchdowns over the past two seasons, Sheppard continues to make great strides and could work his way into draft consideration with another strong season.
FIVE TO WATCH: HAWAII RAINBOW WARRIORS
#0 Cam Stone, CB, 5100, 185, 4.50, Sr., PFA: A dynamo transfer from Wyoming, Stone shows up all over the field and is an explosive kick returner; a strong season could earn a draft able grade.
#13 Brayden Schager, QB, 6030, 225, 4.80, Jr., PFA: Showed flashes as a sophomore; needs to cut down on the turnovers, in order to take the next step in his development under Timmy Chang and June Jones.
#16 Logan Taylor, ILB, 6000, 215, 4.70, PFA: A sideline-to-sideline predator who amassed a remarkable 85 tackles in '22, despite starting just six games; one to watch.
#19 Kaulana Makaula, CB, 6020, 210, 4.55, PFA: A transfer from USC who owns great length and vast special teams experience. A highly athletic pedigree; four-sport standout in high school.
#72 Luke Felix-Fualelo, OT, 6080, 310, 5.15, PFA: There is plenty to like from the Australia native who brings massive length; will be eligible for NFL International Pathway Program.
FIVE TO WATCH: VANDERBILT COMMODORES
#14 Will Sheppard, WR, 6015, 195, 4.52, Sr., Rd5: All-SEC selection with excellent size/frame. Has come up with big plays but also suffers from the occasional drop; solid route runner.
#2 De'Rickey Wright, SS, 6026, 220, 4.70, Sr., Rd7: Excellent size/speed combination; registered at least one tackle in every game, with six pass deflections and three interceptions.
#1 CJ Taylor, FS, 6002, 201, 4.58, Jr., PFA: Tendency to show up around the football; recorded two fumble returns for touchdowns in '22. Also a high school basketball standout.
#47 Wesley Schelling, LS, 6042, 240, 4.90, Sr., PFA: First team All-SEC selection in '22 (first Commodores player since 2016). Executed all 108 long snaps on the season.
#45 Matthew Hayball, P, 6006, 187, 4.95, rSr., PFA: Australia native who was second in SEC with 45.36 punt average. Pinned opponent inside 20-yard line 21 times.