Plight of the Pac-4: Move or Rebuild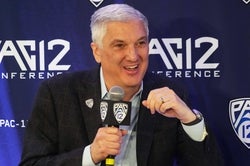 Oct 26, 2022; San Francisco, CA, USA; Pac-12 commissioner George Kliavkoff during Pac-12 Media Day at Pac-12 Network Studios. Mandatory Credit: Kirby Lee-USA TODAY Sports
Even mid-major conferences are getting increasingly involved in college football's realignment drama.
Soon after the ACC accelerated its pursuit of Stanford and Cal, the American Athletic and Mountain West conferences will each deliver expansion presentations in the coming days to Washington State and Oregon State, the other two schools left without a conference after the dismantling of the Pac-12.
The expansions, if completed, would represent a sizable step up for either the MWC or AAC.
The MWC and commissioner Gloria Nevarez have made no secret of their desire to become a more highly regarded entity. On Thursday, Nevarez appeared before a Washington State expansion advisory committee including university president Kirk Schulz and athletic director Pat Chun, in what was described as an "informing-gathering session."
And after making history in 2021, when Cincinnati became the first non-Power Five team to reach the College Football Playoff, the AAC and commissioner Mike Aresco would also like a regular presence among college sports' elite.
Oregon State and Washington State are located in more remote, smaller markets, but both schools' football programs have been competitive on the field of late, have Power Five-level resources, and would likely aid either conference in future media rights negotiations.
Preserving The Pac-12?
In the case of the Mountain West, discussions thus far about adding Oregon State and Washington State have also included bringing along the Pac-12 brand name and intellectual property — a far more complex endeavor, and one that could introduce both additional revenue and numerous legal hurdles.
The schools' decision will rely in large part on Stanford and Cal. If the Bay Area schools ultimately reject the ACC or another conference — or are rejected — the momentum toward rebuilding the Pac-12 in some form will likely resurface.