Raiders' Ziegler-McDaniels Regime: Rebuilding a Team or Just Rearranging Furniture?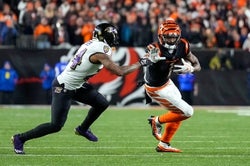 Bengals wide receiver JaMarr Chase (1) stiff-arms former Baltimore Ravens cornerback Marcus Peters (24) during 2023 NFL wild-card playoff football game.
Now we have the fascinating tale of General Manager Dave Ziegler and head coach Josh McDaniels stepping into the Raiders' world of wonders back in 2022. Quite the curious case of inheriting a playoff-worthy team and still deciding it needed some fixing — because, why not?
Ordinarily, new leadership is brought in to rescue a sinking ship and magically transform it. But not our dynamic duo. They preferred to ride the wave of previous success, making a bold move to acquire Davante Adams and tossing out some picks to get him. A total no-brainer when you're in a hurry to build on momentum.
Yet, beneath the surface, they secretly doubted whether the Raiders were playoff material year after year. Of course, Ziegler needed a magnifying glass (or maybe just some glasses) to evaluate the team in the 2022 season. To his credit, he even gave Derek Carr a shiny new contract with an escape hatch, in case he turned out to be not so fabulous.
But lo and behold, after much soul-searching and benching Carr for the fun of it, they decided the veteran QB wasn't "the one" and the defense needed a gazillion improvements.
Fast-forward to today when the second training camp commences. Offensively, the Raiders built a team that can put up a good fight. As long as quarterback Jimmy Garoppolo manages to stay in one piece, for a change. But don't worry, he's not the long-term answer — because, well, age and injuries are his best buddies.
So who will be the long-term savior? Who knows! Maybe some college kid with dreams of wearing silver and black. We really like Quinn Ewers of Texas. Hello Dave, Josh...Mark? Of course we also liked Oregon's Justin Herbert back in 2020 and mentioned that Al — yeah that Al, is there another? — would have loved him. Ewers throws with the same impunity as Hebert does — for the Chargers. So the Raiders do see him at least twice a season.
On the defensive side, Ziegler and McDaniels suffed their draft cart with a bunch of names like Tyree Wilson, Neil Farrell, Byron Young, and more. Will it work? They've got the Magic 8 Ball on that one.
There's some hope, though. Young guns like Nate Hobbs and Tre'von Moehrig are still in the picture, and Maxx Crosby is doing his best to keep the edge sharp. If the stars align and these lads step up their game, the Raiders might end up with fewer personnel needs.
So, here's the grand-finale prediction: By the end of this season, our Raiders could either narrow down their needs for a swift fix or find themselves stuck in a never-ending rebuilding saga. Take your bets, folks. This Las Vegas show is about to begin (again).
* * *
But wait, as hinted, there's more. Buckle up, buttercup.
Guess who the Raiders dragged back to Oakland (well, Vegas)? None other than the ballhawk extraordinaire, Marcus Peters! A true veteran with a rap sheet of interceptions longer than some bedtime stories.
After ping-ponging around from the Chiefs to the Rams and Ravens, Peters is back on his displaced home team, and the Raiders are crossing their fingers, hoping he brings the turnover magic they've been craving for ages. They must've thrown some serious cash his way, upwards of a whopping $5 million for a single season. Not too shabby for a guy with 32 career interceptions and a penchant for snatching the pigskin from rivals like a seasoned mugger.
Of course, the man had a slight hiccup when he missed the 2021 season due to a knee injury. But, hey, that was soooo last year. Now, two years removed from his setback, the Raiders pray Peters resurrects himself and becomes the playmaker they desperately need.
And you know it's real when they also signed defensive lineman Isaac Rochell. The guy's been grinding for six years, playing 70 games, and tossing down 9.5 sacks. Not too shabby, but they brought him on board like a sidekick to the main act — Peters, the turnover wizard.
But wait, there's more! The Raiders decided to kick the tires on another seasoned cornerback, Troy Hill. You might remember him from the Rams' Super Bowl season, where he racked up a respectable 65 tackles. Not too shabby for a rotational player.
So, veterans are rolling into camp, and the real fun begins soon. The Raiders hope to witness some turnover magic from Peters, watch Rochell throw his weight around, and maybe, just maybe, Hill bust out some secret moves.
Get ready (again) Raider Nation The ballhawk is back, the linemen are ready to rumble, and it's almost showtime. Fingers crossed these seasoned pros bring the much-needed defense that the Raiders have been dreaming about for years. Instead of just dreaming some more.