Rodgers out for Season: Jets, NFL Must Address Critical Concerns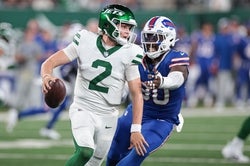 Sep 11, 2023; East Rutherford, New Jersey, USA; New York Jets quarterback Zach Wilson (2) avoids being sacked by Buffalo Bills defensive end Shaq Lawson (90) during the second half at MetLife Stadium. Mandatory Credit: Vincent Carchietta-USA TODAY Sports
In the aftermath of New York Jets quarterback Aaron Rodgers season-ending Achilles injury — after only four plays Monday night against the Buffalo Bills — there are numerous ramifications and unanswered questions that must be addressed by the team and the league.
A "complete tear" of the Achilles requiring season-ending surgery was reported Tuesday morning by ESPN's Adam Schefter and the NFL Network.
The Jets say they will move on with quarterback Zach Wilson, the former No. 2 overall draft pick whom Rodgers displaced this year. But the team acknowledged it will need to sign another quarterback. In Monday's 22-16 overtime win over Buffalo, Wilson finished 14-of-21 for 140 yards with one touchdown and one interception.
The plan was for Wilson to be the Jets quarterback of the future after being mentored by Rodgers for a season, maybe two. But after four plays? The question is, will they get somebody to be a backup or a starter? The team insists Wilson is the starter, which is logical. But, as demonstrated four plays into the season, stuff happens.
Among quarterbacks available, the best known names are Joe Flacco, Nick Foles, Colt McCoy, Matt Ryan and Carson Wentz...and Tom Brady, whose availability and viability are questionable, especially considering a more mobile Rodgers lasted only four snaps behind that offensive line.
Beyond that, the injury may impact the rest of the schedule.
With Rodgers now out, the Jets become a much less attractive television option, so it won't be surprising if the they are flexed out of a few of their prime-time games. So which games could get moved?
Great question.
First, let's take a quick look at the NFL's flex-schedule procedures:
Thursday-night flexing. The NFL is allowed to flex up to two Thursday games, but only between Weeks 13 and 17. Any game that gets flexed must be done with 28 days notice. This policy was just put into place this year.
Sunday-night flexing. The NFL is allowed to flex two Sunday night games total between Weeks 5 and 10. Starting Week 11, the league is allowed to flex games at its discretion for each week until the end of the regular season. The NFL must give 12 days notice when flexing a Sunday game.
Monday-night flexing. The NFL is allowed to flex up to two Monday games total, but only games that take place between Week 12 and Week 17.
Let's take a look at their remaining prime-time games.
Week 4 (SNF): Chiefs at Jets. The NFL isn't allowed to flex games until Week 5, so this one is definitely sticking.
Week 9 (MNF): Chargers at Jets. The NFL isn't allowed to flex Monday games until Week 12, so this one is also definitely staying put.
Late-season games that can be flexed
Under NFL rules, the two games above can't be flexed, so the Jets will definitely be getting at least two more prime-time games. However, the Jets do have two late games that CAN be flexed, so let's take a look at those.
First, they have a Sunday night game on Nov. 12.
Week 10 (SNF): Jets at Raiders. Unless the Jets go on a roll, it's hard to see this game staying put. The 12-day notice policy means NFL will need to decide by Oct. 31 whether to flex this game.
Week 10 options: One attractive option here could be Packers at Steelers, which would give the league two of its most iconic franchises on Sunday night. The Giants and Cowboys also play in Week 10, and the NFL could put them on Sunday night again, but they might be hesitant to do that after what happened in Week 1, with the Cowboys winning 40-0. A sneaky-good option could be 49ers at Jaguars, which is currently scheduled for 1 p.m. ET.
After the game against the Raiders, the Jets are scheduled to close out the Thursday night slate with a game in Cleveland.
Week 17 (TNF): Jets at Browns. There's a good chance this game could give us the first Thursday flex in NFL history. Since the league has to give 28 days notice to flex a game, it would have to announce by Nov. 30 whether this game is going to be changed.
Week 17 options: It's impossible to say right now what games might look attractive in Week 17, but the Bengals and Chiefs are scheduled to play that week. However, it's unlikely that would be moved to Thursday, so the best option here could end up being Dolphins at Ravens.
Soooo...The Jets have four prime-time games left, but two of them can't be flexed, so they'll definitely be playing in at least two more night games. The Jets do have two games that CAN be flexed and it won't be surprising at all if that happens.
Got that?
Aaron Rodgers trade details
Finally, the injury not only impacts the Jets hopes, it devalues Green Bay's take in the trade. Here's why.
Jets received:
Aaron Rodgers
2023 first-round pick (DE Will McDonald IV, Iowa State)
2023 fifth-round pick (Traded down: sixth round — CB Jarrick Bernard-Converse, LSU; seventh round — TE Zack Kuntz, Old Dominion)
Packers received:
2023 first-round pick (DE Lukas Van Ness, Iowa)
2023 second-round pick (TE Luke Musgrave, Oregon State)
2023 sixth-round pick (K Anders Carlson, Auburn)
2024 conditional second-round pick (becomes a first-round selection if Rodgers plays 65 percent of snaps)
So the ramifications of the injury will continue to play out. Stay tuned.