What's next for Georgia QB Stetson Bennett? Tough road ahead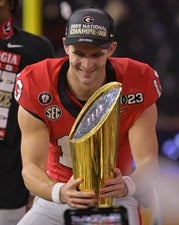 Jan 9, 2023; Inglewood, CA, USA; Georgia Bulldogs quarterback Stetson Bennett (13) poses with the trophy after defeating the TCU Horned Frogs in the CFP national championship game at SoFi Stadium. Mandatory Credit: Jayne Kamin-Oncea-USA TODAY Sports
(Updated 1-15-23)
Now that quarterback Stetson Bennett led Georgia to a second consecutive National Championship with an embarrassingly easy, 65-7, win over TCU Monday, what's next for the undersized, under-appreciated kid whose career thus far is a story made-for-Hollywood.
Expect it to be showing soon at a big screen near you, at the theater or on that TV.
Otherwise, what is next for Bennett? That's a great question without an easy answer. The two intriguing elements in the formula are size -- or lack of same -- and remarkable college success.
More often than not, college greatness is not an indicator of professional achievement as player.
Let us count the ways.
Kellen Moore
Moore, the most successful quarterback in college history based on a 50-3 record at Boise State, was signed by Detroit as an undrafted free agent in 2012. He was with the Liions three years and the Dallas Cowboys three year, but played in only three games with two starts at Dallas in 2015. Turns out his brain was stronger than his (left) arm and he is now the offensive coordinator for the Cowboys and expected to interview for a head coaching job elsewhere.
Ken Dorsey
Dorsey who had a 35-2 record at Miami (1999-2002) and led the Hurricanes to an undefeated (12-0) 2001 season and was co-MVP of the 2002 Rose Bowl, his second appearance in the BCS National Championship game. He was drafted in the seventh round by the San Francisco 49ers. Dorsey also played for the Cleveland Browns and Toronto Argonauts. Like Moore, Dorsey lacks a strong arm but has football smarts. He is the offensive coordinator for the Buffalo Bills.
Case Keenum
Keenum's record-setting prolific performances at the University of Houston are seldom mentioned and apparently lightly regarded. All he did in five seasons with the Cougars (2007-2011) was set NCAA records for most career pass completions (1,546), most passing yards (19,217), most career touchdown passes (155), most career touchdowns (178), most career total yards (20,114). After all that he went undrafted in 2012. He is currently a backup for the Buffalo Bills, under offensive coordinator Ken Dorsey (see above). This is his eighth stop with seven teams.
Colt McCoy
McCoy is second only to Kellen Moore in games won by an NCAA Division I FBS quarterback with a 45-8 record at Texas. He was selected by the Cleveland Browns in the third round of the 2010 NFL Draft and has played mostly as a backup for five teams. He finished the 2022 season with the Arizona Cardinals as backup to oft-injured Kyler Murray (more on him later).
Ty Detmer
Detmer compiled a 28-9-2 record at BYU (1987-1991). As a junior in 1990 he passed for 5,188 yards in 12 regular season games. He reset 42 NCAA records, tied five others and, most dramatically, upset the top-ranked, the defending national champion Miami Hurricanes, passing for 406 yards and three touchdowns. That win surely helped him win the 1990 Heisman Trophy. After being named twice as a Consensus All-American, Detmer was selected in the ninth round of the 1992 draft by the Packers and played for six teams until becoming a coach. He spent the last two seasons as head coach of the American Leadership Academy Queen Creek.
Johnny Manziel
Manziel became the first freshman to win the Heisman Trophy, in 2012. He opened the 2013 season at Texas A&M in trouble for signing autographs for money and his career became a wild roller coaster ride. After that sophomore season, Manziel was selected No. 22 overall by the Browns in 2014 but sort of partied his way through four teams in three leagues over eight years. In 2020 Manziel signed with the Zappers of the fan-controlled, indoor American Football League. Last year he served as a player-coach for the Zappers.
AJ McCarron
McCarron was on three Alabama BCS National Championship teams (2010, 2012, 2013) but didn't play much as a freshman in 2010. In the 2013 season he became the only quarterback to win consecutive BCS championships. In October of 2013 he was on the cover of Sports Illustrated, which suggested he might be one of the best players in college history. McCarron was selected in the fifth round of the 2014 draft by Cincinnati and played for five NFL teams before signing with the St. Louis BattleHawks of the XFL this year.
So those players offer plenty of reason to understand how a college superstar may not be a success in pro football. And there are others
Still, as the April 27-29 NFL Draft draws near, chatter about quarterbacks is on the ascent. For now, NFL Draft Scout rates at least six in the top 100 -- including Nos. 1 and 2 -- and up to 16 worthy of a selection.
And where is Bennett in that group? For now he is the 12th rated quarterback, 260th overall, in that seventh round/High priority free agent neighborhood.
Take a look:
QB rating, (overall), Player, Pos., school, Ht., Wt., Projected Round
1. (1) *Bryce Young, Jr, QB, Alabama, 6-0, 194, 1
2. (2) C.J. Stroud, rSo, QB, Ohio State, 6-3, 218, 1
3. (9) Will Levis, rSr, QB, Kentucky, 6-3, 232, 1
4. (19) *Anthony Richardson, rSo, QB, Florida, 6-4, 232, 1
5. (75) Hendon Hooker, rSr, QB, Tennessee, 6-3, 218, 2-3
6. (98) *Tanner McKee, Jr, QB, Stanford, 6-6, 230, 3
7. (153) Jaren Hall, rJr, QB, Brigham Young, 6-0, 205, 4-5
8. (187) Max Duggan, Sr, QB, Texas Christian, 6-1, 210, 5-6
9. (199) Aidan OConnell, rSr, QB, Purdue, 6-3, 210, 6
10. (225) Clayton Tune, rSr, QB, Houston, 6-2, 220, 6-7
11. (247) Dorian Thompson-Robinson, rSr, QB, UCLA, 6-1, 205, 7
12. (260) Stetson Bennett, rSr, QB, Georgia, 5-11, 190, 7-HPFA
13. (272) Jake Haener, rSr, QB, Fresno State, 6-0, 200, 7-HPFA
14. (285) Tyson Bagent, rSr, QB, Shepherd, 6-3, 210, 7-HPFA
15. (299) Tim DeMorat, rSr, QB, Fordham, 6-3, 220, 7-HPFA
16. (329) Malik Cunningham, rSr, QB, Louisville, 6-0, 190, 7-HPFA
Yes, we know Bennett had a 28-3 record against the best of college competition. And he was named the offensive MVP of two CFP semifinals and two CFP national championship games. But re-read the accomplishments of those star college quarterback mentioned earlier.
Bennett's college career was a marvelous example of perseverance. If he continues on that arc in the pros, his Hollywood movie will be that much more dramatic.
Bennett began his college journey when he failed as a Georgia walk-on in 2017, transferred to a junior college, transferred back to Georgia and waited until 2021 to get the starting job.
Yet despite his last two glorious seasons, Bennett remains a long-shot prospect in professional football. He is only 5-11, 190 and after all that perseverance is 25 years old. Of course anything can happen.
On the positive side look at last year's final pick in the draft, "Mr. Irrelevant" Brock Purdy. Injuries opened the way for him to come off the bench and play like a latter-day Joe Montana while leading the San Francisco 49ers to their last six victories in a ten-game winning streak -- and into the playoffs, where he threw for three touchdowns and ran for another in a 41-23 win over Seattle.
We rated Brock as the 11th best quarterback, 286th overall, which is lower than we have Bennett this year.
So, there's that.
But Purdy is 6-1, 212, although Bennett is much faster afoot, expected to run 40 yards in 4.5 seconds to Purdy's 4.8-something at his combine.
In a tweet, Atlanta Falcons two-time All-Pro safety Casey Hayward compared Bennett to Purdy, saying, "Stetson Bennett can do what Purdy is doing!!!"
According to ESPN, since 2006 four notable college quarterbacks listed under 6-foot and 200 pounds were drafted and moved to wide receiver -- Appalachian State's Armanti Edwards (third round, 2010), Michigan's Denard Robinson (fifth round, 2013) , Navy's Malcolm Perry (seventh round, 2020) and Kent State's Julian Edelman (seventh round, 2009).
There is aforementioned Arizona Cardinals quarterback Kyler Murray, generously listed at 5-10, 207 (measurements from the combine that were questioned loudly), who won the 2018 Heisman Trophy at Oklahoma, was the No.1 pick in the 2019 draft and the Offensive Rookie of the Year.
But he may be a cautionary tale for smallish players after missing much of the last two seasons with injuries and, not coincidentally, seeing his head coach and general manager fired this week. Murray does have a Plan B, as in baseball, where the Oakland A's also drafted him in the first round (2018), signed him with a $4.66 million bonus check and still retain his MLB rights.
There are modern era players under six-feet tall who were college stars and managed sustained success in pro football.
Most conspicuous among them is Doug Flutie, who played bigger than his 5-10, 180-pound measurements for 21 years in pro football. He won the 1984 Heisman Trophy at Boston College and signed with the USFL ($7 million over five years but the league folded in 1986). Already signed by the USFL, Flutie languished in the NFL Draft until the 11th round (285 overall, Rams).
Flutie not only helped validate the young USFL, he won six Grey Cup championships in eight years with Canadian Football League, where he is enshrined as a Hall of Famer and considered by many to be the best CFL player of all time. He also played 13 years for four NFL teams and was 38-28 as a starter.
So it is against that background, both good and bad, that Bennett turns his attention to pro football. How well do you think he will do?