ESPN's Top 25: Colorado Jumps from Unranked to No. 21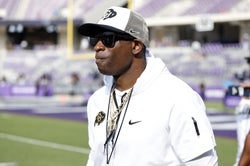 Sep 2, 2023; Fort Worth, Texas, USA; Colorado Buffaloes head coach Deion Sanders walks on the field before the game against the TCU Horned Frogs at Amon G. Carter Stadium. Mandatory Credit: Tim Heitman-USA TODAY Sports
While waiting the AP and Coaches Top 25 ratings Tuesday afternoon, we took a peek at ESPN's power ratings after a wild Week 1 in college football.
The big news is Colorado jumped from unranked to No. 21 after its exciting 45-42 win over TCU and, surprising to some, Clemson clung to the bottom of the list after a pathetic showing in Monday night's loss to Duke.
The Worldwide Leader includes the next games for each team to mark on your calendar.
We know ESPN moved on from that "Worldwide Leader in Sports" slogan in 2019 to "ESPN: Serving Fans. Anytime. Anywhere." Change for change's sake? Yawn. When you have a good catchphrase, you know...Just Do it!
ESPN's Tuesday Power Rankings
Coach Deion Sanders said his Colorado Buffaloes were coming in 2023, and now they've arrived in our Power Rankings.
The Buffaloes' 45-42 victory in Week 1 at No. 17 TCU, the national runner-up in the 2022 season, made believers out of ESPN's writers. Colorado, which had only one win last season, went from unranked to No. 21. Now the Buffaloes get another chance to prove themselves, this time against Big Ten foe — and former Big 12 rival — Nebraska in its home opener.
The most impressive win of the week, though, belonged to Coach Prime's alma mater. Florida State scored 31 consecutive points against No. 5 LSU on Sunday, and ESPN voters rewarded that effort by moving the Seminoles from preseason No. 7 in the power rankings all the way up to No. 2.
Five consecutive days of football ended with a stunning upset as Duke took down No. 9 Clemson.
A look at the Power Rankings after the first full week of college football.
No. 1 Georgia Bulldogs (1-0)
Ho-hum. Another dominant defense, another deep running game, another Brock Bowers touchdown. What else did you expect from the back-to-back champs? Yeah, quarterback Stetson Bennett is finally gone, but Carson Beck looked solid in his debut as a starter against Tennessee Martin, completing 21 of 31 passes for 294 yards, a touchdown and no interceptions. All told, Georgia racked up 559 yards of offense, which should be plenty against one of the weakest schedules in the SEC this season. Ball State is up next in the quest to three-peat, followed by a home game against South Carolina. -- Alex Scarborough
Up next: vs. Ball State (Noon ET, SEC Network)
No. 2 Florida State Seminoles (1-0)
It is hard to remember the last time the Seminoles completely dismantled an opponent the way they did LSU in the second half of a 45-24 victory on Sunday night. It may very well have been during the 2013 national championship season, and this just happens to be its 10-year anniversary. After a slow start, Florida State scored 31 unanswered second-half points to turn a close game into a rout. Quarterback Jordan Travis settled down after a shaky first half and scored five total touchdowns -- one rushing, four passing. But the star of the game was transfer receiver Keon Coleman, who arrived from Michigan State in the offseason. LSU could not cover Coleman, and he made the plays that counted most -- three touchdown receptions, 122 yards and an exclamation point to start a season that began with high expectations and those expectations have skyrocketed even higher. -- Andrea Adelson
Up next: vs. Southern Miss (8:30 p.m. ET, ACC Network)
No. 3 Michigan Wolverines (1-0)
​​​No coach Jim Harbaugh, no offensive coordinator Sherrone Moore, no problem. With both serving suspensions, defensive coordinator Jesse Minter was the acting head coach against East Carolina and helped lead Michigan to its first win of the season. The offense, surprisingly, was led by the passing game and quarterback J.J. McCarthy, who threw for 280 yards and three passing touchdowns in three quarters of work. Running back Blake Corum had a rushing touchdown, but it was receiver Roman Wilson who put up the most points, catching three McCarthy touchdowns. Michigan's defense held East Carolina scoreless until a field goal on the final play of the game. -- Tom VanHaaren
Up next: vs. UNLV (3:30 p.m. ET, CBS)
No. 4 Alabama Crimson Tide (1-0)
Jalen Milroe was nearly perfect against Middle Tennessee, accounting for 242 total yards (194 passing, 48 rushing), four touchdowns (three passing, two rushing) and no turnovers. But was that enough to secure the starting job at quarterback? It might be a week too soon to say considering the caliber of competition. Next week, against Texas, will be the real litmus test about whether Milroe can handle the pressure and fit the ball into tight windows. But setting the QB battle aside, Crimson Tide fans can feel good about the receivers, particularly Isaiah Bond, and the defense, which consistently created pressure on the passing game. -- Scarborough
Up next: vs. Texas (7 p.m. ET, ESPN)
No. 5 USC Trojans (2-0)
After taking care of business in Week 0 against San Jose State, the Trojans handled Nevada at home with even greater ease by a score of 59-14. Aside from a 72-yard pass that led to the Wolfpack's first score of the game and a 77-yard pass that resulted in the other, the USC defense looked much-improved against a subpar offense that struggled to get anything going. Caleb Williams produced yet another flawless performance, throwing for 324 yards on 24 pass attempts. He had five touchdowns, while adding a healthy dose of his patented scrambling highlights, and didn't have to play beyond the first drive of the third quarter. -- Paolo Uggetti
Up next: vs. Stanford (10:30 p.m. ET, Fox)
No. 6 Ohio State Buckeyes (1-0)
It wasn't exactly pretty, nor was it a memorable debut for rookie starting quarterback Kyle McCord, but Ohio State earned a Big Ten road win at Indiana. The Buckeyes are going to have to improve quickly if they want to remain a CFP contender. McCord completed 20 of 33 pass attempts for 239 yards and one interception. It wasn't the kind of offensive performance Ohio State fans are used to, as the Buckeyes had the second-highest scoring offense in the FBS last year, and have averaged at least 41 points every season since Ryan Day succeeded Urban Meyer in 2019. Against IU, which had the worst defense in the Big Ten last year, Ohio State settled for three field goals and was 2-of-12 on third downs. It was also a quiet day for the Buckeyes' superstars, as receiver Marvin Harrison Jr. had just two catches for 18 yards. -- Heather Dinich
Up next: vs. Youngstown State (Noon ET, Big Ten Network)
No. 7 Penn State Nittany Lions (1-0)
Coach James Franklin's reluctance to name a starting quarterback couldn't calm the excitement around Drew Allar, who predictably took the field first against West Virginia and played well. Penn State's most decorated quarterback recruit since Christian Hackenberg (2013), Allar opened the season with 325 pass yards and three touchdowns, completing 21 of 29 attempts with no interceptions. He became the first PSU quarterback since Daryll Clark in 2009 to reach 300 pass yards and three touchdowns in an opener. Penn State's offense took a while to get going, though, recording only 14 points through the first 36-plus minutes. The Nittany Lions missed two field-goal attempts and didn't really get their running game going consistently. Allar gives Penn State a different element in the pass game, as coordinator Mike Yurcich can stretch the field more with wideout KeAndre Lambert-Smith and others. -- Adam Rittenberg
No. 8 Washington Huskies (1-0)
Turn on a Washington game and chances are you'll see quarterback Michael Penix finding a wide-open receiver time and time again. The offensive scheme of head coach Kalen Deboer and coordinator Ryan Grubb makes the Huskies' ability to move the ball seem almost effortless at time. In the Huskies' dominant 56-19 win against Boise State, Penix passed for 450 yards and five touchdowns without a pick to get his Heisman Trophy campaign off to a strong start. As expected, arguably the nation's top trio of receivers -- Rome Odunze (7 catches, 132 yards, TD), Ja'Lynn Polk (3 catches, 101 yards, TD) and Jalen McMillan (8 catches, 95 yards, 2 TD) -- were equally impressive. -- Kyle Bonagura
Up next: vs. Tulsa (5 p.m. ET, Pac-12 Network)
No. 9 Tennessee Volunteers (1-0)
Tennessee was a four-touchdown favorite in its season opener against Virginia, and even though the Vols were guilty of a few missteps in the first half, they were never threatened in a blowout victory in Nashville. Joe Milton III was solid at quarterback with 201 passing yards, two passing touchdowns and two rushing touchdowns in three quarters, and the Vols racked up 499 yards of total offense. But the story of the game for Tennessee was its defense. The Cavaliers took over on Tennessee's side of the 50 three times in the first half, but all Tennessee's defense would allow was a single field goal, which set the tone for the rest of the game. -- Chris Low
Up next: vs. Austin Peay (5 p.m. ET, ESPN+)
No. 10 Utah Utes (1-0)
The Utes began their defense of two straight Pac-12 titles by avenging their season-opening loss to Florida from last year. Utah won despite several injuries, most notably quarterback Cam Rising, who couldn't play as he continues to recover from an ACL surgery. His absence allowed coach Kyle Whittingam's team to show off its depth at the position as well as their strong defensive identity on their way to a 24-13 win. Although the Utes and the Gators were only separated by 13 points, Utah dominated the matchup thanks to the work of Bryson Barnes (12-of-18, 159 passing yards and two touchdowns) and Nate Johnson (six carries, 45 yards and a touchdown), who split reps at quarterback and found success in the air and the ground respectively. Utah's defense didn't allow a score until early in the fourth quarter. -- Uggetti
Up next: at Baylor (Noon ET, ESPN)
No. 11 Texas Longhorns (1-0)
Texas eventually rolled past Rice, 37-10. The Longhorns scored only one touchdown on their first seven drives, settling for field goals and turning the ball over on downs twice, but a 21-0 third quarter turned an odd 16-3 game into a laugher. Quinn Ewers completed 19 of 30 passes for 260 yards and touchdowns to three different receivers, and the running back trio of Jaydon Blue, Jonathon Brooks and Cedric Baxter ground out 145 yards on 27 carries. The UT defense only sacked Rice's JT Daniels once but hurried him constantly, picked off two passes and broke up four more. In all, kicker Bert Auburn made a few too many appearances, and the Longhorns were a pretty mediocre 6-for-15 on third downs, but this one was still easy. -- Bill Connelly
Up next: at Alabama (7 p.m. ET, ESPN)
No. 12 Oregon Ducks (1-0)
The Ducks became the first FBS team since -- surprise? -- UNLV in 2015 to score 80 points in a game during their 81-7 win against Portland State. The Ducks had more than 300 yards rushing (348) and 300 yards passing (381) in the same game for the first time since 2017 and played essentially their entire eligible roster. Considering the considerable talent gap, there's probably not much that can be learned, but it was a nice way to welcome back college football in Eugene where expectations are high. -- Bonagura
Up next: at Texas Tech (7 p.m. ET, Fox)
No. 13 Notre Dame Fighting Irish (2-0)
Playing just a week after a game in Ireland, Notre Dame got through a predictably sluggish first quarter to pull away from Tennessee State. Quarterbacks Sam Hartman and Steve Angeli combined for 324 passing yards, four touchdowns and no interceptions. The Irish had 221 rushing yards, led by Audric Estime's 116, and continued to receive stifling play from their defense. Notre Dame has held its first two opponents without a touchdown for the first time since 1975. The Irish had 28 points in the second quarter, the team's highest total in a quarter since tallying 31 in the fourth against Wisconsin in 2021. Notre Dame's scoring margin of 98-6 marks its highest points differential (92) through the first two games of a season since 1932, when it outscored Haskell and Drake by 135. -- Rittenberg
Up next: At NC State (Noon ET, ABC)
No. 14 North Carolina Tar Heels (1-0)
The biggest story in the Tar Heels' 31-17 victory over South Carolina was not quarterback Drake Maye. It was their defensive performance, and in particular their physicality and aggressiveness up front that raised eyebrows. A season ago, North Carolina struggled through poor defensive performances and one of the biggest question marks about this team headed into the season was how much that defense would improve. We got an early answer in Week 1. After getting only 17 total sacks last season, North Carolina had a whopping nine on Saturday -- in addition to 16 tackles for loss. That was its highest sack total in the last 25 seasons. Linebacker Kaimon Rucker was particularly impressive with two sacks, 5.5 tackles for loss and eight total tackles and was named the Walter Camp National FBS Defensive Player of the Week. -- Adelson
Up next: vs. Appalachian State (5:15 p.m. ET, ACC Network)
No. 15 Oregon State Beavers (1-0)
A week after San Jose State put up 28 on USC, Oregon State's trip to SJSU figured to serve as a measuring stick game. After losing some key players from the Pac-12's best defense in 2022, how would this re-worked unit compare to USC? Pretty darn well. The Beavers' starting group allowed just 10 points -- looking every part as good as the one that led the team to a 10-win season a year ago -- and, perhaps more importantly, were joined by a proficient offense as quarterback D.J. Uiagalelei turned in a sparkling debut. A San Jose State touchdown in the closing seconds only made the Beavers' 42-17 win less of a blowout. It's just one game but the combination of improved offense with no regression on defense is the formula OSU was looking for to contend in the conference. -- Bonagura
Up next: UC Davis (9 p.m. ET, Pac-12 Network)
No. 16 Kansas State Wildcats (1-0)
You want your FCS games to be as forgettable as possible. In that regard, Saturday night against Southeast Missouri State was a total success for Kansas State. Granted, quarterback Will Howard made history by becoming just the sixth player in Big 12 history to record passing, rushing and receiving touchdowns in the same game -- some might end up remembering that -- and Avery Johnson, Howard's four-star freshman backup, was dynamic in a small sample. But the Wildcats erupted for 28 second-quarter points and cruised in for a 45-0 victory. Running back DJ Giddens rushed for 128 yards, receiver RJ Garcia II and tight end Ben Sinnott each topped 100 receiving yards, linebacker Austin Moore recorded a trio of tackles for loss and now it's on to a tricker game. -- Connelly
Up next: vs. Troy (Noon ET, FS1)
No. 17 LSU Tigers (0-1)
The offense clearly needs some work after a lousy effort against Florida State, particularly in the red zone. And while quarterback Jayden Daniels showed once again he's a big play waiting to happen running the football, he's yet to prove he can consistently push the ball downfield in the passing game. But perhaps more troubling was the play of the secondary, which flat out got exposed by Keon Coleman, Johnny Wilson and Co. Getting Maason Smith back at tackle and pairing him alongside Mekhi Wingo should help when it comes to pressuring the quarterback, but the DBs have to step up. Grambling offers a good opportunity to regroup this Saturday, but don't sleep on a trip to Mississippi State the following week where quarterback Will Rogers won't be afraid to put the ball in the air. -- Scarborough
Up next: vs. Grambling (7:30 p.m. ET, ESPN+)
No. 18 Ole Miss Rebels (1-0)
Lane Kiffin waited all preseason to name a starting quarterback, which must have motivated Jaxson Dart. He started Saturday's opener by completing his first 11 passes and finished the game with 334 passing yards and four touchdowns -- all four going to Tre Harris -- as the Rebels steamrolled FCS foe Mercer 73-7 at Vaught-Hemingway Stadium. Harris, a transfer from Louisiana Tech, set an Ole Miss single-game record with four touchdown receptions. Spencer Sanders, an Oklahoma State transfer, took over for Dart at quarterback in the third quarter and also threw two touchdown passes, as the Rebels piled up 667 yards of total offense. Jordan Watkins' 70-yard punt return for a touchdown put the Rebels ahead 45-7 a few minutes into the third quarter and was their first punt return for a touchdown in 10 years. -- Low
Up next: at Tulane (3:30 p.m. ET, ESPN2)
No. 19 Duke Blue Devils (1-0)
The Blue Devils were one of the most improved teams in college football last season, but not many gave them a chance against Clemson. After all, they had lost their previous five meetings to the Tigers by an average of 31 points. But coach Mike Elko has done a masterful job since taking over Duke a year ago -- and his team outcoached and outplayed Clemson in a 28-7 victory Monday night, a stunning victory in every facet. Quarterback Riley Leonard outplayed Clemson's Cade Klubnik, with 273 total yards and a score. It was Duke's first win over an AP Top 10 team since Sept. 30, 1989, when Steve Spurrier was the head coach. The team they beat? Clemson. Spurrier and members of the 1989 team happened to be at the game, watching yet another historic moment in Duke football history. -- Adelson
Up next: vs. Lafayette (6 p.m. ET, ESPN+)
No. 20 Oklahoma Sooners (1-0)
After a frustrating 6-7 debut season, Brent Venables and his Sooners were looking for a bright start to 2023. Safe to say, beating Arkansas State 73-0 probably qualifies as "bright." Dillon Gabriel (who only had to play in the first half) and backup Jackson Arnold completed a combined 30 of 33 passes for 422 yards and three touchdowns as OU scored on every drive of the first three quarters. Nineteen different Sooners got a touch, and eight scored a touchdown. ASU, meanwhile, couldn't top 200 total yards until the final drive of the game. This was always going to be a blowout, but it was a particularly resounding one. One assumes OU will find more resistance against SMU next week, but you couldn't ask for a better start to a rebound year. -- Connelly
Up next: vs. SMU (6 p.m. ET, ESPN+)
No. 21 Colorado Buffaloes (1-0)
The team of the offseason opened its season in record-setting fashion to beat TCU 45-42 on the road. Coach Deion Sanders was the story coming in, but his son Shedeur owned the spotlight by passing for 510 yards - a Colorado single-game record - and four touchdowns, while completing 38 passes. Travis Hunter, the other headliner in Deion Sanders' massive group of newcomers, had an interception and 119 receiving yards while logging a staggering 129 snaps in his Buffaloes debut. Colorado had four 100-yard receivers for the first time and snapped a streak of 24 consecutive losses as an underdog of 21 points or more. The defense needs work after surrendering 541 yards, but Colorado appears much better than many of the bleak preseason forecasts, of which Sanders and his players have "got receipts." -- Rittenberg
Up next: vs. Nebraska (Noon ET, Fox)
No. 22 Texas A&M Aggies (1-0)
The head coach Jimbo Fisher-offensive coordinator Bobby Petrino pairing got off to a high-flying start in a 52-10 blowout of New Mexico, giving the Aggies hope last season's woes that led to a 5-7 season are gone. The Aggies scored on their first five possessions and sophomore QB Conner Weigman had a career-high five touchdown passes, three to Noah Thomas and two to Evan Stewart, who had 8 catches for 115 yards. Since Weigman took over as the Aggies' starter last October, he has thrown 12 TDs with zero interceptions -- that's the most touchdowns without an interception in the FBS during that span. The defense dominated as expected, allowing 91 yards and just 2.8 yards per carry. Another new face, Boston College transfer Josh DeBerry, made an instant impact with 10 tackles, a sack and an interception. -- Dave Wilson
Up next: at Miami (3:30 p.m. ET, ABC)
No. 23 Wisconsin Badgers (1-0)
The Badgers' new-look offense looked flat in the first half. Quarterback Tanner Mordecai threw an interception and Wisconsin held just a four-point lead over Buffalo. It was a different story in the second half, however, as the Badgers showed flashes of the offense new coach Luke Fickell and offensive coordinator Phil Longo are hoping to build. Running back Chez Mellusi ripped off an 89-yard touchdown run and finished the game with 157 yards and two total touchdowns. Braelon Allen also got in on the scoring with two rushing touchdowns and 141 yards of his own. -- VanHaaren
Up next: at Washington State (7:30 p.m. ET, ABC)
No. 24 Tulane Green Wave (1-0)
Picking up where they left off in last January's Cotton Bowl Classic upset of USC, quarterback Michael Pratt was nearly flawless and Tulane began the season with a bang. Pratt completed 14 of 15 passes for 294 yards and four touchdowns (three in the first half). Pratt's second career four-touchdown game tied him with Patrick Ramsey for the Green Wave's career passing touchdown record (72). Pratt connected with Jha'Quan Jackson (three receptions for 106 yards) for touchdown passes of 47 and 48 yards, helping highlight an offense that racked up 436 total yards. -- Blake Baumgartner
Up next: vs. Ole Miss (3:30 p.m. ET, ESPN2)
No. 25 Clemson Tigers (0-1)
This was supposed to be the start of a new era for the Tigers. Dabo Swinney fired Brandon Streeter as offensive coordinator and brought in the hottest name on the market, Garrett Riley. QB DJ Uiagalelei, who shouldered much of the blame for Clemson's offensive struggles in 2021 and 2022, transferred to Oregon State, and the keys to the offense were handed to Cade Klubnik. And Monday was to be the grand unveiling. Instead, it was more of the same. Klubnik struggled mightily, the receivers were rarely open and mistakes abounded. Four trips into the red zone resulted in zero points, and turnovers handed Duke several prime opportunities. If 2023 was supposed to be a rebirth, Monday sure looked a lot more like a step backwards. -- David Hale
Up next: vs. Charleston Southern (2:15 p.m. ET, ACC Network)