Young speaks up for Stroud, relationship has history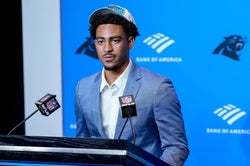 Apr 28, 2023; Charlotte, NC, USA; Bryce Young greets the media and answers questions during his press conference at Bank of America Stadium. Mandatory Credit: Jim Dedmon-USA TODAY Sports
The top two picks in the NFL's 2023 draft go back a ways.
Bryce Young and C.J. Stroud have known each other since they both attended high school in southern California — Young at football powerhouse Mater Dei in Santa Ana and Stroud at his hometown Rancho Cucamonga High.
Young speaks highly of Stroud, especially after things were said in the wake of leaked S2 Cognitive tests results that allegedly portray Stroud in a poor light. Young disagrees.
More on that later.
First let's look at the backgrounds of Young, the Alabama star who was drafted No. 1 by the Carolina Panthers, and Ohio State's Stroud, who was taken No. 2 by the Houston Texans.
Their careers will be forever compared because of their status at the top of the 2023 NFL Draft. They arrived there in very different ways.
Born in Philadelphia, July 25, 2001, Young moved with his parents, Julie and Craig Young, to Pasadena. Kevin Pearson, who would be Bryce's coach at Cathedral High School, first noted his elite potential as a seventh grader.
Bryce's father built a trusting relationship with Pearson, who selflessly supported the player's transfer to football power Mater Dei (Santa Ana) when quarterback JT Daniels created an opening by enrolling early at USC. After two Mater Dei seasons, Bryce's total prep passing stats included 13,520 yards and 152 touchdowns, and he became a five-star recruit.
Craig Young, a mental health specialist, supported Bryce by keeping the attention and all that comes with it in perspective. That included Bryce's brand and his NIL value, which soared to $3.2 million, based more on football success than an overly conspicuous social media presence.
In 2016, when Bryce was a 15-year-old freshman at Cathedral High, he received his first college offer, from Texas Tech coach Kliff Kingsbury, whose quarterback at the time was Patrick Mahomes. Then came an avalanche of offers — at least 18 Big Five schools — before he committed to USC.
Craig Young was annoyed that his own alma mater, UCLA, and Bruins head coach Chip Kelly — leery of Bryce's diminutive size — didn't make an offer until after he committed to USC.
Interestingly, at the end of his prep career, Young was the top-rated quarterback recruit, ahead of No. 2 DJ Uiagalelei (Clemson, Oregon State) and No. 3. Stroud. After two visits to Alabama and visits from 'Bama coaches Nick Saban and Steve Sarkisian, Bryce decided in December 2019 that his best fit was the Crimson Tide, where quarterback Mac Jones would play his final season in 2020. Good-bye USC and hello greatness at Alabama.
Stroud's journey was a bit different.
Born in Rancho Cucamonga, CA (Oct. 3, 2021), Stroud was the youngest of four siblings. He formed an early and important bond with his father, a pastor, playing basketball and football as young as five. While C. J was in middle school, his father was convicted on multple felony counts and sentenced to 36 years in prison. C. J. stays in constant touch.
Stroud went through a tough childhood, but his dad instilled in him a strong religious faith and a love of sports.
At Rancho Cucamonga High School, Stroud was initially considered a 3-star prospect but shot up the recruiting rankings with a strong performance his senior year, throwing for 47 TDs and nearly 3,900 yards.
When he won the prestigious Elite 11 in 2020 (previously won by Justin Fields, Tua Tagovailoa and Jameis Winston), offers from most major schools came flooding in.
Stroud is a devout and practicing Christian. He says his faith is the "foundation of his life." Stroud donated to and volunteered for Hope to Dream, which donates beds, blankets, and pillows for children in need.
Weeks before the 2023 Draft, Stroud was odds-on favorite to be No. 1. As is often the case before drafts, players somehow move in the media and social media ratings, which may or may not reflect the thinking of teams.
When Stroud slipped out of first in some media and social media rankings, many asked why.
On Friday, April 21, veteran NFL/Draft reporter Bob McGinn posted a story citing unnamed sources that Stroud scored 18 percent on an S2 Cognitive test, compared to Young's 98 percent. The post listed other quarterbacks in the draft scoring percentiles from the 40s to the 90s. Information from the post went viral.
NFLDraftScout.com investigated further and, among other things, learned from S2 co-founder Brandon Alley that "All guys in the discussion scored really, really well" and that "It is a mistake to value one number. We give 9 different cognitive tests. If you score in the 90th you could be in the 10th for object tracking which means you have tunnel vision."
Speaking to reporters at a pre-draft event in Kansas City, Stroud responded to concerns about his ability to process things at the next level.
"I'm not a test taker, I play football," Stroud said. "At the end of the day, I got nothing to prove to nobody. I'm not going to sit here and explain how I process football. The people who are making the picks know what I can do."
And so does Young, who has his own appreciation of Stroud.
"I think, I've been around him for a really long time." Young said of Stroud. "We've known each other for a while. Obviously, we're super close. Seeing how he carries himself, for me, it's really cool … I've watched film on a bunch of guys, just from studying my mutual opponents, and you can watch the highlights, but seeing how people are in the moment, how they process, that's stuff that's hard … That's really hard to find if you're just watching television.
"But I was able to watch how CJ was in the Elite 11. That's a big moment … Everyone's trying to be the MVP, and then everyone's trying to win the 7-on-7 tournament … Seeing how he carried himself during that time. Seeing how every time there was a big moment, he stepped up. Every big occasion. Seeing that through high school, I had watched him play before but seeing that and high-pressure situations, and seeing how he carried himself, like that was something that really stood out to me.
"So, of course … the accuracy, the decision-making, all the intangibles, all the great things that I hear. I've been around a bunch of people that played with him, and when you hear how they talk about him, I feel like that's always a pretty good measurement of how people are. Hearing that, of course that's all there.
"But being able to see how he carries himself and how he works on a day-to-day [basis], and you know, just seeing what goes into those kinds of moments, that was something that was really big for me."
The real test will come over the next few years as these two quarterbacks go through their careers. Should be interesting.