Family Tradition: Zachariah Branch Steals Show in USC Opener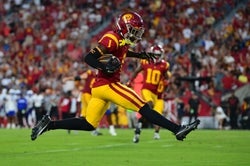 Aug 26, 2023; Los Angeles, California, USA; Southern California Trojans wide receiver Zachariah Branch (1) runs the ball in for a touchdown in USC's home opener against the San Jose State Spartans. Mandatory Credit: Gary A. Vasquez-USA TODAY Sports
All eyes were on USC quarterback Caleb Williams, the defending Heisman Trophy candidate, in Saturday night's 56-28 win over visiting San Jose State.
Well, except for those times all eyes were trying to keep up with the blurring image of USC's true freshman Zachariah Branch, who touched the ball nine times and collected 244 yards with two touchdowns.
Breaking that down:
Receiving: 5 catches, 58 yards, 1 touchdown (25 yards)
Rushing: 1 run for 12 yards
Punt returns: 3 for 68 yards
Kickoff returns: 1 for a 96-yard touchdown
To be clear, Williams was excellent, completing 18 of 25 passes for 278 yards with four touchdowns and no interceptions, despite pressure by San Jose State that had him on the run often. He netted minus two yards rushing.
Williams led the Trojans on six touchdown drives in eight possessions. Most notable was a play in the second quarter when Williams, who set up the drama by dropping the shotgun snap, scrambled out of trouble and fired a sizzling 76-yard touchdown pass to Tahj Washington.
But we've seen him do this before, which is why he has that Heisman Trophy. So it was Branch, listed as 5-10, 172, who caused most the murmuring in his first game out of Las Vegas' Bishop Gorman High School.
The kickoff return was spectacular as he dashed up the middle with speed that caused tacklers to misjudge their angles and moves that further eluded them. Some compared Branch to former Trojans Reggie Bush and Adoree' Jackson, the latter of whom scored a receiving and return TD in his debut.
But maybe we need to look further back and closer to the Branch family for a comparison. Those who have been paying attention might not have been THAT surprised. Speed, especially on returns, is in his blood.
Branch and twin brother Zion (a USC defensive back) are the grand nephew of Pro Football Hall of Fame wide receiver Cliff Branch, a Raiders icon.
Cliff set a then-NCAA Championship record with a 10.0-second clocking in the 100-meter dash back in 1972. Zachariah didn't run track last spring, but as a sophomore he swept the NIAA Southern Regional in both the 100 and 200-meter dashes. Z. Branch also placed first in the long jump.
He clocked the fastest 100-meter dash time ever for a high school athlete in the state of Utah with a 10.33 seconds in May of 2022 and has 40-yard times as low as 4.41 seconds in high school camps.
Cliff Branch at Colorado
It was on that kickoff return that Zachariah was most reminiscent of his late grand uncle. Cliff Branch set Colorado and NCAA records with eight career return touchdowns (six punts and two kickoffs). The CU record still stands, and it took three decades for his national mark to be bested. He had four each in both 1970 and 1971, still CU single-season records, as are his six career punt return TDs. His six punt return TDs were all between 59 and 75 yards, while his two kickoff return scores covered 100 and 97 yards.
Going into the game, Branch's spot on the wide receiver depth chart was behind Tahj Washington, Mario Williams and highly-touted Arizona transfer Dorian Singer—one of the most talented receiver groups in college football without considering Branch.
"I didn't really have any expectations," Branch said. "Coach Riley and the rest of the staff just told me to go out there and don't try to do too much, execute your job and the rest will follow. I was blessed enough to get those opportunities and I just tried to capitalize off of them.
"It was always a dream for me to be at a prestigious university and be around an elite staff and elite players," Branch said. "I mean, our coaches always told us to just trust our instincts, trust our process and to just go out there and be the best that we can be...just to go out there week in and week out, and just try to produce the same amount every week."
Said head coach Lincoln Riley: "I thought he did a good job not trying to do too much, which guys in their first game sometimes will do. I thought his patience, especially on the return, you saw a lot of patience there, which was key."
Branch was the program's highest-ranked prospect in his class. And, unlike many recent star recruits, he made an immediate impact. One game into his college career, Branch is already on the very fast track to stardom as a multi-faceted weapon who can make an already lethal offense even more difficult to defend.