Zero hour, Zero week with smattering of CFB Games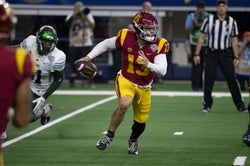 Jan 2, 2023; Arlington, Texas, USA; USC Trojans quarterback Caleb Williams (13) in action during the game between the USC Trojans and the Tulane Green Wave in the 2023 Cotton Bowl at AT&T Stadium. Mandatory Credit: Jerome Miron-USA TODAY Sports
MUST SEE: Players to Watch in CFB Openers
It is the zero hour for 2023 college football. Actually it is Week Zero, which could be a comment on the caliber of games as only a small fraction of top teams play this weekend.
Most of the top squads will kickoff next week, over the Labor Day weekend when we get a full slate in what will be called Week 1.
For now we will zero in on this weekend's games, seven in all, involving Football Bowl Subdivision matchups, two of which feature Top 25 squads.
Here is a rundown of Saturday's short list of games:
No. 13 Notre Dame vs. Navy in Dublin
TIME/TV: 2:30 p.m. ET, NBC
Positive Note: It's the first game! The campaign gets underway across the pond, where one might assume Notre Dame to have a home-crowd advantage given its nickname, but the Midshipmen should have their share of supporters on the Emerald Isle as well. The Fighting Irish and Navy are frequent opponents, but both teams enter the season with somewhat new looks. The Mids are under new management with former defensive coordinator Brian Newberry now helming the program. The offense might have some new wrinkles with more of a passing threat, but the overall approach of attempting to go on long marches via the option game will remain the same. Notre Dame is also hoping for more pop in its offense as grad transfer QB Sam Hartman enters the program following a record-setting career at Wake Forest. But Hartman's pass catchers will be new to the lineup for the most part as well, and FS Rayuan Lane will anchor a Navy secondary that figures to be among the team's strongest units.
Reality check: The Fighting Irish face Navy on an annual basis. As such, LB J.D. Bertrand and the other veterans on the Notre Dame defense will be well prepared to hold their positions and keep the Mids' running game in check. The Navy offense isn't likely to completely reinvent itself overnight, and the Irish could pull away with a few big plays. Admittedly though, it was the Mids that appeared to figure something out after intermission in last year's meeting as Notre Dame nearly squandered a three-touchdown lead, so don't write it off too soon.
San Jose State at No. 6 Southern California
TIME/TV: 8 p.m. ET, Pac-12 Network
Positive Note: If you are able to get the channel, this will be the first opportunity of the season to catch reigning Heisman winner Caleb Williams in action. The Trojans' prolific passer will have a few new targets to break in, and he might have to stay in the game longer than USC fans would like if his defensive counterparts haven't made significant strides during the offseason. The Spartans have veteran QB Chevan Cordeiro, who might not be able to match scores with Williams for 60 minutes, but he usually takes care of the ball and is mobile enough to avoid trouble.
Reality check: The USC defense usually manages to produce several takeaways anyway. If the Trojans are able to get a couple of stops early, it could get away from the Spartans in short order.
Ohio at San Diego State
TIME/TV: 7 p.m. ET, FS1
Positive Note: This should be the best matchup of the three non-conference contests involving unranked teams, as both have a good chance to once again be in the bowl lineup at season's end. The Bobcats should be in the mix for the Mid-American Conference, while the Aztecs consistently finish in the Mountain West's upper tier but must find a bit more scoring punch to reach the summit. Ohio has the potential for more productivity on offense, but QB Kurtis Rourke is coming off ACL surgery. SDSU will counter with Jalen Mayden, who took over at QB midway through the 2022 campaign and provided a needed boost to the attack.
Reality check: SDSU's games can sometimes turn into defensive slogs. If the Bobcats are able to set a fast tone early, the Aztecs might have to open things up. But if the points don't come right away, there might not be much in the way of fireworks.
Hawaii at Vanderbilt
TIME/TV: 7:30 p.m. ET, SEC Network
Positive Note: Vandy is the lone SEC team getting in on the Week 0 activities, taking on Hawaii in its opener for a second consecutive season. This time, it is the Rainbow Warriors making the long trip to the mainland. Hawaii will do its best to sling it around with Brayden Schager now a bit more experienced in Timmy Chang's offense, and Vanderbilt's young pass rushers might have a hard time stopping him from doing so early on. Commodores QB A.J. Swann is also game tested, however, and will have more weapons at his disposal.
Reality check: Vanderbilt romped to a 63-10 triumph in Honolulu in last year's encounter. It's hard to envision this one being much different, as the Commodores are well aware they must maximize their non-SEC opportunities to reach bowl eligibility.
Texas-El Paso at Jacksonville State
TIME/TV: 5:30 p.m. ET, CBS Sports Network
Positive Note: The opening-day Conference USA doubleheader on CBSSN kicks off with this contest in Alabama, where the Gamecocks make their FBS debut. Even before moving up in divisions this was a dangerous FCS team – just ask Florida State – and now veteran coach Rich Rodriguez ushers the Gamecocks into their new chapter. The Miners, among the holdovers in the revamped league, came up a win short of bowl eligibility a year ago and would like to bank a road victory immediately. UTEP figures to have the edge at the line of scrimmage, thanks to an experienced offensive line and a stingy ground defense led by LB Tyrice Knight. But the Gamecocks have stars of their own like RB Anwar Lewis, last season's top rusher, and DE Chris Hardie, who could make life difficult for UTEP's incumbent QB Gavin Hardison.
Reality Check: Hard to know what to expect from Jax State in its C-USA first act, especially on the defensive side where the depth might not quite be at the FBS level just yet. Things could tilt UTEP's way late, but there should be enough excitement and atmosphere to keep viewers interested for a while.
Florida International at Louisiana Tech
TIME/TV: 9 p.m. ET, CBS Sports Network
Positive Note: The C-USA nightcap has the potential to be the best game of the day. Set aside for a moment that the programs combined for just seven wins in 2022. Their head-to-head showdown last year was an epic shootout, with FIU eventually prevailing 42-34 in double overtime. More fireworks are likely. Panthers QB Grayson James is still around, while the Bulldogs will hand the QB reins to Boise State transfer Hank Bachmeier.
Reality check: It is possible that either team could commit a slew of mistakes leading to an avalanche of points for the opposition – which happened a lot last season to both teams. But it seems more likely that things will even out, making this opener an enjoyable ride even if neither squad finds itself near the top of the standings in a couple of months.