2024 Hall of Fame: 60 Semifinalists named in Senior, Coach/Contributor Categories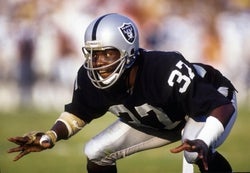 Nov 16, 1986; Los Angeles, CA, USA: FILE PHOTO; Los Angeles Raiders defensive back Lester Hayes (37) in action against the Cleveland Browns at the Los Angeles Memorial Coliseum. Mandatory Credit: Long Photography-USA TODAY Sports
CANTON, OHIO – Sixty seniors, coaches and contributors have moved one step closer to election as members of the Pro Football Hall of Fame's Class of 2024.
The Hall's 12-person Seniors Committee trimmed a list of eligible nominees to 31 Semifinalists who advance to the next round of consideration.
These semifinalists are Ken Anderson, Ottis Anderson, Carl Banks, Maxie Baughan, Larry Brown, Mark Clayton, Charlie Conerly, Roger Craig, Henry Ellard, Randy Gradishar, Lester Hayes, Chris Hinton, Cecil Isbell, Joe Jacoby, Billy "White Shoes" Johnson, Mike Kenn, Bob Kuechenberg, George Kunz, Albert Lewis, Jim Marshall, Clay Matthews Jr., Steve McMichael, Eddie Meador, Stanley Morgan, Tommy Nobis, Art Powell, Sterling Sharpe, Steve Tasker, Otis Taylor, Everson Walls and Al Wistert.
Each Semifinalist played his last game in professional football no later than the 1998 season. Separately, the Hall's 12-person Coach/Contributor Committee reduced the list of nominated candidates to 29 Semifinalists who advance to the next round of consideration.
They are K.S. "Bud" Adams Jr., Roone Arledge, C.O. Brocato, Tom Coughlin, Alex Gibbs, Ralph Hay, Mike Holmgren, Frank "Bucko" Kilroy, Eddie Kotal, Robert Kraft, Elmer Layden, Jerry Markbreit, Virginia McCaskey, Rich McKay, John McVay, Art Modell, Buddy Parker, Carl Peterson, Dan Reeves, Art Rooney Jr., Marty Schottenheimer, Jerry Seeman, George Seifert, Mike Shanahan, Clark Shaughnessy, Seymour Siwoff, Jim Tunney, Lloyd Wells and John Wooten.
Selection bylaws stipulate that both the Seniors Committee and Coach/Contributor Committee vote for 25 Semifinalists but also allows for additional candidates to proceed in the process in the case of a tie vote for the 25th position. That occurred in both fields this year.
The respective selection committees now will consider the candidates and vote to send 12 Seniors and 12 Coach/Contributors through to the next stage. The results of those reduction votes will be announced July 27.
Coach/Contributor Committee members will meet Aug. 15 to select one Coach or Contributor for final consideration for the Class of 2024.
The Seniors Committee will meet Aug. 22 and may select up to three Seniors for final consideration as members of the Class of 2024. Expansion of the Seniors pool for election to the Hall was approved in 2022 for the Classes of 2023, 2024 and 2025.
Here are short bios on each of the 60 Semifinalists:
SENIORS (31)
Ken Anderson: Quarterback (1971-1986)
A four-time pro-bowler who started at quarterback for the Cincinnati Bengals from 1971-1986. League MVP for the 1981 season. Finished career with 32,838 passing yards and 197 touchdowns.
Ottis Anderson: Running Back (1979-1992)
Split 14 seasons between the St. Louis Cardinals (1979-1986) and New York Giants (1986- 1992). Two-time Super Bowl champion and six-time 1,000-yard rusher.
Carl Banks: Linebacker (1984-1995)
Two-time Super Bowl champion with the New York Giants (1984-1992). Played one season in Washington (1993) and two in Cleveland (1994-95).
Maxie Baughan: Linebacker (1960-1970, 1974)
A nine-time Pro-Bowler, Baughan played linebacker for the Philadelphia Eagles (1960-65), the Los Angeles Rams (1966-1970) and the Washington Redskins (1974).
Larry Brown: Running Back (1969-1976)
Four Pro Bowls, two All-Pro seasons and league MVP following 1,216-yard season in 1972 as Washington reached the Super Bowl. Led NFL in rushing in 1970.
Mark Clayton: Wide Receiver (1983-1993)
Five-time Pro-Bowler who played 10 seasons with the Dolphins (1983-1992) and one season with the Green Bay Packers (1993). Career totals of 8,974 receiving yards and 84 touchdowns, with a league-high 18 in 1984.
Charlie Conerly: Quarterback (1948-1961)
Played all 14 of his NFL seasons with New York Giants. Won NFL title in 1956. Passed for 19,488 yards and 173 touchdowns.
Roger Craig: Running Back (1983-1993)
First NFL player to total 1,000 yards rushing and receiving in the same season and won three Super Bowls with the San Francisco 49ers. Spent eight seasons with the 49ers (1983-1990), one with the Los Angeles Raiders (1991) and two with the Minnesota Vikings (1992-93). Totaled 13,100 yards from scrimmage and scored 73 touchdowns.
Henry Ellard: Wide Receiver (1983-1998)
Three-time Pro Bowl receiver who played 16 seasons overall with the Rams (1983-1993), Washington (1994-98) and New England (1998). Totaled 13,777 receiving yards with seven 1,000-yard seasons.
Randy Gradishar: Linebacker (1974-1983)
Centerpiece of the "Orange Crush Defense," Gradishar played all 10 seasons as linebacker for the Denver Broncos, seven of which were Pro Bowl-caliber years. Intercepted 20 passes. Named AP Defensive Player of the Year in 1978.
Lester Hayes: Cornerback (1977-1986)
Known as "The Judge," Hayes was a five-time Pro Bowler for the Oakland/Los Angeles Raiders, spending his entire 10-year career with the organization. Intercepted 39 passes in career, including a league-best 13 in 1980.
Chris Hinton: Guard/Tackle (1983-1995)
Named to seven Pro Bowls and recognized as a two-time first-team All-Pro, Hinton played with the Baltimore/Indianapolis Colts (1983-89), Atlanta Falcons (1990-93) and the Minnesota Vikings (1994-95).
Cecil Isbell: Tailback/Defensive Back/Halfback (1938-1942)
Of Isbell's five playing years with the Green Bay Packers (1938-1942), he had four Pro Bowl appearances. Named to the All-Decade Team of the 1930s.
Joe Jacoby: Tackle (1981-1993)
During his 13-year tenure with the Washington Redskins (1981-1993), Jacoby won three Super Bowls and was named to the Pro Bowl four consecutive years (1983-86).
Billy "White Shoes" Johnson: Wide Receiver/Kick Returner/Punt Returner (1974-1980, 1982-88)
During his 14-year NFL career (Houston Oilers, 1974-1980; Atlanta Falcons, 1982-87; Washington Redskins, 1988), Johnson accumulated three Pro Bowl selections and is most famously known for his endzone celebrations. Scored six times on punt returns and twice on kickoff returns.
Mike Kenn: Tackle (1978-1994)
A former first-round draft pick, this University of Michigan product played his entire 17-year career with the Atlanta Falcons and racked up five Pro Bowl selections and two first-team All- Pro selections.
Bob Kuechenberg: Guard/Tackle/Center (1970-1983)
A member of the Miami Dolphins Hall of Fame and a six-time Pro Bowler, Kuechenberg spent the entirety of his 14-year career as a member of the Dolphins. Won two Super Bowl rings.
George Kunz: Tackle (1969-1978, 1980)
Named to the Pro Bowl seven times and received three first-team All-Pro honors. Won Offensive Lineman of the Year in back-to-back years (1976-77). He played for the Atlanta Falcons (1969-1974) and the Baltimore Colts (1975-1980).
Albert Lewis: Defensive Back (1983-1998)
Considered one of the top "cover corners" of his era, Lewis intercepted 42 passes in a 14- season career with the Kansas City Chiefs (1983-1993) and the Los Angeles/Oakland Raiders (1994-1998). Also blocked 11 kicks on special teams.
Jim Marshall: Defensive End (1960-1979)
After starting his NFL career with the Cleveland Browns, Marshall was traded to Minnesota, where he would play the next 19 seasons without missing a game. Marshall's 282 consecutive games played are the most by a defensive player, and his streak is 58 games longer than the next closest defensive lineman. A member of the Vikings famed "Purple People Eaters" defensive front, Marshall earned two Pro Bowl selections and has been credited with 130.5 sacks.
Clay Matthews Jr.: Linebacker (1978-1996)
Matthews made four Pro Bowl appearances for the Cleveland Browns in the 1980s. Intercepted 16 passes and forced 27 fumbles in 19-year career that totaled 278 games. Elected to Browns Ring of Honor. He finished his career with the Atlanta Falcons, where he became the oldest player to record a sack in NFL history at the age of 40 years, 282 days.
Steve McMichael: Defensive Tackle (1980-1994)
Single seasons in New England as a rookie and in Green Bay at the end of his career sandwiched a 13-year stint in Chicago, where he amassed 92.5 of his 95 career sacks. Two-time first-team All-Pro and member of the 1985 Super Bowl champion Bears.
Eddie Meador: Cornerback (1959-1970)
Meador played his entire career with the Los Angeles Rams, where he earned selection to two first-team All-Pro teams and six Pro Bowls. He is a member of the NFL's All-Decade Team of the 1960s. Finished his career with 46 interceptions, which remains a Rams franchise record.
Stanley Morgan: Wide Receiver (1977-1990)
Posted the most yards per reception (19.2) in NFL history among players with more than 500 career receptions, and made four Pro Bowls with the New England Patriots. He is still New England's all-time leader in receiving yards (10,352). He played his final NFL season with the Indianapolis Colts.
Tommy Nobis: Linebacker (1966-1976)
First player the expansion Atlanta Falcons drafted and played his entire career in Atlanta. He won NFL Rookie of the Year, played in five Pro Bowls, selected first-team All-Pro (1967) and is a member of the NFL's All-Decade Team of the 1960s.
Art Powell: Wide Receiver (1959-1968)
Drafted by the NFL Philadelphia Eagles but found success a year later in the AFL, where his speed gave the New York Titans (1960-62) and Oakland Raiders (1963-66) one of the league's most productive deep threats. Surpassed 1,000 receiving yards five times. Finished 10-year career with 8,046 receiving yards and 81 touchdowns.
Sterling Sharpe: Wide Receiver (1988-1994)
Sharpe made five Pro Bowls and three first-team All-Pro teams during his seven-year career with the Green Bay Packers cut short by injury. His 18 touchdown receptions in his final season is still good for third best in league history. Career totals include 8,134 yards and 65 touchdowns.
Steve Tasker: Wide Receiver/Kick Returner/Punt Returner (1985-1997)
Late-round pick of the Houston Oilers. Claimed off waivers by Buffalo Bills midway through his second NFL season. Key member of Bills' special teams units over next 11 seasons, earning seven Pro Bowl nods and appearing in four Super Bowls.
Otis Taylor: Wide Receiver (1965-1975)
Taylor won a Super Bowl IV ring with the Kansas City Chiefs, earned two Pro Bowl selections, two first-team All-Pro selections, an AFL All-Star selection and won two AFL Championships during his 10-year career. He led the AFL in touchdown receptions in 1967 and the NFL in receiving yards in 1971.
Everson Walls: Cornerback (1981-1993)
Playing most of his career with the Dallas Cowboys, Walls made three first-team All-Pro teams, four Pro Bowls and led the NFL in interceptions three times while in Dallas. He finished his career with the New York Giants and Cleveland Browns and helped New York to victory in Super Bowl XXV.
Al Wistert: Tackle/Defensive Tackle (1943-1951)
Member of the All-Decade Team of the 1940s, "Big Ox" helped the Philadelphia Eagles to two NFL Championships (1948-49) and was selected to the first-team All-Pro unit four consecutive seasons (1944-47).
COACH/CONTRIBUTOR (29)
K.S. "Bud" Adams Jr.: In his 54 years as founder, owner, chairman of the Board, president and CEO of the Titans/Oilers franchise, Adams was an enduring figure in the NFL.
Roone Arledge: Television industry executive and producer whose creativity, leadership and technical innovations revolutionized the presentation of both news and sports.
C.O. Brocato: A scout for 40 years with the Houston Oilers/Tennessee Oilers/Tennessee Titans.
Tom Coughlin: Two-time Super Bowl-winning coach (XLII, XLVI) with the New York Giants. Also first head coach of the expansion Jacksonville Jaguars, taking team to two AFC Championship Games. Overall NFL record of 182-157 in 20 seasons.
Alex Gibbs: Member of two Super Bowl-winning teams in Denver (XXXII-XXXIII) as assistant head coach/offensive line coach. NFL career spanned four decades and included stints with the Raiders, Chargers, Colts, Chiefs, Falcons, Texans and Seahawks in addition to the Broncos.
Ralph Hay: Owner of the Canton Bulldogs from 1918-1922 and hosted the NFL's formational meeting in his automobile dealership in downtown Canton.
Mike Holmgren: Head coach of the Green Bay Packers from 1992-98 and the Seattle Seahawks from 1999-2008. Overall record of 174-122 includes victory in Super Bowl XXXI with the Packers and an NFC crown in Seattle.
Frank "Bucko" Kilroy: Worked in player personnel and scouting for the Philadelphia Eagles, Washington Redskins and Dallas Cowboys. He was the Patriots' general manager from 1979 to 1982 and vice president from 1983 to 1993.
Eddie Kotal: Scout for the Los Angeles Rams from 1947-1961 and was one of the first to scout Historically Black Colleges and Universities.
Robert Kraft: Owner, chairman and CEO of the New England Patriots since 1994. His teams have won six Super Bowls.
Elmer Layden: Commissioner of the National Football League from 1941-46 after a successful career as a player and coach at the college level.
Jerry Markbreit: Official in the NFL for 23 seasons, rising to referee in only his second year. Assigned to 25 postseason games, including four Super Bowls – a number no other referee has surpassed.
Virginia McCaskey: Became principal owner of the Bears in 1983 upon the death of her father, Hall of Famer George Halas. Celebrated her 100th birthday this past Jan. 5.
Rich McKay: General Manager, Tampa Bay Buccaneers, 1994-2003; general manager, Atlanta Falcons, 2003-08; president/CEO, Atlanta Falcons, 2008-present.
John McVay: Joined the 49ers in 1979 as the team's director of player personnel and spent 21 seasons with the Club, ultimately presiding over five Super Bowl-winning seasons as vice president/director of football operations.
Art Modell: Owner of the Cleveland Browns from 1961-1995 and Baltimore Ravens from 1996-2011.
Buddy Parker: Head coach of the Chicago Cardinals (1949), Detroit Lions (1951-56) and the Pittsburgh Steelers (1957-1964). Overall NFL record of 107-76-9 and winner of back-to-back NFL titles with the Lions in 1952 and 1953.
Carl Peterson: President, general manager and CEO of the Kansas City Chiefs from 1989-2008.
Dan Reeves: Head coach of the Denver Broncos (1981-1992), New York Giants (1993-96) and the Atlanta Falcons (1997-2003). Overall coaching record of 201-174-2 and four conference championships in 23 seasons. Two-time AP Coach of the Year.
Art Rooney Jr.: Employed with the Steelers since 1961, from 1964 through 1986, worked in the Steelers' Scouting Department. Currently a Steelers vice president and member of the Board of Directors.
Marty Schottenheimer: Head coach of the Cleveland Browns (1984-88), Kansas City Chiefs (1989-1998), Washington Redskins (2001) and the San Diego Chargers (2002-06). Overall NFL coaching record of 205-139-1 in 21 seasons.
Jerry Seeman: Line judge, head linesman, referee and director of Officiating from 1975-2000.
George Seifert: Won two Super Bowls in his eight seasons as head coach of the San Francisco 49ers (1989-1996), Also coached three seasons for Carolina Panthers (1999-2001). Overall record of 124-67.
Mike Shanahan: Head coach of the Los Angeles Raiders (1988-89), Denver Broncos (1995-2008) and the Washington Redskins (2010-13). Two Super Bowl titles in his 20 seasons with an overall record of 178-144.
Clark Shaughnessy: Head coach of the Los Angeles Rams from 1948-49 and longtime assistant coach for the Washington Redskins from 1944-47 and Chicago Bears from 1951-1962.
Seymour Siwoff: Owner and president of Elias Sports Bureau, the official statisticians of the NFL, from 1952-2019.
Jim Tunney: NFL official from 1960-1991. Worked as a field judge from 1960-67 and a referee from 1968-1991.
Lloyd Wells: Scout for the Kansas City Chiefs from 1963-1974. First full-time African American scout in the NFL.
John Wooten: Director of Pro Scouting for the Dallas Cowboys from 1975 to 1991. Created Player Development programs for the NFL in 1991. Vice President/Player Personnel for the Philadelphia Eagles in 1992 and assistant director of pro/college scouting for the Baltimore Ravens until his retirement in 2002. In 2003, Wooten became chairman of the Fritz Pollard Alliance, a position he held until 2019.