Hall of Fame: Making case for RB Roger Craig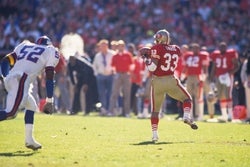 San Francisco 49ers running back Roger Craig (33) in action against the New York Giants. Credit: V.J. Lovero-USA TODAY Sports
(Note: Craig suvived the cut from 31 to 12 and was a seniors semifinalist for the 2024 Pro Football Hall of Fame. However Craig was not one of the three seniors finalists. )
He was known for his high-knee running style, tireless work ethic, team-first mentality, big eyes, and an even bigger heart. He is also known as one of the greatest running backs from the decade of the 1980s. Roger Craig made a huge mark on the San Francisco 49ers, and the NFL. In 1985, Craig became the first player in NFL history to have 1,000 yards rushing and receiving in the same season. He was a three-time Super Bowl Champion, played in five NFC Championship Games, and was the first player in league history to score three touchdowns in one Super Bowl (Super Bowl XIX).
Several months ago, I heard Larry Krueger make his case for Craig to be inducted into the Pro Football Hall of Fame. 49ers fans have been shouting for this to happen for years, but Krueger presented the best case I have heard so far. His passionate argument, backed up by compelling facts, pushed me to reach out to Krueger, as well as others, to discuss Craig's credentials. He graciously agreed to talk to me.
Let's start with Krueger's reasoning for why Craig is not yet in the Hall of Fame:
No Bill Walsh to advocate for him
Krueger makes the case, and I tend to agree, that if Bill Walsh were still alive, he would be making the case himself for Craig to be inducted. "If Walsh announces a couple of times that Roger is a Hall of Famer, it would happen, because Walsh had that kind of clout," Krueger told me. "This would have been the life's mission of Bill Walsh if he were still alive."
Craig is happy in life, though he did tell Matt Maiocco of NBC Sports Bay Area that he is surprised he hasn't been inducted yet. But Craig won't advocate for himself. So while some players may whine or promote themselves until they get inducted, Craig is just not going to do that sort of thing. So we have to do it for him.
Hall of Famer Steve Young told KNBR, "I just feel like it's harder to get in from the West Coast. I always feel like we're pushing a little uphill to get the 49ers of that great era of the '80s and '90s, to get them in the Hall of Fame, but we should push all we can, no question about it."
Former 49ers great Brent Jones echoed Young's thoughts, saying, "I hate to say it, but the Hall of Fame seems like an East Coast bias. It's so statistics-focused...and it's a little frustrating."
Carmen Policy, the 1994 NFL Executive of the Year, told me, "Organizational instability has also affected Roger's case. You not only had the transition of one head coach (Walsh) to his successor (George Seifert), but you also had the transition of one owner (Eddie DeBartolo) to another (Denise DeBartolo York). This has most certainly impacted his chance to be inducted."
The fumble
In the 1990 NFC Championship Game against the New York Giants, as the 49ers were trying to run out the clock in an attempt to become the first team in NFL history to win three consecutive Super Bowls, Craig lost his grip on the ball. Lawrence Taylor recovered. The Giants moved into field goal position and won the game. Craig never played another down for the 49ers. Without the fumble, the 49ers probably win their third straight Super Bowl, and Craig may likely be in the Hall of Fame.
Policy mentioned this, as well, saying, "If it weren't for the fumble in the NFC Championship Game, Roger would've been in long ago. And think about this: after the fumble, a lot had to go right for the Giants to win that game. There was the big catch and run by Mark Bavaro, some missed tackles, the field goal...so that loss wasn't just on Roger."
It's true. To keep Roger Craig out of the Hall of Fame because of one play is ridiculous. Especially in light of the many accomplishments, records, and championships.
Jerry Rice
The most "popular" argument against Craig being inducted is that he somehow benefitted from playing with Jerry Rice, and that he had a coach like Walsh, a quarterback like Joe Montana, and such a great supporting cast. But as Krueger argues, "Critics say he doesn't belong because of the offenses he played in, but he didn't benefit. It's rare that running backs and wide receivers both have gaudy numbers in a game. It's one or the other. There's only one football."
Said Policy, while laughing at the suggestion Craig doesn't belong in the Hall of Fame because his teammates were so great, "People can't use this argument. For example, Montana is Montana because of guys like Rice and Craig. So why should a player be penalized because of who shared the huddle with him?"
This, according to Krueger, is maybe the biggest argument for Craig to be inducted. The 49ers fed Rice the ball over and over. Who could blame them? Rice is the greatest player in NFL history. His receiving and touchdown records are unmatched. So playing with Rice hurt Craig, from a statistics point of view. He touched the ball less, so Rice could touch it more. It's no secret that Rice wanted the ball every chance he could get it. Said Krueger, "Roger's numbers were suppressed by playing with the greatest statistical force in NFL history." Rice was great for the 49ers, but not for Roger Craig's numbers.
Montana told me, "If it wasn't for Jerry (and John Taylor), Roger would have had even greater numbers. You can't use the 'he was part of the system' argument. Look at Tom Brady. He just threw his 600th touchdown pass. But that's all teams do today—throw the ball. So if Roger benefited from the system, you have to say that about Brady and all the others playing today."
Rice even gets credit for the workout that Craig started. Remember the hill that Rice famously ran, and took other players on? Craig ran it first. This is nothing against Rice. It just shows that Craig did not benefit, statistically, or in the court of public opinion, from playing with Rice.
Not that Craig will ever complain. He was a selfless and dedicated team player. His humility made him one of the most beloved players in team history. Craig would do whatever he needed to do for the team to succeed, including changing his position—which he did. And his team-first mindset allowed him to be one of the main cogs on a dynasty that won three Super Bowls and went to five NFC Championship games while he was there.
It doesn't take much to convince 49ers fans, or former players and coaches, that Craig should be in the Hall of Fame, but it will take a little more to convince the doubters. Fortunately, Larry Krueger did an amazing job building an argument. Here is the case for Roger Craig to the Hall:
First player in NFL history to score three touchdowns in a Super Bowl.
First player in NFL history to have 1,000 yards rushing and receiving in the same year (1985). If that isn't enough, only two players (Marshall Faulk, who is in the Hall of Fame, and Christian McCaffrey, who may be Canton-bound) have done it since.
Led the NFL with 92 receptions in 1985. At the time, it was the most by a running back in NFL history. Since then, only eight running backs have eclipsed that number.
He was ahead of his time and changed the way teams used running backs.
1988 Offensive Player of the Year
Three-time Super Bowl Champion (and a vital part of those teams)
Played in five NFC Championship games
Arguably the best running back in football for two seasons in the 1980s.
Named to the 1980's All-Decade Team at running back, along with Walter Payton, Eric Dickerson, and John Riggins. Yet Craig is the only one of the four not in the Hall of Fame. In addition, every running back from the 1970s and 1990s All-Decade Teams are in the Hall of Fame. Craig is the only "All-Decade" running back over a 30 year period to not be elected.
Top 20 in NFL History for receiving yards and rushing yards when he retired.
Made the playoffs every season of his career.
Four-time pro bowler
First-Team All-Pro (1988)
Second Team All-Pro (1985)
Only running back in NFL history to make the pro bowl as a fullback and as a halfback.
Scored 73 regular-season touchdowns. That's more touchdowns than Hall of Famers Art Monk, Michael Irvin, Terrell Davis, and Larry Csonka.
13,100 total regular-season total yards. That's more total yards than Hall of Famers like Csonka, Earl Campbell, Jim Taylor, Monk, and Irvin. In addition, Craig has 2,000 more total yards than Davis, and twice as many total yards as Hall of Famer Lynn Swann. Craig trails Hall of Famer Steve Largent by only 253 yards. And he only trails Hall of Famers Andre Reed and Cris Carter by roughly 1,000 yards. Neither of the last three receivers mentioned has any Super Bowl rings.
8,189 yards rushing (regular season). That's more rushing yards than Hall of Famers Csonka and Gale Sayers.
4,911 yards receiving (regular season). That's more receiving yards than Hall of Fame receivers Lance Alworth, Kellen Winslow, and John Stallworth, and only 500 yards less than Swann.
First running back to have 100 yards receiving in a Super Bowl.
566 career receptions. That's more than Hall of Famers Stallworth and Swann.
Seven straight seasons of at least 1,100 yards from scrimmage.
Two seasons of 2,000 yards from scrimmage.
But don't just take our word for it. I reached out to several 49ers legends to get their take on Craig not yet being in the Hall of Fame. All made strong cases why his absence is a travesty.
Hall of Fame quarterback, Joe Montana:
One of the things about Roger was that he was one of the first all-purpose backs. He was a fullback, a halfback. He could run, he could block, he could catch the ball. He was the first 1000/1000 guy. There are people in there [Canton] that didn't have near the statistics or the records that he set. And he could have put up even more numbers if we had been a running team.
Roger was the epitome of what Bill looked for—a great runner, a great blocker, but the receiving part was what made him special. Bill's offense used passes as part of the run game. So maybe instead of running for four yards, we'd pass it for four yards. Defenses hate to give up a four yard run, so when we'd pass for four yards, they would think they stopped us, because it wasn't a big pass. But it was still four yards. And Roger was the perfect back for that offense.
Rog was also a great teammate. He never complained, even when he wasn't getting the ball. A lot of guys aren't happy if they're not getting the ball. But Roger Craig just wanted to win. And he would do whatever the team needed him to do. Everyone has seen his great runs, but watch what he did when he didn't have the ball. He'd be blocking down the field. Never a harder worker. Just a great guy.
Hall of Fame quarterback, Steve Young:
Roger was a thermostat player. His talent and spirit raised us all up when we lagged. He could make a big run and was indomitable in attitude. He was perfect for the innovative West Coast offense. He was key to success as the offense was the first one that asked the feature back to be able to catch the ball from multiple spots on the field on the run. He was a back way ahead of his time. Today, he would fit nicely into the demand on RBs in the most innovative offenses. To appreciate Roger, you have to look at the totality of his game, and you have to also see that he moved the position forward to where it is today. He was THE pioneer in transitioning the feature back to where it is today.
The NFL's all-time leading wide receiver and touchdown scorer, Hall of Famer Jerry Rice:
Roger Craig was more than a great teammate. He was a great role model for me and many players. His level of preparation and dedication to always improving made him a leader and mentor to me and others on our team. Having Roger's skills and flexibility on our team opened up the opportunity for Bill Walsh to develop a creative offense that led to winning seasons and Super Bowl victories before I even joined the team. I feel that these qualities and his game play set the standard for running backs after him.
Roger forever impacted the game of football and I witnessed it during our time playing together for the 49ers. Roger had four seasons in the top 10 in receptions, five seasons in the top 10 of touches, five seasons in the top 10 in yards from scrimmage, went to four Pro Bowls and won three Super Bowls.
Roger was such a big part of the offensive success during the 49ers Dynasty years and it doesn't seem right that one of the other keys to our success is not sitting beside me, Joe Montana and Steve Young in the Hall of Fame. Roger belongs in the Hall of Fame.
Former 49ers owner, and Hall of Famer, Edward DeBartolo, Jr.:
As the first 1,000 yards rushing/1,000 yards receiving running back, Roger set a standard for the position that many Hall of Famers followed and many others do today. He was one of the most complete backs in NFL history. Bill Walsh's West Coast offense changed football and a big part of that success was having a back like Roger in the offense. Bill's creativity worked largely because he could do more in his offense because he had Roger.
During my time as owner, the 49ers dominated for a 20-year period, making the playoffs 19 times, 10 NFC Championship games and winning 5 Super Bowls. Roger made the playoffs in ALL 11 seasons he played. Think about that, how many NFL players made the playoffs in every season they played?
Our success wouldn't have been possible without Joe Montana, Jerry Rice and Steve Young, but it's hard to believe that only three offensive players from a dynasty that lasted 20 years are in the Hall of Fame. Consider that the Pittsburgh Steelers dynasty of the 1970s, best known for its defense, has four offensive players enshrined in the HOF, and Roger has more career catches (566) than two of those HOF receivers, John Stallworth (537) and Lynn Swann (336).
Through the years, I've heard arguments for why a player is or isn't a Hall of Famer. I understand the HOF is for the very best at their position. One measure of that is the All-Decade team. Roger is the only All Decade running back from the 1970s, '80s and '90s NOT in Canton. He also is one of 4 offensive players, and the only skilled offensive player, from the '80s All Decade team not elected into the HOF. He was a HOF finalist only once, in 2010 (the same year Jerry Rice was elected) and he is the only member from that group of Finalists not in the HOF.
Besides Joe Montana, Roger was the best offensive player on one of the best offensive teams before the arrival of Jerry Rice, and we had already won 2 Super Bowls by then.
I wish Bill Walsh were alive to make his pitch for Roger. I spent a lot of time with Bill and he always called Roger a "clear-cut Hall of Famer." I know he would be as disappointed as I am that Roger is not in the Hall of Fame alongside him.
Hall of Fame defensive back, Ronnie Lott:
When I think about Roger Craig- when you're the first to do something, that in and of itself is Hall of Fame material. When you think of the game, in 80 years, people did a lot of things, but Roger did something significant, something no one else had done.
Also, quarterbacks are valued by the amount of rings they win. Roger Craig had a significant part of winning with us. When you think of that, and what he did in his time in the league, he has to be considered. In that era of the 80's and 90's, when you think of all the things he's done, with the 49ers and Raiders, the longevity of a career, especially at that position, there's something there that needs to be considered.
I just saw Cliff Branch and Drew Pearson walk into the Hall of Fame. To know what it meant to them, I would imagine Roger Craig has the same feelings inside his heart. Everything he did was worthy of the Hall of Fame.
Former 49ers President and CEO, Carmen Policy:
There is a significant accumulation of statistics and accomplishments that when you lay it out on paper, you can't help but see that Roger Craig belongs in the Hall of Fame. Then you go back and look at the style of play, and his productivity, his manner of performing, and dedication to fitness (even still today). There's no doubt he's a Hall of Famer. He was the whole package, and you can be proud of that.
Look at how he changed the game—the versatility that he introduced to the running back position. It allowed Walsh to be more creative. Think about this...why is someone deserving to be inducted? It's their contribution to the game, and is it growing? That describes Roger, and it adds to his credence.
Roger was a great guy on the field during games and practices. He was a great guy in the locker room and off the field. There is a unified view, among the alumni that played with Roger, that he should be in. It's not fair. It should be a slam dunk.
George Seifert, who won five Super Bowls as a coach with the 49ers, including two as a head coach:
Roger Craig was obviously a workout machine, and I think we all can remember him running and pumping his knees as he ran through the Los Angeles Rams. Basically, that was his running style, they (his knees) were like pistons. He was a great team member, and obviously one of the real forces in our success. The players we coached on those teams were the most motivated group of players I have ever been around. And Roger set the standard.
Former 49ers tight end, Brent Jones:
Nobody ran harder than Roger. And nobody caught the ball out of the backfield better than Roger. That combination, with his championships made him one of the most prolific backs in the 80's. You could see that this guy was special. The punishing way he ran...the 49ers don't win as many Super Bowls as they won without Roger.
He was a great player, but an even better man. Everybody loves Rog.
Former 49ers linebacker, Keena Turner:
Roger Craig was an all-purpose back who could do everything at the position. He had the size and speed with hands like a wide receiver. He played halfback and fullback and was a superb blocker. He was the first to ever go 1000 rush/1000 rec. He was a demon who taught Jerry Rice how to train. He was a leader on our teams who brought energy and attitude to our environment every single day.
Former 49ers offensive lineman, Guy McIntyre:
What can I say? Roger was a great back. He caught the ball, had great hands, ran the ball with the high knees, blocked. He had breakaway speed and power. He was a hard worker, always taking care of his body, hitting the weights, running the hills. He set the standard with the 1,000/1,000 season. In practice, he was always running it out, 30, 40, 50 yards. His performance, attitude and approach to the game was always encouraging and positive. He was an excellent teammate, and I can't understand why he's not in yet.
Matt Maiocco explained Craig's current eligibility for the Hall of Fame, "Roger Craig is no longer a modern-era candidate. He is a seniors candidate. And, currently, only one seniors candidate per year can be selected for enshrinement." When I asked Maiocco why he thought Craig had not yet been enshrined, he seemed to think perhaps Craig's numbers simply don't jump out to voters.
Maiocco added, "Of course, if you dig just a tiny bit deeper, you understand the impact he had on the game. He made the Pro Bowl as a fullback, as well as a halfback. He was truly a game-changer with his ability to catch passes out of the backfield. Bill Walsh told me that he was not able to do all the things he wanted with his offense until Roger Craig arrived. Roger changed how the game was played with his 1,000-1,000 season of 1985—and that came after his three-TD performance (1 rushing, 2 receiving) against the Dolphins in the Super Bowl. He had seven straight seasons of at least 1,100 yards from scrimmage and two seasons of 2,000 yards. He deserves to be in the Pro Football Hall of Fame. And there is no doubt in my mind that he WILL be in the Pro Football Hall of Fame. It's only a matter of when."
I asked Montana to elaborate on what Walsh told Maiocco, regarding how Craig allowed him to do more with his offense than before the 49ers drafted the Nebraska running back. Montana said, "We could not only throw him the ball out of the backfield, but we could also line him wide. And we could do it without making any substitutions. The defense wouldn't have the chance to substitute, so we'd have a mismatch."
I come back to the words of DeBartolo, "...it's hard to believe that only three offensive players from a dynasty that lasted 20 years are in the Hall of Fame. Consider that the Pittsburgh Steelers dynasty of the 1970s, best known for its defense, has four offensive players enshrined in the HOF."
Recently (written in Feb. 2022), the list of modern-era nominees for the Hall of Fame was released. When you include Dick Vermeil, who is a seniors finalist selected this year, and Torry Holt, who's been a finalist for several years and will likely get in, the (formerly) St. Louis Rams will have five inductees in the Hall of Fame (four offensive players and coach). The "Greatest Show on Turf" won only one Super Bowl. The 49ers still have only four (Walsh and three offensive players) offensive Hall of Famers from a dynasty that won five Super Bowls, and changed the way offense was run in the NFL.
It truly is stunning that Craig has not yet been inducted. As Lott mentioned, "...when you're the first to do something, that in and of itself is Hall of Fame material."
If the numbers aren't enough to convince you that Roger Craig belongs in the Pro Football Hall of Fame, think about how Craig changed the game, and even changed Walsh's offense. If that's not enough, consider the championships. If that still isn't enough, consider this: every single person that I reached out to for a statement to endorse Craig's credentials for the Hall of Fame—players, coach, front office members, and former owner—responded. Not because of my effort or ability to persuade, but because of their love for Roger Craig. And not just because he helped the 49ers win three of their five Super Bowls, but because of his love for his team—and his teammates.
It's time for his wait to be over.