Hall of Fame Seniors and coaches/contributor lists trimmed to 12 each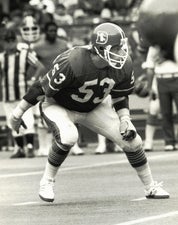 Nov 1975; Unknown location, USA: FILE PHOTO; Denver Broncos linebacker Randy Gradishar (53) in action during the 1975 season. Mandatory Credit: Malcolm Emmons-USA TODAY Sports
Must read: The Art Powell Story; Pro Football's Inconvenient Truth
CANTON, OHIO – Twelve candidates in the Seniors category and 12 other individuals in the Coach/Contributor category have moved another step closer to election as members of the Pro Football Hall of Fame's Class of 2024.
The Hall's Seniors Committee trimmed a list of 31 Semifinalists to these former players: Ken Anderson, Maxie Baughan, Roger Craig, Randy Gradishar, Joe Jacoby, Albert Lewis, Steve McMichael, Eddie Meador, Art Powell, Sterling Sharpe, Otis Taylor and Al Wistert.
Each Semifinalist played his last game in professional football no later than the 1998 season.
Separately, the Hall's Coach/Contributor Committee further reduced its list of 29 Semifinalists to: Tom Coughlin, Mike Holmgren, Frank "Bucko" Kilroy, Robert Kraft, Buddy Parker, Dan Reeves, Art Rooney Jr., Marty Schottenheimer, Mike Shanahan, Clark Shaughnessy, Lloyd Wells and John Wooten.
The respective selection committees will meet to discuss the remaining candidates at length.
Coach/Contributor Committee members will meet Aug. 15 to select one Coach or Contributor for final consideration for the Class of 2024. Holmgren, Kilroy, Kraft, Parker, Reeves, Rooney, Shanahan, Shaughnessy and Wooten also reached this stage for the Class of 2023. DON CORYELL emerged as the Finalist last year and will be enshrined next week.
The Seniors Committee will meet Aug. 22 and may select up to three Seniors for final consideration as members of the Class of 2024. Expansion of the Seniors pool for election to the Hall was approved in 2022 for the Classes of 2023, 2024 and 2025.
Anderson, Baughan, Gradishar, Meador and Sharpe reached this stage a year ago along with CHUCK HOWLEY, JOE KLECKO and KEN RILEY, who emerged as the Finalists, and each of them was elected as a member of the Class of 2023.
Here are short bios on each of the 24 Semifinalists:
SENIORS (12)
Ken Anderson: Quarterback (1971-1986)
A four-time pro-bowler who started at quarterback for the Cincinnati Bengals from 1971-1986. League MVP for the 1981 season. Finished career with 32,838 passing yards and 197 touchdowns.
Maxie Baughan: Linebacker (1960-1970, 1974)
A nine-time Pro-Bowler, Baughan played linebacker for the Philadelphia Eagles (1960-65), the Los Angeles Rams (1966-1970) and the Washington Redskins (1974).
Roger Craig: Running Back (1983-1993)
First NFL player to total 1,000 yards rushing and receiving in the same season and won three Super Bowls with the San Francisco 49ers. Spent eight seasons with the 49ers (1983-1990), one with the Los Angeles Raiders (1991) and two with the Minnesota Vikings (1992-93). Totaled 13,100 yards from scrimmage and scored 73 touchdowns.
Randy Gradishar: Linebacker (1974-1983)
Centerpiece of the "Orange Crush Defense," Gradishar played all 10 seasons as linebacker for the Denver Broncos, seven of which were Pro Bowl-caliber years. Intercepted 20 passes. Named AP Defensive Player of the Year in 1978.
Joe Jacoby: Tackle (1981-1993)
During his 13-year tenure with the Washington Redskins (1981-1993), Jacoby won three Super Bowls and was named to the Pro Bowl four consecutive years (1983-86).
Albert Lewis: Defensive Back (1983-1998)
Considered one of the top "cover corners" of his era, Lewis intercepted 42 passes in a 14-season career with the Kansas City Chiefs (1983-1993) and the Los Angeles/Oakland Raiders (1994-1998). Also blocked 11 kicks on special teams.
Steve McMichael: Defensive Tackle (1980-1994)
Single seasons in New England as a rookie and in Green Bay at the end of his career sandwiched a 13-year stint in Chicago, where he amassed 92.5 of his 95 career sacks. Two-time first-team All-Pro and member of the 1985 Super Bowl champion Bears.
Eddie Meador: Cornerback (1959-1970)
Meador played his entire career with the Los Angeles Rams, where he earned selection to two first-team All-Pro teams and six Pro Bowls. He is a member of the NFL's All-Decade Team of the 1960s. Finished his career with 46 interceptions, which remains a Rams franchise record.
Art Powell: Wide Receiver (1959-1968)
Drafted by the NFL Philadelphia Eagles but found success a year later in the AFL, where his speed gave the New York Titans (1960-62) and Oakland Raiders (1963-66) one of the league's most productive deep threats. Surpassed 1,000 receiving yards five times. Finished 10-year career with 8,046 receiving yards and 81 touchdowns.
Sterling Sharpe: Wide Receiver (1988-1994)
Sharpe made five Pro Bowls and three first-team All-Pro teams during his seven-year career with the Green Bay Packers cut short by injury. His 18 touchdown receptions in his final season is still good for third best in league history. Career totals include 8,134 yards and 65 touchdowns.
Otis Taylor: Wide Receiver (1965-1975)
Taylor won a Super Bowl IV ring with the Kansas City Chiefs, earned two Pro Bowl selections, two first-team All-Pro selections, an AFL All-Star selection and won two AFL Championships during his 10-year career. He led the AFL in touchdown receptions in 1967 and the NFL in receiving yards in 1971.
Al Wistert: Tackle/Defensive Tackle (1943-1951)
Member of the All-Decade Team of the 1940s, "Big Ox" helped the Philadelphia Eagles to two NFL Championships (1948-49) and was selected to the first-team All-Pro unit four consecutive seasons (1944-47).
COACH/CONTRIBUTOR (12)
Tom Coughlin: Two-time Super Bowl-winning coach (XLII, XLVI) with the New York Giants. Also first head coach of the expansion Jacksonville Jaguars, taking team to two AFC Championship Games. Overall NFL record of 182-157 in 20 seasons.
Mike Holmgren: Head coach of the Green Bay Packers from 1992-98 and the Seattle Seahawks from 1999-2008. Overall record of 174-122 includes victory in Super Bowl XXXI with the Packers and an NFC crown in Seattle.
Frank "Bucko" Kilroy: Worked in player personnel and scouting for the Philadelphia Eagles, Washington Redskins and Dallas Cowboys. He was the Patriots' general manager from 1979 to 1982 and vice president from 1983 to 1993.
Robert Kraft: Owner, chairman and CEO of the New England Patriots since 1994. His teams have won six Super Bowls.
Buddy Parker: Head coach of the Chicago Cardinals (1949), Detroit Lions (1951-56) and the Pittsburgh Steelers (1957-1964). Overall NFL record of 107-76-9 and winner of back-to-back NFL titles with the Lions in 1952 and 1953.
Dan Reeves: Head coach of the Denver Broncos (1981-1992), New York Giants (1993-96) and the Atlanta Falcons (1997-2003). Overall coaching record of 201-174-2 and four conference championships in 23 seasons, two-time AP Coach of the Year.
Art Rooney Jr.: Employed with the Steelers since 1961, from 1964 through 1986, worked in the Steelers' Scouting Department. Currently a Steelers vice president and member of the Board of Directors.
Marty Schottenheimer: Head coach of the Cleveland Browns (1984-88), Kansas City Chiefs (1989-1998), Washington Redskins (2001) and the San Diego Chargers (2002-06). Overall NFL coaching record of 205-139-1 in 21 seasons.
Mike Shanahan: Head coach of the Los Angeles Raiders (1988-89), Denver Broncos (1995- 2008) and the Washington Redskins (2010-13). Two Super Bowl titles in his 20 seasons with an overall record of 178-144.
Clark Shaughnessy: Head coach of the Los Angeles Rams from 1948-49 and longtime assistant coach for the Washington Redskins from 1944-47 and Chicago Bears from 1951-1962.
Lloyd Wells: Scout for the Kansas City Chiefs from 1963-1974. First full-time African American scout in the NFL.
John Wooten: Director of Pro Scouting for the Dallas Cowboys from 1975 to 1991. Created Player Development programs for the NFL in 1991. Vice President/Player Personnel for the Philadelphia Eagles in 1992 and assistant director of pro/college scouting for the Baltimore Ravens until his retirement in 2002. In 2003, Wooten became chairman of the Fritz Pollard Alliance, a position he held until 2019.