Bosa Breaks 49ers Bank: Five Years, $170 million; $122.5 Guaranteed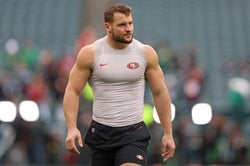 Jan 29, 2023; Philadelphia, Pennsylvania, USA; San Francisco 49ers defensive end Nick Bosa (97) during warmups against the Philadelphia Eagles in the NFC Championship game at Lincoln Financial Field. Mandatory Credit: Bill Streicher-USA TODAY Sports
The 49ers and Nick Bosa agreed Wednesday on a five-year, $170 million contract extension with $122.5 million guaranteed, a source with knowledge of the transaction confirmed to The Sports Xchange.
Either Adam Schefter or The Athletic first broke the story — probably the former as Scheffie has a network of plugged in sources who have him on speed dial.
Bosa, the 25-year-old All-Pro edge rusher and 2022 Defensive Player of the Year, is now the highest-paid defensive player in NFL history. He sat out all of the team's practices through Tuesday but worked out on his own.
Coach Kyle Shanahan confirmed Bosa's contract agreement to reporters shortly after news of the deal broke Wednesday.
In the Nick of time
"I actually was preparing to talk to you guys about how I have nothing to tell you guys, and I was three minutes late because I just got told on the news," Shanahan said. "So, obviously pumped up about it and try to hit him up after this and figure it out.
"Not good thoughts. But you know, when you feel it's kind of, you don't, you try not to think about it much because it's not really in my control and you just gotta let the process play itself out once. It kind of went through the weekend. I just kind of got in my mind that we weren't playing with [him]. So because if I would have gone back and forth, I would have been miserable. So I just decided we weren't. I think our team was ready to not. And we are, that was our mindset this way. And, it was a hell of a bonus to just get told that coming in here. So we're obviously we're excited about it."
Bosa is expected to play in the 49ers' opener Sunday at Pittsburgh. Shanahan addressed those expectations.
"We got to see when he gets here," Shanahan said. "I know Nick will come in shape. I know he'll be good. Be great if he could get in something today. I don't know when he's going to get here or where he's flying from, but I know we'll be smart with it and that will be based over these next two and a half practices."
Bosa was going to enter the final year of his contract after the 49ers picked up the fifth-year option this season at $17.859 million. Bosa was subject to $40,000 in fines per day during his holdout, but the 49ers agreed to waive the fines.
Before Bosa's signing, the highest-paid edge rushers in the league were T.J. Watt ($28 million) and Joey Bosa ($27 million), Nick's older brother. Los Angeles Rams defensive tackle Aaron Donald, a three-time NFL Defensive Player of the Year, earns $31.66 million per season.
Bosa led the NFL with 18.5 sacks last season.