Lions Shock Chiefs in NFL Opener, 21-20; Mahomes "Embarrassed"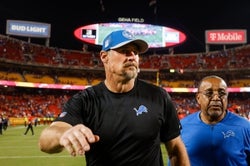 Detroit Lions head coach Dan Campbell walks off the field after 21-20 win over Kansas City Chiefs at Arrowhead Stadium in Kansas City, Mo. on Thursday, Sept. 7, 2023.
The Detroit Lions refused to let Kansas City Chiefs quarterback Patrick Mahomes pull the rabbit out of the hat in the NFL's Thursday Night season opener and came away with a 21-20 upset victory.
This was more a game of muscle than magic as the Lions defused Mahomes when it mattered most while the Chiefs were 0-for-7 on third downs and literally dropped the ball in their first a season-opening loss since 2014.
For those discounting the result — for any reason — consider the Lions have won nine of their last 11 games.
It was a huge win for Detroit's third-year head coach Dan Campbell, often the most unabashed quote machine in the league. So, coach, what did you learn from this big victory?
"I didn't learn anything," he said in response to the post-game query. "I got verification of what I already knew...This is a resilient team. It already was a resilient team, and we added pieces to that resilient team. We're built to handle some stuff, and we did that today against a very good opponent."
Not as good as some of the quotes he gave after losses. If Thursday's game was any indication, he may need to punch up his post-victory quotes.
Meantime, Mahomes was predictably upset, no pun intended.
"It's embarrassing for me to lose any time," Mahomes said. "Like I said after the ring ceremony, I've moved on to the next season. Obviously, it's cool for the fans to be able to see the banner and drop in at Arrowhead Stadium. But this is a whole new year, and I think I know that and we are trying to win another Super Bowl and this is obviously not the way we wanted to start. So any time I lose, I'm embarrassed. So I'm going to try to get better so I don't lose more as the season goes on."
Detroit quarterback Jared Goff was 22-for-35 for 253 yards and one touchdown. Running back David Montgomery rushed for 74 yards and a touchdown.
The Lions opened the scoring after converting on a fake punt from their own 17-yard line with 9:27 left in the first quarter. Ten plays later, Goff found receiver Amon-Ra St. Brown for a 9-yard score.
Detroit rookie safety Brian Branch had a pick-six against Mahomes on a tipped pass that should have been caught, with 10:54 left in the third. The Lions later scored on an 8-yard rush by Montgomery with 7:03 left in the game to go up 21-20.
Mahomes — who was 21-for-39 for 226 yards, two touchdowns and one interception — suffered his first loss in six career opening-week games. The Chiefs were without star tight end Travis Kelce (knee inflammation) and defensive tackle Chris Jones (contract holdout).
Oops — eight drops and a pick-six
The absence of Kelce, Mahomes' go-to receiver, was hard to dismiss as the Chiefs finished with eight drops — four by receiver Kadarius Toney, two by receiver Skyy Moore, one by running back Jerick McKinnon and one by rookie receiver Rashee Rice.
The most conspicuous turning point occurred when Mahomes, midway in the third quarter, threw a perfect pass to Toney, who was running a crossing route. Instead of catching the ball, Toney deflected it to Branch, who returned it 50 yards for a touchdown.
The Lions not only overcame the usual hostile environment at Arrowhead Stadium but also an illegal advantage that officials allowed Chiefs right tackle Jawaan Taylor to repeat on almost every play. Taylor was tasked with blocking Detroit's great second-year defensive end Aidan Hutchinson most of the game.
Taylor lined up so far off the line that the Chiefs should have been flagged for too many men in the backfield. This gives him a geometrical advantage to take on pass rushers.
And that wasn't all.
When Taylor was in a two-point stance, common for passing plays, he kept moving his arms and legs and should have been flagged for a false start numerous times. He was penalized for a false start once when he obviously backpedaled before the snap.
Hype yipes
In his pre-game zeal to hype the matchup and make a statement, NBC's Cris Collinsworth tried to be profound, saying "No Travis Kelce. No Chris Jones. Their second and third-best players on this great team. But they have Patrick Mahomes. And I think America is about to find out how good he really is."
Hello, Cris, meet Mr. Mahomes, two-time NFL MVP and two-time Super Bowl MVP. Most of us already know how "good he really is."
Usually, anyway. On this Thursday night the feisty Detroit Lions did not let him perform magic.