Raiders Sent Vegas Crisis Team to Home of AWOL DE Jones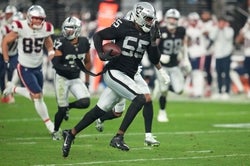 Dec 18, 2022; Paradise, Nevada, USA; Las Vegas Raiders defensive end Chandler Jones (55) returns a lateral for a touchdown on the game's final play to give the Raiders a stunning 30-24 victory over New England at Allegiant Stadium, Las Vegas, NV. Mandatory Credit: Stephen R. Sylvanie-USA TODAY Sports
Troubled veteran defensive end Chandler Jones was not with the Las Vegas Raiders Wednesday when they began preparations for the season opener at Denver. This was one day after he posted a series of disparaging remarks about the Raiders on social media. As of Thursday morning there was no further news.
Coach Josh McDaniels described the situation as a "personal matter," and declined to get into any specifics of what happened Tuesday when the angry posts from Jones showed up on his Instagram account. It seems the outburst by Jones was instigated when the Raiders locked him out of the facility, and he could not get coach Josh McDaniels or General Manager Dave Ziegler on the phone.
In posts to his Instagram account that have since been deleted, Jones showed the badge of a member of Las Vegas' Crisis Response Team that he said the Raiders sent to his home. He said Dr. Heather Thanepohn, who is the clinical program manager of the CRT, told him he needed to come with them because he was "in danger."
Jones also shared screenshots he said are texts from August with McDaniels that suggest the issues between Jones and the team have been going on for some time. Jones said he won't post anything else if the Raiders let him play in Sunday's game against the Broncos and asked why no one has asked the team why they have sent him away from the team.
The Raiders still list Jones as a starter on their depth chart, but it's clear that there's a lot unknown about what's going on between him and the team. There may also be reason for concern about Jones' well-being, and making sure he's healthy is the most significant issue for all involved to deal with at the moment.
When asked if Jones would be on the field against the Broncos on Sunday, McDaniels said, "Right now, we're going day to day. He's not going to be here today, so we're going to take it one day at a time."
Among the series of posts, Jones wrote: "It's a shame that I am a top athlete with 112 sacks in the NFL and I have to go to a local gym to work out during the season for no apparent reason this is wild to me Josh and you know it you need to do what's right."
He also posted that he doesn't want to play for the Raiders if McDaniels and Ziegler are running the team and would prefer defensive coordinator Patrick Graham as the head coach.
Neither the Raiders nor Jones' agent responded to multiple requests from multiple media for comment. After the posts were deleted, neither Jones nor anyone close to him indicated his Instagram account had been hacked or that he was simply joking around.
The absence of a response from both sides creates concerns over the status of the relationship between Jones and the Raiders. And with the season opener Sunday at Denver, his status for the game is uncertain.
Jones signed a three-year, $51 million contract with the Raiders in March 2022. Among his salary and various roster and restructuring bonuses, his cash payout this season is $17 million.
Jones was a disappointment early in his first season with the Raiders, with only 4.5 sacks. Unless he improves this season, Jones is probably in his final year with the Raiders, as his guarantees will be paid in full after the season.
In the depth chart released by the Raiders Tuesday, Jones was listed as a starting defensive end.