MNF Drama: With Rodgers out, Jets Beat Bills with OT Punt Return, 22-16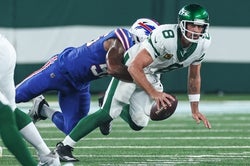 Sep 11, 2023; East Rutherford, New Jersey, USA; New York Jets quarterback Aaron Rodgers (8) is injured while being sacked by Buffalo Bills defensive end Leonard Floyd (56) during the first half at MetLife Stadium. Mandatory Credit: Vincent Carchietta-USA TODAY Sports
Talk about Monday Night Football drama. If somebody scripted this, it would have been rejected as, well, just too implausible.
High-profile offseason acquisition and four-time MVP Aaron Rodgers was knocked out of the game — and the season — on the team's first offensive series. But the New York Jets battled from a 10-point deficit to steal an overtime win against the Buffalo Bills.
That's when undrafted rookie Xavier Gipson decided the game on a 65-yard punt return touchdown. Jets 22, Bills 16.
With a New York crowd hyped on the 22nd Anniversary of the 911 tragedy, and screaming at the introduction of Rodgers in a Jets uniform as he ran on the field carrying the American flag, the pre-game emotions could not have been higher.
When Rodgers was injured and carted away from the field after only his fourth play, the crowd was hushed. It was later reported to be a torn left Achilles, ending the season for the 39-year-old quarterback, and possibly his glorious career.
"Concerned with his Achilles," said Jets coach Robert Saleh. "It's not good."
Former Jets starter Zach Wilson, who was displaced by Rodgers, stepped in at quarterback for New York. But the key was their defense as safety Jordan Whitehead intercepted Bills quarterback Josh Allen three times, and massive defensive tackle Quinnen Williams recovered an Allen fumble.
"I cost our team tonight," Allen said.
But Allen managed a last-minute drive in regulation that ended with Buffalo placekicker Tyler Bass doinking through a 50-yard kick off the left upright to tie the game with two seconds left.
In overtime, the Bills received the ball first but went three and out, and punted the ball to Gipson, who broke a tackle and then weaved past the entire Bills unit for the game-winning score.
Wilson finished the game 14-of-21 for 140 yards with one touchdown and one interception. Second-year running back Breece Hall, back from ACL surgery in Week 7 last year, ran for 127 yards for the Jets in the victory.
But it was a pair of fourth-quarter turnovers by Allen, an interception and a fumble, that led to 10 quick points for New York, featuring a tremendous three-yard touchdown catch by Jets receiver Garrett Wilson, who literally tapped the ball to himself with one hand against tight coverage.
Rodgers left the game after he was sacked by Bills edge rusher Leonard Floyd. The Jets initially declared Rodgers questionable but after the game, a glum coach Saleh issued the reality check about a torn Achilles.
As if Rodgers' injury and the overtime comeback weren't enough drama, the NFL Network broadcast team signed off asking aloud if the Jets might seek another veteran quarterback. They showed a list of prospects: Joe Flacco, Nick Foles, Colt McCoy, Matt Ryan and Carson Wentz.
But they dwelled on the name Tom Brady as a possibility. Why not? The whole script is already unbelievable, right?
Hello, Tom?. . .