NFL Week 2: Chiefs, Bills, Bengals Seahawks seek first win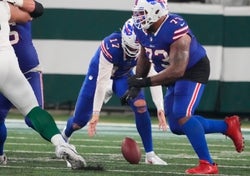 Sep 11, 2023; East Rutherford, New Jersey, USA; Buffalo Bills quarterback Josh Allen (17) fumbles the ball and the Jets recovered in the second half at MetLife Stadium. Mandatory Credit: Robert Deutsch-USA TODAY Sports
After only one week, the high expectations for several National Football League teams are already a bit sideways.
Heading into Week 2. The Kansas City Chiefs, Buffalo Bills, Cincinnati Bengals and Seattle Seahawks are trying to avoid 0-2 records while the New York Jets and Dallas Cowboys are featured in a battle of 1-0 teams.
Here is a quick look at the games, including time of kickoff (in Eastern Time) and broadcasting network/stream.
NFL Week 2: Facts, Stats and Notes:
Thursday
Vikings (0-1) at Eagles (1-0), 8:15 p.m., Prime
Sunday
Raiders (1-0) at Bills (0-1), 1 p.m., CBS:
Bills quarterback Josh Allen leads the NFL with 84 giveaways since he was drafted in 2018 and he matched his career high (against the Jets in the 2019 season opener) with four turnovers (on three interceptions, fumble) in Monday's overtime loss. He also has the most OT losses (five, including the postseason) without a win or tie, according to ESPN Stats & Information.
Packers (1-0) at Falcons (1-0), 1 p.m., Fox:
The Falcons have won the teams' last three games played in Atlanta (including the postseason), and the last four overall have been decided by double digits (including the playoffs).
Ravens (1-0) at Bengals (0-1), 1 p.m., CBS:
A 2-0 start for Baltimore would be its first since 2020, but Joe Burrow is 3-0 with 949 yards passing and seven touchdowns (six through the air) in three career home starts (including the playoffs) against the Ravens.
Seahawks (0-1) at Lions (1-0), 1 p.m., Fox:
These teams met in Week 4 last year and combined for a whopping 93 points and 1,075 yards of offense, the most in a single game last season. Seattle won that wild one, 48-45, in Detroit.
Colts (0-1) at Texans (0-1), 1 p.m., Fox:
Anthony Richardson, Indy's seventh opening-day starter at QB over the last seven years, became the youngest player (at 21 years, 111 days) in the Super Bowl era to pass for a touchdown and run for one in the same game. Only Bill Dudley and George Ratterman, who both played in the 1940s, were younger.
Chiefs (0-1) at Jaguars (1-0), 1 p.m., CBS:
Patrick Mahomes hasn't attempted a quarterback sneak — the play with the highest success rate (78.7 percent since 2016) of any — and KC was the only NFL team that eschewed it on either third-and-1 or fourth-and-1 last year. Of course, the last time he was seen to sneak the ball, on Oct. 17, 2019, Mahomes dislocated his kneecap.
Bears (0-1) at Buccaneers (1-0), 1 p.m., Fox: In his only career start against Chicago, Baker Mayfield, then with Cleveland, passed for 246 yards and a touchdown in a 2021 victory. In his first start with Tampa Bay last week, he completed 61.8 percent of his passes (21 of 34) for 173 yards and two touchdowns.
Chargers (0-1) at Titans (0-1), 1 p.m., CBS: Under Coach Mike Vrabel, Tennessee is 1-2 against L.A., with the sole win (23-20) coming at home in Nissan Stadium in 2019.
Giants (0-1) at Cardinals (0-1), 4:05 p.m., Fox: At least the Giants escaped becoming a historical footnote in their prime-time 40-0 shellacking by Dallas. The team's all-time record for the worst shutout loss (45-0 to the Eagles in 1948) did not fall and neither, mercifully, did the all-time worst shutout loss in regular season history, the Cincinnati Reds' 64-0 loss to the Philadelphia Eagles in 1934.
49ers (1-0) at Rams (1-0), 4:05 p.m., Fox:
San Francisco's Brock Purdy, not so much Mr. Irrelevant any more, became the first quarterback in NFL history to win his first six regular season starts and pass for at least two touchdowns in each game. He's also the first quarterback with a 95 or better passer rating in each of his first six regular season starts.
Jets (1-0) at Cowboys (1-0), 4:25 p.m., CBS:
The Cowboys generated pressure on 62.7 percent of the Giants' dropbacks (23 of 37), the fourth-highest rate in a game since 2019. Eight defensive players generated multiple pressures, including four with at least five pressures, and that bodes ill for Zach Wilson, who's 8-14 as a starter.
Commanders (1-0) at Broncos (0-1), 4:25 p.m., CBS:
Russell Wilson went 6 of 7 for 68 yards and two touchdowns on passes of 10-19 air yards last week. On such passes last season, he threw for four touchdowns, with six interceptions.
Dolphins (1-0) at Patriots (0-1), 8:20 p.m., NBC:
Since entering the league in 2016, Miami's Tyreek Hill leads the NFL in deep routes (788), and in receptions (85) and touchdowns (34) on those routes. No wonder he said, "I feel like no one can guard me." Against the Chargers, he caught 11 passes for 215 yards (the third-most in a season opener in NFL history) and two touchdowns.
Monday
Saints (1-0) at Panthers (0-1), 7:15 p.m., ESPN, ESPN Deportes:
Carolina hasn't appeared on "Monday Night Football" since Dec. 17, 2018, when New Orleans's defense shut down Cam Newton, sacking him four times and forcing two turnovers, in the Saints' 12-9 victory.
Browns (1-0) at Steelers (0-1), 8:15 p.m., ABC, ESPN+: The Browns' defense held Cincinnati to 142 total yards and 2.8 yards per play in rainy Cleveland and there's a case to be made that the most impressive offseason acquisition by any team may well have been defensive coordinator Jim Schwartz.