NFL Week 2 Recap: Cowboys Crush New York Again, Lions Take Step back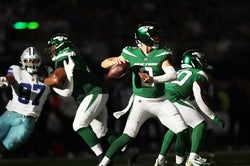 Sep 17, 2023; Arlington, Texas, USA; New York Jets quarterback Zach Wilson (2) throws a pass in the fourth quarter against the Dallas Cowboys at AT&T Stadium. Mandatory Credit: Tim Heitman-USA TODAY Sports
NFL fans were asking a lot of questions heading into Week 2 of the new season: Would the Zach Wilson-led Jets build off their inspiring Monday night win over Buffalo? Would the Vikes and Giants, playoff teams a year ago, be exposed as frauds? Could the Chiefs and Bengals actually start off 0-2? Detroit for real?
It's only one week and it's still too early to get a read on how things will play out in 2023, but Week 2 results did provide fodder for discussion.
WEEK 2 RECAP
Pittsburgh 26, Cleveland 22 (MNF): Pittsburgh (1-1) overcame another brutal start offensively to hand the Browns (1-1) their first loss of the season. T.J. Watt's scoop and score off a DeShaun Watson fumble with five minutes left gave the Steelers their final lead. Overshadowing the back-and-forth between two longtime AFC North rivals was the gruesome knee injury suffered in the first half by Browns Pro Bowl RB Nick Chubb. In his stead, Jerome Ford, rushed for 106 yards, including a terrific reversing-the-field 64.5-yard run down to the Pittsburgh goal line, which set up a go-ahead TD. As it did in Week 1, the Steelers' offense was woeful in the first half (and for most the game, frankly), thought the budding Pickett-to-Pickens connection did produce a quick-strike 71-yard TD pass.
New Orleans 20, Carolina 17 (MNF): A pretty bland NFC South matchup on paper turned out to be a pretty bland actual game. New Orleans is off somehow off to a 2-0 start thanks to one the NFL's best defenses, but it'll likely need Derek Carr (21-of-36, 228 yards) and the offense to get in gear if they are to beat the Packers on the road in Week 3. Panthers' rookie QB Bryce Young (22-of-33, 153 yards, one TD) was so-so, though he did direct a last-minute drive to cut the deficit to three points.
Philadelphia 34, Minnesota 27 (Thursday): The defending NFC champs haven't been a well-oiled machine but they're still 2-0. The 0-2 Vikings, on the other hand, may be suffering a hangover from being ousted in the first round of last year's postseason. They'll host San Diego in Week 3. The Eagles travel to Tampa Bay.
Kansas City 17, Jacksonville 9: A mistake-filled day threatened KC with an 0-2 start, but the Chiefs defense — reinforced by the return of DE Chris Jones, who had a key sack — was stout and kept Jacksonville out of the endzone. The return of Travis Kelce (four catches) wasn't enough to offset three early turnovers and numerous penalities by the KC offense. (The Chiefs had 12 infractions total on the day.) Jacksonville, a big story with their playoff presence in 2022, is off to a disappointing 0-2 beginning.
Dallas 30, New York Jets 10: Jets fans hoping that Zach Wilson would miraculously channel the departed Aaron Rodgers were surely disappointed, as New York (1-1) couldn't follow up its big Monday night win. Wilson and the Jets offense were dismal, as the former No. 2 overall pick threw three INTs, was sacked three times, and posted a 38.1 quarterback rating. Dallas (2-0), meanwhile, finished off its weekly destruction of Big Apple teams with QB Dak Prescott going an efficient 31-of-38, throwing two TD passes and completing 11 passes for 143 yards to CeeDee Lamb.
Seattle 37, Detroit 31: Darlings after beating the defending champs in Week 1, Detroit dropped its home opener in overtime to the Seahawks. The 1-1 Lions rallied from a 10-point fourth-quarter deficit to force OT, but Seattle quarterback Geno Smith, who went 32-of-41 for 328 yards, threw the second of his two TD throws to receiver Tyler Lockett on the first drive of overtime to get the win. A nice bounce-back for the 1-1 Seahawks who were strangled by the Rams at home in their season opener.
New York Giants 31, Arizona 28: In one of the more remarkable about-faces you'll ever see, the Giants (1-1) — who hadn't scored a point in the first six quarters of the young season — ripped off 31 second-half points to storm back for the victory. QB Daniel Jones led the 21-point comeback with two TD throws and helped set up Graham Gano's 34-yard game-winner with 19 seconds. For the second week in a row, the Cardinals blew a game in which they appeared to have control. The Giants travel to San Francisco for a Week 3 (Thursday) matchup, while Arizona stares down the barrel of an 0-3 start with Dallas coming to town.
Baltimore 27, Cincinnati 24: Arguably the biggest disappointment of the young season, the Bengals fall to 0-2, both losses to division rivals. Even worse news for Cincy: franchise QB Joe Burrow may have aggravated a calf injury that he battled through most of training camp. Baltimore QB Lamar Jackson racked up 291 total yards passing and rushing and threw for two scores. The Bengals look to get their first win of the year when they host the Rams next Monday night.
San Francisco 30, Los Angeles Rams 23: Other than a couple of missed throws on deep passes, QB Brock Purdy keeps looking sharp in conducting the Niners offense. RB Christian McCaffrey, 116 yards on 20 carries, continues to make his case as an MVP candidate. San Francisco now has a quick turnaround to get ready for Thursday's tilt against the visiting Giants, and the concern with the short week will be the availability of receiver Brandon Aiyuk (shoulder). Aside from 49ers resuming their regular-season mastery over their chief division rivals (nine straight wins), the story of the day was Rams rookie receiver Puka Nacua, who torched the SF secondary for 15 catches and 147 yards. Nacua's 25 catches is the most ever by a rookie after his first two NFL games. Cooper who?
Miami 24, New England 17: The loss has the Pats off to their first 0-2 start since 2001. RB Raheem Mostert's 121 yards rushing led the way for the Dolphins while the Miami defense limited Patriots QB Mac Jones to 231 passing yards on 42 throws (5.5 yards per pass attempt).
Atlanta 25, Green Bay 24: The 2-0 Falcons scored 10 unanswered points in the fourth quarter to stun the Packers. Atlanta's electric rookie running back Bijan Robinson kept his team close with 124 yards rushing and 172 total yards. Green Bay (1-1) struggled to run the football (84 yards) and QB Jordan Love, in his second start in the post-Aaron Rodgers era, threw for only 151 yards. Love did, however, pass for three TDs and did not throw an interception.
Buffalo 38, Las Vegas 10: The Bills (1-1) rebounded from their Monday meltdown to the Jets by overcoming a slow start to throttle the Raiders (1-1). Vegas and QB Jimmy Garoppolo got off fast, taking the opening drive 75 yards on just five plays for a touchdown. From that point forward Jimmy G showcased the traits that frustrated 49ers fans during his tenure in San Francisco, including a couple of costly picks that helped turn the game Buffalo's way. Bills QB Josh Allen recovered nicely from his scattered performance last Monday, going 31-of-37 and throwing for three touchdowns. Most importantly, he did not throw an interception. Buffalo next travels to Washington to take on the undefeated Commanders.
Washington 35, Denver 33: In perhaps Week 3's most entertaining matchup, Washington survived a Hail Mary touchdown on the game's final play by denying the Broncos offense the ensuing two-point conversion. The win now has the 2-0 Commanders sitting atop the NFC East along with Dallas and Philly. Not to be lost amid the last-second drama was the very solid game played by Commanders QB Sam Howell, who passed for 299 yards and two scores and did not turn the ball over. Meanwhile, things haven't changed much for Denver (0-2) in the Sean Payton era: QB Russell Wilson continues to get pummeled, though the vet did throw for 308 yards (113 to receiver Marvin Mims) and three scores, including the answered prayer at the game's end.
Tennessee 27, San Diego 24: Talk about same ole thing, different year. The Chargers (0-2) got a big afternoon from Keenan Allen (111 yards receiving) but still managed to lose in OT to Tennessee. With Nick Folk's 41-yard field goal sealing the victory, the Titans ended an eight-game losing streak going back to November of last season. Heralded San Diego QB Justin Herbert had a solid game, but he was outplayed by his Tennesee counterpart, Ryan Tannehill (20-of-24, 246 yards and one TD), who was very efficient in directing Tennessee's offense. Tennessee RB Derrick Henry chipped in with 80 yards on the ground.
Tampa Bay 27, Chicago 17: The Bucs are off to a surprising 2-0 start, and fans of the winless Bears may be soon calling or Justin Fields' backup. The third-year QB struggled against Tampa's defense, completing 55 percent of his passes and throwing two picks, posting a 61.1 rating. Not like the Bears running game gave him any help though, as Chicago mustered only 67 yards on the ground. For the Bucs, QB Baker Mayfield's resurgence may turn out to be a short-lived but Tampa fans are thrilled with what he has done in his first two games. Versus the Bears, the former No. 1 overall selection passed for 317 yards and a score. Mayfield did not throw an INT in either of his first two games for his new team.
Indianapolis 31, Houston 20: Saving the last for last. Other than a matchup of rook QBs taken high in last May's draft, this game had straight to video written all over it. The Colts (1-1) got a strong effort from RB Zach Moss, filling in star back Jonathan Taylor, who rushed for 88 yards and a score. The Indy QB tandem of Gardner Minshew and rookie Anthony Richardson didn't wow anyone, but they did post a collective 104 QB rating, with Minshew throwing a TD pass. The Texans (0-2) and rookie head coach DeMeco Ryans appear headed for a long season, but a bright spot in Sunday's loss was the productive play of rookie QB C.J. Stroud who passed for 378 yards and two scores. Stroud didn't throw an interception.