Gasp! Oxygen? Burrow's Contract Raises QB Pay into Rarified Air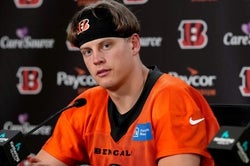 Cincinnati Bengals quarterback Joe Burrow speaks Wednesday, September 6, 2023 at Paycor Stadium during the Week 1 press conference ahead of Sunday's game against the Cleveland Browns.
Going Up!
Cincinnati Bengals quarterback Joe Burrow became the newest highest-paid player in the NFL on Thursday, agreeing to a five-year, $275 million contract extension.
The deal was announced just before the Thursday night NFL opener, in which the Detroit Lions upset the Kansas City Chiefs (21-20) and their starting quarterback, Patrick Mohomes, who was the highest-paid signal-caller until a recent spate of signings. Now Mahomes is only No. 9 in average annual salary (though that does not diminish what the Lions did to beat him and the Chiefs).
The trend in quarterback pay is astounding. It rivals the crushing g-force ascent of Richard Branson's Virgin Galactic into space. The recent, big QB pay launch began earlier this year with Philadelphia's Jalen Hurts, who was really the MVP of the last Super Bowl, but his team didn't win.
After agreeing to a five-year, $255 million contract extension with the Eagles, with $179 million in guarantees, Hurts became the new king of quarterback contracts.
That moment at the top was short-lived after Baltimore's Lamar Jackson signed a five-year, $260 million deal.
Jackson's moment was short-lived after San Diego's Justin Herbert signed a five-year, $262.5 million deal.
Herbert's moment is short-lived after the Bengals' Joe Burrow agreed to a five-year, $275 million deal.
So here are the current standings*:
1. Joe Burrow: $55M
2. Justin Herbert: $52.5M
3. Lamar Jackson: $52M
4. Jalen Hurts: $51M
5. Aaron Rodgers: $49M
6. Russell Wilson: $48.5M
7. Kyler Murray: $46.1M
8. Deshaun Watson: $46M
9. Patrick Mahomes: $45M
10: Josh Allen: $43M
Burrow earned his big pay day from the historically tight Bengals by reversing the fortunes of the franchise. Since coming into the league in 2020, Burrow has earned a reputation as a decisive and creative leader, with a knack for figuring out how to pick up yards when plays break down.
Signing the 2022 Pro Bowler and 2021 AP NFL Comeback Player of the Year to an extension was a goal of the team this summer, but the deal wasn't finalized until three days before the Bengals' season opener at Cleveland.
"This is where I want to be my whole career," Burrow told reporters on Wednesday. "You've seen what the front office has done and what (coach) Zac (Taylor) has done in their time here. I'm a small part of that. I'm excited to be a part of that. And we have great people in the locker room that grind every day, that are excited to go and showcase their talents and excited to go and do it in the city of Cincinnati."
Burrow led the Bengals to two straight AFC North titles and a Super Bowl after the 2021 season, a 23-20 loss to the Rams. Cincinnati finished 12-4 last year, with Burrow setting franchise single-season records for completions, pass attempts and passing touchdowns.
After season-ending knee surgery in 2020, his rookie year, he immediately became one of the NFL's best passers upon his return. The notoriously frugal Bengals had not reached a Super Bowl since 1988 or even recorded a playoff win since 1990.
It was back in 2020 that Patrick Mahomes, and his agent to the stars, Leigh Steinberg, shocked the world when he signed a 10-year, $450 million contract, including a $10 million signing bonus, nearly $141.5 million guaranteed, and an average annual salary of $45 million.
Seemed like a lot of money at the time.
Hello, Leigh, are you going to put up with this? No. 9? Really?
*—Contract data from Spotrac