Russell Wilson: Preview, Review of the Player, the Man, the Trade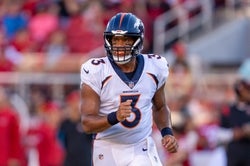 August 19, 2023; Santa Clara, California, USA; Denver Broncos quarterback Russell Wilson (3) during 2023 exhibition game against the San Francisco 49ers at Levis Stadium. Mandatory Credit: Kyle Terada-USA TODAY Sports
After a horrid first year in Denver following his shocking trade from the Seattle Seahawks, quarterback Russell Wilson must regain some composure, some equilibrium — hell, some pride— if he expects to be considered a future candidate for the Pro Football Hall of Fame.
The Broncos' once-potent offense descended to new depths last season under rookie head coach Nathaniel Hackett, who was fired after 15 games with the Broncos averaging a league-low 15.8 points per game, and Wilson mired in his worst season as a pro.
Interestingly, Hackett resurfaced with the New York Jets as an offensive coordinator/sidekick to quarterback Aaron Rodgers, with whom he had history at Green Bay as an offensive coordinator.
Meantime, back up that Mile-High mountain, general manager George Paton insisted the coaching change wasn't driven by the need "to turn around Russ," who finished with a career-low 16 touchdown passes and a career-high 55 sacks.
"It's not just one player. It's not whether Russ is fixable or not, but we do believe he is."
New Denver coach Sean Payton is just the man to oversee Wilson's rebound, said NBC "Sunday Night Football" analyst Cris Collinsworth, who gets it right occasionally.
"Sean Payton's one of the greatest coaches of all time," Collinsworth said. "Of. All. Time. Do I think he's going to fix Russell Wilson? I don't think you fix Russell Wilson, I think you find Russell Wilson. You figure out what he wants to do and what he does best, and you make it work."
Payton appreciated Collinsworth's assessment when asked about it Wednesday.
"I think that's a pretty good observation," Payton said. "We've talked about it ad nauseum, you know, the things he does well, putting him in those positions, putting our offense in those positions. And I agree with what he said. That makes a lot of sense to me.
"And our job is to find him."
And one of the things Payton found, according to ever-knowledgeable Pat Kirwan of SiriusXM's must-hear "Moving the Chains" podcast, was that, in reviewing every touchdown Wilson threw for the Seahawks, "about 70 percent of them were out of the pocket, on the fly."
Apparently, among the things wrong with Wilson last year — along with a cushy private office, keys to the executive bathroom and that extra 20 pounds or so — was a constant attempt to keep the 5-11 quarterback in the pocket.
It will be interesting to see if Payton's idea of letting Russell "cook," as they say, might include a series of plays worthy of the title The Galloping Gourmet (R.I.P. Graham Kerr).
As for the off-the-field irritants, Payton made it clear: No more bombarding social media with updates about his workouts and his globetrotting ways. Nyet to the the many merchandise pitches and cheesy catchphrases. And take care of that body.
Wilson changed his diet, dropping 15 pounds. And he found many of the perks gone, like his own upstairs office near the coaches, his premium parking spots and his personal QB coach on site. Pfft.
Seems that it may be working.
Wilson appeared better week by week at training camp. For one thing, he took part in the preseason, playing in two games and showing improved mobility and decision-making running Payton's offensive schemes.
"Sean's been able to cobble together offenses for the variety of quarterbacks and players," Collinsworth said, noting how he helped resurrect Jameis Winston's career and went 5-0 with Teddy Bridgewater and 7-2 with Taysom Hill in New Orleans when Drew Brees was sidelined.
"There's something about Sean Payton, you know, he's a commanding presence in the room," Collinsworth said. "I think that Russell was coming in a season ago and had a certain way of doing things and he sort of did them that way. And now, I think he'll do things the Sean Payton way — and I'm kind of anxious to see what that might mean."
Wilson was so bad last year many suggested he was done.
"I do not believe Russell Wilson is finished," Collinsworth said. "And I think that we'll see a little bit more of what we've seen in the past."
"Sometimes, business, society, whatever, you get a fit, and sometimes things don't fit and for whatever reason, Nathaniel Hackett and Russell Wilson and the whole Denver situation didn't fit," Mike Tirico said. "I'm gonna bet on Sean Payton figuring out a way to make this fit."
Two former NFL general managers, Mike Tannenbaum on ESPN and Mike Lombardi on his "The GM Shuffle" podcast, suggested Payton won't hesitate to bench Wilson in favor of backup Jarrett Stidham if Wilson fails to find himself this season.
That would be interesting, at best, for the Broncos. Wilson's five-year, $245 million contract extension kicks in next season when he carries a dead-cap hit of $85 million.
Wilson wouldn't go so far as to say wants to prove naysayers wrong, but he did acknowledge that, like University of Colorado coach Deion Sanders, he "keeps receipts."
"I think you've got them in your back pocket sometimes," Wilson said. "There's always going to be some who question whether you can do it or not. And I think I've proven throughout my career what I can do. And I've got to do it again."
Showtime is Sunday's season opener against the visiting Oak/Los/oh yeah...Las Vegas Raiders.
Looking back at Wilson's shocking trade
The great Bob Condotta of The Seattle Times thinks this is the right moment to review the trade that shocked the league a year ago. Nerves in the Pacific Northwest are healed, thanks largely to the play of quarterback Geno Smith, who did so well that some fans damn near forgot old Russell what's-his-face. Or at least don't care that he and everything that went with him is gone.
Wrote Condotta:
"Trade terms have been completed and, for the most part from Seattle's end, more than satisfied.
Which makes it a good time to review what each side received and their status heading into the 2023 season."
Seattle received:
Tight end Noah Fant: Fant is entering his second season with Seattle after the Seahawks picked up a $6.8 million option on his contract for this year. He will again be essentially a co-starter at tight end with Will Dissly.
Quarterback Drew Lock: After a strong preseason, Lock will again back up Geno Smith, having re-signed with the Seahawks in March on a one-year deal worth up to $4 million.
Defensive end Shelby Harris: After one year with the Seahawks, Harris was released in March in a move that saved almost $9 million in cash and cap. He later signed a one-year, $3.5 million deal with Cleveland, where he is expected to be a key part of the team's defensive-line rotation.
Left tackle Charles Cross: Cross was taken in 2022 with the ninth overall pick, which was one of five draft picks Seattle received for Wilson. After starting all 17 games last season, he enters this year entrenched at left tackle, with some predicting a Pro Bowl season for the ex-Mississippi State Bulldog.
Outside linebacker Boye Mafe: Mafe, taken with the 40th overall pick in 2022, had a promising rookie season and, after a strong preseason, he might start to open the season if Darrell Taylor remains sidelined with a shoulder injury. Running back Kenneth Walker III was taken with the 41st pick, and some will always wonder what Seattle would have done if it had just one pick in the second round instead of two. But the Seahawks don't have to answer that question.
Outside linebacker Tyreke Smith: Here's where it can get a little confusing. The third of three picks Seattle got in 2022 for Wilson was No. 145 overall. But Seattle traded that to Kansas City for two lower picks — Nos. 158 and 233. At 158, Seattle chose Smith, who missed all of last season due to injury but showed promise in the preseason and projects to have a role in the outside-linebacker rotation.
Wide receiver Dareke Young: Young, meanwhile, was taken at No. 233. After serving as a reserve and regular on special teams as a rookie, he battled an adductor injury in the preseason but made the initial 53-man roster as a reserve. The Chiefs used the 145th pick on offensive tackle Darian Kinnard. He did not play last year for Kansas City and was waived at the end of August before being re-signed to the team's practice squad.
Cornerback Devon Witherspoon: With the first of two picks Seattle got in the 2023 draft as part of the Wilson deal, the Seahawks took Witherspoon fifth overall. A nagging hamstring injury means Witherspoon might not play in the opener — a disappointment to be sure but too early to be disappointed overall.
Outside linebacker Derick Hall: With the second 2023 pick received for Wilson, Seattle took Hall 37th overall out of Auburn. Hall had one tackle and two QB hits in the preseason. He projects to be a key part of the edge rotation, though he hurt his shoulder in the preseason finale against Green Bay.
And Denver received:
Quarterback Russell Wilson: After struggling like no one could have anticipated — Denver went 4-11 in his 15 starts — Wilson will attempt to revive his career at age 35 under new Broncos coach Sean Payton. If he doesn't, let the speculation begin that the Broncos, who also have new ownership, could look to go in a different direction. Wilson's $17 million base salary for 2024 becomes fully guaranteed March 21.
Defensive end Eyioma Uwazurike: It might be forgotten that Seattle threw in a fourth-round 2022 pick back to Denver, which the Broncos used on Uwazurike, the 116th overall pick out of Iowa State. He made 17 tackles in eight games last season. To make the deal even worse for the Broncos, it was announced in July that Uwazurike has been suspended indefinitely for gambling on NFL games last season.
How that ledger balances will depend largely on whether Wilson rediscovers how to cook for his new coach.