Feisty Aaron Rodgers predicts fast return: "Watch What I do!"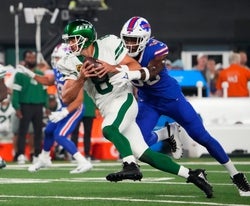 Sep 11, 2023; East Rutherford, New Jersey, USA; Buffalo Bills defensive end Leonard Floyd (56) sacks New York Jets quarterback Aaron Rodgers (8) during the first quarter at MetLife Stadium. Rogers left the game with an injury after the play. Mandatory Credit: Robert Deutsch-USA TODAY Sports
Quarterback Aaron Rodgers' season may be over, but he is still active on "The Pat McAfee Show."
Rodgers made a virtual appearance on McAfee's ESPN show on Friday, two days after he had successful surgery to repair the Achilles tendon he tore during the New York Jets'"Monday Night Football"win over the Buffalo Bills.
"Are we still doing weekly or no?" McAfee asked. Rodgers replied, "Yea, I'll see you on Tuesday ... this last Tuesday was a little rough for me."
The four-time MVP said he instantly knew he seriously injured himself after he was sacked by Bills DE Leonard Floyd: "Before even an MRI, I knew what happened. I knew I tore my Achilles. I had popped my calf a few times… and it was not that sensation, so I knew that this was not a good situation."
Rodgers opened up about his devastating injury, his timetable for return and the naysayers in the wide-ranging interview. Here's what he said:
THE INJURY
Rodgers suffered a season-ending Achilles injury four plays into his highly anticipated Jets' tenure. Before taking the field, Rodgers carried an American Flag into MetLife Stadium in honor of the 22nd anniversary of the 9/11 terrorist attacks.
"Monday was an amazing day to start, an amazing night running on the field with the flag. Electric. And then it turned into one of the toughest 24-hour stretches I've had in my life," Rodgers said. "A lot of sadness. A lot of tears. A lot of dark frustrations and anger, all the gamut of emotions. But then the sun rose the next day."
Rodgers said he traveled to Los Angeles the next day to have surgery with Dr. Neal ElAttrache, the same surgeon who operated on Tom Brady's torn ACL/MCL in 2008, Kobe Bryant's torn Achilles in 2013 and Rodgers' collarbone 2017.
"I had surgery on Wednesday and since then I've been feeling better," Rodgers said.
Rodgers dismisses retirement rumors
Rodgers' injury instantly brought up questions regarding his future in the NFL as the four-time MVP, who turns 40 in December, faces a long road to recovery.
His response? "Give me the doubts, give me the timetables, give me all the things that you think can, should or would happen, because all I need is that one little extra percent of inspiration. That's all I need. ... Give me your prognostications and then watch what I do."
Rodgers' recovery time?
Rodgers said he has concocted a "damn good rehab plan that will shock some people" after consulting with friends, sources and fellow competitors who've suffered the same injury. Although he didn't offer a specific timeline for his return, Rodgers quoted Kevin Garnett, saying, "Anything is possible."
"There's a lot of ideas on the overall length of the rehab," he said. "Just because someone hasn't done it a certain way doesn't mean it's not possible. I definitely have some odds stacked against me based on age, but I like it. Stack all the odds up against me and see what happens."
He added, "I'm going to try to push this thing as much as it will allow me to."
Rodgers said he had surgery two days after suffering the injury because he "didn't want to waste any time" in his recovery. "Every day that we wasted was a day longer for me not doing what I love to do," he added.
"So many people reached out that had Achilles injuries ... giving me an idea of what to expect, what worked for them in rehab, what didn't work. So that was pretty important," he said. "I think I shed just as many tears about the support and nice messages than the sadness of what happened."