Lott IMPACT POW: Florida Safety Jordan Castell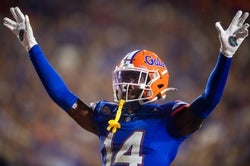 Florida safety Jordan Castell (14) celebrates after making a play during a football game between Tennessee and Florida at Ben Hill Griffin Stadium in Gainesville, Fla., on Saturday, Sept. 16, 2023.
NEWPORT BEACH, CA. – Florida's Jordan Castell is the Lott IMPACT® Trophy Player of the Week for week 3 of the 2023 college football season. The true freshman safety led the Gators past #11 Tennessee, 29-16, with a game high 10 tackles (4 solo) to go with a pass broken up.
The Orlando native was a consensus four-star recruit out of West Orange high school. Castell also impressed in his collegiate debut as Florida's second leading tackler in a win at then-#14 Utah in the season opener.
Castell was also honored by the SEC this week as their defensive player of the week, to go with national freshman of the week honors.
The Lott IMPACT® Trophy player of the week is determined in part by a panel of Lott Trophy board members, former players, coaches, as well as members of the media. That panel represents sixty percent of votes, while an online fan vote is used to determine the other forty percent.
The Lott IMPACT® Trophy is awarded annually to individuals who demonstrate excellence in the field of athletics and recognizes college football's Defensive Player of the Year who best exemplifies the IMPACT acronym: Integrity, Maturity, Performance, Academics, Community and Tenacity.
The mission of The Pacific Club IMPACT® Foundation is to recognize and support both national and local charities that serve the youth of America with a focus on education and have a positive IMPACT® on the lives of young men and women.
Other nominees for the Lott IMPACT® Trophy Player of the Week in Week 3:
KRIS ABRAMS-DRAINE, DB, Missouri, Jr.- Had an interception and broke up two passes, with three tackles (2 solo) in Tigers 30-27 upset over #15 Kansas State.
HAROLD PERKINS JR, LB, LSU, So.- Made four tackles, two for a loss, including a sack, and broke up a pass in Tigers 41-14 win over Mississippi State.
DANNY STUTSMAN, LB, Oklahoma, Jr.- Returned an interception for a touchdown, to go with 9 tackles (4 solo) and two for a loss in Sooners 66-17 rout of Tulsa.
ZION TUPUOLA-FETUI, DE, Washington, Sr.- Had two sacks, among three tackles in Huskies 41-7 win at Michigan State.
Previous Winners of the Lott IMPACT® Trophy
2004 – David Pollack, Georgia
2005 – DeMeco Ryans, Alabama
2006 – Dante Hughes, Cal
2007 – Glenn Dorsey, LSU
2008 – James Laurinaitis, Ohio State
2009 – Jerry Hughes, TCU
2010 – J.J. Watt, Wisconsin
2011 – Luke Kuechly, Boston College
2012 – Manti Te'o, Notre Dame
2013 – Anthony Barr, UCLA
2014 – Eric Kendricks, UCLA
2015 – Carl Nassib, Penn State
2016 – Jabrill Peppers, Michigan
2017 – Josey Jewell, Iowa
2018 – Josh Allen, Kentucky
2019 – Derek Brown, Auburn
2020 – Paddy Fisher, Northwestern
2021 – Aidan Hutchinson, Michigan
2022 – Will Anderson Jr., Alabama
The 20th Annual Lott IMPACT® Trophy Award Presentation will be held December 10th at The Pacific Club in Newport Beach, California. To purchase tickets for the event, click here or for more information on The Lott Trophy visit: www.LottImpactTrophy.org
About the Lott IMPACT Trophy:
Named after Pro Football Hall of Fame member, Ronnie Lott, The Lott IMPACT® Trophy is awarded to college football's Defensive IMPACT Player of the Year. Founded in 2004 by The Pacific Club IMPACT® Foundation, The Lott Trophy is the first and only college football award to recognize both athletic performance and the personal character attributes of the player.
The Lott IMPACT® Trophy is given to the player who exhibits the same characteristics Lott embodied during his distinguished career: Integrity, Maturity, Performance, Academics, Community and Tenacity. Voters for the award include selected members of the national media, previous finalists, the Board of Directors of the Pacific Club IMPACT® Foundation and a distinguished group of former college football head coaches.
To date, the Foundation has donated more than $1.8 million to numerous charities and scholarships. The 20th Annual Lott IMPACT® Trophy Award Presentation will be held December 10th. For more information on The Lott Trophy visit: www.LottImpactTrophy.org